With gorgeous scenery, colorful Klondike Gold Rush history, great food, and plenty of exciting things to do, Skagway is one of the most popular places to visit in all of Alaska. Read on to learn what to do in this small but mighty Alaskan city.
---
Located in a stunning fjord at the top of the Lynn Canal, Skagway rocketed to prominence at the turn of the 20th century as the entry point for gold rush prospectors headed into the Klondike. It was here that ships overflowing with "stampeders" arrived from Seattle and other southern port cities to start the long, perilous journey north to Dawson City. The town boomed practically overnight, and a fascinating mix of people – from clergy to con men – called Skagway home or passed through in search of their fortunes.
Now, Skagway booms again every summer when hundreds of thousands of cruise ship passengers descend on the town between May and September. It's one of the most popular stops on Alaska cruise itineraries, and plenty more visitors arrive by road from Canada or by ferry from Juneau.
Although some people deride Skagway as "too touristy" – an understandable accusation, considering the downtown area is lined with gift shops and the city's economy hinges on summer visitor dollars – it is one of my favorite places in all of Alaska. When I worked as a tour director, my tours either started or ended in Skagway, and I often would have a couple of days in between to relax and experience the town. Although it's true that the crowds can be a bit maddening during the day when there are multiple ships in port, there's something truly special about evenings when the streets are empty and the mountains are illuminated by the midnight sun.
While the downtown area is full of historic buildings and tasty restaurants, some of the best things to do in Skagway can be found outside of town and away from the crowds. A narrow-gauge railroad winds its way through a glacial valley. Hiking trails take you into some of the most beautiful landscapes in southeast Alaska. Whales and seabirds gather in the pristine waters of the Taiya Inlet. Echoes of Klondike Gold Rush stampeders whisper through the mountains.
Whether you choose to visit by cruise ship or drive into town for a longer stay, Skagway should absolutely be on your list of places to visit in Alaska. To help you on your way, here are my best suggestions for what to do in Skagway, Alaska!
---
(Note: some of the links in this article may be affiliate links, which means that I may earn a small commission from your purchase at no additional cost to you. Thank you for supporting Full Life, Full Passport! You can find the full disclosure here.)
---
What to Do in Skagway, Alaska
Ride the White Pass & Yukon Route
This excursion has made its way onto numerous lists of the best train trips in the world, and once you've gone you'll understand why. As its name suggests, the White Pass & Yukon Route is a narrow-gauge railroad that winds its way up the White Pass and into Canada. It follows one of the major routes to the Yukon during the Klondike Gold Rush, and along the way you're treated to gorgeous scenery and fascinating historical narration. There are multiple ways to experience the railroad, from a quick up-and-back ride to longer journeys that involve stops in Bennett, British Columbia, or Carcross, Yukon.
---
Take a National Park Service Walking Tour
Downtown Skagway is part of Klondike Gold Rush National Historic Park, and as a result the National Park Service offers free walking tours of the historic district during the summer. Not only are they economical, but these tours are also a great way to learn more about Skagway's history, natural surroundings, and current culture.
---
Go Hiking
For such a small town, Skagway is blessed with an overabundance of great hiking opportunities. Many involve climbing the surrounding mountains in search of hidden lakes and stunning vistas (AB Mountain, Upper and Lower Dewey Lakes), but others take you onto glaciers (Laughton Glacier), into secluded inlets (Smuggler's Cove), or across thirty-three miles of formidable terrain in the steps of gold rush stampeders (the Chilkoot Trail). No matter your time allotment or skill level, there's an awesome hike in or around Skagway for you.
---
Watch the Salmon Run
Salmon have been a staple on Alaskan menus for centuries, and their yearly "runs" back up Alaska's rivers and streams to spawn are an exciting event. Every summer, Pullen Creek witnesses the return of three different kinds of salmon: the kings run in May, the pinks run in August, and the silvers run in September. If you're visiting during those months, head over to the Pullen Creek Stream Walk near the cruise ship docks and watch these amazing fish on their journey.
---
Stroll Broadway
Especially if crowds are light, make sure to take some time to walk up and down Skagway's main drag, Broadway. Because so much of downtown is designated as a National Historic Park, a real effort has been made to maintain the look of the 1890's-era gold rush boomtown Skagway used to be. Make sure to pop into the Wells Fargo at the end of the street; you'll feel like you just stepped back in time.
---
Sip a Spruce Tip Ale
Regardless of what you decide to do in Skagway, don't leave without swinging into the Skagway Brewing Company for a Spruce Tip. This local favorite is brewed with Sitka spruce tips and has a surprisingly high amount of vitamin C. (It was originally brewed to help prevent scurvy.) It's a delicious way to cap off a day of adventuring.
---
Visit the Gold Rush Cemetery
A short distance outside of town, the Gold Rush Cemetery is filled with colorful characters from Skagway's boomtown past. A stroll among the peaceful, shaded tombstones reveals the names of dozens of people who came north to seek their fortune and ended their journey here. Included among the notable names are local legend and con man "Soapy" Smith as well as Frank Reid, who wounded Soapy in a shootout before being killed himself.
---
Get Acquainted with Ghosts and Goodtime Girls
The Red Onion Saloon, a former brothel and current restaurant and bar, offers great opportunities to step into the less reputable parts of Skagway's past. Upstairs is the Brothel Museum, where for $10 you can explore rooms where "ladies of negotiable affection" plied their trade and admire the artifacts they left behind. The Red Onion also offers the fun Ghosts and Goodtime Girls walking tour of Skagway, in case you'd prefer something more colorful than the tour offered by the Park Service.
---
Go Kayaking
Kayaking allows you to get some great exercise and connect with the natural world at the same time, and in Alaska you also get the benefit of experiencing some jaw-dropping scenery. In Skagway, you can paddle through a pristine mountain lake or along the magnificent, rocky coastline of the Taiya Inlet. Either way, you'll have the opportunity to spot wildlife, marvel at mountains, and revel in the beauty of one of the most gorgeous places on earth. Some tour operators pair kayaking with other fun activities like a ride on the White Pass and Yukon Route, giving you great bang for your buck. Canoe trips and relaxing floats are also available.
---
Take a Helicopter Ride to a Sled Dog Camp
As I've mentioned before, taking some sort of "flightseeing tour" is one of the absolute best things to do in Alaska. There's nothing like seeing the state's incredible landscapes from the air, and in Skagway, you can combine a helicopter flight with another quintessential Alaskan pastime: dogsledding. TEMSCO Helicopters offers a fantastic excursion where you land on a glacier, visit a sled dog camp, and get to mush your own team. It's a unique experience you'll never forget.
---
Travel into Canada
If you have enough time, it's absolutely worth taking a day or more to travel north into British Columbia and the Yukon. One of the easiest ways to do this is to extend your trip on the White Pass & Yukon Route to include Lake Bennett (BC) or Carcross (YT), but you can also rent a car and travel north yourself. I suggest driving at least as far as the town of Carcross and nearby Emerald Lake, stopping frequently for photos and exploration.
There are so many great reasons to visit the Yukon; it's a land of incomparable beauty, with plenty of fun things to do and wilderness that will take your breath away. Whether you take a day trip or a multi-day excursion, you won't regret it!
PS: Check out my 10-day Yukon itinerary for everything you need to extend your far-north vacation into Canada!
---
Visit the Skagway Museum and Archives
Another great way to appreciate the history of Skagway is to swing into the Skagway Museum and Archives on Spring Street. This inexpensive ($2 for adults, $1 for children) but thorough museum houses artifacts, historical documents, and photos from the city's past. It won't take long to peruse the archives, but it will be well worth the time.
---
Visit the Chilkat Bald Eagle Preserve in Haines
Sixteen miles down the Lynn Canal sits the town of Haines, which is actually a popular cruise ship port in its own right. There, you'll find the Chilkat Bald Eagle Preserve. Whether you're an avid birder or just a lover of great scenery, there's lots to see and do here, including float trips, hiking, kayaking, and fishing. Fun fact: Skagway and Haines are over 350 miles apart by road, but only sixteen miles apart by water. I suggest taking the ferry to save time 🙂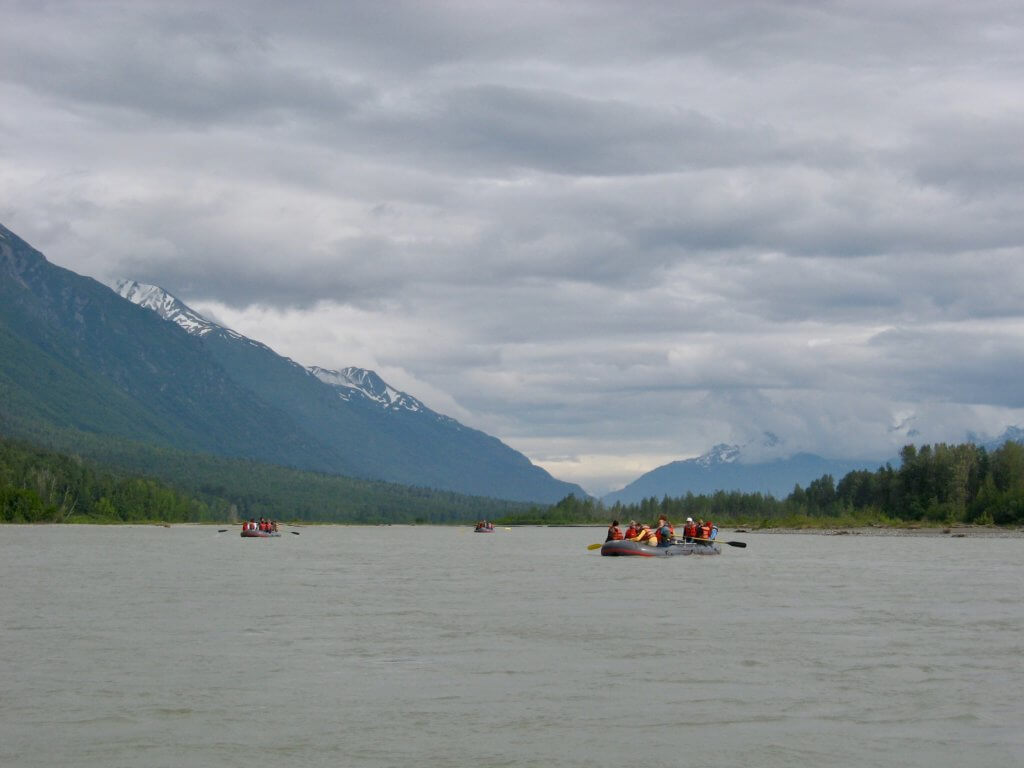 ---
Stop and Smell the Roses at Jewell Gardens
On the way out of town, Jewell Gardens has lots to offer: stroll-able gardens filled with brilliant blooms, an upscale restaurant with an emphasis on local produce, and a glass-blowing workshop where you can try your hand at this unique craft. It's a pretty, relaxing place that feels worlds away from the hustle and bustle of the cruise port.
---
Ride the Ferry to Juneau
If you're not visiting Skagway by cruise ship, it would be well worth your while to spend some time on the water. The hundred miles between Skagway and Juneau is a breathtaking stretch of sea, with lush forests, craggy peaks, and stunning, glacier-filled fjords. You can experience some of it on any number of tours and excursions, or you kill two birds with one stone by taking the Alaska State Ferry to Juneau and spending some time in the state capital. The ferry takes six hours, but the time will fly by as you revel in the grandeur of the Inside Passage.
Pro Tip: Fly back to Skagway instead of taking the ferry. Not only will you save time – the flight is about forty-five minutes – but it's practically a flightseeing tour in and of itself. You'll soar over snow-capped mountains, catch sight of glaciers spilling into the sea, and gain a whole new appreciation for the landscapes of southeastern Alaska.
---
Now you know what to do in Skagway, Alaska! I hope you have an incredible time in one of my favorite Alaskan destinations. Let me know what you think in the comments below, and don't hesitate to reach out if I can help in any way with your Alaskan adventure!
---
Like the post? Pin to save or share!
—
Read the Rest of the Alaska Month Posts:
The Ultimate Alaska Bucket List: 25 Can't-Miss Adventures in the Last Frontier
Alaska Cruise FAQ's: All the Alaska Cruise Tips You Need to Know!
Flashback Friday: Following the Alaska Pipeline on the Dalton Highway
The Ultimate 10-Day Alaska Itinerary
And Don't Miss…
10 Things You Should Know Before Visiting Alaska
The Essential Alaska Packing List for Summer
Why You Should Visit Alaska in the Fall
The Best Time to Visit Alaska
10 Reasons Why the Yukon Should be on Your Travel List
—
Need some help planning your Alaska cruise or trip to Skagway? Full Life, Full Passport offers customized planning services for all kinds of vacations and budgets!
—
Want to be the first to know when a new post is published, or to receive exclusive content directly to your inbox? Join our email list!