While taking an Alaskan cruise is an unforgettable experience, there's a lot more to the 49th State than cruise ports and Glacier Bay! This ten-day Alaska itinerary has everything you need for a fantastic land adventure in the Last Frontier.
---
Oh, Alaska! It's the last week of Alaska Month on Full Life, Full Passport and I'm still not tired of singing your praises. Today, I'm sharing a complete ten-day Alaska itinerary that features some of my favorite destinations and things to do away from the southeastern cruise ship ports. Following this guide will make it easy to cross some items off your Alaska bucket list, and you can even couple this itinerary with an Alaska cruise for the ultimate vacation. (Just make sure to do the land portion first and cruise second so that you can relax after your road trip adventure!)
While I believe that this Alaska itinerary will give you a great feel for the state, especially if it's your first time visiting, it should be said that you could never see and do all the wonderful things Alaska has to offer in just ten days. Alaska is huge and unlike any other place in the United States, so it behooves you to give it as much time as you can afford.
In this post, you'll find a complete plan for spending ten days in Alaska, including places to stay, recommended restaurants, and fun and exciting things to do in each location. While this should give you a great starting point for planning your trip, don't forget that I'm here to help if you need it! You'll also want to make sure to check out my list of things to know before you visit Alaska to further set you up for success.
But for now, on to the ten-day Alaska itinerary!
---
Alaska Itinerary at a Glance
Day 1: Arrive in Anchorage
Day 2: Anchorage
Day 3: Travel to Denali National Park and Preserve
Days 4 and 5: Denali National Park and Preserve
Day 6: Travel to Girdwood
Day 7: Enjoy Girdwood and Travel to Seward
Days 8 and 9: Seward
Day 10: Return to Anchorage
---
(Note: some of the links in this article may be affiliate links, which means that I may earn a small commission from your purchase at no additional cost to you. Thank you for supporting Full Life, Full Passport! You can find the full disclosure here.)
---
Day 1: Arrive in Anchorage
Because of Alaska's remote location, it may take you a while to get there! Be patient, try to avoid flight schedules that arrive late at night (remember, Alaska is four hours behind the US East Coast), and make sure to grab a window seat for your flight into Anchorage. The views of the Chugach mountain range are stunning and will only whet your appetite for the grandeur to come.
Places to Stay in Anchorage
Chain hotels abound in Anchorage, but I recommend staying at one of the places below or another locally-owned property. Be aware that prices can be steep in summer.
Hotel Captain Cook. This well-reviewed perennial favorite is located right downtown within easy walking distance of lots of sights and amenities.
Anchorage Downtown Guest Rooms. While the rooms at this downtown hotel are nothing fancy, the location and price more than make up for it! A great option for travelers on a budget.
Susitna Place Bed and Breakfast. Bed and breakfasts are a great way to experience Anchorage and support local small business owners. Susitna Place is one of the best.
Maria's Creekside B&B. Another great bed and breakfast, Maria's is located about ten miles from the city center and offers easy access to biking and hiking trails.
Hyatt Place Midtown. For those looking for a quick stopover near the airport, this property will do just fine.
If none of those floats your boat, check out other great places to stay in Anchorage!
---
Day 2: Anchorage
Especially if you had a long day of travel yesterday, your first full day in Alaska is a great time to stay put and experience Anchorage! Alaska's biggest city is full of fun things to do and great places to eat. I suggest starting your day at Snow City Cafe, one of my personal favorite eateries in Alaska, to fuel up for the hours ahead. From there, you can check out some of the city's excellent museums, take a hike, go biking, and more!
While I do feel that it's worth putting a day in the Anchorage area on your Alaska itinerary, I also understand if you'd like to skip the city and start exploring the wilderness! (Alaskans do joke that the best thing about Anchorage is that it's only a half-hour from Alaska, so if you have to cut a day from this itinerary, this is the one to cut!) If that's the case, head on down to Day 3 below 🙂
Things to Do in Anchorage
Walk or bike the Coastal Trail. Running eleven miles along the Cook Inlet, the Tony Knowles Coastal Trail offers great views of Anchorage and its surrounding mountains and waters. It's also not uncommon to encounter moose along the way!
Visit the Alaska Native Heritage Center. Alaska's indigenous history goes back centuries and is still a vital part of Alaskan culture today. There's no better place to learn about the state's native peoples than this museum.
Take in the Anchorage Museum. If you're interested in the history and culture of Anchorage and Alaska in general, you can't do much better than this downtown museum. Exhibits include natural history and art as well as chronicling native, Russian, and US activity in the state.
Hike Flattop Mountain. One of the most popular hikes in the area, Flattop is a 1.5-mile trail that climbs 1,350 feet to reach a flat, panoramic viewpoint.
Learn about Alaskan wildlife. The Alaska Wildlife Conservation Center is a sanctuary for injured and orphaned animals. There, you can view native Alaskan wildlife, including some you may not get a chance to see in the wild.
Stroll downtown. I love walking the streets of downtown Anchorage. There are lots of fun shops and cafes to dip into, there are plenty of food carts and food trucks to grab a yummy snack or lunch, and the naming pattern makes the streets super easy to navigate. (North-south streets are letters – F Street, G Street, etc. – and east-west streets are numbered avenues.)
Enjoy the nightlife. Anchorage has lots of bars that feature live music at night, and beer-lovers shouldn't miss the opportunity to indulge in some of the state's excellent local brews. For a truly unique experience, head to the wonderfully weird Chilkoot Charlie's, affectionally known as Koot's.
Places to Eat in Anchorage
Pro tip: Make a reservation if you can for dining out in Anchorage, or come early to avoid long lines. Especially during the high tourist season in the summer, wait times can be lengthy.
Glacier Brewhouse and Orso. These side-by-side sister restaurants are downtown staples. Orso is the more upscale option, but both are delicious. I still dream about Glacier's peanut butter pie.
Snow City Cafe. One of the best places in the city for breakfast, brunch, and lunch, with an emphasis on fresh, locally-sourced food. Snow City also showcases artwork from local artisans on a rotating monthly basis.
Dark Horse Coffee. A good place for kicking back with some coffee and baked goods on a quieter corner downtown.
Moose's Tooth Pub and Pizzeria. Great spot for a pizza and a beer away from the downtown area. Their raspberry wheat was the brew that taught me to like beer.
Ginger. A local favorite serving excellent Pacific Rim and Asian cuisine.
Simon and Seafort's. Located downtown, Simon's is one of Anchorage's most well-respected steakhouses. It also features stunning views out over the Cook Inlet.
Kincaid Grill. Another local favorite, Kincaid Grill is located in West Anchorage away from the hustle and bustle (relatively speaking, that is) of downtown. They specialize in fine dining, Alaskan style.
Humpy's Great Alaskan Alehouse. Featured on Man Vs. Food and Diners, Drive Ins, and Dives, Humpy's is an Alaska institution. Come for the pub food, stay for the live music and impressive beer selection.
---
Day 3: Travel to Denali National Park and Preserve
No one should leave Alaska's interior without taking in one of her stunning national parks, and Denali National Park and Preserve is both incredibly impressive and the easiest to access. At 6.1 million acres (only slightly smaller than the state of Massachusetts), Denali is filled with soaring mountain peaks, braided glacial rivers, plentiful wildlife, and huge expanses of pristine wilderness. My dad once told me that you don't understand the meaning of the word "vast" until you visit Alaska, and my first visit to Denali proved him right.
My favorite thing about Denali is that traffic into the park is heavily restricted; there is only one road, and personal vehicles can only drive the first fifteen miles of it. After that, you'll have to travel by bus. This means that there's very little infrastructure to impose upon your experience in these wide-open spaces, and you won't have to fight crowds of tourists to catch a glimpse of an animal or fantastic vista.
There are two ways to travel to Denali. First, you can rent a car and drive there yourself. It takes a little over four hours without stopping, and you'll travel through some fun towns and past some great scenery. If you choose to drive to the Denali area, I encourage you to get an early start so that you can either stop at interesting points along the way or spend some time in the park upon arrival. Special dispensation is given, however, to those who want a second round of Snow City before leaving!
The second, and more scenic, way to reach Denali is to travel by train via the Alaska Railroad. It takes almost double the time (the train leaves Anchorage a little after 8:00 AM and arrives at the Denali depot at 4:00 PM… ish), but the train travels through remote stretches of the state that are not accessible by road. It's a gorgeous ride and one of the best ways to see and appreciate the Alaskan interior.
However you travel to Denali, you're in for a treat!
Places to Stay Near Denali
Most of the accommodation options near Denali National Park and Preserve are clustered in the town of Healy and the seasonal "town" of McKinley Park along the George Parks Highway. McKinley Park is closer but more commercial – there's an "Alaska-style strip mall" on the eastern side of the highway lined with gift shops, restaurants, and other amenities. Healy is farther north but offers more charming bed and breakfasts and rustic wilderness lodges.
Denali Lakeview Inn. True to its name, this little B&B is right on Otto Lake and features some fantastic views. It's located in Healy, about twenty minutes from the Denali Visitor Center.
Aurora Denali Lodge. Another great bed and breakfast option in Healy, Aurora is clean, cozy, and has a great breakfast.
Denali Primrose B&B. Situated north of Healy but still an easy twenty-two minutes to the Visitor Center, Denali Primrose is bright and comfortable.
McKinley Creekside Cabins. Get away from it all at these delightful cabins twenty minutes south of the Visitor Center. The onsite restaurant is excellent.
Carlo Creek Lodge. For those looking for a more rustic experience – and to be lulled to sleep by the nearby creek – Carlo Creek Cabins are the place to be. Located fifteen minutes south of the Visitor Center.
McKinley Chalet Resort. If you want to stay where the action is – relatively speaking – the Chalets are a good option. They're right across the street from the "strip mall" I mentioned above, and most tours and excursions pick up right from the lobby.
Want to see more? There are lots of other lodging options in Healy and McKinley Park!
---
Days 4 and 5: Denali National Park and Preserve
While two days could never truly do justice to the full extent of Denali's charms, it's certainly more than enough time to fall in love with the park. While you should definitely fill your days with some of the exciting things to do listed below, I also encourage you to take lots of time to just relax and experience this incredible place. Linger over coffee and admire the view from your bed and breakfast, give a sled dog an extra snuggle, or grab a seat at a great vista or serene patch of forest during a hike to really soak up these moments.
Things to Do in and Around Denali National Park
Go "flightseeing." The best way to truly appreciate the size and grandeur of Denali National Park and the Alaska Range is to see it by air. This once-in-a-lifetime, Alaska bucket list experience is worth every penny and not to be missed. I especially recommend booking a flight that includes a glacier landing – absolutely unforgettable!
Hike. You could hike for weeks in Denali and not exhaust all the amazing trails and vistas! The Visitor's Center is a great place to get trail information and expert advice. I personally recommend the following trails: Mt. Healy Overlook, Triple Lakes, Horseshoe Lake (look out for moose!), and Savage River.
Go whitewater rafting. Just outside of the park, the Nenana River winds its way through stunning Healy Canyon. While the quality of rapids can vary, the scenery won't disappoint.
Take a Tundra Wilderness Tour. One of the best ways to experience the park, especially for those short on time, this fully narrated bus tour takes you over sixty miles into Denali. Drivers are not only experts on the local history, flora, and fauna, but are excellent at spotting wildlife as well. Aim for an early morning tour if possible.
Take an ATV tour. While these vehicles aren't allowed inside the park, there are plenty of opportunities to go off-roading in the nearby wilderness. Perfect for adrenaline junkies!
Places to Eat Near Denali
Black Bear Coffee House. Start your day right with some tasty baked goods or invigorating java. Brunch and dinner also available.
229 Parks Restaurant and Tavern. Delectable fine dining establishment with an ever-changing menu of locally sourced, seasonal dishes. Reservations are crucial.
49th State Brewing Company. Come for a photo with a replica Magic Bus 142 from the movie Into the Wild, stay for the huge burgers and outstanding brews. Located in Healy.
McKinley Creekside Cafe and Bakery. Another solid spot for baked goods and laid-back Alaskan fare. They also offer boxed lunches that are great for taking on your daily adventures.
Denali Park Salmon Bake. "The Bake" is a Denali institution and a favorite watering hole among the "locals" – meaning the seasonal workers who call McKinley Village home during the summer. There's often live music, and if you're awake at midnight you shouldn't miss the taco stand that opens at 12:00 AM.
The Overlook. The food's good, but the views from this hillside restaurant are even better.
---
Day 6: Travel to Girdwood
While it's tough to tear yourself away from Denali, it's time to continue your Alaskan adventure with a road trip to Girdwood! The drive takes almost five hours without stops, but there's plenty to see and do along the way to make the time fly by! I suggest getting as early a start as possible to take full advantage of your time.
Note: If you chose to take the train to Denali, your return journey will depart at noonish and arrive in Anchorage around 8:00 PM. It's another hour from the rail depot to Girdwood, so you could always grab accommodations in Anchorage and head to Girdwood early the next morning… after more Snow City Cafe, of course!
Girdwood is a funky mountain town just shy of an hour south of Anchorage. It's worth a visit for its stunning scenery, ample hiking opportunities, and overall chill, fun vibe.
Sights and Attractions on the Way to Girdwood
Hurricane Gulch Bridge. Massive bridge spanning an impressively scenic gorge. (Mile 181)
Denali Viewpoint South. The pull-off viewpoint has restroom facilities and is worth a stop on a clear day. The scenery is beautiful, and you also have a chance to see Denali (formerly Mt. McKinley). A short hiking trail offers additional views. (Mile 135)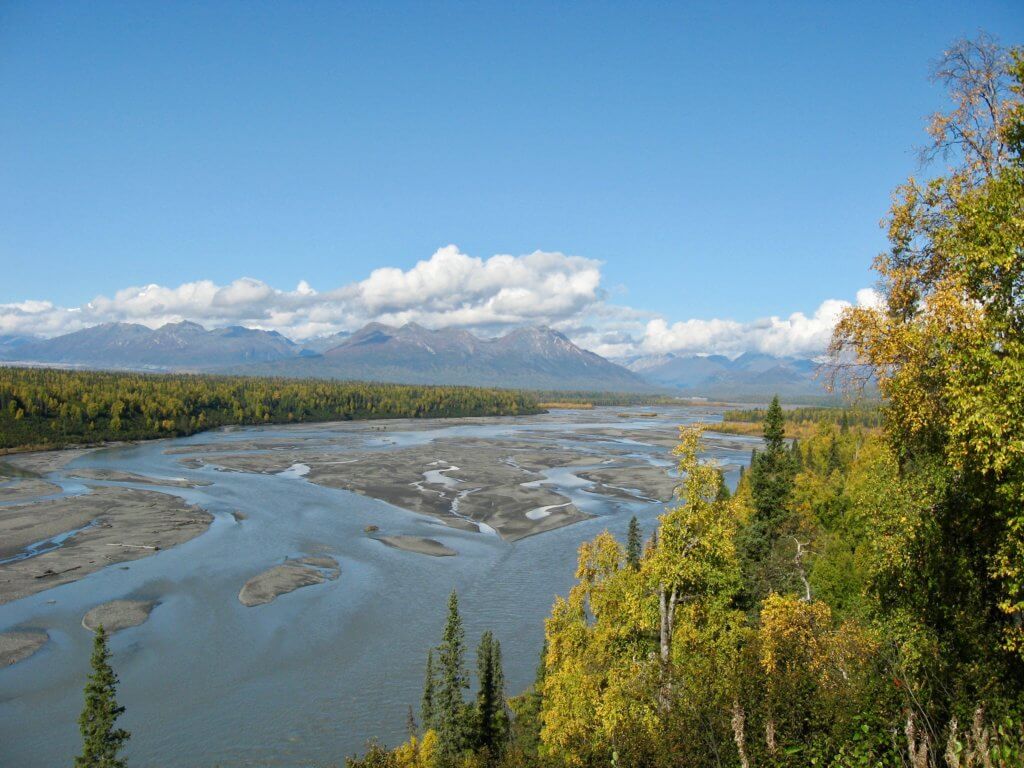 Talkeetna. This quirky little town serves as a base for climbers headed to Denali. It's home to gift and art shops, outdoor activities, and a decent number of eateries to break up your drive. Talkeetna is also a great place to take flightseeing tours of Denali. (Turnoff at Mile 99)
Willow. While the world-famous Iditarod sled dog race begins ceremonially in Anchorage, it officially starts here.
Seward Highway. Once you leave Anchorage, prepare for one of the most scenic drives in Alaska! The Seward Highway takes you along the gorgeous Turnagain Arm, with plenty of places to pull off and take photos or stretch your legs. Beluga Point (Mile 110) is one of the best, and so named because you might spot beluga whales!
Places to Stay in Girdwood
Alyeska Resort. One of the swankiest hotels in Alaska, Alyeska Resort has it all: an excellent spa, fantastic dining options, an indoor pool with mountain views, and luxurious accommodations. Whether you stay at the hotel or not, a trip on the aerial tram to the top of the mountain shouldn't be missed.
Carriage House Accommodations. Offering four guest rooms and four cottages, Carriage House is quiet, cozy, and secluded. There's a hot tub and fire pit on-site to help you relax after a day on the road.
Ski Inn. Conveniently located right downtown, Ski Inn is a great year-round option.
You can also check out other places to stay in Girdwood.
Places to Eat in Girdwood
Seven Glaciers. Accessible via Alyeska Resort's aerial tram, Seven Glaciers sits on top of a mountain with breathtaking views out over the valley and the Turnagain Arm. The view alone is worth the price of admission. Reservations are essential.
Jack Sprat. Emphasizing local, seasonal, and sustainable ingredients, Jack Sprat is the place to go for interesting dishes influenced by global tastes.
The Double Musky. Cajun cuisine in an Alaskan mountain town? Believe it. Alaskan touches add flair to classic New Orleans offerings.
The Bake Shop. The place to go for breakfast in Girdwood, though lunch isn't too shabby either.
The Grind. Cozy coffee shop with snacks for a quick grab-and-go.
Note: If you don't mind a longer drive (eight hours without stops), consider traveling to Homer instead of Girdwood. This fishing town is home to the Spit, a long stretch of land lined with restaurants, galleries, and shops. In addition to its own charms, Homer is an excellent jumping-off point for fishing trips, exploring Katmai National Park (home of the famous salmon-catching bears of Brooks Falls), and other fun adventures. You can even spend an extra day in Homer taking a fishing trip or traveling to Katmai before making the 3.25-hour drive to Seward.
---
Day 7: Enjoy Girdwood, then Travel to Seward
Take the morning – and maybe the afternoon! – to relax and enjoy Girdwood today. Linger over coffee in the cool mountain air, take a ride to the top of Alyeska's aerial tram, or go for a hike through the woods. When you're ready, hit the road for a 1.75-hour drive to Seward. While you can certainly drive straight through, there are a couple of worthwhile stops along the way.
First, just beyond Girdwood and after the Twentymile River bridge is Portage Townsite Ruins Park. There, you can see the sunken buildings and petrified trees of the old town of Portage, which was destroyed when the ground suddenly sank ten feet during the 9.2-magnitude Good Friday earthquake in 1964. Even if you don't stop, keep an eye out for petrified trees visible from the road.
Next, Portage Lake offers pretty views of a glacial valley and plentiful hiking opportunities. You can take a boat tour of the lake to see Portage Glacier, which is nice, but there are better glacier cruises out of Seward (see below). The Begich, Boggs Visitor Center that sits along the lake is a good place to stop for a snack or bathroom break or to peruse the gift shop.
Beyond Portage Lake is the unusual town of Whittier, which is blessed with gorgeous scenery and an interesting history as a secret military base during World War II. Almost the entire population of Whittier lives in a single apartment building, and the town is only accessible via a 2.5-mile-long, one-way tunnel that motorists have to share with the railroad. Also a cruise ship port, Whittier is a great jumping-off point for exploring the Prince William Sound by boat, kayak, or even jet ski.
Places to Stay in Seward
Box Canyon Cabins. Rustic cottages with full kitchens and complimentary breakfast fixin's, making it easy to save money by self-catering.
Resurrection Lodge. Excellent views and a continental breakfast make this bayfront property south of Seward a winner.
Seward Adventure Lodge. Another great choice that's walkable to restaurants and many attractions. The Lodge also offers lots of options for outdoor activities and excursions.
Steller Inn. Small, cozy inn set in the woods beside a creek. There are plenty of outdoor spaces to enjoy.
There are lots of other great places to stay in and around Seward if none of those floats your boat!
---
Days 8 and 9: Seward
For many visitors to Alaska, Seward is just the place where they pick up their cruise ship, but it's so much more than that! Seward is the gateway to spectacular Kenai Fjords National Park, a wonderland of glaciers, mountains, fjords, and marine wildlife, including whales. There's an excellent aquarium, plenty of great hiking, impressive glaciers, quaint and secluded bed and breakfasts, and some of the freshest seafood you'll find.
I suggest spending two days in Seward to take full advantage of the variety of unique and interesting things to do. At least one of those days should be devoted to a boat or kayaking tour of Kenai Fjords National Park. You won't regret the time and expense spent marveling at glaciers, spotting whales and sea otters, and reveling in the beauty of Alaska's mountainous coastline. This is especially essential if you're not taking an Alaskan cruise during your trip.
Things to Do in Seward
Take a boat tour of Kenai Fjords National Park. This is hands-down one of the best things to do in Seward and, I would argue, all of Alaska. Both Kenai Fjords Tours and Major Marine do a great job and have a variety of worthwhile offerings.
Visit Exit Glacier. One of the most easily accessible glaciers in the area, Exit Glacier offers lots of opportunities for hiking, education, and exploration. The nature center is great, and you can choose to either hike on your own, take a ranger-led interpretive walk, or visit the greater Harding Ice Fields with an excursion through a local tour company.
Hike Mount Marathon. With a trailhead located right downtown, Mt. Marathon is one of the most popular hikes in the area. It's not easy – you gain over three thousand feet in elevation – but the views are stupendous. If you're in the area near the 4th of July, don't miss the Mount Marathon Race.
Go sea kayaking. While taking a boat trip through the fjords is memorable, you'll never forget the feeling of getting up close and personal with a glacier in a kayak surrounded by icebergs. You can take a day trip or tour that lasts an hour or two, or you can do a live-aboard experience that takes you to more remote fjords.
Visit the Alaska SeaLife Center. Especially if you're traveling with kids, this excellent and interactive downtown aquarium shouldn't be missed. The Sealife Center not only conducts marine research and educates the public but also serves as a wildlife rescue and rehabilitation facility as well.
Take a fishing trip. Seward is a great place to charter a fishing boat in search of salmon, bass, or – my personal favorite – halibut. Not only will you get to enjoy the beauty of the area, but you can send your catch home to enjoy after your trip!
Places to Eat in Seward
The Cookery: The menu may not be large, but the food is delicious and locally sourced. Come for the oyster bar and fresh seafood.
Woody's Thai Kitchen: In case you're getting tired of seafood and pub fare, Woody's offers great Thai cuisine. It might be the only Thai restaurant on earth named after a sea lion.
Highliner Restaurant: Tacos, sandwiches, burgers, and larger entrees in a convenient downtown location. 
---
Day 10: Return to Anchorage
Sadly, today's the day to make your return trip to Anchorage for your flight home. Make sure to leave in plenty of time in case you encounter any delays; there are no detours on the Seward Highway! Leaving early also allows you to stop and check out any points of interest you missed on the way to Seward or Girdwood earlier in the week.
---
And there you have it: a complete ten-day Alaska itinerary! I hope this post – and all the Alaska content this month – has made you excited to visit one of my favorite places on Earth. Thanks so much for joining me for this fun series, and don't forget to check out any you missed at the links below!
Like the post? Pin to save or share!
—
Read the Rest of the Alaska Month Posts:
The Ultimate Alaska Bucket List: 25 Can't-Miss Adventures in the Last Frontier
Alaska Cruise FAQ's: All the Alaska Cruise Tips You Need to Know!
Flashback Friday: Following the Alaska Pipeline on the Dalton Highway
Things to Do in Skagway, Alaska
And Don't Miss…
10 Things to Know Before Visiting Alaska
The Essential Alaska Packing List for Summer
Why You Should Visit Alaska in the Fall
The Best Time to Visit Alaska
—
Need some help planning your Alaska itinerary? Full Life, Full Passport offers customized planning services for all kinds of vacations and budgets! 
—
Want to be the first to know when a new post is published, or to receive exclusive content directly to your inbox? Join our email list!