Thinking about taking an Alaska cruise? Whether you're just starting to explore the idea or you've already booked and now are wondering what to expect, you've come to the right place! Alaska is a once-in-a-lifetime trip for many people, and it can be overwhelming to plan and prepare for what feels like such a big and important vacation. That's why I've created this list of Alaska cruise tips and frequently asked questions to help you out!
I spent three summers working in the cruise industry in Alaska, so I know a thing or two about visiting the Great Land by ship. Even though I was leading multi-day land tours, all of my guests' vacations included a cruise either before or after their time with me. The questions below represent the inquiries I have most frequently received from my pre-cruise guests and vacation planning clients, and the answers are based both on my own experience as well as that of my post-cruise travelers.
My hope is that these Alaska cruise tips will come in handy as you consider, choose, and prepare for your own far north adventure. (I also have a handy list of things to know before visiting Alaska that you won't want to miss!) Finally, don't forget that I'm here if you need a little expert help or want to take the stress out of planning a cruise!
---
---
Alaska Cruise FAQ's
Do I have to take a cruise to visit Alaska?
When is the best time to take an Alaskan cruise?
What is the best cruise line for cruising Alaska?
Will I be able to see the northern lights from the ship?
Is it really light out all the time?
What should I wear on an Alaska cruise? Do I need to dress up?
What should I pack for an Alaska cruise?
Will it be cold on my Alaska cruise?
Should I get a room with a balcony?
Should I buy a drink, WiFi, or other package?
Should I buy the meal plan for my cruisetour?
Which shore excursions are the best?
What do I need to book in advance?
What should I eat in Alaska?
What else do I need to know before booking my cruise to Alaska?

---
---
Do I have to take a cruise to visit Alaska?
While it may seem like most people who visit Alaska do so by cruise ship, the answer to this question is no! There are plenty of ways to experience the Great Land without setting sail, and there's so much to see and do that you could spend two months exclusively on land and not feel like you're missing a thing.
That said, cruising is one of the best ways to see Alaska because there are so many incredible parts of the state that are difficult or impossible to access by car. Taking a cruise allows you to experience places like Glacier Bay, Skagway, Juneau, and Ketchikan that would otherwise take a lot of time, effort, and expense to visit, and to do it all in a week or less.
Many people balk at the idea of taking an Alaskan cruise because they are not generally "cruise people." Maybe the idea of being confined to a ship with hundreds to thousands of other people doesn't really appeal to them, maybe they're not big drinkers or gamblers, maybe they're not interested in getting dressed up for dinner. While these objections are valid, I would also argue that Alaska cruises feel different from other cruises and are, in many ways, the anti-cruiser's cruise. They're much more casual, much more adventurous, and often have a lot of first-time cruisers onboard, which gives them a feel that is unique, comfortable, and accessible.
---
When is the best time to take an Alaskan cruise?
The Alaska cruise season runs roughly from early May to late September, with mid-June to mid-August being the "high," or busiest, season. The weather tends to be warmest during those months, but you'll find peak prices as well.
The weather in Alaska is incredibly unpredictable, so trying to choose the best time to visit based on average temperature and the chance of rain can be as much a gamble as placing a bet in the ship's casino. Generally speaking, though, June tends to be the driest month (though often cool), and August the wettest (but warmer than June).
While you can find great deals on cruises at the very beginning and very end of the season, I don't recommend booking the first and last cruises of the year. You should be fine by late May and early September (the latter of which is actually one of my favorite times in the state), but traveling during the beginning of May and end of September comes with some downsides. The weather is colder, for one, and some attractions, tours, and services may be unavailable due to weather or as they open or close down for the season.
For a more detailed look at the best time to visit Alaska, check out this post.
---
Which cruise line is the best for Alaska?
This is a tough question since, for the most part, all the major cruise lines in Alaska are pretty similar in quality of experience. When helping my vacation planning clients choose a cruise, therefore, I urge them to put more consideration into the actual itinerary than the ship or cruise line itself. For most people, the point of cruising to Alaska is to experience the state in the best way possible, so the ship itself tends to come second.
Here are my suggestions for choosing an Alaska cruise:
Choose an itinerary that gives you the most time in the most places versus days at sea. This is why I suggest taking a seven-day cruise that goes between Seward/Whittier and Vancouver rather than a round-trip from Vancouver up the Inside Passage or a ship that leaves from farther south like Seattle.
Personally, I prefer to cruise on smaller ships with fewer people. Even though they often have fewer flashy amenities, I think smaller ships are more intimate and enjoyable. They're also better for first-time cruisers or those who want to see Alaska but are less excited about the cruising aspect.
I recommend Glacier Bay over Hubbard Glacier, but it's great if you find an itinerary that includes both!
Additionally, I recommend Skagway over Haines or Icy Strait Point. Even though the main drag (Broadway) in Skagway can feel "touristy" and commercial, the Gold Rush history here is fascinating and unparalleled and there are some excellent excursions (like the White Pass & Yukon Route). Haines does have some merit on its own, though, as there's a beautiful bald eagle preserve and other fun activities available. You can reach Skagway by boat/ferry from Haines, so it's not a huge deal if your ship stops there instead, but it's much more convenient to dock right in Skagway. Icy Strait Point has a more authentic Alaskan feel but is very small and there's not a lot to do.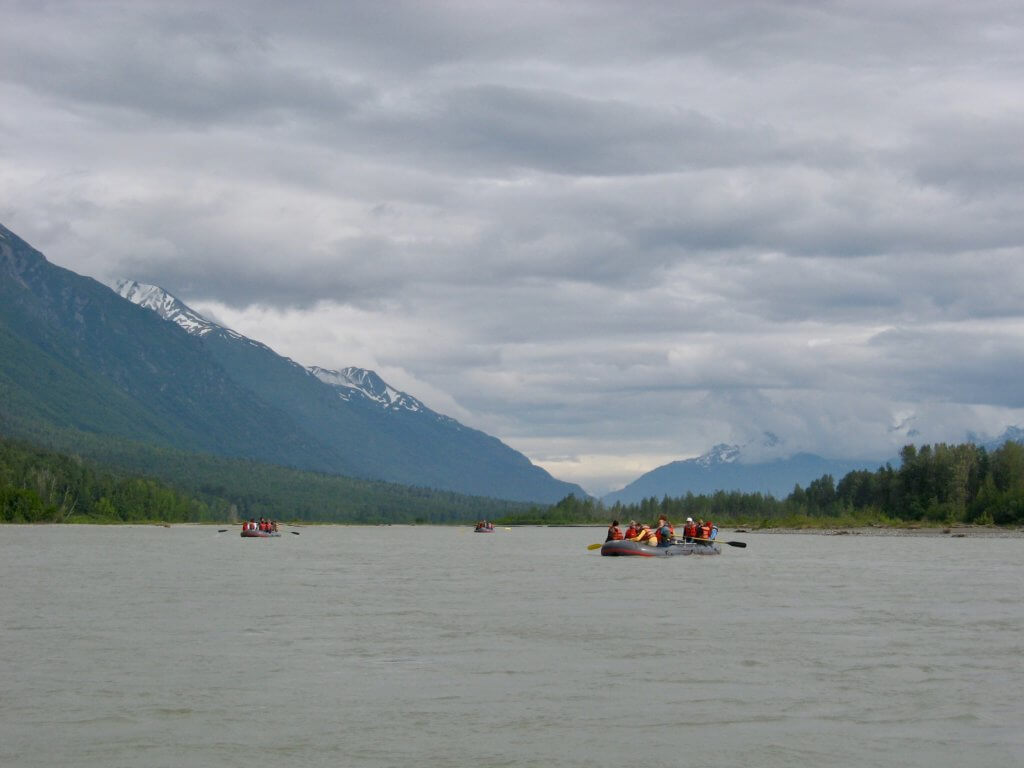 ---
Will I be able to see the northern lights from the ship?
I'm sorry to disappoint you, but if you're taking a cruise anytime between mid-May and mid-September, the answer is probably no. During those months, the tilt of the earth's axis causes Alaska to be bathed in daylight and it doesn't gets dark enough at night for the aurora borealis to be visible.
If seeing the northern lights is a priority, you'll want to cruise as late in the season as possible. Better yet, travel to Alaska during the late fall or winter when the state experiences long periods of darkness.
---
Is it really light out all the time?
Yes! The "midnight sun" is an incredible thing. For much of the summer, the darkest it will get is a sort of dusky twilight even in the dead of night. While it may seem strange at first, I loved having the midnight sun accompanying me on my Alaskan adventures. You never had to worry about needing a flashlight or getting lost in the dark, and the extra hours of daylight help keep you energized longer because your body isn't receiving visual cues that it's time to wind down for the evening.
The longest day of the year is the summer solstice, which occurs around June 21. Even as far south as Juneau, the sun rises before 4:00 AM and sets after 10:00 PM on that day. Traveling in the weeks before and after the solstice will give you the maximum benefit of the midnight sun, while cruising later in August and September will give you a bit more of a normal-feeling distribution of daylight to nighttime.
Although most ships are equipped with blackout curtains when cruising in Alaska, all that sunlight can still mess with your circadian rhythm a bit. If you foresee having trouble sleeping while it's still light out, make sure to pack a sleeping mask or a light sleep aid like melatonin.
---
What should I wear on an Alaska cruise? Do I need to dress up?
Overall, cruises to Alaska tend to be much more casual than those to other destinations. You won't find super formal evenings on most Alaska cruises; while some regular cruisers might dress up for dinner, there's no pressure to do so yourself. On the whole, the name of the game is warmth and comfort, and you'll notice that Alaskans tend to dress casually and with the weather and topography in mind. Bring a nice outfit or two for dinners on the ship, but don't feel that you need to dress to impress.
My best advice for what to wear in Alaska is to dress in layers. The weather is unpredictable and can change quickly, so you should always be prepared for anything that might come your way. Layers allow you to easily add and remove clothing as needed throughout the day.
You'll also want a good waterproof jacket, sturdy boots or sneakers, and a hat and gloves in case it gets chilly, especially on the decks of the ship. That said, there are usually hot tubs on the top decks, so don't forget to bring a swimsuit so you can enjoy them!
---
What should I pack for an Alaska cruise?
My comprehensive post about what to pack for Alaska features a handy packing list as well as some general advice. Check it out!
---
Will it be cold on my Alaska cruise?
While the answer to this may depend on your definition of "cold," the fact remains that Alaskan cruises are usually chillier than most other kinds of sailings. Generally speaking, the southern parts of the state tend to be cloudy and cool in the summer. The average high temperature in Juneau is only in the low 60's Fahrenheit (the high teens in Celsius) throughout the warmest months of June, July, and August. Sunny days, however, can be really warm and pleasant.
You'll definitely want to come prepared for rain, cold winds on the upper decks of the ship, and chilly mornings. That said, don't neglect to bring a couple of t-shirts for those nice days (or hours) that will hopefully come along as well.
Also, if you're headed into Alaska's interior, make sure to have some warm weather clothing on hand. Ironically, the further you go into the interior during the summer (especially once you get above the mountains north of Anchorage), the warmer and drier it tends to be. I've often seen temperatures in the mid- to high 80's (around 30°C) in Denali and Fairbanks.
---
Should I get a room with a balcony?
Lots of people will tell you that paying extra for a balcony on a cruise is a waste of money. This may be true for some people and some cruises, but having a balcony is definitely worth it on many Alaska cruise itineraries. Many cruises include at least one day where you're "parked" in a spectacular place, like Glacier Bay, to just admire the scenery. While you can certainly admire the landscapes from the main decks, it's really nice to have your own private space to revel in the grandeur.
For "southbound" cruises (those traveling from Anchorage/Seward/Whittier toward Vancouver or Seattle), I tend to recommend choosing a stateroom on the port (left) side of the ship. The opposite is true for northbound sailings, where you'll see slightly more from your balcony if it's on the starboard side. Don't despair if that doesn't work out, though, since there's plenty to see on either side when cruising the Inside Passage or on days devoted to one spot like Glacier Bay.
---
Should I buy a drink, WiFi, or other onboard package?
Although it may seem like cruises are all-inclusive, there are actually a number of amenities that may incur an additional fee. Most ships charge extra for beverages like soda, fresh-squeezed juice, and alcohol, and WiFi is rarely included for everyone. (Remember that unless you're in port, you most likely won't have cell reception.)
You can pay for some of these amenities a la carte, like purchasing a glass of wine with dinner or paying for an hour of WiFi as needed, but cruise lines also sell packages that give you unlimited access for the duration of your cruise. Whether or not those packages are worth the money, however, really depends on what you want from your cruise experience.
Personally, I encourage people to forego the WiFi packages and take the opportunity to disconnect and enjoy a technology- (and especially social media-) free vacation. That said, there are lots of reasons why you might need to have internet access on the high seas, and sometimes paying the flat rate for a package can be more economical (and definitely more convenient) than purchasing internet time by the hour.
My advice for drink packages is to try to estimate how many drinks you'll probably have per day (remembering that you'll be spending a certain number of days largely off the ship exploring your ports of call) and see if that cost is more or less than the per-day cost of a drinks package. If, like M and me, you rarely have soda and indulge in two or three drinks at most in an evening, it likely doesn't make sense for you to purchase a full package. But if you drink more heavily, have multiple sodas per day, or just don't want to have to worry about a drinks tab at the end of your cruise, a beverage package is probably a good fit.
Happily, packages like these are often included in cruise sales and promotions, so you might luck into getting one included at no additional cost. I have also had clients who have booked cruises without package add-ons and later received emails offering them at steep discounts. Win-win!
---
Should I buy the meal plan for my cruisetour?
If you are booking a "cruisetour" that includes both land and sea components – for example, if you're spending six days traveling between Fairbanks, Denali National Park and Preserve, and Anchorage before being transferred to your cruise ship – any meal that's not a part of your itinerary is not included in your overall vacation cost. For example, if your entire tour group is scheduled to take a lunch stop during a sightseeing day in Fairbanks, that meal will be included, but your dinner later that evening on your own will not. As a result, many cruise lines offer the option to purchase a meal plan that will make the land portion of your vacation more all-inclusive.
There are a few benefits to purchasing a meal plan. First, it makes budgeting easier because you remove the variable of food costs (which are high in Alaska) from the equation. Meal plan vouchers are also only good at certain restaurants, so you know where you'll be eating each night and don't have to worry about researching and finding a place to go. Finally, many meal plans include a choice of starter, entrée, dessert, and nonalcoholic beverage for both lunch and dinner, so you can feel free to indulge and try lots of different things without worrying about racking up an enormous food bill. If you order each of those items for each meal, and especially if you order the pricier menu items, you can also end up saving money on the meal plan compared to paying for everything a la carte.
On the flip side, there are lots of reasons not to bother with the meal plan. First among those, for me, is that the meal plan limits where you can go to eat. When I worked as a tour director, my guests on the meal plan were limited to the restaurant in the hotel where we were staying on any given night. While the food in those places was fine, they definitely missed out on some great restaurants because they couldn't choose where to go without wasting a meal they'd already paid for. Also, depending on how much or how little you eat, you may end up paying more for the meal plan than you would if you just ordered meals a la carte. As with the package options above, it all depends on your own personal travel style and what you want out of your vacation!
---
Which shore excursions are the best?
While the answer to this question really depends on who you are and what you hope to get out of your trip to Alaska, there are definitely some shore excursions that stand out. First is anything that involves "flightseeing," or taking a plane or helicopter to view wildlife, admire landscapes, or land on a glacier. Even though these are usually the most expensive excursions, they are once-in-a-lifetime experiences that are worth every penny. You get such a different perspective on the grandeur of Alaska when seeing it from the air. I personally recommend a glacier landing, but any way you flightsee is better than not doing it at all!
Another recommended excursion is taking the White Pass & Yukon Route train ride in Skagway. This tour is often listed among the best train trips in the world, and for good reason. The scenery is stunning – you're riding a single-gauge railway through a beautiful glacial valley – and you learn a ton about the area's fascinating Klondike Gold Rush history along the way.
I have also heard good things about the whale watching in Juneau, and experiencing the Mendenhall ice caves is a must there as well. In addition, I recommend taking advantage of any opportunity to visit a sled dog kennel, since it's such a unique part of Alaskan culture.
---
What should I book in advance?
That's easy: anything you absolutely don't want to miss. Especially if you're traveling to Alaska during the high season (mid-June to mid-August), you don't want to take any chances that your bucket list excursions and experiences will be sold out. This is doubly true for any flightseeing tours, since those planes are small and fill up quickly.
A quick pro tip on booking flightseeing tours: try to book early in the day or early in your trip if possible. With the weather in Alaska being as variable as it is, booking earlier time slots may give you more opportunities to reschedule if your first flight(s) happen to get canceled.
---
What should I eat in Alaska?
Ahhh, a question near and dear to my heart. There's some great food in Alaska! Seafood is the first and most obvious answer, particularly salmon, halibut, and crab. (A good halibut and chips will ruin cod for you forever.) Blueberries are also a favorite here, with lots of tasty pastries and desserts featuring the local fruit.
Visiting Alaska also provides a great opportunity to try some more exotic meats like reindeer/caribou, musk ox, moose, and bear. Reindeer sausage appears on most every breakfast menu and shouldn't be missed.
Alaska also has some good local breweries, with the Skagway Brewing Company's spruce tip ale being one of the standouts. I also love Alaskan Amber from Alaskan Brewing Company.
---
What else should I know before my trip to Alaska?
You're missing something special if you don't go inland.
Cruising is one of the best ways to experience Alaska, since there are many places that are difficult or impossible to access by car but that cruise ships can visit. That said, there is so much more to the state than the cruise corridor between Seward and Ketchikan, and you're missing some really special if you don't take some time to leave the ship.
If at all possible, try to extend your Alaskan vacation by spending a few days exclusively on land. This can be as simple as a jaunt to Denali National Park or an entire weeklong trip through the state before boarding your ship. You can use my ten-day suggested itinerary or DIY your own (don't forget I'm here to help!), but many cruise lines offer land tours in conjunction with your sailing that make it incredibly easy to get the best of both worlds.
If you are spending time on land, try to do that first and then cruise second.
As a tour director, I used to joke with my guests that the land portion of the trip was their adventure and the cruise was their vacation. Regardless of whether you're doing a cruisetour (an all-in-one group vacation that includes both land and sea) or creating your own itinerary, your time spent on land will most likely be more active. It may include early mornings, long hours of travel by motorcoach or train, and days full of activities. The cruise is much more relaxing and, aside from any excursions you've booked, you can largely go at your own pace.
If at all possible, therefore, it behooves you to undertake the more strenuous part of your trip first and leave the relaxing bit for the end. To be fair, "northbound" cruises – those leaving from Vancouver or Seattle and heading north to Skagway, Seward, etc. – do tend to be less expensive than those heading in the opposite direction. For my money, however, there's a real value to flying into Anchorage or Fairbanks and spending some time on land before cruising south from Anchorage, Whittier, or Seward.
Alaska is expensive.
Don't get sticker-shocked; Alaska is not a cheap destination. The standard of living is often over 25% higher than the national average, and many goods have to be imported, which results in a higher price tag. You'll notice that this is especially true for restaurant food.
Also contributing to high prices is the short tourist season. Tour operators, hotels, excursion vendors, souvenir shops, and other businesses have a narrow window in which to make enough income to last them for the entire year, so bargain prices can be hard to find. Build a little extra into your budget if possible, and be prepared for most goods and services to cost more than you may find back home.
Alaska is an adventure.
While you probably won't experience this as much on a cruise itinerary as you would traveling through the interior, it should be noted that the uniqueness and remoteness of Alaska mean that things don't always go as planned. When I used to warn my guests that Alaska runs on "ish" time, as in "We'll arrive at 5:00…ish." Fickle weather conditions can cause delays and cancellations, wildfires can obscure views, animals aren't trained to appear for cameras, and you'll certainly meet some colorful characters if you venture outside the main tourist areas. Regardless, it's still one of the most spectacular places you'll ever visit. You just need to keep an open mind, be flexible, and embrace the unexpected.
---
There you have them: my best Alaska cruise tips for planning your trip to the 49th State! I hope that they're helpful as you embark on this exciting adventure. If you still have questions, or just want a little expert help in your planning, don't hesitate to let me know!
Like the post? Pin to save or share!
—
Read the Rest of the Alaska Month Posts:
The Ultimate Alaska Bucket List: 25 Can't-Miss Adventures in the Last Frontier
Flashback Friday: Following the Alaska Pipeline on the Dalton Highway
Things to Do in Skagway, Alaska
The Ultimate 10-Day Alaska Itinerary
And Don't Miss…
The Pros and Cons of Cruising
10 Questions to Ask Yourself When Planning a Cruise
10 Things to Know Before Visiting Alaska
The Essential Alaska Packing List for Summer
Why You Should Visit Alaska in the Fall
The Best Time to Visit Alaska
—
Need some help planning your Alaska cruise? Full Life, Full Passport offers customized planning services for all kinds of vacations and budgets!
—
Want to be the first to know when a new post is published, or to receive exclusive content directly to your inbox? Join our email list!