"When is the best time to visit Alaska?"
It's the question I hear most often when people come to me for help planning a vacation to the Last Frontier. To the chagrin of those expecting a quick, easy answer, however, my response is unfailingly, "It depends."
During the years I spent living and working as a tour director there, I came to realize that there is no definitive "best time to visit Alaska." Because the state has so much to offer, there is no single month of the year that could possibly provide everything in one tidy package. Each season has its own merits and drawbacks. Thus, the best time to visit Alaska depends on you: what you personally want to see, do, and get out of your trip.
To help you decide the best time for your Alaskan vacation, I've broken down some of the most common priorities shared by tourists and the optimal time(s) of year to take advantage of each. Read on to learn which time of year will be the best fit for you, and don't forget that I'm here to help if you still have questions!
And PS: Don't miss my list of ten things to know before visiting Alaska!
---
---
Find the Best Time to Visit Alaska for…
Jaw-Dropping Scenery
Spotting Wildlife
The Northern Lights
Maximum Daylight (The Midnight Sun)
The Lowest Cost/Best Value
The Warmest Weather
---
---
Jaw-Dropping Scenery
It's an undeniable fact that Alaska is gorgeous. It's a place where beauty knows no season; it is always there, waiting to leave you slack-jawed in wonder. If you're looking for stunning scenery, any time of year is the best time to visit Alaska.
(Ok, there may be two times of the year when it is slightly less pretty. The first is the very early spring between the snow melting off and the flora returning for the summer. Second is late fall when everything has died off but the snow hasn't arrived yet. Even during those weeks, though, you still have the majesty of the mountains, the beauty of the valleys, and the overall vast grandeur of the place to enjoy.)
Winter is white, crisp, and clean, and you will have far fewer people vying for space and photos at those scenic vistas. Spring and summer reveal incredible colors. Snow melts to bring forth green hillsides and the midnight sun produces a rainbow of big, bright flowers.
One of my favorite things about Alaska is how the hillsides turn purple with fireweed. A flowering plant that gets its name from being the first to return after a forest fire, fireweed blossoms from the bottom up as the summer passes. Alaskans believe that when the blooms reach the top of the plant, winter is only six weeks away. It's definitely a more attractive seasonal yardstick than a Pennsylvanian groundhog.
My personal favorite season in Alaska's interior, and the one I think is most stunning, is early autumn. By then it's starting to get a little cooler, nights are lengthening, and the fall colors come out in a splendor unparalleled by anywhere else I've ever been. It's not just the trees that change color in Alaska; it seems like the whole world arrays itself for the season.
The undergrowth turns a shade of crimson, the trees glitter with gold, and the perennial green of the conifers cuts through to add depth and texture. If you are lucky enough to travel in the fall through Denali, Wrangell – St. Elias National Park, or any of the other remote areas of the state, get ready to be wowed. 
(For a great list of some of the best places to witness the fall colors in Alaska, visit this page.)
Whether you decide to visit in winter, spring, summer, or fall, be prepared to be awed by the vast beauty of Alaska. From the staggering heights of its mountains to the delicate braids of its turquoise-colored glacial rivers, it's a place that never fails to impress.
---
Spotting Wildlife
The opportunity to see wildlife in their unspoiled natural habitats is a major reason why many people choose to visit Alaska. The most sought-after critters are the "Alaskan Big Five": grizzly bears, wolves, Dall sheep, caribou, and moose.
While wildlife are very unpredictable, cooler temperatures usually mean a better chance of spotting them. These are animals that are built to survive the frigid cold of an Alaskan winter, so by midday in the summer months it is often too warm for them to be out and about. For example, Dall sheep, with their remarkable climbing skills, tend to stick to the coolness of higher elevations during the summer. (I used to point them out to guests by having them look for "tiny Tic-Tacs on the mountaintop.") They will, however, come down to lower elevations in the mornings, evenings, and cooler months.
Also, keep in mind that most bears hibernate through the coldest months, so you will want to visit before late fall or wait until late spring for a chance to see them. One benefit of visiting in late spring and early summer is that the mama bears will be emerging from hibernation with adorable little cubs in tow!
While spring and fall are usually good months to spot wildlife, don't despair if you'd like to visit when the weather is a little warmer. Just try to do any wildlife searching – like a bus tour into Denali – as early in the morning as possible.
Another way to maximize your chances of seeing animals in Alaska is to make sure you're visiting the interior rather than staying exclusively on a cruise ship. While the whale-watching and birding opportunities are good from a ship or the port cities a cruise visits, your best bet for seeing big mammals like caribou and wolves is to spend some significant time on land.
(Check out this handy guide to when and where is best for whale watching.)
Denali National Park and Preserve is one of the best places in the state to look for Alaska's famous furry residents, and it's easily accessible from Anchorage or Fairbanks via the Alaska Railroad or the George Parks Highway. The train offers eight hours of incredible scenery (and possible wildlife spotting) as you wind through remote areas not serviced by roads, while you can reach Denali National Park in less than four and a half hours if you travel by car.
One of my favorite things about Denali is that vehicular access is heavily restricted inside the park, particularly in the summer. During those months, only approved buses (through a private contract with a single company) are allowed further into the park than the first fifteen miles of the Park Road. This means that there is very little traffic as you explore these wide-open spaces, unlike in other national parks where you're often fighting a crowd for a glimpse of an animal. Animals have much less interaction with humans and are therefore more likely to make an appearance.
Many of the Denali bus drivers are very experienced, which makes them great at spotting animals from a distance. When an animal is sighted, the drivers pull their buses aside for the best viewing possible.
While your chances of spotting wildlife in Denali or the rest of Alaska can be higher than other places, please remember that both the national park and the state are absolutely massive. (Denali National Park occupies more than six million acres and is only slightly smaller than the state of Massachusetts.) Thus, no wildlife sighting is guaranteed.
---
Seeing the Northern Lights
Along with Iceland and Scandinavia, Alaska is one of the best places to spot the northern lights. Adorner of many a bucket list, the aurora borealis is a breathtaking phenomenon to witness. I first saw them in 2009, in late September of my first year as a tour director. I was in a hotel room outside of Denali National Park when a colleague woke me up with a phone call:
"Gwen… the lights are out."
I shot out of bed and scrambled into some warm clothes. After calling to wake up a friend who was visiting me that week, we jumped in our rental car and sped north along the George Parks Highway to get away from any light pollution. We pulled off the road in the middle of nowhere and watched curtains of brilliant green light dance across the sky for more than an hour. It was an unbelievable experience, the kind that fills your heart with awe and your eyes with tears. I had to keep reminding myself that I wasn't dreaming.
If seeing the northern lights is your priority, you will want to travel north sometime between mid-September and mid-April. While summer is a great time to visit Alaska, the midnight sun actually eliminates your chances of experiencing the aurora because it never gets dark enough for them to be visible. Make sure to visit these northern latitudes at a time when they will actually experience a deep nighttime darkness.
If you are there at the right time of year, your best chances for seeing the northern lights come on clear, dark nights when there is a forecast of auroral activity. Make sure to check both the weather and northern lights forecasts before heading out, as clouds can obscure the phenomenon. The hours surrounding midnight usually see the most activity, and your chances are best in Alaska's heartland, particularly around Fairbanks, though all areas of the state can experience the northern lights.
The lights themselves are notoriously fickle. Sometimes they appear and linger for hours; other times you may catch a hint of green that disappears so quickly you wonder if you imagined it. Many hotels have northern lights wake-up calls that may or may not be reliable to alert you to auroral activity. It all depends on whether or not the hotel staff receives word that an aurora is occurring and if they follow through with making all the calls before it disappears. Still, it doesn't hurt to ask and sign up if the service is offered.
For more information about the aurora, check out the University of Alaska Fairbanks's excellent list of frequently asked questions.
---
Maximum Daylight (The Midnight Sun)
You may have heard that Alaska experiences very long days in the summer and very long nights in the winter. It's true! Because of the 49th state's northerly location, the tilt of the earth on its axis causes the sun to rise very early in the morning during the warmer months and not disappear below the horizon until late in the night. Above the Arctic Circle, the sun doesn't set at all for a period that ranges from a single day to weeks at a time depending on how far north you are. Conversely, these same areas are plunged into darkness during the winter and can go for days without seeing the sun rise above the horizon.
You will be hard pressed to find any real darkness during an Alaskan summer. The closest it gets is a sort of dusk in the very middle of the night, and the farther north you go the shorter your "nights" will be. It's amazing to be able to walk around at midnight without a flashlight, and many golf courses will have evening tee times that would be unimaginable in the Lower 48. With no night falling, it's easy to lose track of the hour; don't be surprised if you head out to enjoy a pint and realize that it's after midnight by the time you decide to leave!
For people who visit in the spring and summer, the long days are a real boon because you have plenty of daylight to be able to see and do everything that this incredible place has to offer.
(One tip, though: the lack of darkness can mess with your circadian rhythm. While many hotels have heavy curtains that help keep out the midnight sun, it may also be helpful to bring along some melatonin or another mild sleep aid to help your body recognize that it's time for bed.)
The longest day of the year, the summer solstice, is June 21. Those looking to enjoy the full effect of the midnight sun should plan to visit Alaska in the days and weeks around that date. Again, the farther north you go, the more dramatic your solstice will be; I spent one solstice in Fairbanks and the sun was visible in the sky for almost twenty-two straight hours:
The solstice is a great time to be in Alaska, as many towns hold special celebrations and people are usually in a festive mood. Fairbanks is a particularly fun place to be, as the Midnight Sun Festival takes place every year on the closest Sunday to June 21. What better way to celebrate the longest day of the year than with street food, live music, craft vendors, and thirty thousand fellow revelers? A baseball game is also played in the middle of the night on June 21 in Fairbanks without the use of lights on the field.
There's a contagious, positive energy in the air as people who have endured the long darkness of winter come together to celebrate the sun. Should you be in Alaska toward the end of June, be on the lookout for parades, parties, and other celebrations to mark the day, and plan to join in the fun!
---
Lowest Cost/Best Value
One downside to an Alaskan vacation is that it can be expensive. Many goods, including gasoline and a lot of foodstuffs, have to be imported from the Lower 48. The cost of living can be sky-high in bush communities where supplies have to be flown in, and sometimes the larger towns aren't much better. Also contributing to high prices is the short tourist season, which tour operators, hotels, excursion vendors, and other business owners rely upon to sustain them through the entire year.
The least expensive time to visit Alaska is outside of that peak tourist season, which generally runs from June through August. During those months, Alaska sees a huge influx of both tourists and seasonal workers that drives up the price of lodging, food, and transportation. While there are definite benefits to traveling during this period – warmer weather, greater availability of tours and activities, long days – you should expect to pay top dollar for them.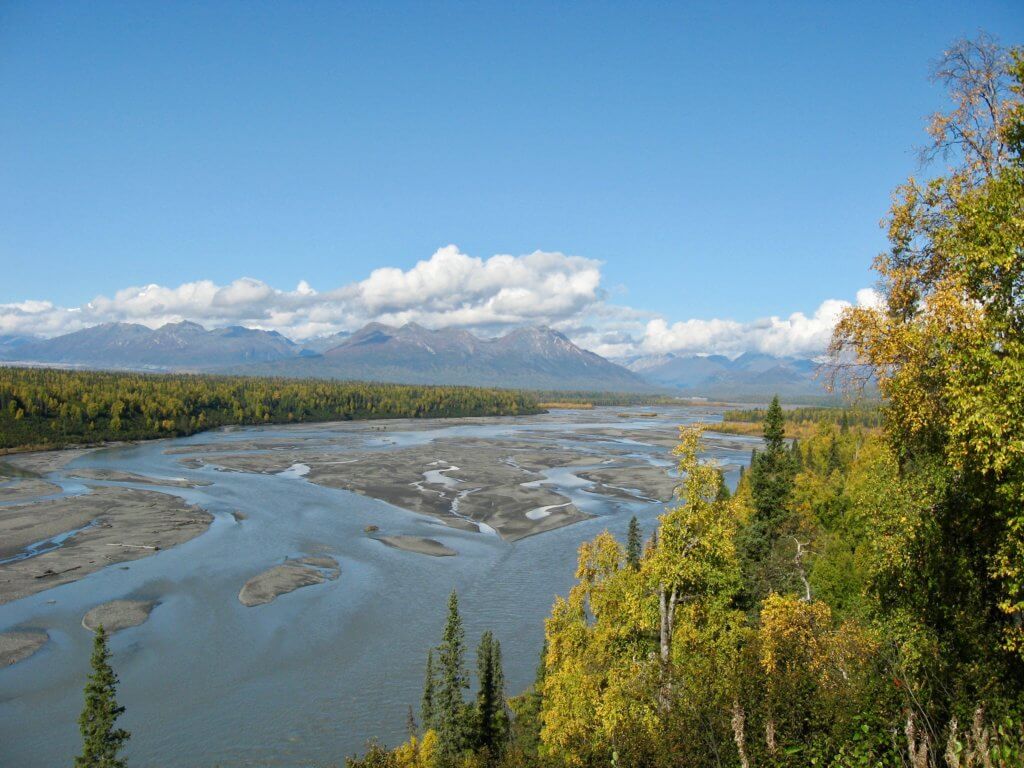 The summer tourist season also includes the "shoulder" months of May and September. You can often find great deals on cruises and hotels during those months, and many gift shops drastically reduce prices in September to get rid of inventory.
There are a couple of potential downsides to traveling to Alaska in May and September. One is that the weather is usually colder. Another, perhaps larger, concern is that some attractions, tours, and services may be unavailable.
You may experience a lower standard of service in early May as vendors train new staff or work out operational kinks. Some tour providers wait to offer excursions until the full force of summer visitors arrives or are unable to operate until the weather warms up. Due to conditions, parts of the road into Denali National Park open later in the season and close early. Many restaurants are shuttered for the winter in smaller, more tourism-dependent towns like Skagway.
These inconveniences are unlikely to ruin your trip, but it's important to be aware of the possibility of them. If you would like to take advantage of discounted shoulder season travel with limited restrictions, I recommend visiting in late May or early- to mid-September.
Another option is to visit Alaska in the winter. While this may seem absurd to some given the state's reputation for chilly weather, winter is actually a fantastic time to see the Great Land in all its glory. (Plus, you'll avoid the crowds that flock there during the warmer months.)
Despite the cold, Alaskans love to get outdoors and take advantage of the few hours of daylight afforded to them during the winter. Activities such as cross-country skiing, snow machining (or snowmobiling), ice fishing, and myriad other outdoor pursuits are popular. There are also some significant festivals and events to enjoy such as the Fur Rondy in Anchorage, the world-famous Iditarod and prestigious Yukon Quest dogsled races, and Talkeetna's Wilderness Woman's Contest.
---
The Warmest Weather
Many people are surprised to learn that Alaska is not covered with snow all year round. On the contrary, parts of the state can get quite warm during the summer, and it can be very pleasant to spend a lot of time outdoors.
Generally speaking, the farther into the interior you go during the summer, the warmer and drier it gets. Mountains trap wet, cool air over the southern part of the state, often causing places like Anchorage, Seward, Skagway, Juneau, and the Inside Passage to be chilly, cloudy, and rainy. When the sun comes out in those areas, though, it's absolutely magical.
The rain shadow on the opposite side of the mountains means that the interior, on the other hand, tends to be hotter and more arid. I frequently saw temperatures above 80°F (27°C) in Fairbanks, with averages in the 60's and 70's (15°- 26°C) during the summer. Anchorage, on the other hand, tended to be more in the 50's and 60's (10° – 21°C) during the peak summer months. If you're looking for the warmest month on average, go in July.
Regardless of when you're traveling to Alaska, make sure to bring lots of layers. The weather can change quickly and it's good to be prepared to add or remove clothing as needed. Mornings and evenings can be cool, especially in the spring and fall, and snow can show up unexpectedly and dust the mountaintops overnight. It is especially prudent to be prepared for rain and cooler temperatures if you are traveling exclusively by cruise ship, as the port cities are soggier than their interior counterparts. Make sure to check out my Alaska packing list for more information!
---
As you can see, there are a lot of considerations that go into deciding the best time to visit Alaska. It can be hard to weigh all of your options: do you want to see the northern lights, or would you prefer the warmest weather possible? Have you found tremendous discounts for early spring travel but are not sure you will be able to take that kayaking trip you read about online?
The good news is that Alaska stuns in all seasons. Regardless of when you go, there are plenty of awe-inspiring sights, fun cultural events, and extraordinary experiences waiting for you. In a lot of ways, you can't go wrong.
You've just got to book the ticket! And if you need me, I'm here to help.
Happy travels!
(Like the post? Pin to save or share!)
—
What season sounds to you like the best time to visit Alaska?
Have you been to Alaska? When did you visit?
—
Read More:
10 Things to Know Before Visiting Alaska
Why You Should Visit Alaska in the Fall
The Ultimate 10-Day Alaska Itinerary
The Essential Alaska Packing List for Summer
—
This guide on the best time to visit Alaska was originally published on April 18, 2018, and last updated on May 26, 2022.
—
Need some help planning your vacation? Full Life, Full Passport offers customized itinerary planning for all kinds of trips and budgets.
—
Want to be the first to know when a new post is published, or to receive exclusive content directly to your inbox? Join our email list!