When you think of traveling to Scotland, no doubt images of majestic castles and wild, lonely moors spring to mind. Maybe you're picturing a tartan-clad chap playing a tune on a set of bagpipes, or a quaint little village full of stone houses all in a row. I know that's what I imagined when I started planning our trip to Scotland. Soon, however, I realized that I was missing something as integral to Scotland as castles, moors, and bagpipes: sheepdogs! Read on to see why visiting a working sheepdog farm ended up being one of the highlights of our time in the British Isles.
---
In September of 2016, M and I set off across the pond for two weeks in Scotland and Ireland with my in-laws. Early in our marriage, we had agreed that we wanted to prioritize taking at least one international trip with each of our sets of parents, and Mama and Papa M ended up being our first victims lucky traveling companions.
After deciding on our destination, M and I got to work crafting the perfect trip. It would be everyone's first time in the British Isles, and my first time planning a vacation for a multi-generational group. Luckily, M's parents are wonderful, easygoing people, and they were all too happy to sit back and let us take the reins in planning our two weeks together. When we asked their preferences, they only had three requests: they wanted to experience history, visit castles, and see some sheepdogs in Scotland.
M's dad grew up with border collies and is a big dog guy. He has always been fascinated by working dogs and loves our Shetland sheepdog, Riley, almost as much as we do. (He might even protest, if he reads this, that he loves him more.) M's mom isn't much different, and I figured that if we could somehow work puppies into the mix she would be beside herself. I knew that they would both be delighted if we could visit a working sheepdog farm.
Luckily, a little internet research brought us to Leault Farm and their daily* sheepdog demonstration in the Scottish Highlands.
(May 2022: Leault Farm stopped doing their sheepdog demonstrations in the wake of the COVID-19 pandemic. They now have a new website and have indicated that demonstrations will be starting back up in "spring 2022," but make sure to double-check before making plans.)
At first glance, Leault Farm is a fairly unassuming place, one of hundreds of Scottish farmsteads in the Highlands and sprinkled with a hodgepodge of buildings and equipment. After spending an hour watching a shepherd show off his dozen impeccably-trained border collies, however, we left thinking the place was anything but ordinary.
We arrived to find a field dotted with fluffy, grazing sheep as far as the eye could see. After paying our admission, we took our place in a group at the edge of the grass overlooking the field. The shepherd, Neil, spent some time setting the scene for the demonstration we were about to experience before giving the first whistled signal. Immediately, the eager dogs tore off across the grass to round up the herd.
From his position in front of the spectators, and with explanatory commentary in between, Neil guided his dogs with a series of whistles and calls that were unique to each dog and directive. The border collies' responses were perfectly attuned, and they worked together with a fluidity and a grace that was amazing to witness. Soon, where once there had only been a scattered mess of widely-dispersed sheep, a herd began to take shape as the dogs began to direct their charges over the rolling landscape toward their master.  When an unruly sheep would attempt to break from the pack, she was quickly and efficiently redirected.
The precision and coordination of the dogs' movements were astonishing and almost clinical. We watched in amazement as the dogs drove the sheep toward us, separated them into groups that were directed to different areas, and contained a little sub-herd (I'm sure that's the technical term) for additional demonstrations. Although we were standing for about forty-five minutes watching the dogs work, we were far from restless or bored.
In the end, we – and especially M's parents – counted our experience at Leault Farm as a highlight of our time in Scotland. Here are the top ten reasons that you shouldn't miss an opportunity to visit a working sheepdog farm in the Highlands.
---
10 Reasons Why You Should Visit a Working Sheepdog Farm in Scotland
1.) The farm setting is beautiful.
Even though the day was dreary and gray, the farm itself was very prettily situated among the hills. The rolling fields were dotted with carefree sheep, and everything was lush and green. It was the perfect backdrop for the spectacle we were about to witness.
---
2.) You will learn a lot about Highland farming history and culture.
Neil, who conducted our demonstration, was a fourth generation shepherd with a tremendous depth of knowledge about training dogs and raising sheep in the Scottish Highlands. He also was quite a character, which made his presentation all the more entertaining. It was impressive how he was able to expertly direct his dogs while interspersing quick bursts of information about what he was doing and why to his assembled guests. We learned a lot about the dogs' training and maneuvers and gained insight into farming life in the Highlands and the economics of raising sheep.
---
3.) You might get to see puppies!
To my and my mother-in-law's delight, we arrived to find three rambunctious puppies running around and greeting guests as they parked. They were the best welcoming committee we could have asked for! Each of these little guys was in training to become a bonafide sheepdog, and it was adorable to see how intently they watched their elders at work and tried to get in on the action. I can't guarantee that there will be puppies when you visit, as it all depends on the needs of the farm in that particular season, but it's definitely a plus if you luck into some puppy time!
---
4.) It's inexpensive.
When we visited Leault Farm, the cost per person to view the demonstration was £6, or about $8.50 US. We were there for about an hour, and between the excitement of watching the dogs at work and the information we received we felt it was well worth the money. We also were pleased knowing that the cost of our admission helped to care for the dogs and preserve this disappearing way of life.
---
5.) You can ask lots of questions.
Not only did Neil provide us with great information, but he also was very willing to answer any questions from the crowd. Many of us took advantage of this opportunity, and some people even asked for tips about training their own dogs. The fact that the experience was interactive made it all the more enjoyable.
---
6.) You can try your hand at sheep shearing.
Once the sheep were rounded up and separated into smaller groups, Neil selected a particularly wooly specimen from the herd and laid him down so that any volunteers could learn how to shear off the extra wool. Papa M was quick to give it a go under a multitude of watchful and protective eyes!
---
7.) You may be able to bottle-feed lambs.
After our woolly friend had been sufficiently sheared and the sheep were all in their assigned locations for the evening, we got the opportunity to feed a few of the lambs who are being raised around the farm rather than out in the fields and moors. Neil passed around bottles of milk and within minutes the eager young sheep were our new best friends.
---
8.) It's great for kids. 
Watching a sheepdog demonstration would make a great family activity. Between the inexpensive price tag, the excitement of watching the dogs in action, the opportunity to pet and interact with dogs and sheep, feeding the lambs, and even learning to shear, you've got a recipe for a fun-filled hour with the kids!
---
9.) The dogs love it as much as you will. 
From the moment they came bounding into view, the dogs' excitement was contagious. You can tell that these animals are well cared for and love to do their work. At Neil's first signal they were off like a shot, herding their charges with seemingly endless energy and enthusiasm. It's great to see dogs doing work that they were born and bred to do and enjoy, as opposed to watching wild animals that have been trained purely for human amusement.
And the best reason to attend a sheepdog demonstration is that…
---
10.) Watching the dogs do their work is awe-inspiring.
The skill, intelligence, and athleticism of the border collies we saw was absolutely incredible, and we were so happy with our decision to stop and take in the demonstration. It's a thing of beauty to watch a master at his or her craft, and these dogs were certainly masterful. Long after we left the Cairngorms, M's parents were still talking about our time at Leault Farms, how much they enjoyed the experience, and their amazement at the training and perfect execution they witnessed. It was truly an unforgettable stop.
Important Information:
*Demonstrations are offered at 4:00 PM every day of the week except Saturdays between the first of June and the thirty-first of October. There may be other demonstrations available in April and May, but you should email in advance to check. No advance reservations are required.
The farm is located in Kincraig, about eleven miles south of Aviemore. Aviemore is a great place to base yourself for exploring the Highlands, and I recommend The Old Bridge Inn for some dinner after your demonstration.
Please note that there may be some differences between my experience and yours based on the season (ex: there may not be lambs that need to be bottle-fed), but you'll still have a great time!
Tips for Visiting the Sheepdog Farm:
Arrive about fifteen to twenty minutes early for the demonstration to allow yourself time to park and pay your admission before it begins.
Payment is accepted in cash only. Smaller bills and/or exact change are helpful.
You will be standing outside for the entire duration, so make sure to wear good footwear and be prepared for the weather. Bring a folding or camp chair if standing for about an hour would be difficult.
—
So there you have it – one of our surprise favorite activities from our trip to Scotland! I hope you take a couple of hours out of your time in the Highlands to check out Leault Farm or another working sheepdog demonstration in Scotland. You won't regret it!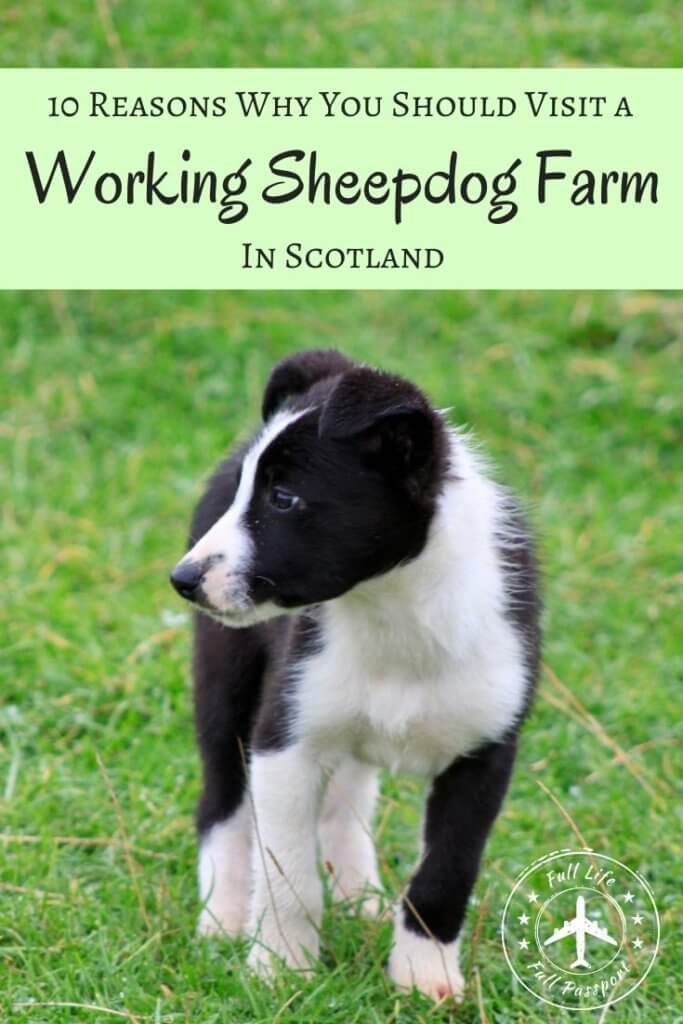 (Like the post? Pin to save or share!)
—
Have you been to Scotland? What activities did you enjoy most there?
Have you ever seen working dogs in action? 
—
Read More:
Visiting Hidden Loch Coruisk on Scotland's Isle of Skye
One Week in Scotland: A Perfect Itinerary
A One-Day Driving Itinerary for Scotland's Isle of Skye
Helpful Tips for Traveling with Your Dog [From a Vet!]
—
This article about visiting sheepdogs in Scotland was originally posted on April 23, 2018 and last updated on April 24, 2021.
—
Need some help planning your vacation to Scotland? Full Life, Full Passport offers customized itinerary planning for all kinds of trips and budgets.
—
Want to be the first to know when a new post is published, or to receive exclusive content directly to your inbox? Join our email list!