While you could easily spend months in Scotland without getting tired of her charms, we don't always have that much time to spare! Read on to discover our suggested itinerary for one perfect week in Scotland.
---
Before M and I got married, we talked at length about our desire to prioritize travel in our new life together. Since we wanted to wait a couple of years before having kids, we committed to taking advantage of that time to have some adventures by ourselves. We also resolved to expose our kids to the world through domestic and international travel as often as we could. Finally, we agreed that we wanted to undertake at least one big international trip with each of our sets of parents. Those vacations, we thought, should probably happen sooner rather than later, since our folks are all still young and healthy enough to enjoy traveling.
M's mom and dad were our lucky guinea pigs in this experiment. We chose the British Isles as our destination and decided to split our sixteen-day itinerary roughly in half between Scotland and Ireland. It ended up being an absolutely unforgettable experience for all involved.
Although we loved our time in Ireland, I have to be honest with you: Scotland totally and completely stole all four of our hearts. We loved the wild, lonely expanses of the Highlands; the warm, genuine hospitality of the people; the rich and proud history that permeated every square mile; the surprisingly delicious food; and the landscapes that took our breath away at every turn. We were so sorry to say goodbye!
To that end, I can't wait to share my itinerary for one week in Scotland with you! We certainly moved at a quick pace, but the amount we were able to see and do in the course of just seven days more than made up for any tiredness we might have felt in the evenings. I hope you enjoy, and that it helps you in planning your own Scottish adventure!
(Note: some of the links in this article may be affiliate links, which means that I may earn a small commission from your purchase at no additional cost to you. Thank you for supporting Full Life, Full Passport! You can find the full disclosure here.)
---
One Week in Scotland: Itinerary at a Glance
Day 1: Arrive in Edinburgh; Royal Mile and Arthur's Seat
Day 2: Explore Edinburgh, including Edinburgh Castle, the Royal Mile, and Princes Street Gardens
Day 3: St. Andrews and Stirling Castle
Day 4: Cairngorms National Park and working sheepdog demonstration
Day 5: Culloden Battlefield and the Isle of Skye, including boat tour to Loch Coruisk
Day 6: Explore the Isle of Skye, including Kilt Rock, the Quiraing, and Neist Point Lighthouse
Day 7: Drive to Glasgow, including Eileen Donan Castle, Fort William, Glencoe, and Doune Castle
Day 8: Flight home
---
Day 1: Arrive in Edinburgh
---
It was a little after 7:00 AM when we landed in Glasgow after a red-eye flight from Philadelphia. Although red-eyes can be exhausting, I have come to appreciate being able to land in the morning in a new place without feeling like I wasted a day on travel. Even if I have to take a nap at some point during that first day, it's usually worth it!
As should surprise no one, we hit the ground running, picking up our rental car and setting off for Edinburgh. The trip only took an hour, and even though it was mostly highway we were able to get a quick glimpse of the Scottish countryside.
Our accommodations for the next two nights were a quaint HomeAway apartment within walking distance of the Royal Mile. It was located in an eighteenth-century building that still boasted the original circular stone stairwell leading up to the apartment.
After changing clothes and freshening up, we couldn't wait to hit the city! It was a warm, sunny day and we wanted to take advantage of the beautiful weather in this beautiful place!
Of course, our first stop was the Royal Mile.
As its name might suggest, the Royal Mile is a roughly mile-long thoroughfare that runs right through the heart of Old Town Edinburgh. At one end is the impressive fortress of Edinburgh Castle; at the other is Holyrood Palace, the monarch's official residence in Scotland. In between, the streets are lined with museums, souvenir shops, restaurants, pubs, street artists and musicians, churches, and other fun sights. Gorgeous architecture abounds, and narrow alleyways branch off from the main thoroughfare, begging to be explored. You almost feel like you could fall back through time if you follow the right one.
It's probably the most popular tourist destination in all of Edinburgh, which means that it's frequently crowded. That said, you'd be missing something special if you didn't take a stroll along its length.
We kept walking downhill along the Royal Mile until we came to Holyrood Palace, also known as the Palace of Holyroodhouse. Home to centuries of Scottish royalty, including Mary, Queen of Scots, and (briefly) Bonnie Prince Charlie, Holyrood is a place steeped in history. While we didn't get a chance to peek inside, hour-long audio tours are offered if you'd like to explore the apartments, bedchambers, gallery of royal portraits, gardens, throne room, and more.
The reason that we didn't make it inside Holyrood Palace was because of the weather. The day was so beautiful that we couldn't resist a wander over to nearby Arthur's Seat.
Located at the top of one of the hills within Holyrood Park, Arthur's Seat is a rocky peak that provides incredible views out over the city of Edinburgh, the Firth of Forth, and the surrounding countryside. The name may be related to Arthurian legend, but no one knows for certain. What I do know is that it was a fairly easy hike to reach the Seat (though it's a bit steep and rocky near the top), and the panorama that greeted us there was more than worth the effort.
There are a number of different hiking trails in Holyrood Park, many of which reach a terminus at the top of Arthur's Seat. You could easily spend a whole afternoon exploring on a nice day. Would I recommend hiking it around 2:00 PM after a long red-eye flight and no rest, like we did? Probably not, but we couldn't say no!
After spending some time taking in the views of the Royal Mile, Holyrood, the Firth, and miles of homes, farms, and forests, we descended the hill to head back to our apartment. On the way down, we passed the small ruin of St. Anthony's Chapel, which was charmingly situated on a hillside overlooking Holyrood Palace and the adjacent loch. It was our first set of ruins in Scotland and only whetted our appetite for more!
Blissfully tired and pleased with our day, we spent the rest of the night relaxing and resting up for the rest of our itinerary for the week in Scotland!
—
Tips for the Royal Mile and Arthur's Seat
Although there are plenty of pubs, restaurants, and gift shops along the Royal Mile, you may want to seek sustenance and souvenirs elsewhere. Prices will most likely be higher along this heavily-touristed stretch, and quality/authenticity may not be as desirable as what you'll find a few blocks away from the main tourist drag.
Wear sturdy shoes when hiking Arthur's Seat and watch your footing as you near the peak! Dress in layers, as the wind may be chilly at the top and a drizzle may come on unexpectedly.
If you are planning to visit a lot of historical sites in Scotland, it may be worth it to purchase an Explorer Pass. You can choose a three- or seven-day pass (£33 and £40 per adult, respectively) to gain admission to more than seventy sites managed by Historic Scotland, as well as some other perks. For us, it was a cost saver. Featured in this week in Scotland itinerary are five Explorer Pass properties: Edinburgh Castle, Stirling Castle, St. Andrews Cathedral, St. Andrews Castle, and Doune Castle. If you plan to visit all five (or more) the pass will save you money over buying individual tickets.
---
If you have more time…
Spend a little of it in Glasgow. Even though we went through Glasgow three different times during the course of the trip, we really didn't get to spend much time appreciating the city.
Explore more of Holyrood Park, if the weather is fine.
Take a tour of Holyroodhouse.
---
Day 2: Exploring Edinburgh
---
To our collective delight, our first full day in Scotland dawned bright and beautiful. We couldn't believe our good fortune to have had two days of great weather in a row. After a quick breakfast at a cheery tea room called Eteaket on our way to Old Town, our first stop was Edinburgh Castle.
One of the most dramatic landmarks in a city full of them, the fortress is visible from across Edinburgh thanks to its imposing position atop a rocky hill in the middle of town. When we visited, they hadn't quite finished removing the metal bleachers from the annual Royal Military Tattoo, but the view as we approached the castle was still impressive.
Walking through the gate, you felt the weight of history (and all that heavy stone!) descend pleasantly upon you. This is a hill that has seen so many centuries of human history that many of its memories have passed into legend and conjecture. This is a fortress where centuries of royals sought refuge and mounted defenses in times of crisis and war, a place that has been attacked more times than perhaps any other in the United Kingdom.
Although collectively referred to as Edinburgh Castle, the complex is actually made up of multiple buildings of varying ages. Among the most notable are the National War Museum, St. Margaret's Chapel (the oldest building in Edinburgh), the Royal Palace, the Great Hall, and the eerie prisons. Each is worth a visit in its own right, and spending a few hours wandering the complex will give you a much greater appreciation for Scottish history, architecture, and engineering, as well as what life was like throughout the ages that the buildings have withstood.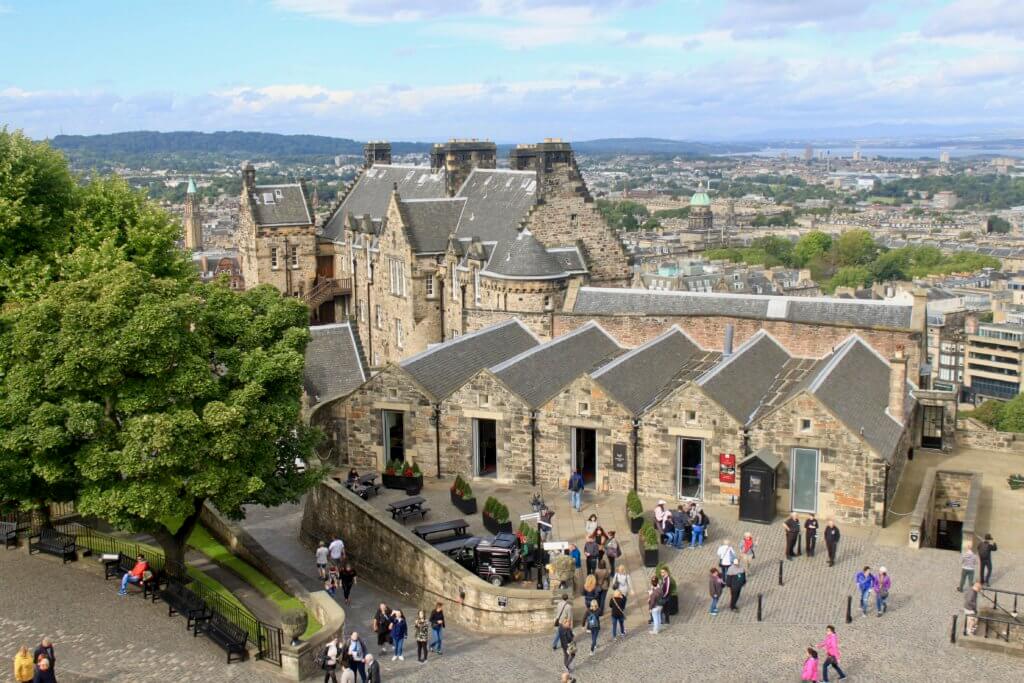 One of my favorite parts of visiting Edinburgh Castle were the panoramic vistas of Old Town and beyond from the battlements. Looking out over the city, you could understand why the ancient Scottish royals had chosen such a powerful position for their fortress. I certainly wouldn't want to mount an attack against it, battling uphill against solid rock with all manner of nastiness raining down on me from above.
Make sure you spend time wandering the battlements and taking in the views, and don't forget to look for the sweet cemetery where decades of soldiers have lovingly buried their canine companions!
In the heart of the complex, reached by winding your way up the cobblestoned hill, are perhaps the most popular sites at the castle. Facing an open stone courtyard are the Scottish National War Memorial, the Royal Palace, and the Great Hall. Inside the palace are the Crown Jewels, known as the Honors of Scotland, as well as the Stone of Destiny* upon which centuries of Scottish and British monarchs have rested at their coronations.
(*Or is it? There is a lot of lore and conjecture that the Stone of Destiny on display in Edinburgh is actually a fake. Legend holds that the real stone was swapped out and hidden away to prevent it from falling into the hands of the British. It's a fun historical conspiracy theory, if you're into that sort of thing!)
We easily spent a few hours meandering through the complex – there was so much to see! It was a fascinating first glimpse into Scottish history, and, as the first European castle I had ever visited, and excellent entrée into the club.
Afterward, M's parents suggested hopping on a city tour via one of the double-decker tourist buses we'd seen weaving through the streets. I'll admit that I'm not usually one for hop-on, hop-off bus tours (this was actually my first one), but it was nice to get off our feet for a while and see more of the city outside of Old Town. I also appreciated being able to learn more about the history, neighborhoods, and notable landmarks of Edinburgh through the audio commentary available at each seat. Most importantly, M's parents really enjoyed it!
Since we didn't actually do any hopping-off, the tour lasted an hour and deposited us right back where we started on the Royal Mile. Somewhat refreshed, we explored a bit more of the alleys off the Mile. After learning his sweet story on the bus tour, our wandering included a trip to rub the nose on the statue of Greyfriars Bobby
By that hour, jet lag and hunger were beginning to catch up with us, and M's parents in particular were looking forward to a restful evening back at our apartment. We enjoyed a yummy late lunch/early dinner at The Standing Order, a pub with good food and an even better ambiance, owing to the fact that it is located in a former bank. The ceiling was lovely!
Although we were also pretty tired by that point, M and I took advantage of our remaining energy and daylight to take a walk through Princes Street Gardens. With the flowers in full bloom, strolling this green sanctuary in the middle of the city was a perfect way to cap off our day.
It also provided some stellar views of Edinburgh Castle looming above.
By the time we headed for home, the golden hour was striking Edinburgh, setting her buildings aglow. It was an beautiful send-off on our last night in the city.
—
Tips for Exploring Edinburgh:
Edinburgh Castle is immensely popular, so your best bet is to visit as soon as it opens at 9:30 AM. I also recommend buying your tickets ahead of time so that you don't have to wait in a line once you arrive. For more information about visiting, click here.
The Crown Jewels are also very popular, and lines to see them can get long, especially in summer. Consider making them your first stop when you reach the castle to avoid wasting a lot of time in the queue.
Edinburgh is a very walkable city, so wear shoes that won't bother your feet after a few hours.
Don't forget to stop into St. Giles' Cathedral at some point during your Royal Mile wanderings. It's a real beauty and full of history.
---
If you have more time…
Seriously, you could spend a week in Edinburgh and not get bored!  We focused on the Old Town, but there's lots to do elsewhere in the city as well. Two days would be the absolute minimum that I would recommend for a stay in Edinburgh. If your timing allows, consider spending a few more days here.
Stop into a few of Edinburgh's many museums.
Visit the Sir Walter Scott Monument, the tallest monument to a writer in the world, and take in the bird's-eye view from the top.
---
Day 3: St. Andrews and Stirling Castle
---
Although we could have easily spent a few more days in Edinburgh, it was time to see more of what Scotland had to offer! First on the list was storied St. Andrews. This charming town sits about two hours northeast of Edinburgh and features a 600-year-old university and the ruins of a once-massive cathedral. Most importantly, at least to my traveling companions, St. Andrews is considered the birthplace of golf and is home to one of the most famous and prestigious courses in the world.
I married into a family that has been passionate about golf for generations, so our journey had the air of a pilgrimage. M's maternal grandfather belonged to a country club and helped foster M's love of the game from an early age. All the men in M's dad's family play golf, and it became something that M and his father love to do together. Naturally, the sport became one of M's favorite pastimes as well.
(And me? Before I met M, my golf knowledge consisted of little more than an understanding that the object of the game was to get the little white ball into the little faraway hole using one of the many clubs in your bag. I knew that it was expensive, that the uniform involved polo shirts and ball caps, and that Tiger Woods was a big deal. Now, after watching more hours of golf than I could have possibly imagined, being privy to myriad conversations about players and strokes and tournaments, and one early Easter where to my shock and dismay the entire extended family watched the Masters all day long, I have a much greater appreciation for the sport.)
Regardless of my level of golf enthusiasm, though, even I could appreciate the beauty and history of St. Andrews.
We parked in the lot by the Links Clubhouse and wandered the area. There are a number of footpaths that allow you to experience the links from different angles, but don't forget to be respectful of the games in progress to avoid interrupting play.
Luckily, even though the skies looked perpetually ominous, the rain held off for the most part so that we could see as much of the place as possible. This included a few different holes, a pot-belly bunker, and the iconic Swilcan (or Swilken) Bridge, over which each golfer passes to finish his or her 18th hole on the Old Course. Decades of golf greats have trodden that little stone bridge, making it a Very Big Deal for M and his parents.
(See? It sort of sounded like I knew what I was talking about there for a minute.)
At one point, we were even treated to a vivid rainbow that stretched across the links. It was the first of many we would see throughout our two weeks in the U.K. and Ireland.
It was so gratifying to see the joy my family, and especially M's dad, felt at seeing this legendary place with their own eyes. I also don't think I've ever seen him as excited about shopping as when we entered the course shop and the guys started picking out some gear to take home. (My adorable mother-in-law may or may not have also picked up a St. Andrews onesie "for when the time comes," so I suppose it is inevitable that the love of the game continues into the next generation!)
With our stomachs growling, we left the links behind in search of lunch and other sights to be seen in St. Andrews. Our hunger was satisfied at Doll's House, a chic, rustic little eatery off of Church Street. From there, it was a short walk through the lovely, stone cottage-lined streets to the ruins of St. Andrews Cathedral.
Begun in 1158, damaged and rebuilt over the following centuries, and finally ransacked and left to fall to ruin during the Protestant Reformation, the cathedral has certainly had a tumultuous past. What remains is an incredible array of ruins, with ancient, lofty towers and huge heavy walls that hint at the impressive artistry and engineering that went into their construction.  You can still see where the massive columns that supported the roof once stood, and scattered around the property are tombs and graves dating back centuries.
It is amazing to consider how enormous this building once was, especially given the time period of its construction. I can only imagine how beautiful it must have been in its prime, with the stonework in tact, the roof soaring overhead, and light filtering through the windows. Given how long ago the building was abandoned, it's also astonishing that so much of it remains upright, particularly in the case of the towers. They seem to hang in the air in complete defiance of age and gravity.
After having a good wander around the extensive grounds, the four of us turned back toward the links. In the interest of time, we chose to forego a visit to St. Andrews Castle and instead got on our way to our final stop of the day: Stirling Castle.
I will confess that the day had gotten away from us a bit by that point. By the time we reached the castle, it was an hour and a half before closing. It wasn't enough time to fully appreciate the site without feeling rushed, but the benefit of our late arrival was that we had the place almost entirely to ourselves. Therefore, we were able to see just about everything without having to fight any crowds or wait in any lines.
Like its Edinburgh counterpart, Stirling is an impressive complex perched strategically atop a rocky hill. It has also seen its fair share of sieges, royal births and deaths, and other major historical events. Compared to Edinburgh Castle, I found that I felt and understood the history of Stirling more acutely. This could be because Stirling Castle is smaller and was less crowded, but I also think that it's because many of the exhibits and attractions at Stirling focus more on daily life. After a visit to the royal apartments, kitchens, chapel, and Great Hall, I felt practically at home!
There's plenty to see at Stirling Castle, with some nice open green spaces as well. Some of the buildings below were where weapons were stored, particularly gunpowder and other explosives, to mitigate risk to the rest of the complex should an accident occur.
The grounds are excellent for walking, with lovely views from the ramparts out over the verdant countryside. Especially since we were practically alone, a stroll along the battlements made for a peaceful ending to our sightseeing for the day.
All too soon, 6:00 PM arrived and we were politely ushered out. With the gates of Stirling Castle shut tightly behind us, we grabbed dinner at an Italian place in town called Mamma Mia that was fresh, delicious, and a nice break from pub food. Afterward, it was back to the car for our final push of the day.
We had chosen to spend the night in Braemar, a small community tucked right in the heart of Cairngorms National Park. Although it was a two-hour drive to our destination, we wanted to be able to wake up in the park and take full advantage of the next day for sightseeing. It was the right decision for us, but we were a bit disappointed to miss out on the scenery on the drive north since darkness had already fallen. 
Our home for the night was sweet little Craiglea Bed and Breakfast just off the Braemar's main street. Innkeeper David welcomed us warmly and showed us to rooms on opposite ends of the cozy stone cottage. There, we quickly found ourselves settling in for a well-earned snooze!
—
Tips for St. Andrews and Stirling Castle:
If you are planning to do both of these locations in a single day, make sure you budget your time accordingly. Be aware that historical sites tend to close between 5:00 – 6:00 PM.
Visit Stirling Castle later in the day (after 4 PM) to avoid crowds.
---
If you have more time… 
Play a round at the famous course! Make sure to book your tee time ahead, if possible, as demand is (unsurprisingly) extremely high. Flexible dates are helpful.
Visit and take a ride on the impressive Falkirk Wheel.
Equine enthusiasts and fans of sculpture shouldn't miss the enormous statue called The Kelpies about fifteen minutes from Falkirk.
Check out St. Andrews Castle.
Consider staying the night in Stirling or St. Andrews before continuing to the Cairngorms the next day.
---
Day 4: Cairngorms National Park to Inverness
---
We fully enjoyed our first true glimpse at Scottish hospitality in the form of breakfast at Craiglea B&B. As we ate our meal, David and his wife Angela offered excellent advice for our day in the Cairngorms. We were sorry we were only booked there for one night!
At our hosts' suggestion, our first stop of the morning was the Linn of Dee, a beautiful, narrow gorge about fifteen minutes outside of Braemar. The drive to it was stunning, our first true experience driving through the open Scottish countryside when there was enough daylight to appreciate it.
It didn't take long to reach the Linn of Dee; we crossed over a stone bridge and found a car park not far up the road. From there, it was a short walk down to the gorge, where the caramel-colored River Dee churned through the narrow, black channel it had carved over centuries. It was a lovely sight, and the slight drizzle only added to the lush feeling of the place.
The view from the bridge looking away from the gorge was nothing to sniff at, either. We found ourselves wishing that we could have added an extra day or two in Braemar into our week in Scotland itinerary so as to be able to take advantage of all the natural beauty in the area.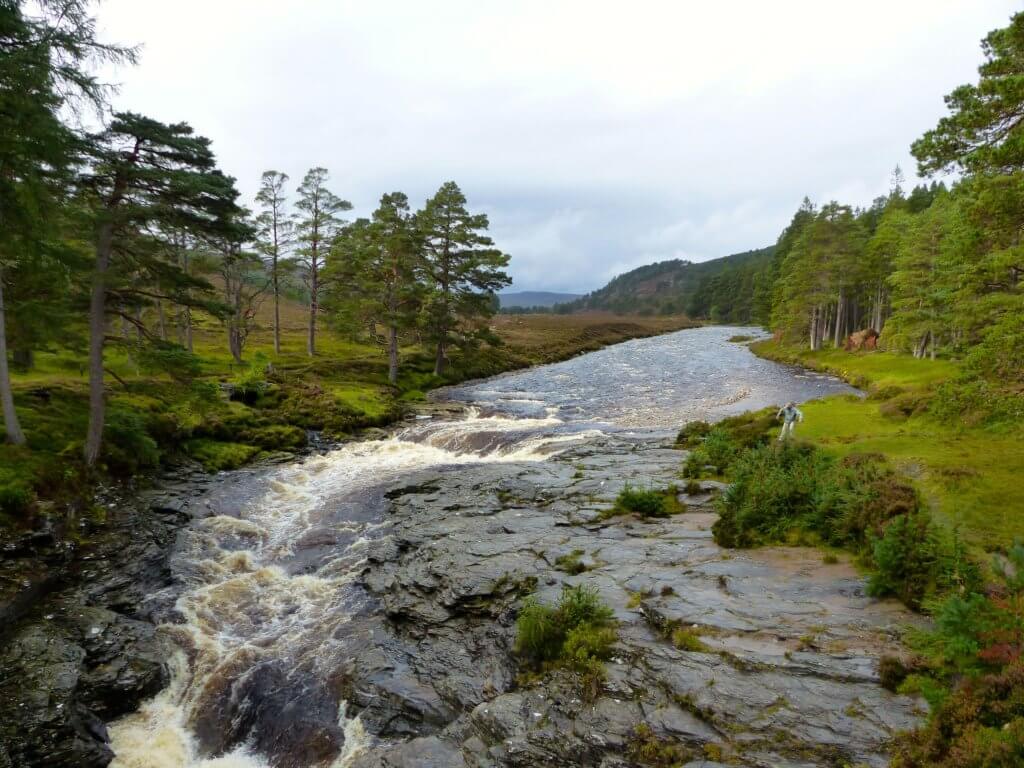 The Linn was a quick visit, but one we were glad we made. Soon enough, we were on our way back toward Braemar and headed out into the Cairngorms.
We attempted to visit Balmoral, the royal family's Scottish residence, which sits about a half hour outside of Braemar. Unfortunately, it was closed to visitors. Unfazed, we continued our journey up through the Cairngorms. There, we found ourselves truly in the Highlands for the first time.
The road was winding, narrow, and nearly empty, with nothing but barren hills, small forests, herds of wandering sheep, and the occasional farmstead for miles and miles. It had a beautiful loneliness that was unlike any place I'd ever been.  You could already see why the Highlands have inspired centuries of poets and novelists, and we hadn't even reached some of the most spectacular parts yet!
Although there are plenty of opportunities for hillwalking and other adventures in the Cairngorms, our day mostly amounted to a driving tour with lots of photo stops. We were on a bit of a schedule; we wanted to make it to the village of Kincraig by 4:00 PM so that we could take in a demonstration of working sheepdogs on a local farm. Seeing sheepdogs in action was one of my in-laws' few explicit requests for the trip, and M and I knew we had to make it happen!
Luckily, our research led us to Leault Farm, and our schedule worked out perfectly! We arrived right on time.
(Note: As of September 2020, it appears that Leault Farm may have stopped doing their sheepdog demonstrations in the wake of the COVID-19 pandemic. Double check before making plans.)
The farm is prettily situated among the rolling green hills and boasts about a dozen impeccably-trained border collies who assist with the sheep. For the very reasonable price of £6 per person, we got to witness a truly marvelous spectacle. At their shepherd's orders, the dogs worked together in perfect obedience and coordination to round up and direct a field full of their fluffy charges.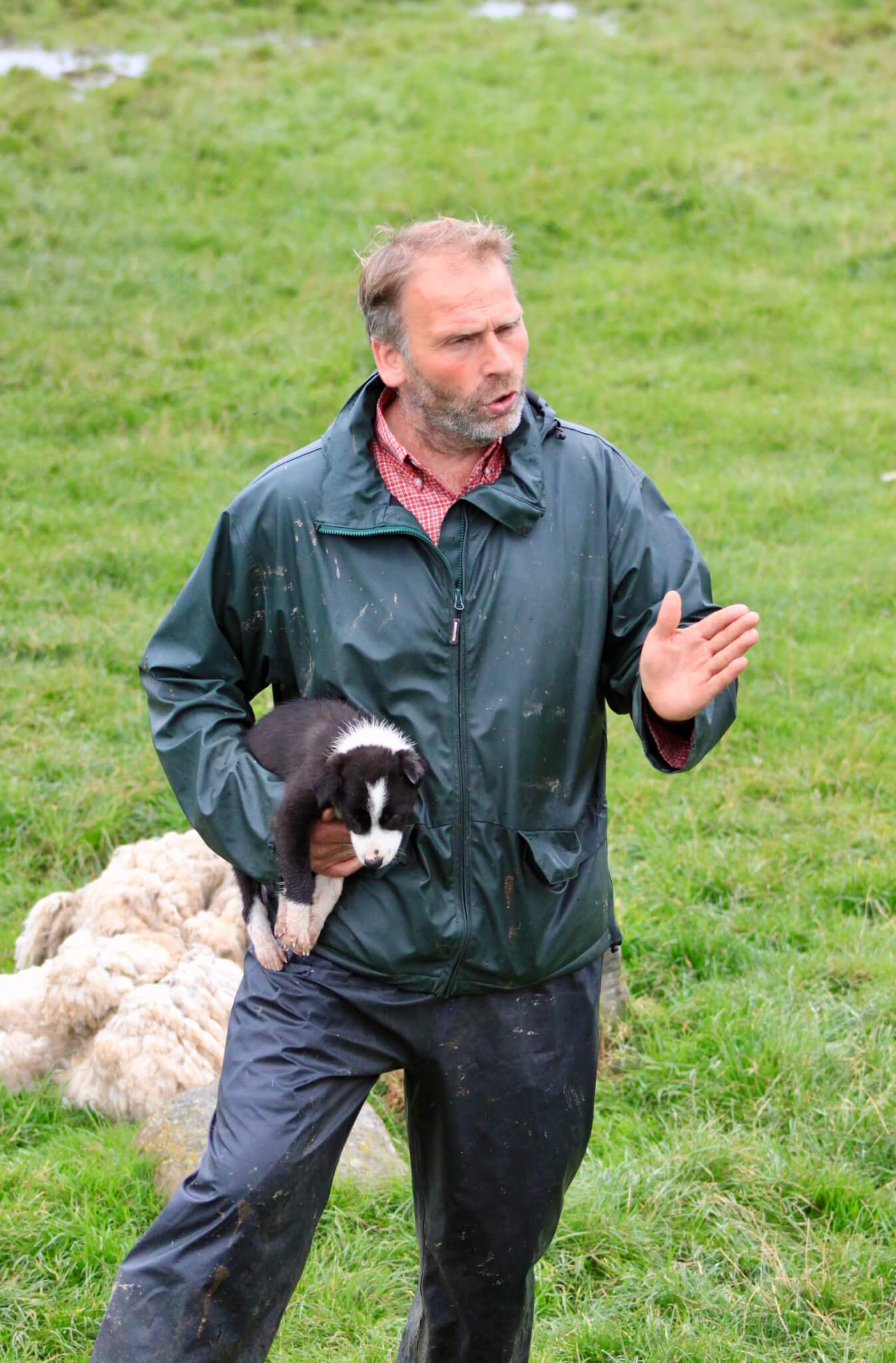 Shepherd Neil carefully explained each part of the demonstration and answered any questions, all while directing his dogs with a series of shouts, calls, and whistles that were specific to each individual dog and action. I wrote a lot more about this excellent and off-the-beaten-path experience in this post, but suffice it to say here that it would be well worth your time to make visiting Leault Farm a priority on your week in Scotland itinerary!
With happy hearts, we stopped in nearby Aviemore for a delicious dinner at the Old Bridge Inn before making the 45-minute drive to Inverness for the night. Our accommodations were a quiet, squeaky-clean Airbnb just outside of town. Our host had provided milk, butter, tea, coffee, bread, individual cereal boxes, and other little sundries, which was a great and unexpected benefit! After a full day on the road and the excitement of the sheepdogs, it was lovely to enjoy a relaxing evening in such a homey environment and rest up for the second half of our week in Scotland!
(PS: Curious if Airbnb is right for you? Check out my list of the pros and cons of Airbnb.)
—
Tips for the Cairngorms:
Be cautious when wandering the Linn of Dee, as the grass and rocks can be slippery and you don't want to fall into the gorge!
Our loop through the Cairngorms followed A93 out of Braemar toward Balmoral, at which point we turned off and followed B976 until it forked. We took the left fork onto A939, marked as an old military road. We followed winding A939 to the town of Speybridge, where we picked up the highway marked as A95 and took it all the way to Kincraig. A GPS would be very helpful for this drive unless you don't mind getting a bit lost!
That said, your GPS will probably tell you that the trip will be quicker than it actually will be, not only because you'll want to stop for photos but also because those narrow roads eat up the minutes. If you have somewhere to be, like the sheepdog demonstration or a specific check-in to your night's accommodations, allow extra time.
---
If you have more time… 
Stay two nights in Braemar or Aviemore to take better advantage of the natural beauty of the Cairngorms.
Although our time in the Cairngorms mostly amounted to a driving tour, there are plenty of opportunities for hillwalking and other forms of exploration in the park.
So there you have it: part one of our itinerary for one week in Scotland! Stay tuned for Part II, which will hit the site on Wednesday. Want to be the first to know when it arrives? Do yourself a favor and subscribe using the handy form on the right side of this page!
See you Wednesday!
Like the post? Pin to save or share!
—
Read More:
A Week in Scotland: Part II
10 Reasons Why You Should Visit a Working Sheepdog Farm in Scotland
Day-Tripping from Prague to Český Krumlov
—
Need some help planning your itinerary for a week in Scotland? Full Life, Full Passport offers customized itinerary planning for all kinds of trips and budgets.
—
This itinerary for one week in Scotland was originally posted on July 9, 2018, and last updated on July 22, 2021.
—
Want to be the first to know when a new post is published, or to receive exclusive content directly to your inbox? Join our email list!