Welcome to the second half of our itinerary for an action-packed week in gorgeous Scotland! If you haven't already, be sure to check out Part I before diving into this post so you don't miss anything! I'll be right here when you get back 🙂
All set? Excellent! Let's pick things up in the Highlands!
---
(Note: some of the links in this article may be affiliate links, which means that I may earn a small commission from your purchase at no additional cost to you. Thank you for supporting Full Life, Full Passport! You can find the full disclosure here.)
---
---
Day 5: Culloden Battlefield and the Isle of Skye
---
Our fifth day in Scotland dawned a little gloomy, but the weather was fitting for our first stop: Culloden Battlefield outside of Inverness.
In April of 1746, the final Jacobite uprising came to a brutal end with a bloody defeat at Culloden. In less than an hour, more than a thousand Jacobites, who had fought to restore a Catholic king of the Stuart line to the British throne, had been slaughtered by English troops on the marshy moor. The defeat brought about harsh repercussions against the Scots, particularly Highlanders, with many survivors being executed for treason, imprisoned, or transported across the Atlantic to the colonies as prisoners. The government also cracked down on the ancient clan system, stripping clan chiefs of power and property and even outlawing the wearing of tartans. It was a devastating blow.
Today, the battlefield is a lonely, quiet, and evocative place. Grass, flowers, and heather grow unimpeded across the moor, making it difficult to imagine how men and horses could possibly have charged through such difficult terrain. Flags and markers designate the lines where the armies took their places for the pitched battle, and heavy stones mark mass graves where the Scottish dead, organized by clan if possible, lay at rest. Before or after you head out to walk the battlefield, an excellent visitor's center provides all the information you might need to understand the battle and keep all those Stuarts and uprisings straight.
We spent an hour or so walking the battlefield, reading placards, admiring the peaceful beauty of the moor, and paying respectful tribute to this dark and still painful period in Scottish history. It was a powerful and melancholy place.
Soon enough, however, we were on our way out of Inverness and toward the Isle of Skye. We had booked a boat trip to secluded Loch Coruisk for the afternoon and needed to make it to the village of Elgol by 2:00 PM. It was a beautiful, if cloudy, drive as we wound our way south and west through some gloriously open countryside, pausing occasionally to take photos of the stunning landscapes.
We may have paused a few too many times; one valuable lesson we learned on our way to Elgol was how misleading GPS time estimates can be when you leave highways behind. As we reached Skye and the road to Elgol narrowed to a single lane full of twists, turns, and blind corners, we watched anxiously as our estimated arrival time kept getting further and further away.
Thankfully, some expert driving by M and the grace of the boat crew when we showed up at 2:00 PM on the dot meant that we didn't miss our sailing. With a collective sigh of relief, we boarded the Bella Jane and set off on our adventure! We had been looking forward to the boat trip, of course, but little did we know that it would be one of our favorite things we did during our entire week in Scotland.
Loch Coruisk is a freshwater lake that is tucked into the impressive Cuillin mountains along the southern coast of the Isle of Skye. It is most easily accessed by a 45-minute boat trip from Elgol, at which point, depending on which option you choose, you can spend anywhere from an hour and a half to six hours on land exploring around the lake. We were looking for a way to get out on the water during our time on Skye, and the prospect of a boat ride to a hidden loch where we could do some hiking in the mountains seemed too good to pass up.
Needless to say, we weren't disappointed.
Amazingly, during our 45-minute boat ride, the heavy gray skies that had hung over us all day disappeared and the sun emerged. As we disembarked the boat, we found ourselves in the middle of a gloriously warm and bright afternoon. The timing couldn't have been more perfect for us to be able to enjoy our hike; it was as if we had entered into a secret, sunny land kept hidden from the rest of the gray and rainy world.
I wrote a full, detailed article on the wonders of Loch Coruisk last month, so I won't repeat everything here, but suffice it to say that it was one of my favorite hikes I've ever done. I would go back to that wondrous place in a heartbeat, and you should absolutely consider adding a trip there to your Scotland itinerary.
Since we had skipped lunch in order to make it to Elgol in time for our boat trip, we were all pretty famished by the time we returned to the dock. With a fond farewell to the Bella Jane, we set off back toward the main highway, which we had turned off of at the town of Broadford to head toward Elgol. Our drive back was taken at a much more leisurely pace than our hectic race to the dock, with time to appreciate the stunning landscapes through which we were passing.
We stopped at the first pub we saw, Gabbro Bar in the Broadford Hotel, located just before the highway. The food was delicious, though our opinions may have been slightly inflated by the fact that we hadn't had anything except trail mix since breakfast. Afterward, we made the half-hour drive to our accommodations for the evening, The Old Inn and Waterfront Bunkhouse in Carbost.
The Old Inn has a fantastic setting right on Loch Harport and features a pub, restaurant, bed and breakfast, and budget-friendly bunkhouse. We were fortunate to book the family chalet, a separate little two-bedroom cottage that sleeps four. (M and I slept in bunk beds, camp-style, so this place would be great for families.) After a full day, M's parents were ready to hit the hay, but we youngsters headed to the pub for a dram apiece of Isle of Skye whisky and some trad (traditional) music to round out the evening!
—
Tips for Culloden and Loch Coruisk:
Make sure to wear sturdy shoes and dress in layers for both the battlefield and your boat trip to Loch Coruisk, as the weather can be unpredictable.
Remember that Culloden is a very solemn site and the wounds of the Jacobites' defeat can still be a bit raw, so please be quiet and respectful while touring the battlefield.
For a full list of tips for the boat trip, refer to this post.
---
If you have more time…
Spend a day exploring Inverness and the surrounding area. We didn't get a chance to check out the city but I understand that it's worth a stop.
---
Day 6: Explore the Isle of Skye
---
After our jam-packed schedule the day before, we took our time getting up and around on our sixth day in Scotland. After a leisurely "full Scottish" breakfast at the Inn, we finally set off to explore more of the Isle of Skye. It was a gray, misty morning, but we made the best of it.
We spent most of our day circling the Trotternish peninsula, the northernmost protrusion on oddly-shaped Skye that contains some of her best scenery. A loop of road circling the peninsula roughly begins at the town of Portree, making it easy to circumnavigate Trotternish and take in all the sights. Along the eastern coast are a number of famous natural attractions, including waterfalls, a rocky pinnacle called the Old Man of Storr, sea cliffs known as Kilt Rock, and more.
We ambled our way up the eastern coast, stopping here and there as we caught sight of particularly beautiful stretches of the rocky coastline or interesting-looking roadside attractions.
The best decision we made all day was to turn left onto the cutoff toward Uig to visit the incredible Quiraing. We followed the winding, narrow road through impossibly green fields before climbing up a rocky hill. At the top was a car park, from which we set out on foot to find a breathtaking valley stretched out before us:
It truly felt like we had been transported into another world, something dreamt up by J.R.R. Tolkien, perhaps, or a primordial valley lost to time. The clouds, which had plagued us all morning and were descending to shroud the valley in mist, only added to the magic of the place.
By the time we left the Quiraing, it had begun to rain in earnest, a steady shower that would continue for the rest of the day. As a result, the rest of our loop around the peninsula (we returned to the main road and circled the top of Trotternish) mostly consisted of admiring what we could see of the scenery through the car windows, rather than exploring on foot. We had lunch at a decent, nondescript place called Bakur Bar along the ferry pier in Uig, then continued onward.
M's mom had come across a few gorgeous photos of a lighthouse on the western coast of Skye and really wanted to see it, so we set off across the island toward Neist Point. Although the lighthouse is a Pinterest and Instagram star (a quick search will bring up dozens of incredible photos far better than the gloomy ones I snapped), for us it was a bit of a bust. The weather was still lousy, soaking us to the bone on the long walk from the car park and hiding much of the supposedly stunning view of the Outer Hebrides behind a wall of gray. I would definitely recommend it in nicer weather, though; the lighthouse's setting along some impressive sea cliffs would be quite breathtaking with a little less rain. Also, although it's "internet famous," the lighthouse certainly felt off the beaten path, since we traversed miles of narrow, pretty country roads to get there.
We returned to Portree for dinner, then headed back to The Old Inn to dry out and warm up after our soggy day. Although it was disappointing that we didn't get to enjoy more of this spectacular island, we were still grateful that the weather had held out long enough for us to experience the wonder of the Quiraing. We also couldn't complain too much, as this was the first day of our trip that had truly turned into a washout.
—
Tips for the Isle of Skye
To see some of the best of Skye, don't miss my complete one-day driving itinerary! It's full of tips for having a great day exploring the island by car.
Watch your step when visiting the Neist Point lighthouse, as sheep wander the fields and the paths are littered with their droppings.
The weather can change at any time, so dress in layers and wear sturdy, water resistant footwear. Investing in a good rain jacket is a wise idea as well.
Drive slowly and carefully on narrow roads, and use pull-offs to allow other cars to pass.
Restaurants in Portree (and on Skye in general) get very busy at dinner time, so make reservations or come early to avoid long wait times.
---
If you have more time…
… and you're looking to try a local dram, take in a tour and tasting at Talisker Distillery

. It's the oldest working distillery on Skye and the whisky is positively yummy. The distillery is located right down the road from the Old Inn in Carbost.

Hike up to the Old Man of Storr for great views, and spend more time hiking in general. If the weather is fine, the scenery on Skye begs to be explored on foot.
Turn off the main loop near Uig to find the Fairy Glen, a fascinating, otherworldly little landscape that Instagrammers love.
---
Day 7: Drive to Glasgow, with Multiple Stops
---
We awoke on our last morning in Scotland to a beautiful blue sky, with the loch reflecting the sunrise like a smooth mirror. The only downside to such a view was that we were even more sorry to leave Skye now that the day promised to be so lovely.
After another delicious breakfast at The Old Inn, we set off on our final drive through the wandering roads of Skye. The green hills were lit up by the sun's morning glow, and the scenery was just breathtaking. Where was this blue sky the day before?!
Our first stop of the day wasn't far away, only about an hour from our bed and breakfast and fifteen minutes from the bridge that connects Skye to the mainland. And boy, was it a stunner.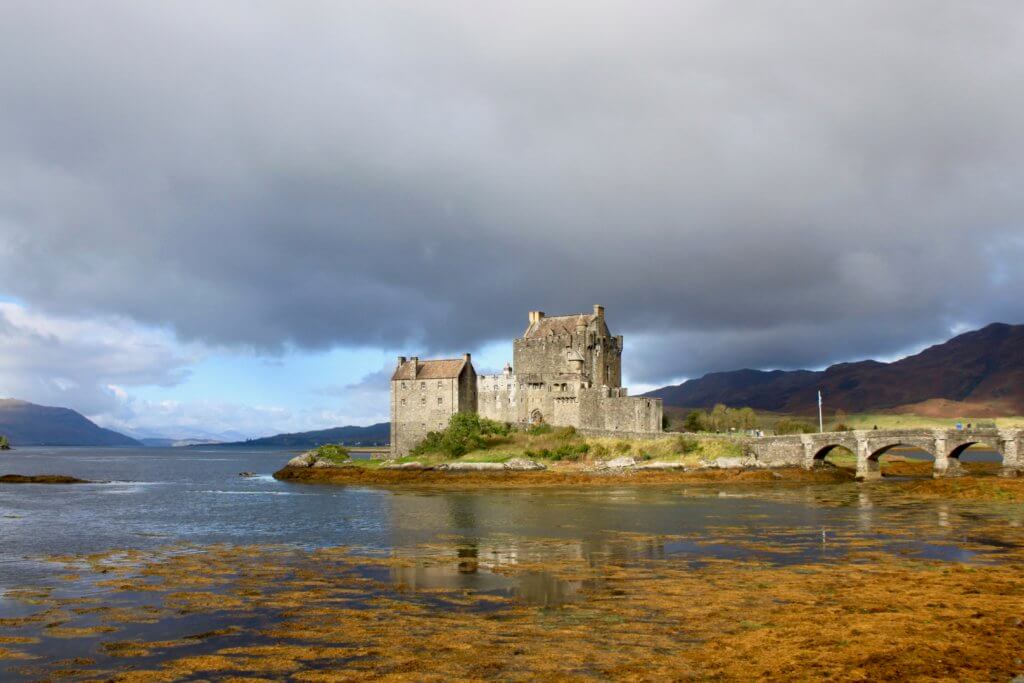 The incredibly picturesque Eilean Donan Castle occupies a gorgeous setting at the intersection of three lochs surrounded by hills and mountains. It's one of the most recognizable castles in Scotland, partly because its storybook setting has led to it being featured in multiple movies and other forms of media. It also has a fascinating history, having been built, destroyed, and rebuilt numerous times since its original construction in the 13th century.
I fell in love immediately. I've never really been someone who harbored much of a princess fantasy, but when I heard that the family who owns Eilean Donan still keeps a residence in one of the buildings I turned to M and told him that he could buy me this particular castle if he wanted to.
(Still no movement on that. Will continue to update you on my progress.)
Your £10 admission ticket (less expensive for children, seniors, and groups) gives you access to the interior of the main castle building as well as the grounds. There, you'll find fantastic views out over the three lochs and back toward the village of Dornie.
Photography is not allowed inside the castle, but suffice it to say that the interior is just as lovely as the outside. The great hall, in particular, was just gorgeous, and the numerous other rooms were filled with fascinating historical information that gave visitors a comprehensive glimpse into the life of the castle and its centuries of occupants. It was probably my favorite castle that we visited in our entire two weeks in the British Isles.
Eventually, we had to say goodbye to Eilean Donan and continue south toward Glasgow. Along the way, we passed through an area known as the Great Glen, which was particularly beautiful on such a clear, fine day. The weather was perfect for a leisurely drive, and we stopped frequently to take photos or admire a vista.
We stopped for a late lunch in Fort William, treating ourselves to a seafood feast at lakeside Crannog Restaurant. Everything we ate there was fresh and delicious, from the mussels in a garlic and wine sauce that started our meal through to our delectable main courses.
Encouraged by our guidebook, which mentioned them as a local favorite, I ordered langoustines and was a bit surprised to receive a plate piled with the little lobsters in all their shelled glory. I had only had langoustines once before, in Iceland, where they had been shell-less with the exception of the tails. Nevertheless, I employed my Maryland crab-picking skills and was rewarded with a completely scrumptious lunch.  And isn't everything better when dipped in melted, garlic-herb butter?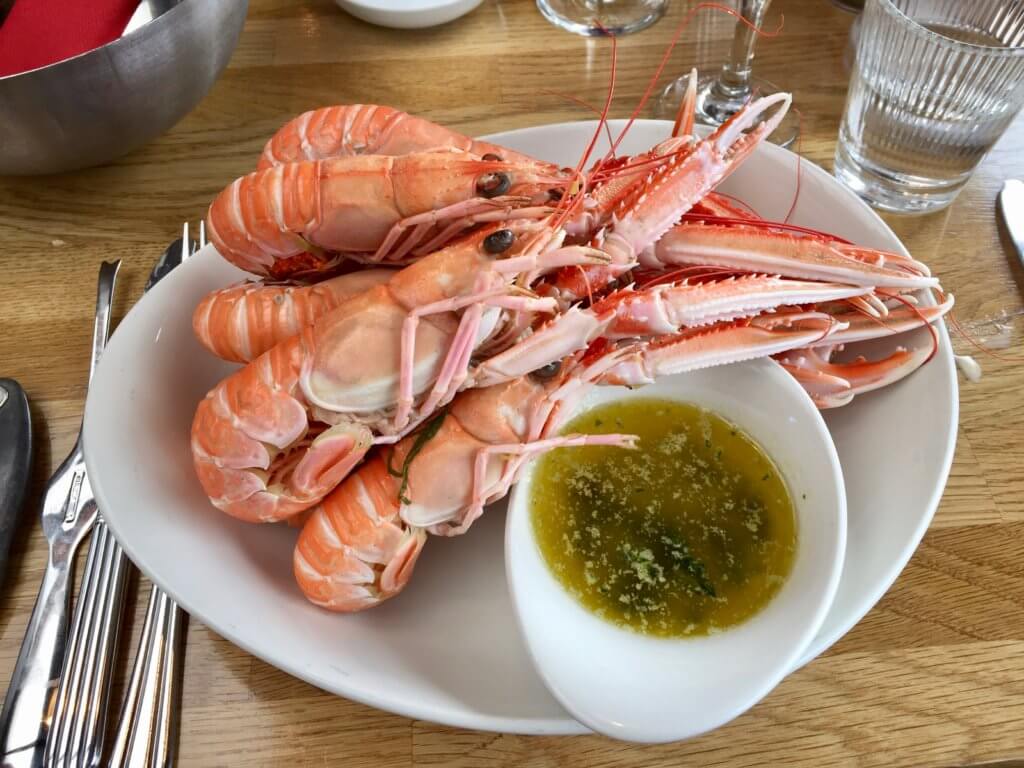 The scenery would continue to impress us all day as we passed through some of Scotland's most picturesque areas. After the Great Glen, Glencoe and Loch Lomond and the Trossachs National Park begged to be explored in the bright sunshine, but unfortunately we had little time to stop.
We had decided to add a half hour to our trip so as to take in Doune Castle, a smallish fortification about an hour outside of Glasgow. Monty Python fans will recognize it from Monty Python and the Holy Grail, particularly this famous scene. (Gets me every time.) That was the basis of the castle's appeal for M's family, and I was excited because it had served as Castle Leoch in the Outlander series. I later found out that they used Doune Castle for some of the Winterfell scenes in Game of Thrones as well.
Unfortunately, we arrived just as they were shutting the doors for the evening, so we didn't get to tour inside the castle walls. We could, however, circle the structure to take it in from all angles. It was quite peaceful, really, since all the other visitors had gone and we had the grounds almost entirely to ourselves.
After admiring the impressive exterior, the time had come to undertake the final drive of our week in Scotland. Soon enough, we had reached our hotel, the DoubleTree Glasgow Strathclyde just outside of the city of Glasgow. We stayed there purely because I had enough Hilton Honors points to book us two rooms, but it was a very nice hotel and the drive to the airport was quick since we left early in the morning. If you're looking for even easier access to the Glasgow airport for your first or last night in country, we also had a good experience at the Holiday Inn Express right across the street after our return from Ireland.
The rest of the night was spent having a low-key dinner in the hotel restaurant, repacking suitcases, checking in for our flights, and putting other final preparations in place for our sojourn to Dublin in the morning.
—
Tips for the Drive to Glasgow:
Get on the road as early as possible so as to be able to see and do as much as you can along the way. The drive from our bed and breakfast on Skye to the hotel in Glasgow was over five hours, though it didn't feel too arduous because we were able to make so many stops.
As of this writing, Eilean Donan offers a family rate that includes two adults and three children (ages 6-15) for £29, a savings of about £9 over individually-priced tickets.
Don't miss the chance to eat at Crannog Restaurant in Fort William, as it was one of our favorite meals of the trip. Especially when visiting western Scotland, you'll want to take full advantage of any opportunity to eat fresh seafood. I've heard the nearby coastal town of Oban is one of the best seafood destinations in the whole country.
---
If you have more time… 
Break up the drive to Glasgow and spend some time in the Great Glen, Fort William, and/or Glencoe. It's such a beautiful area with so much to do that we regretted only being able to drive through it. That part of the country is at the top of my to-do list for my return trip to Scotland, whenever that happens to be!
Tour the inside of Doune Castle. To my understanding, they have a great audio tour that is narrated by Monty Python's own Terry Jones. It features stories from the film set in addition to historical information.
As I mentioned in Part I, devote some time to taking in the sights in Glasgow. It's full of history, culture, cuisine, and art (plus that fantastic Glaswegian accent!), and we were disappointed that we saw so little of it.
—
There you have it – an action-packed itinerary for a full week in Scotland. I really appreciate you joining me this week as I shared this incredible trip. I hope that it has inspired you to plan your own Scottish adventure in the future or brought back some fond memories of a previous trip!
The two weeks we spent with my in-laws in Scotland and Ireland were special in a lot of ways, and I'm so grateful to have had the opportunity to take this vacation together. It was tremendously gratifying to watch M's parents having such a great time and to know that he and I had played a part in making this experience happen for them. I could sense how much it meant for Mama and Papa M to be able to have these moments with their son and daughter-in-law, and I know that M, especially, felt the same way. Even now, almost two years later, the trip still comes up frequently in conversation and his parents are quick to reminisce about their favorite moments. Mission accomplished!
Although we were looking forward to discover all that Ireland had in store for us, we left Scotland somewhat reluctantly. We had packed a lot of sightseeing and activities into our short week, but Scotland has this incredible ability to amaze and enchant you and leave you wanting more.
We can't wait to return.
XO,
Gwen
Like the post? Pin to save or share!
—
Have you visited Scotland? What were your favorite parts?
What's your favorite country to visit in Europe, or which would you most like to see?
—
Read More:
One Week in Scotland: The Perfect Itinerary
Visiting Hidden Loch Coruisk on Scotland's Isle of Skye
A One-Day Driving Itinerary for Scotland's Isle of Skye
—
This article was originally posted on July 11, 2018, and was last updated on August 1, 2021.
—
Need some help planning your vacation? Full Life, Full Passport offers customized itinerary planning for all kinds of trips and budgets.
—
Want to be the first to know when a new post is published, or to receive exclusive content directly to your inbox? Join our email list!