Anyone who has ever had a pet knows how quickly and completely that animal becomes a part of your family. And when your family goes on vacation, it can seem a little strange to leave a member behind. That's why every year, hundreds of people travel with their dogs!
There are a lot of reasons why you might choose to travel with your dog. Maybe you're not comfortable with boarding your dog, or adding the cost of a kennel is too cost-prohibitive. Maybe you're traveling for a multiple weeks and don't want to leave the pup for that long. Maybe you just really want all your family members to be a part of the experience, including the furriest ones. 
Traveling with your dog can lead to some really rewarding and special times, but it's not quite as easy as just throwing the pup in the car and backing out of the driveway. There are lots of things to keep in mind both as you're planning your trip as well as while you're on it. Happily, I'm here to help!
More happily (and more accurately), I've enlisted the help of a real expert to give us the lowdown on traveling with your dog. Everyone, meet my cousin, Kelly.
Kelly has always loved animals, and so it was the most natural thing in the world when she got her doctorate in veterinary medicine and dedicated her life to caring for other people's pets. These days, Kelly works as a vet in an animal clinic in Nebraska in addition to being a passionate dog mom, and she was kind enough to take some time to fill me in on the ins and outs of traveling with a dog. Read on for all her expert tips and advice!
(Note: some of the links in this article may be affiliate links, which means that I may earn a small commission from your purchase at no additional cost to you. You can find the full disclosure here. Thank you for supporting Full Life, Full Passport!)
Should You Travel With Your Dog?
When thinking about bringing your dog on vacation, one of the most important things to consider is whether you're planning a trip with your dog or planning a trip and bringing the dog along. They may sound the same, but in practice the two are very different. 
Planning a trip with your dog means that you're taking the pup into consideration every step of the way. Your activities are planned with him or her in mind, and you anticipate the dog being an integral part of the action along the way.
Planning a trip and bringing the dog along means that the trip is mostly centered around the human participants and the dog is mostly just along for the ride.
There's nothing inherently wrong with either approach, and there are plenty of reasons why you would be doing one or the other. Overall, Kelly says, what matters is what's best for the dog. Does he or she actually enjoy doing the things that you're planning for the trip? Is she or he okay if left alone for long periods while you're out and about enjoying the vacation? Does your pet get anxious around new places, other people, or new situations? Are there any health concerns that would make it better for the dog to stay home instead?
Ultimately, Kelly says, regardless of your approach you need to keep the dog in view as you're making all of your decisions. Even if it sounds fun to bring the dog along, if travel is going to create unnecessary stress on the animal it would be best to leave him at home.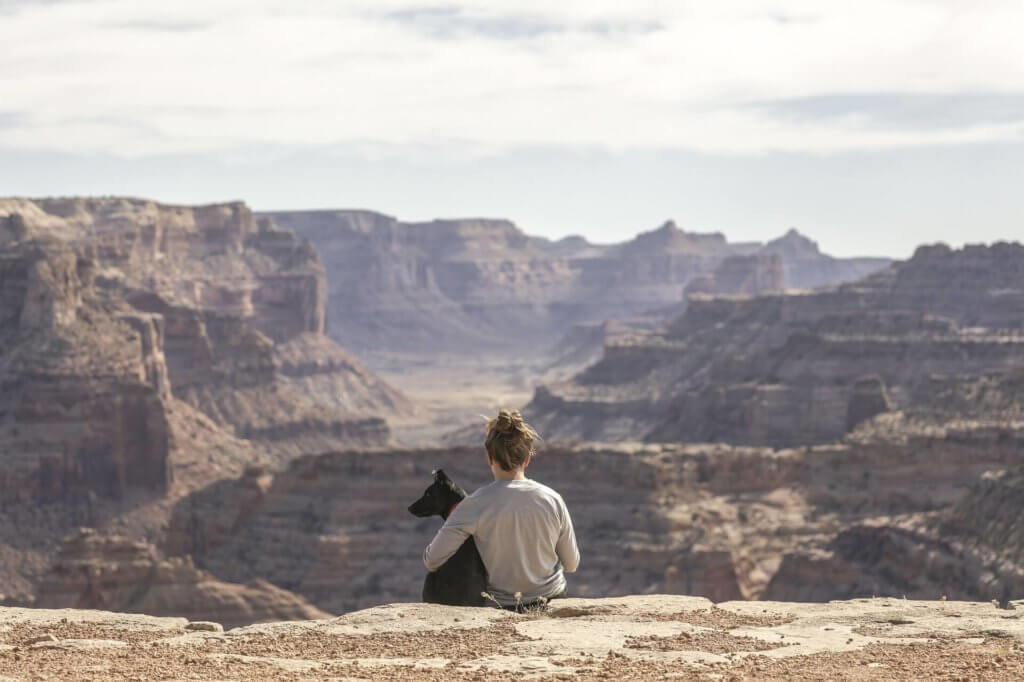 How To Set Yourself Up For Success
There are a number of actions you can take before leaving on your vacation that will help make sure the trip goes as well as possible:
As mentioned above, continue to keep the dog in view while making any and all decisions.
Seek out pet-friendly hotels, and make sure you're well aware of any extra fees or liability you might incur by staying there. Make sure that the places you're staying specifically allow your dog's size and/or breed.
Spend some time re-training or reinforcing behaviors and situations. For example, make sure the dog is comfortable in a crate or kennel, and go on a few short drives to get him or her acclimated in the car. 
If you're planning to fly with your dog, make sure that your carrier meets the standards set out by your airline(s). You don't want to show up at the airport and be unable to board your flight.
Check in with your vet prior to your departure. Not only can you obtain his or her seal of approval that your dog can embark on your adventure, but you can also obtain any carsickness or anxiety medications that may be helpful along the way. (Make sure to try any medications well ahead of time to make sure your pup tolerates them well!) You should also ensure that your pet is microchipped before leaving home.
Look up the closest vet clinics and animal hospitals in each stop along the way so that you don't have to waste time doing that in an emergency. It's also helpful to note the contact information for any poison control centers or ASPCA's in case your pet he or she shouldn't along the way. The ASPCA's Animal Poison Control Center and the Pet Poison Helpline are excellent resources, though please be aware that fees may apply.
Create backup plans, such as bringing along a crate or kennel where your pup can stay safely if you choose to do an activity that's not dog-friendly, like going out to dinner.
Research what, if any, documentation you need to bring along, and start the process of gathering it as early as possible. At the very least you will need to bring vaccine details, and insurance and microchip information if you have either/both. To make things easy, Kelly recommends adding your dog to your phone as a contact. Include the microchip number and the phone number for the company it is registered with so you're not fumbling around trying to find this information in an emergency. If you're crossing state lines, it's important to review health certificate requirements. Finally, traveling internationally with your dog may come with a long list of requirements, and the Animal and Plant Health Inspection Service website is incredibly helpful for determining what you'll need.
Kelly is also very passionate about muzzle training and desensitizing dogs to wearing muzzles. For more information and to see if this could be helpful for your pet, visit The Muzzle Up! Project.
Make sure you're consistently evaluating the safety of each environment. Where are the closest exits? Are there any objects that could pose a danger to your pet? Are there any areas where he could get lost, hide, or get stuck?
If you're taking a road trip, make regular stops and engage in some sort of activity at each one. Don't just let the pup relieve herself and then hop back in the car; conduct a short training session, get some exercise, or spend some time playing. Giving your pup a chance to tire himself out both mentally and physically will do wonders for both of you once you get back in the car. 
Feed your dog smaller, more frequent meals.
Be aware of geographical risks, such as ticks or snakes, and take appropriate precautions.
Be respectful of leash laws. Even if your dog is able to be off-leash at home, you don't want to incur a hefty fine – or worse, watch your dog bolt away due to the stress from a new environment.
What to Pack When Traveling With Your Dog
Although every dog is different and has different needs, in general Kelly recommends you always have the following on hand when traveling with your dog:
a water bowl, like this collapsible one
flea, tick, and heartworm prevention medication
dog food (make sure it's the kind she eats all the time; now is not the moment to try anything new)
a blanket or travel pet bed (ideally one with which your pet is already familiar and which can provide some comfort)
toys (Kelly specifically recommends KONG toys and encourages you to avoid dental chews and rawhides in the car due to the risk of choking)
a doggy seatbelt for car travel
a carseat cover to protect your backseat
an extra leash
a long line or lead, in case your accommodations don't have a fenced-in yard
insurance, vaccination, and microchip information, as well as any other documentation needed to cross state or international borders
anything else you can bring along to make the trip more relaxing for your pup
Kelly also recommends the following supplements, but consult with your pet's veterinarian first as well. Again, make sure to try any new medications well in advance of your trip.
I'm so grateful to Kelly for taking the time to share her expertise with us! For more tips and advice about traveling with and caring for your dog – or just some cute pictures of Kelly's adorable pup, Lily – make sure to follow her @a_vet_and_her_dog.
Like the post? Pin to save or share!
Need some help planning your dog-friendly vacation? Full Life, Full Passport offers customized planning services for all kinds of trips and budgets! 
Want to be the first to know when a new post is published, or to receive exclusive content directly to your inbox? Join our email list!