Congratulations, you're going to Alaska! I'm so excited for you to visit one of my favorite places in the world. Whether you're taking a cruise along her stunning coastline, adventuring through the spectacular interior, or some combination of the two, you're sure to be wowed by this incredible state. Now, you just need to pack! Luckily, this comprehensive packing list for summer in Alaska is a sure-fire way to alleviate stress as you get ready to head north.
Whether you're wondering what to pack for an Alaskan cruise, how cold it gets in Alaska in the summer, or what to wear on an Alaskan vacation, I've got you covered! With three years' experience guiding tours for a major cruise line through Alaska and the Yukon, I've learned what to pack and what to leave at home. Check out my tips below to see what you should toss in your suitcase alongside the usual suspects like toothpaste, shampoo, underwear, and your camera. And when you're done, don't miss my list of things you should know before visiting Alaska!
---
(Note: some of the links in this article may be affiliate links, which means that I may earn a small commission from your purchase at no additional cost to you. You can find the full disclosure here.)
---
General Alaska Packing Advice
When thinking about packing for a trip to Alaska, there are a few overall themes to consider:
Tip 1: Dress in Layers
The weather in Alaska is variable and can change pretty quickly, so it's always wise to be prepared for anything that might come your way. Summer can bring temperatures as warm as the mid-80's (the high 20's in Celsius) in some parts of the state, but you can just as easily wake up to a dusting of snow on the mountaintops. Your best bet is to pack layering clothing that you can easily add or remove as needed.
This strategy is especially helpful if you're traveling through multiple regions of the state, as the interior tends to be drier and warmer in summer than the cool and cloudy coast.
Tip 2: Keep it Casual
Even on most cruise ships, Alaskan fashion tends to emphasize function over flashiness. Most people, both tourists and locals alike, dress to be active and comfortable, causing some places to feel like you've stepped into an Eddie Bauer commercial. Focus on sensible layers and good footwear and don't worry about dressing to impress.
Depending on your plans, one or two dressy outfits should more than suffice for fancier shipboard events or a night in a nice restaurant. Leave the gown and tuxedo at home and save that suitcase space for souvenirs!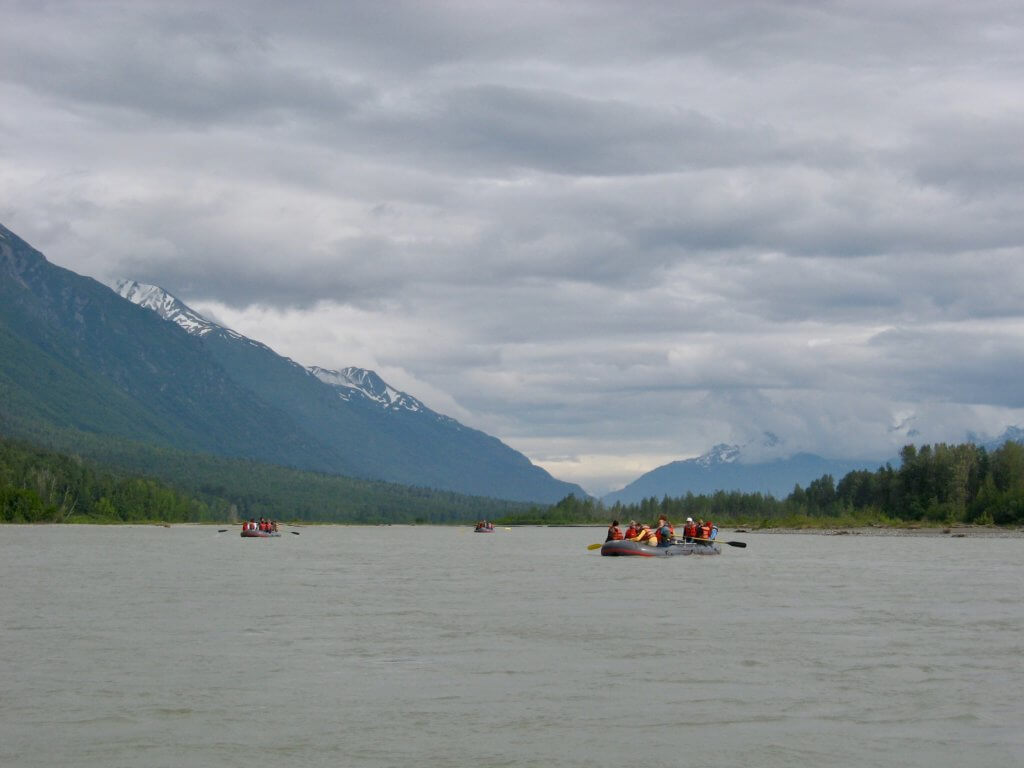 Tip 3: Less is More
Despite the unpredictability of the weather, resist the urge to bring your entire closet with you. Cruise ship cabins are notoriously short on storage space, so minimizing your luggage will give you some extra breathing room in your stateroom.
On land, you'll discover that many hotels, bed and breakfasts, and other accommodations may not be equipped with elevators. Make sure your suitcase isn't too heavy to be hauled up a flight of stairs or pulled across uneven or unpaved terrain. Make your life easier (and be kind to your suitcases) by packing lightly.
---
Packing List for Summer in Alaska
A light, waterproof jacket
As I mentioned above, the weather in Alaska can vary tremendously even during the course of a single day. A wind- and waterproof jacket will go a long way in helping you weather (no pun intended) those sudden rain showers and chilly mornings. It is also helpful if your outerwear compresses well for easy storage when you don't need it.
Additionally, a packable down vest would not be amiss for easy layering. I like these jacket and vest options for men.
Sturdy shoes
The 49th state is home to some mind-blowingly beautiful landscapes, so I hope that you take advantage of your time in Alaska by doing some exploring. Even if you're not a big hiker, you'd be missing out if you didn't spend some time appreciating her natural wonders.
Whether you're hitting the trails, exploring a port of call, flying to a remote bush community, or taking a bus tour, it's helpful to have sturdy, waterproof shoes. Consider something with some ankle support if you're want to scale any mountains or venture into the backcountry. Even if you don't plan to go far afield, you will most likely encounter uneven and unpaved surfaces. Sneakers, at least, are essential.
Binoculars
My dad has long said that you don't understand the meaning of the word "vast" until you visit Alaska. The state is absolutely massive – over twice the size of Texas – and many vistas will have you gazing out across miles of open country. It's a place that makes you feel small in all the best ways.
If wildlife spotting is a priority on your trip, it's a good idea to bring a pair of binoculars with you. An inexpensive compact pair would work just fine and save space in your luggage. Alternatively, you can invest in something of a bit higher quality if you think you'll use them again post-vacation.
A Daypack
If you're considering doing any hiking in Alaska, you're probably already planning to bring some sort of small backpack. Even if you don't anticipate spending much time in the wilderness, though, a good daypack is a must. You'll want to have a place to keep your wallet, phone, jacket, snacks, and other goodies as you're out and about.
While I love my Osprey daypack, you can also use a multi-pocket drawstring bag.
Sleeping Aids
If you're visiting Alaska in the summer, you're going to get to experience the famed midnight sun. Because the tilt of the earth on its axis is so pronounced, Alaska enjoys long days and very short nights between May and August. In most of the state, it doesn't really get dark at all. The most "night" you'll experience is a dusky dimming in the wee hours of the morning. Above the Arctic Circle – which is located about 200 miles north of Fairbanks – you'll find that the sun doesn't set for days on end.
All that sunlight is great for exploring the Great Land, as you'll have plenty of light for your adventures. The midnight sun can, however, mess with your circadian rhythm, which is the internal process that helps you go to sleep. Most hotels have blackout curtains that help make your room as dark as possible, but it's also a good idea to come prepared. A sleeping mask can be helpful, as can a natural supplement like melatonin. (Make sure to consult your doctor, first.)
Snacks
You don't necessarily have to bring these from home, but it's a good idea to have some snacks on hand while exploring Alaska. You never know when a road closure will cause a long traffic delay or when you'll get hungry on the trail. Food is also more expensive in the Great Land, so bringing your own snacks can help you save money on meals.
Pocket Hand Sanitizer
Even before the COVID-19 pandemic, I was adamant that packing your own hand sanitizer was an absolute necessity for visiting Alaska. Unless you're headed directly out into the bush, you will most likely be passing through areas that see some heavy tourist traffic. Lots of people = lots of germs. Protect your health – and your vacation! – by using hand sanitizer and washing your hands frequently.
Camera (with a Big Memory Card!)
Alaska is a place that exceeds expectations. It's bigger, grander, and more beautiful than I ever imagined. If you are even half as awed as I was when I first arrived in the Great Land, you'll want to take a ton of photos. That makes a good camera one of the most important things to add to your Alaska packing list. You'll also want a high capacity memory card to make sure you have space for all those amazing pictures.
This is a bucket list vacation that you will want to remember for the rest of your life. Beware, however, that photos often fail to do justice to the vastness and beauty of Alaska's landscapes. Make sure to put the camera down and enjoy each special moment as well.
---
Other Packing Tips for Alaska
Even though summer is the warmest season in Alaska, it's still a good idea to bring gloves and a hat. This is especially important on an Alaskan cruise since the wind up on deck can get chilly!
On the other hand, it's easy to forget that it can be hot and sunny in the Last Frontier! Especially if you are spending a lot of time outdoors in the state's interior, don't forget to pack sunglasses and sunscreen, especially for your face.
Make sure that you have plenty of any necessary medications. You may find yourself far from a pharmacy or unable to quickly get a refill.
Cash is the best, and often the only, way to tip during excursions and tours. Anticipate the amount that you may want to tip (10-15% of the total excursion cost is recommended) and make sure to bring the appropriate amount of dollars with you. An ATM may not be accessible and most vendors will not be able to charge tips to a credit card.
It's a good idea to have hard copies of important paperwork, as you may not have access to WiFi or a printer. This includes tour and hotel confirmations. If you have an iPhone, you can also use the Notes app to store this information as well as maps, PDF versions of confirmation emails, and more.
Alaskans joke that their state bird is the mosquito. The pesky insects swarm the Last Frontier in summer, so it's wise to bring insect repellant. This is especially true if you intend to hike or camp.
For a little extra stability on rocky trails and uneven terrain, consider bringing some expandable hiking poles. Your ankles will thank you!
(Like the post? Pin to save or share!)
---
Have you been to Alaska? What else would you add to an Alaska packing list?
—
Read More:
Alaska Cruise FAQ's: All the Alaska Cruise Tips You Need to Know!
10 Things to Know Before Visiting Alaska
The Best Time to Visit Alaska
The Ultimate 10-Day Alaska Itinerary
—
This packing list for Alaska in summer was originally published on June 18, 2019, and last updated on June 19, 2021.
—
Need some help planning your vacation to Alaska? Full Life, Full Passport offers customized itinerary planning for all kinds of trips and budgets!
—
Want to be the first to know when a new post is published, or to receive exclusive content directly to your inbox? Join our email list!