Last year, M and I were fortunate to take a little pre-baby vacation to Paris and Amsterdam. We found a great deal through TravelZoo and TripMasters that included our flights, three nights' accommodations in each city, and the train from the former to the latter for a fabulous price. It was an offer we couldn't refuse!
The only downside was that we only had two full days in each city. Because of the short time frame, we knew that there was no way that we'd be able to do everything we wanted to in each city. Happily, we discovered that Amsterdam is small enough to be able to visit most of her major sites in a small amount of time.
Paris, however, was another story.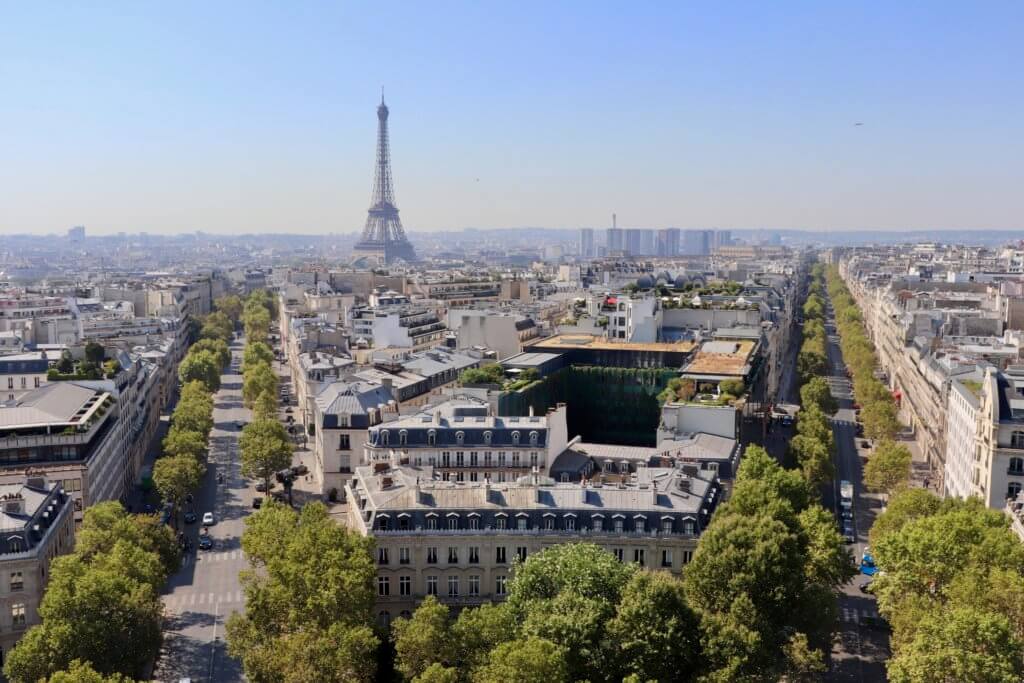 If I do say so myself, we did a good job of experiencing Paris with the limited time we had. We visited major bucket list sights like the Eiffel Tower and the Arc de Triomphe, marveled at the works of the impressionists at the Musée d'Orsay, spent time relaxing and sipping espresso (him) and tea or hot chocolate (me) at quaint cafes, indulged in fabulous cuisine and pastries, and had long, wine-accompanied conversations about French culture and politics with our hotel staff.
Even so, as our northbound train departed the station for Amsterdam, M and I agreed that we were leaving a lot of Paris on the table. We could easily fill many more days in the City of Lights if we are granted the opportunity to return. On the flight home, I compiled a list of some of our wish-we-could-haves, and today I'm sharing the top ten with you in the hope that they inspire you on your next trip to Paris!
---
(Note: some of the links in this article may be affiliate links, which means that I may earn a small commission from your purchase at no additional cost to you. Thank you for supporting Full Life, Full Passport! You can find the full disclosure here.)
---
1.) Have champagne at the top of the Eiffel Tower, preferably at night
We chose the Arc de Triomphe for our panoramic vista over Paris, but next time I would like to go up in the Eiffel Tower and clink champagne glasses at the top to toast our visit. I've read that the view isn't quite as spectacular from the Eiffel Tower as it is from the Arc – mostly due to the fact that you're standing on the most iconic Parisian landmark versus seeing it on the skyline – so I think the addition of the city lights sparkling in the dark would definitely up the ante!
(Adult tickets to access the top of the Eiffel Tower are €19.90 if you're willing to climb the stairs and €26.10 to take the elevator, with champagne prices at the top starting at €13. Last entry is 11:oo PM in the summer and 10:30 PM during the rest of the year.)
---
2.) Cruise the Seine
M and I had grand ambitions of a boat trip along the Seine, but they just never materialized. So many of Paris's most beloved and impressive sights are clustered along the river, and experiencing them from the water seems like a unique and romantic thing to do. As with my plan for the Eiffel Tower, I think nighttime holds the most promise. There are lots of options, some of which include dinner, but after our experience in Budapest I would probably eschew the dinner portion in favor of being able to devote my undivided attention to the scenery!
(Prices for a Seine river cruise start at less than €20 per person. I recommend booking well ahead, especially in summer, to ensure you get a ticket.)
---
3.) Splurge on a very fancy dinner
M and I ate very well on this trip – it's hard not to in France! Whether we were enjoying a nice meal of rabbit and duck in a cozy bistro or grabbing inexpensive crepes on the go, we can't complain about anything we devoured. That said, France, and Paris in particular, is one of the culinary capitals of the world, with loads of Michelin-starred options for a truly special meal. Next time, it would be nice to throw caution and budget to the wind and treat ourselves to a world-class dining experience. Hopefully we'll plan our trip far enough in advance to be able to secure a reservation!
(Check out the Paris Michelin guide here to find some of Paris's best eateries, or cut to the chase by narrowing your search to the nine splurge-worthy restaurants that each have three Michelin stars. Those looking for more affordable options should check out these eight restaurants for incredible food at a great price. Pro tip: At almost any high-end restaurant, you can enjoy the same quality food and experience for much less money if you go for lunch instead of dinner!)
---
4.) Visit the Louvre
The Louvre was perhaps the most notable site that we failed to experience on this trip. Although we swung by to see the glass pyramid and marvel at the beautiful architecture, we knew that doing the museum any justice would have been impossible unless we devoted an entire day to its exploration. Because of our limited time frame, we chose the wonderful Musée d'Orsay instead. We didn't regret it – the Musée is very impressive in its own right, filled with famous paintings and featuring a wonderful impressionist wing. It is also much more manageable in a half-day, though we still didn't see everything we could have. (I did, however, have one of the best cups of hot chocolate of my life in its cafe, but that's probably not relevant to this particular conversation.)
That said, I do feel a Louvre-sized hole in the part of my heart devoted to Paris. Not only do I want to see some of her most famous paintings and sculptures, but I am especially intrigued by the collection of antiquities. I've been fascinated by ancient Egypt for most of my life and would love to see Egyptian relics up close. On our next trip, I hope to ensure that we have plenty of time to visit and do the place justice. 
(It is absolutely essential to buy your tickets to the Louvre in advance to ensure admission and skip the lines. I also recommend visiting later in the day to avoid crowds who swarm the place in the morning; try a Wednesday or Friday, when the museum is open until 9:45 PM. The Porte des Lions entrance near the Seine is usually less crowded than the main entrance near the glass pyramid.)
---
5.) Spend more time in parks and gardens
One of the best things to do in Paris is to just walk the city. The streets are beautiful, the Seine is scenic, and there are some lovely parks and gardens that are free or inexpensive to access. I wish we had had time to tarry in the Jardin des Tuileries, a public park in central Paris that dates to the 1640's. There are ponds, fountains, green spaces, and two excellent museums, with views of the Arc de Triomphe, Eiffel Tower, Place de la Concorde, and other Paris icons.
Elsewhere throughout the city are quieter parks and gardens that would provide a wonderful respite from the busyness of exploring museums, restaurants, and landmarks. I hope to be able to experience some of them on our next trip.
---
6.) Walk the bridges
M's cousin lived in France as an au pair a number of years ago, and one of her recommendations for our trip was to just spend time wandering the city's many beautiful bridges. We definitely crossed a few, but it would be nice to be intentional about seeking out some of the most picturesque options on a romantic stroll. I think this would be particularly appealing to do at night, with the city lit up around us and the lights twinkling on the Seine. 
What is it about Paris that brings out the romantic in me? Oh, right… everything. 
(Need a guide to the best bridges in Paris? I found this one to be helpful!)
---
7.) Pack and enjoy a picnic
Perhaps because it was so warm out, or perhaps because we had so few days to enjoy eating in French restaurants, one thing M and I did not do was something we read about a lot in our research: have a picnic. Almost every source we consulted suggested grabbing some cheese, wine, baguettes, and perhaps some sandwiches and enjoying them in a park, along the Seine, or at the foot of the Eiffel Tower. It was a romantic notion that got lost in the heat and our excitement over a nap (day 1, after our redeye flight), crepes (day 2), and falafel/shawarma street food (day 3). (Oh, my gosh that falafel…)
Next time I visit, though, I would like to visit any one of the ubiquitous small boulangeries, cheese shops, and other markets to put together a lovely, light French picnic. It may be a bit of a clichéd thing to do, but I can't imagine that making it any less enjoyable. (Don't let yourself be travel-shamed!)
(I pinned this guide to the best picnic spots in Paris for future reference!)
---
8.) Take a cooking or pastry-making class
Where better to learn the fine art of baking or cooking than Paris? It's a city famous for its culinary delights, and French cuisine includes so many dishes and desserts that I have not yet attempted to prepare. I'd love to try for the perfect pain au chocolat or a daring îles flottantes, or to cook with an ingredient that I've never used before, like rabbit or snails. Plus, preparing a meal as a couple is so much fun, and I think M and I would have a great time rolling up our sleeves and hitting the kitchen together. (We certainly enjoyed our cooking class in Dominica!)
Plus, they have to let you eat everything afterward, don't they?
---
9.) Take a day trip
Before we even left Paris, M and I discussed what a future trip to France would look like. There is so much more to see and do in this country than just its capital city!
If for some reason we were unable to take a longer trip through the countryside, I would want my next visit to Paris to include some time outside the city limits. Highest on our list is to visit the beaches of Normandy and the Mont Saint-Michel, but I am also intrigued by the opportunity to sample champagnes in caves in the eastern part of the country or to wander the opulent halls and gardens of Versailles.
The moral of this story is that I need to spend much, much more time in France.
(Fortuitously, Nomadic Matt published a great guide to the ten best day trips from Paris the day before this article went live! Check it out for ideas.)
---
10.) Witness the re-building of Notre Dame
When I originally wrote this post, my tenth to-do was to attend a Mass at Notre Dame cathedral. Although I am Protestant, not Catholic, I very much wanted to experience a service in such a beautiful, historic place where centuries of faithful worshippers had sought the presence of God. It was emotional and impactful enough just visiting Notre Dame; I'll admit that I teared up at my first sight of the rose windows and treasured my time sitting in awed silence under her gracefully vaulted ceiling. I could only imagine how much more moving it would be to attend a Mass.
April 15, 2019, put that dream put on hold as a horrific fire tore through this iconic structure that had stood for eight centuries. I'm grateful that despite the devastation so much was saved: the irreplaceable rose windows are intact, the towers still stand, and many priceless works of art were rescued. Now, I hope to one day see Notre Dame restored to her former glory, and perhaps I'll get my wish to attend a Mass there as well.
---
So there you have it – my list of the top ten sights and activities I will prioritize should I ever be fortunate enough to return to Paris. I'd love to hear what you think I missed! 
---
Like this post? Pin to save or share!
—
Read More:
How to Spend Two Days in Paris
How to Make the Most of a Short Trip to Paris
Ten Things I Will Do on My Next Trip to Iceland
—
Need some help planning your vacation to Paris? Full Life, Full Passport offers customized itinerary planning for all kinds of trips and budgets.
—
This list of things to do in Paris was first published on June 4, 2019, and last updated on June 20, 2021.
—
Want to be the first to know when a new post is published, or to receive exclusive content directly to your inbox? Join our email list!