Want to know the best restaurants in Rehoboth Beach? This guide to twenty of the best places to eat in Rehoboth will make sure you dine well while visiting America's Summer Capital!
---
If you're anything like me, you get almost as excited about eating on vacation as you do about all the sights and activities you're going to experience. Even though I've been spending my summers at the Delaware beaches for longer than I can remember, to this day they're no exception. As soon as a trip to Rehoboth Beach is put on my calendar, my mouth starts watering in anticipation of fresh seafood, delicious brunch menus, summery cocktails, and to-die-for pupusas.
Pupusas?
We'll get there.
In addition to lots of fun things to do (even in the rain!) and charming places to stay, Rehoboth Beach and its surrounding communities boast an overabundance of great places to eat. Today, I want to share some of the best restaurants in and around Rehoboth Beach to help make your vacation to America's Summer Capital all the more delicious!
---
---
Downtown Rehoboth
Boardwalk Classics
You simply can't leave Rehoboth Beach without indulging in one or more of the classic boardwalk eats. Create your own food tour with a bucket of Thrasher's french fries, a slice of Grotto's pizza, caramel corn from Dolles, some salt water taffy from Candy Kitchen, and Kohr Brother's custard or a milkshake from Starkey's (or both, I'm not here to judge). Calories don't count on vacation, right?
All of the above are located on or adjacent to the Rehoboth Beach boardwalk.
Salt Air
My sister's favorite restaurant in Rehoboth Beach, Salt Air is a must for fresh seafood. When I asked her for some of her favorite dishes to share in this post, the list was so long that I basically gave up trying to take them all down. (The crab deviled eggs and "any dish with scallops" were at the top, though.) Reservations are highly encouraged, as Brooke isn't the only one who loves this place.
50 Wilmington Avenue
Henlopen City Oyster House
For a slightly more upscale dining experience, check out Henlopen City Oyster House next door to Salt Air. Unsurprisingly, seafood is the star here, with an emphasis on all things fresh and local. It's a menu that feels classic, rather than funky or experimental like many other seafood joints in the area. And sometimes, some time-honored deliciousness is exactly what you need.
50 Wilmington Avenue
Mariachi Restaurant
I usually want seafood when I'm at the beach, but I absolutely make an exception for Mariachi. My mom, sister, and I discovered this fabulous Latin restaurant during our Rehoboth food tour and it quickly became a family favorite. (My mom actually hugged the owner, Miss Yolanda, as we left. It may have had something to do with the strength of the margaritas, but the deliciousness of the food will make you want to hug Yolanda, too.) The menu features a wide array of Spanish and Latin American dishes with some killer cocktails to boot.
If you want my advice, I say to grab a friend and split a pitcher of margaritas, an order of pupusas, one of the house specialty entrees (especially the lomo saltado or poc chuc yucateco), and the sopapillas. It will give you the best of every world and keep you coming back for more.
14 Wilmington Avenue
Chesapeake & Maine
Dogfish Head is arguably Delaware's favorite – and most famous – craft brewery, and their brewpub Chesapeake & Maine is an excellent place to indulge. Featuring "off-centered" food, a raw bar, and yummy handcrafted cocktails, it's a great choice for casual downtown fare.
316 Rehoboth Avenue
Egg
If you're looking for an awesome breakfast spot in downtown Rehoboth Beach, Egg is it. M and I first visited on the recommendation of my cousin's husband, who is a chef, and we were not disappointed. It's bright and cheery and the crab benedict, in particular, is absolutely delicious.
510 Rehoboth Avenue
The Point Coffee House and Bake Shoppe
Located at the far end of Rehoboth Avenue, The Point takes coffee seriously. With six to eight varieties of organic and fair trade coffees brewed daily and an ever-changing menu of beans and source countries, it's a good place to find a new favorite brew. The baked goods – particularly the sticky buns – aren't too shabby, either.
37140 Rehoboth Ave, Rehoboth Beach
---
Greater Rehoboth
Some of the best restaurants in Rehoboth Beach are actually located away from the boardwalk and downtown area. Coastal Highway is lined with places to eat, ranging from fast food to chain restaurants to local seafood joints. Here are some of my favorites:
Thompson Island Brewing Company
Thompson Island is one of the newer kids in town, but it's already packing a punch. Parent company SoDel Concepts has a proven track record of great Rehoboth Beach restaurants (Matt's Fish Camp, Bluecoast, and Lupo Italian Kitchen were all considered for this list), and Thompson Island continues that trend. I love the bright, coastal interior, and there's a fun outdoor space as well. Don't miss the coconut lime dip on the coconut shrimp!
30133 Veterans Way, Rehoboth Beach
1776 Steakhouse
If you ask my dad to name the best restaurants in Rehoboth Beach, you can bet that 1776 Steakhouse is going to be at the top of his list. (We actually celebrated his 60th birthday here.) Hidden in a strip mall near a movie theater and go-karting track, 1776 offers stellar steaks and yummy seafood. My mom loves the Steak 1776, a filet topped with lump crab meat.
18585 Coastal Hwy #6, Rehoboth Beach
Surf Bagel
For a quick, tasty breakfast or lunch on the go, Surf Bagel has got you covered. Bagels, breakfast sandwiches and burritos, sandwiches, salads, and wraps are all on the menu here, with tons of variations to choose from. Perfect for an easy morning, packing in your beach bag, or a quick bite on your way into and out of town.
Surf Bagel has two locations, one at 18675 Coastal Highway in Rehoboth (near Midway Speedway) and one further up the road at 17382 Coastal Highway in Lewes.
Casapulla's Subs
For years, it's was my family's tradition to stop and get Casapulla's hoagies on our way into town for the summer. My favorite was the chicken cheesesteak, but you can't really go wrong with anything on the menu. Casapulla's is an excellent choice for a quick meal or for grabbing hoagies to pack for your lunch on the beach.
19331 Lighthouse Plaza Blvd, Unit 1, Rehoboth Beach (just off Coastal Highway)
Grandpa Mac
If your kid can't get enough macaroni and cheese, you need to put this unpretentious, kid-friendly spot on your "places to eat in Rehoboth Beach" list. Grandpa Mac features lots of fun, chef-inspired pasta options along with the ability to craft your own creation. They also have panini, wraps, and other deliciousness if you're not feeling like pasta in the moment.
18756 Coastal Highway, Unit 6, Rehoboth Beach
---
Lewes
A few miles north of Rehoboth, Lewes (pronounced LEW-iss) is an unassuming coastal town that tends to fly under the radar compared to its more famous neighbor. While it may not have the flash of Rehoboth, Lewes has more than enough great restaurants to justify the short drive up Coastal Highway.
Honey's Farm Fresh Gourmet Kitchen
One of my favorite brunch spots in Delaware, Honey's delivers on its "Farm Fresh" promise. Their breakfasts are outstanding (I love the veggie benedict, and there are almost a dozen varieties of omelette) and they have a nice array of sandwiches and salads as well. I'd give an opinion on those, but the breakfast is so good that I've never branched out into the lunch menu!
329 Savannah Road #1438, Lewes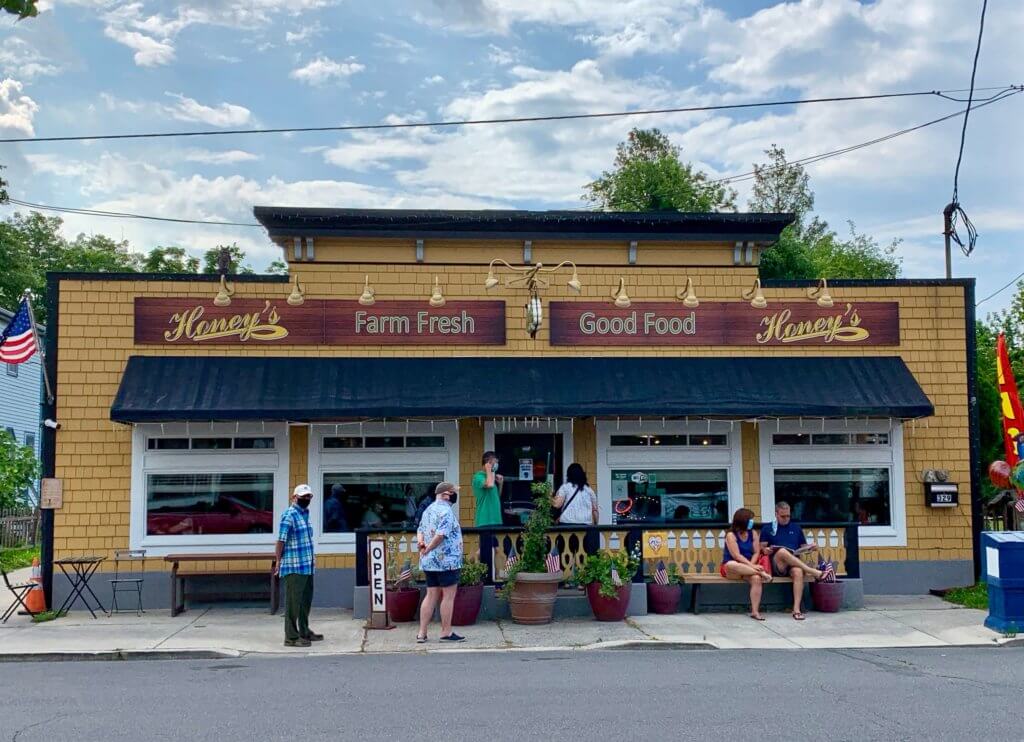 Nectar Cafe and Juice Bar
If you need a non-caffeinated morning pick-me-up, Nectar is the perfect spot. The juice bar is awesome, with lots of yummy ways to get your morning fruits and veggies, and the food options range from pancakes to pot pie. Herbivores will find some vegan-friendly fare here, as well.
111 Neils Alley, Lewes
Hopkins Farm Creamery
While not technically a restaurant, grabbing ice cream from Hopkins Farm Creamery is an absolute must while you're at the Delaware beaches. This well-loved creamery is located on an actual dairy farm with walk-up windows and the cows themselves a few steps away. Be prepared, though: lines and wait times can be insanely long on a weekend evening. Your best bet is to come in the middle of a weekday and stash the goods in a freezer for later.
18186 Dairy Farm Road, Lewes. Closed from mid-December to mid- to late January.
Agave Mexican Restaurant
For a break from seafood and brunch, give Agave a try. This Mexican hotspot features TexMex standards like burritos and fajitas while also shaking things up with unusual guacamoles and ancho chile ribs. You can find Agave in Lewes's historic district, which is also great for a stroll.
37 2nd Street, Lewes
The Surfing Crab
My favorite place to pick crabs at the Delaware beaches, The Surfing Crab is the ultimate paper-on-the-table, beer-in-hand spot for casual seafood. For those who are truly passionate about crabs, they offer an all-you-can-eat option where you can sit for two hours and pick as many crabs as you want. (Make sure to call ahead to confirm availability.)
16723 Coastal Highway, Lewes. Closed in the winter.
Crooked Hammock Brewery
Another beloved Rehoboth-area microbrewery, Crooked Hammock is on the list not only for its brews but also for the atmosphere. With multiple brightly colored dining areas, lawn games for all ages, live music, and more, Crooked Hammock feels like a backyard party every day. There's no better way to enjoy a craft beer than while swinging in a hammock at the beach.
36707 Crooked Hammock Way (off Kings Highway), Lewes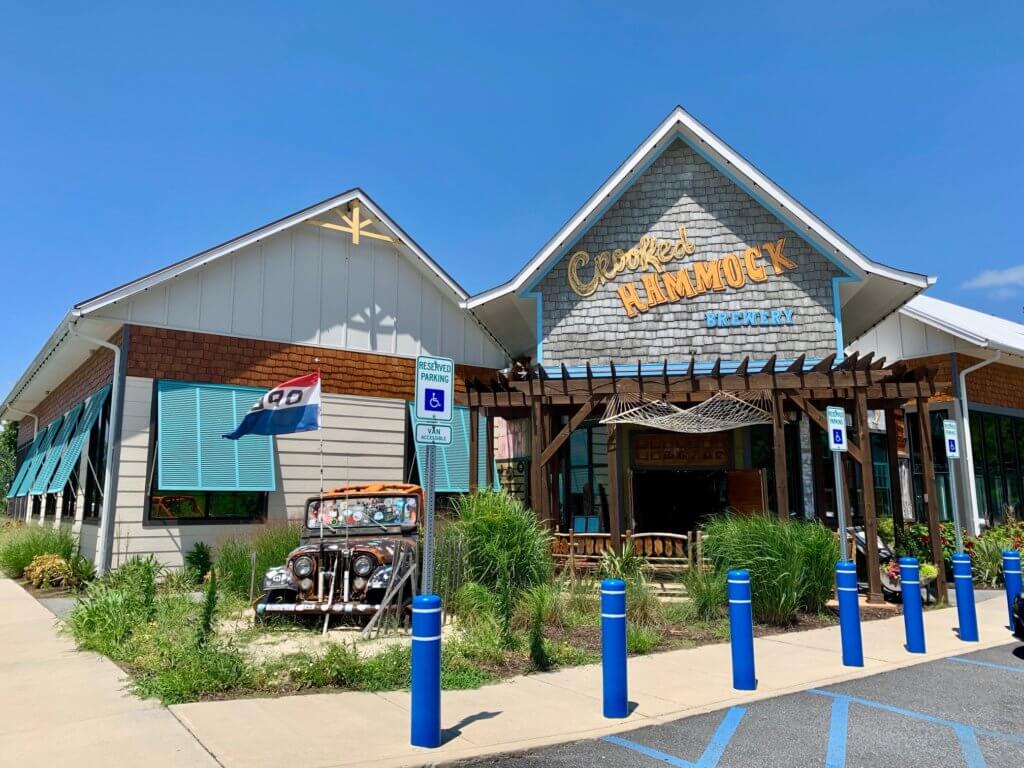 Big Oyster Brewery
One of my parents' new favorite places at the beach, Big Oyster Brewery has a large menu with something for everyone. It's located in a big, red, barn-like building and has a fun, farmhouse interior. Outside, you'll find plenty of open-air seating, a playground for kids, and lawn games for adults. My folks also like their sister restaurant, Fins Ale House and Raw Bar, on Coastal Highway.
1007 Kings Highway, Lewes
Paradise Grill
Located in the bayside community of Long Neck, Paradise Grill is a local haunt where you can pull up your car, golf cart, or boat to grab a bite and enjoy some live entertainment. While I wouldn't call the food outstanding – it's good, but not amazing – the real draw here is the atmosphere. There are plenty of open-air seating areas along the bay, multiple beach bars, a stage for live entertainment, a playground for kids, ice cream and funnel cake shacks, beach games, and more. It's the perfect spot to relax and unwind.
27344 Bay Road, Millsboro
---
Dewey Beach and South
If you head south instead, you'll find some of the best restaurants in the Rehoboth Beach area in the towns of Dewey Beach and Bethany Beach. The spots below may take a little longer to reach but are definitely worth the drive.
Woody's
Crab cakes are king here – Woody's claims to have the best at the beach – but you won't want to miss the burgers and cocktails, either. The orange crush is the unofficial cocktail of Dewey Beach, so make sure to grab one while you're here to wash down all that lump crab deliciousness.
1904 Coastal Hwy, Dewey Beach
Big Chill Beach Club
If you're looking for a place where you can walk right off the sand and up to a table, Big Chill Beach Club has you covered. Located within Delaware Seashore State Park – my personal favorite stretch of beach in the state – Big Chill is everything you would want in a beachside bar and grill. You can see the Atlantic Ocean, the Indian River Inlet, and the graceful Charles W. Cullen Bridge from the upper level, and cornhole and Adirondack chairs await in the sand below.
27099 Coastal Hwy, Bethany Beach (at the South Inlet Day Area just over the bridge). Be aware that you will have to pay the state park entrance fee ($5 for Delaware residents, $10 for non-residents) to visit Big Chill. I suggest making a day of it by hitting the beach at the South Inlet Day Area and walking up to Big Chill for lunch or dinner.
Off the Hook
Farther south in the quieter (relatively speaking) community of Bethany Beach, Off the Hook is one of the best places in the area for "fresh, honest, local" seafood and more. This farm-to-table favorite is located away from the boardwalk but is worth the extra effort.
769 Garfield Pkwy, Bethany Beach
Bethany Boardwalk Favorites
The Bethany Beach boardwalk is more subdued than downtown Rehoboth Beach, which makes it a great place for a fun evening stroll. While you're there, don't miss the french fries at DB's Fries and the fudge and ice cream at Three Blonde Bakers.
DB's Fries and Three Blonde Bakers are located at 100 and 108 Garfield Parkway, respectively.
14 Global
Just up from the main shopping and boardwalk area of downtown Bethany Beach, 14 Global is another worthy alternative to the ubiquitous seafood joints at the beach. Specializing in tapas and small plates, they take the "global" part of their name seriously with a menu that includes everything from guacamole and hummus to burrata and curry.
14 N Pennsylvania Avenue, Bethany Beach. Closed in the winter.
---
So there you have them: twenty of the best restaurants in Rehoboth Beach and the surrounding Delaware beaches! Which ones made your mouth water? Which of your favorite places to eat in Rehoboth Beach did I miss? Let me know in the comments below!
Like the post? Pin to save or share!
—
Read More:
20 of the Best Things to Do in Rehoboth Beach, Delaware
10 Things to Do on a Rainy Day in Rehoboth Beach
10 Reasons Why You Should Visit Rehoboth Beach Off-Season
10 of My Favorite Beaches in the World
—
Need some help planning your trip to try the best restaurants in Rehoboth Beach? Full Life, Full Passport offers customized planning services for all kinds of vacations and budgets! 
—