It's officially beach season! Well, it is here, anyway. (Sorry to all my Aussie and other Southern Hemisphere friends headed toward winter.) This Friday kicks off Memorial Day weekend in the United States, and while Monday is officially designated as a day to mourn and remember fallen servicemen and -women, the weekend has also come to mean the de facto start of summer. Millions of Americans will be taking advantage of having the day off work on Monday to head to the beach or take other fun summer-starting long-weekend vacations.
In the spirit of kicking off summer, I thought it would be fun to share ten of my favorite beaches in the world. Although I certainly haven't visited every beautiful island or stretch of coastline on Earth, I have been fortunate enough to see some really gorgeous and unique beaches in my years of travel. Below are ten of my favorites, the ones that have stuck with me over the years and to which I would most likely return in a heartbeat.
If you have a favorite beach, either for sentimental reasons like #6 below or because it blew you away with its beauty like many of the others, I'd love to hear about it in the comments so I can add it to my list!
---
1.) Ao Phra Nang, Krabi, Thailand
When we chose Krabi, Thailand, as the very last stop on our two-month Southeast Asian backpacking adventure, we knew we'd probably visit a pretty beach or two. What we found when we got there was one of the most breathtakingly beautiful beaches we'd ever seen. Imagine a boomerang-shaped stretch of sand flanked by lush jungle vegetation and rocky cliffs. A huge karst formation sits just out to sea, surrounded by the same emerald green water that gently laps at the sand at your feet. A line of colorful wooden longboats sit moored along the shoreline just waiting to be photographed, and many serve as floating food stalls where you can buy cheap, delicious rice or noodles to refuel after a nice swim.
Ao Phra Nang is paradise, even if it's far from off the beaten path, and a decade later it remains one of the most spectacular places I've seen.
---
2.) Pata Prieta, Vieques, Puerto Rico, USA
I could have easily added at least five of the beaches of Vieques to this list, but somehow I chose just one: Pata Prieta. There was so much to love about this beach: how it felt like a secret hideaway, the gorgeous color of the water, the plentiful shade that provided a respite from the tropical sun, the sugary white sand… I could go on and on.
Vieques is part of the Commonwealth of Puerto Rico and sits just off the main island's eastern coast. It was occupied for decades by the US military for training and weapons testing, and when they finally left much of the island was turned over to the US Fish and Wildlife Service rather than to developers. Thus, almost any beach you'll find on Vieques is close to picture-perfect. The island has some of the most beautiful beaches I've seen in my life, but even among them, Pata Prieta stands out.
---
3.) Ipanema, Rio de Janeiro, Brazil
By the time we reached Rio de Janeiro, Brazil, we had been traveling for almost three months across South America. We'd seen the wonders of the Andes, explored ancient Incan ruins, survived the fifth largest earthquake on record, and lost ourselves in the magnificent landscapes of Patagonia. But as we stepped onto the beach in Ipanema, it was the first time I felt like I was somewhere truly exotic. Maybe it was the gorgeous backdrop of the mountains that framed the beach. Maybe it was its romantic and fabled history as a destination for the luxurious vacations of the 50's and 60's jet set. Maybe it was the fact that for the first time in three months, I didn't understand the language spoken around me (that crazy Chilean brand of Spanish notwithstanding). Whatever it was, Ipanema was special, and we loved it immediately.
---
4.) Arctic Ocean, Alaska
Although it wasn't your typical beachgoing experience and it's probably the least scenic stretch of sand on this list, visiting the Arctic Ocean at Prudhoe Bay, Alaska, was one of my most unique coastal experiences. While working as a tour director, I was fortunate enough to shadow a tour that followed the Alaska Pipeline from its starting point in Deadhorse at the very top of the state all the way south to Anchorage.
One of the first things we did on the tour was visit the Arctic Ocean, an experience that I will possibly never have again. We were lucky to be able to put our feet in the water – the ever-looming presence of polar bears often makes such an activity off-limits – though we weren't allowed to get in any farther than our knees for our own safety. You didn't have to tell me twice – that water was so cold that ankle-deep was far enough!
---
5.) Los Frailes, Ecuador
One of the jewels of the Ecuadorian coast, and definitely off the beaten path as far as South American destinations go, is Los Frailes. Located inside Machalilla National Park in southern Ecuador, Los Frailes is not far from the fun seaside town of Puerto Lopez. I first visited on a free weekend during my study abroad trip to Ecuador in 2008, when an unusually wet season had covered the rolling hills with lush greenery. I loved it so much that when I backpacked through the country two years later, the area was at the top of my to-be-revisited list.
While the national park had reverted to its more common dry, brownish hues by that point, it's still a stunning destination that absolutely deserves to be added to your list. I would visit again and again.
---
6.) Delaware Seashore State Park, USA
Delaware Seashore State Park, and specifically Tower Beach, is one of my favorite beaches in the world purely because it was such a special part of my childhood. Every summer, my family would spend five weeks in the area of Rehoboth Beach, Delaware, and most weekdays involved a few hours spent on the sand. While the beach in downtown Rehoboth is more famous (and crowded), I love the comparative tranquility and beauty of Delaware Seashore State Park below Dewey Beach.
Now, I'm making new memories at the Delaware beaches with my own family. It's been fun watching E explore the sand and the sea that shaped so much of my childhood. I can only hope that as the years pass, Delaware Seashore State Park will become as special a place to him and our future children as it has been to me.
---
7.) Mourne Rouge, Grenada
There were lots of places on our honeymoon cruise that felt like paradise, but we loved Grenada most of all. In true M and Gwen fashion, we spent most of our days engaging in fun activities, from snorkeling in St. Croix to renting a motorbike to zoom around St. Kitts to taking a cooking class in Dominica. Grenada, however, we reserved for lounging on the beach.
One of the most famous beaches on Grenada is Grand Anse, which is admittedly pretty beautiful. But we had read that heading a little farther south would bring us to a quieter, even more beautiful beach called Morne Rouge. It was worth every extra minute and dollar spent on the water taxi to get there. When we arrived, we found ourselves virtually alone on a half-moon shaped stretch of gorgeous sand flanked by waving palms. The water was calm and beautiful, and it was the perfect place to relax and revel in the joy of our new marriage.
---
8.) Maya Bay, Thailand
There's a reason that Thailand's Maya Bay was chosen to represent the ultimate paradise in the 2000 Leonardo DiCaprio movie The Beach. It's stunningly beautiful: a secluded, emerald cove ringed by green-topped limestone formations. If you can get there before it's swarmed with tourists, it can definitely feel like the secret hideaway that it was in the movie. Even with some fellow sunseekers, however, it's definitely a special spot.
Back in 2011, I visited Maya Bay during my two-month backpacking trek across Southeast Asia. My traveling companions and I had hired a longboat to explore the islands and beaches surrounding the tourist mecca of Koh Phi Phi, and Maya Bay was one of our first stops. As some of the first arrivals, we got to revel in its beauty and even do a little snorkeling without being bothered by crowds.
Unfortunately, Maya Bay has recently come under tremendous pressure from overtourism, and the experience today seems to be dramatically different from when we visited in 2011. Thankfully, the Thai government has begun to take some significant steps toward preserving the bay, including closing it to tourists for months at a time to protect vulnerable ecosystems. While I would be sad to miss it on a return trip to Thailand, I'm glad that Maya Bay will be preserved in all its glory for future generations.
---
9.) Cannon Beach, Oregon
There are lots of places that could earn a "best beach" title on the US West Coast, but Cannon Beach in Oregon has stuck with me most of all. It was here that we caught our first sight of the ocean during my two-month cross-country road trip with my best friend Molly in 2011, and the wide, sandy shores and imposing sea stacks certainly made an impression.
As someone who grew up frequenting the sandy shores of the Mid-Atlantic, I loved experiencing the beaches of the Pacific. The topography was so interesting and varied, and Cannon Beach was a great introduction to what we would see as we traveled further down the West Coast.
---
10.) Mullaghmore Peninsula, Ireland
Ok, so this one may be cheating a bit, since the parts of the Mullaghmore coastline that we loved lack big swaths of sand for sunbathing or swimming. But the sunset we saw while circling the peninsula was so stunning that it cemented this particular bit of coast in our hearts forever.
The Mullaghmore Peninsula is an out-of-the-way spot in County Sligo in the west of Ireland. Here you'll find waves crashing against sea cliffs, the occasional rainbow, and a far-off castle that gives the whole place a feeling of mystery and romance. When we visited, it was moody and evocative in a way that was unlike any other oceanfront area I'd ever seen. Thus, it earns itself a place on my list of favorite beaches!
---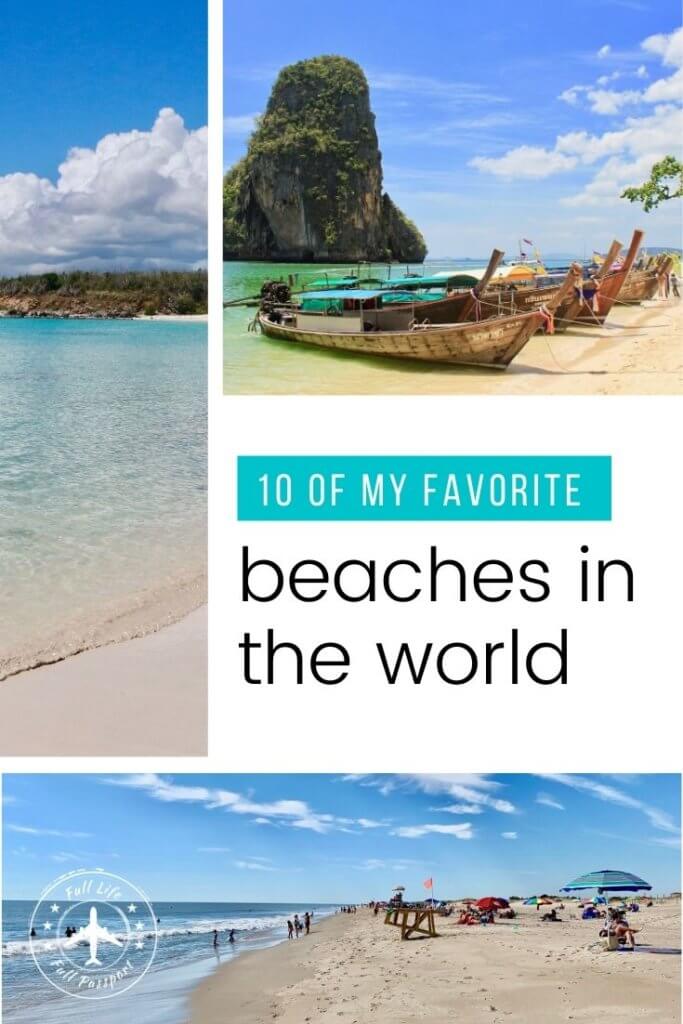 Like the post? Pin to save or share!
—
Read More:
Your Guide to the Best Beaches on Vieques, Puerto Rico
Following the Sun Route: A Guide to Puerto Lopez, Ecuador
20 of the Best Things to Do in Rehoboth Beach, Delaware
Flashback Friday: A Secluded Beach Getaway in Thailand
—
Need some help planning your trip to a great beach? Full Life, Full Passport offers customized planning services for all kinds of vacations and budgets!
—
Want to be the first to know when a new post is published, or to receive exclusive content directly to your inbox? Join our email list!