February 27, 2010
3:34 AM
Valparaiso, Chile
Someone was shaking me.
Sleep tried to keep its hold, but it was no match for whoever wanted me awake. My horizontal body rocked from side to side as if being bounced along a particularly bumpy road. Begrudgingly, I opened my eyes.
No one was shaking me. My bed was moving.
In fact, the whole room was moving. Fighting the fog of sleep, I struggled to make sense of what was happening. I sat up in bed as the shaking intensified, rattling the thin glass windows in their old wooden frames. One of my traveling companions, Kyle, had been sleeping on a makeshift bed at my feet. Now he sat upright, looking as disheveled and confused as I felt. We made eye contact, and I asked perhaps the most stupid question on earth.
"Are we in an earthquake right now?"
In response, the room started to rock even more violently. Our other companion, Curtis, was in the bed beside mine and awake now, too. Suddenly we were all on our feet, yelling over the racket of vibrating glass, falling plaster, and moaning wood. We argued about what to do; Kyle and I flung open the door and braced ourselves in its frame as Curtis knelt beside our little wooden table, insisting it would break the fall of any debris. Through the darkness, we could see the ceiling crumbling, and we heard screams as shelves collapsed in a cacophony of breaking dishes in the kitchen down the hall.
The shaking seemed to go on forever, long enough for us to argue about the survival strategies of door frame vs. table-adjacent and for me to kick myself for having wished "to feel an earthquake someday."
Eventually, the rocking slowed to a stop, leaving behind an eerie quiet. We were covered in plaster dust and boasted a few bumps and bruises. My heart was still pounding as adrenaline rushed through my veins. Otherwise, though, we were unscathed.
"I guess we should head outside, right?" someone said. Through the open doorway, we could see a few fellow lodgers making their way through the mess of the living room. They seemed to be headed for the staircase. We grabbed some valuables – wallets, passports, and the like – and followed.
---
We spent the next couple of hours standing on the pavement across the street from our hostel. We didn't quite know what we were waiting for – another temblor, a tsunami wave, an announcement that it was safe to go back inside, dawn – but we waited nonetheless. The streets were filled with rumors and people in their nightclothes. A steady stream of young people passed by as well, all dressed for a night in the clubs. Some were wobbling on their feet for reasons that had nothing to do with an earthquake. I couldn't imagine what it must have been like to be drunkenly dancing in a discoteca when suddenly the whole world went dark and started to violently shake.
All around us, people debated the location of the epicenter, the likelihood that a bigger quake was imminent, and the possibility that we were at risk of a tsunami. Valparaiso is a port city on the Pacific Ocean, so it was not unthinkable that a wave could have been rolling toward us at that very moment depending on the quake's location, type, and depth. While much of the city is perched on colorful hillsides overlooking the Pacific, our hostel was in a flatter part of town right at sea level.
After about an hour and a half of standing around feeling smaller aftershocks roll under our feet, we joined the sporadic groups venturing back indoors. Just as we arrived, a particularly strong aftershock sent us scrambling back down the stairs.
Finally, we were able to crawl back into our beds, which were covered in plaster and other debris. With aftershocks continuing to roll through and occasionally rattle the windows, I didn't sleep much.
My first concern when we got up later that morning was how I was going to get in touch with my family to let them know I was all right. There was no electricity, and every business was shuttered and dark. Broken glass and rubble crunched underfoot as we walked past damaged buildings looking for food or a connection to the outside world. Every so often, the world would tremble with varying levels of intensity.
At last, we came upon a cake shop that somehow had electricity. Stepping into the nearly empty storefront, we first asked if they had any food and secondly if they knew anywhere with internet or phone service. They couldn't help us with the former, but one of the girls went to the internet cabina next door and knocked until someone answered. Miraculously, I was soon connected through to my mom in Pennsylvania, who only minutes before had woken up to the news that a massive quake had stuck the country where her daughter was backpacking.
After Kyle and Curtis were able to make their own calls, we expressed our sincere thanks to the owners of the cabina and left to continue our search for food. We eventually found some breakfast, then returned to our hostel. Our pre-earthquake plan had been to leave that day for Santiago before heading further south into Patagonia, but the bus station was closed and the whole city was at a standstill. Information was scattered and unreliable, and it included some reports that Santiago had been hit badly. We decided to stay in Valparaiso at least another night.
Throughout the day, rumors started to give way to facts. We learned that the epicenter of the quake had been a couple hundred miles south of us outside the town of Concepción. There, the magnitude registered 8.8, which was at that time the fifth strongest earthquake on record. The destruction was immense, and the death toll was feared to be similarly high. Tsunami warnings had been issued all across the Pacific, and a wave actually did strike the Chilean coast further south, causing great devastation. We were fortunate that, although a tsunami did hit Valparaiso that night, it was only about four feet high and thus never reached where we stood.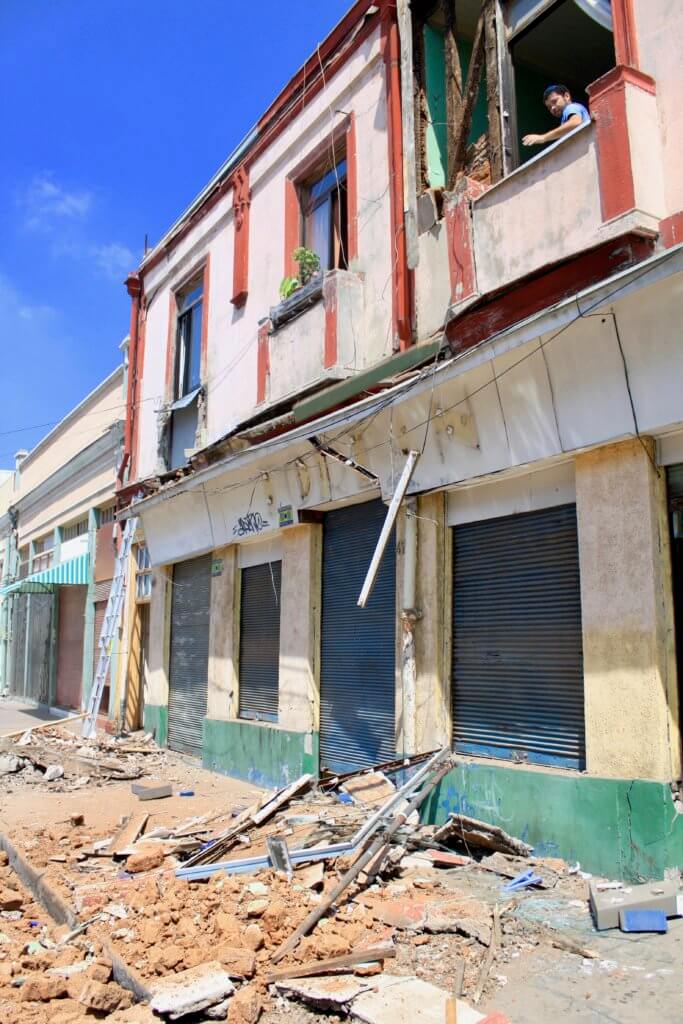 The quake's effects on Valparaiso were not insignificant. I've seen varying estimates of its strength, but the general consensus is that the city saw something between a 6.0 and 7.0 in magnitude. The homes of over seven percent of the city's population were destroyed or severely damaged (source) and multiple deaths were reported. As scary as the night before had been, however, it was clear how fortunate we were in comparison to the regions south of us. It also was clear that our plan to explore Chilean Patagonia was now out of the question.
We briefly discussed contributing to the relief effort, and to this day it is one of my biggest regrets that we were unable to find a way to do it. Passenger bus service to that region was practically nonexistent due to damaged roads and collapsed bridges. Additionally, we had no idea whom to even approach to offer assistance.
Instead, when regional bus service resumed the next day, we headed back to a shuttered Santiago before moving on to Mendoza, Argentina via an overnight bus. We eventually made it to Patagonia by way of El Calafate and El Chaltén, though we never made it back to the Chilean side. To this day, southern Chile remains high on my travel bucket list.
---
Lessons Learned
In the years since the 2010 Chile earthquake, I have had time to reflect on how that night changed the way I view and experience travel. Above all, surviving the earthquake was a humbling experience. First and foremost, we were humbled by the sudden reminder of our own powerlessness and mortality. On a more positive note, however, we were also humbled by the kindness shown by others when we found ourselves in a moment of need thousands of miles from home.
The earthquake and its aftermath taught me lessons that have shaped the traveler I am today. Here are a few I hope never to forget:
The place I'm visiting is someone else's home.
We left the earthquake zone having suffered little more than a few bumps and bruises. For the residents of Valparaiso and a large part of Chile, however, there was no leaving. That was home, and the earthquake and its aftermath was their reality.
When you're on the road, it's easy to get caught up in that feeling of everything being novel and exciting. You're there to experience a place, do some fun things, maybe meet a few cool locals, and then move on to the next adventure. But that place didn't start existing when I arrived and stop when I left. For someone, it's home; it's the most important place in the world. It's the center point of their lives, where so much of what they own and love is anchored. The earthquake reminded me what a privilege it is to be welcomed into someone else's home and how much that home deserves my respect.
There is a lot of genuine kindness out there.
In the wake of the earthquake, the people of Valparaiso had a lot more to worry about than whether or not three American twenty-somethings were okay. Yet, on numerous occasions, we were shown nothing but selfless kindness. The cake shop employee found us an internet cabina with service, and its operators opened their door to allow us to call our worried parents. Our hostel owners took us under their wing and provided their personal cell phone number to give to our families so they could get in touch if needed. There was so much good in what could have been a dark day.
Now, when I have a bad day on the road, get jostled by a rude fellow traveler, or encounter a gruff or grumpy local, I remind myself that there's still a lot of kindness out there as well.
Ultimately, I'm not in control…
Nothing reminds you of how powerless you are like an emergency. By the time we reached Chile, we were feeling pretty confident in our ability to handle ourselves on the road. We had already traveled thousands of miles, solved a hundred little problems, and had lots of successful sightseeing under our belts. Then, the world started to shake, and no amount of travel savvy could make it stop or guarantee our safety.
Remembering the Chile earthquake has kept me from getting cocky when I'm in danger of feeling like I have this travel thing down to a science. It's a good reminder that, regardless of anyone's level of experience on the road, something can still happen that will throw you completely for a loop.
… But I can be prepared.
Headed to an earthquake-prone region like Chile? Traveling through Tornado Alley? Hiking through a canyon susceptible to flash flooding? Even though your chances of experiencing a life-threatening event are rare, it's wise to brush up on what to do in an emergency or natural disaster. Doing even the tiniest bit of research will, at least, spare you from having a mid-emergency argument about what to do, like we did.
At most, it could save your life.
The U.S. Department of Homeland Security has a great website with quick tips and advice for pretty much any emergency imaginable. In fact, it was there that I discovered that both sides of our mid-quake argument were wrong. We should have gotten under the table, not knelt beside it as Curtis had, and Kyle and I definitely shouldn't have taken shelter in the doorway.
These days, I try to be aware of any possible dangers in the areas where I'm traveling, just in case. I don't dwell on the what-if's and I certainly don't let the remote chance of an emergency keep me from seeing incredible places, but I do make sure that I know what to do if something happens.
And, when all else fails, make sure you have travel insurance to cover your medical, evacuation, and trip interruption needs if an emergency or natural disaster strikes. You don't want to be stranded abroad.
I hope that you never experience a natural disaster or any type of emergency in your travels. If you do, I hope you're left with nothing more than a good Two Truths and a Lie fact. ("I'm left-handed, I am allergic to cats, and I once survived the fifth-largest earthquake on record. Any guesses?")
If you do have a crazy travel story (or just a fun set of Two Truths and a Lie facts), I'd love to hear about it in the comments!
Like the post? Pin to save or share!
—
(Note: some of the links in this article may be affiliate links, which means that I may earn a small commission from your purchase at no additional cost to you. Thank you for supporting Full Life, Full Passport! You can find the full disclosure here.)
—
Read More:
Stranded Abroad: Why Travel Insurance is Important
Flashback Friday: Sunset on the Salar de Atacama
7 Ways I Travel Differently Now Than I Did in My Early 20's
—
This post about my experience during the 2010 Chile earthquake was originally published on February 18, 2020 and last updated on February 18, 2021.
—
Need some help planning your trip to Chile? Full Life, Full Passport offers customized planning services for all kinds of vacations and budgets!
—
Want to be the first to know when a new post is published, or to receive exclusive content directly to your inbox? Join our email list!