(Eight great new activities added in March 2022!)
Nicknamed "America's Summer Capital," Rehoboth Beach is one of the most popular beach destinations on the east coast of the United States. Situated along the Atlantic Ocean in southern Delaware, Rehoboth has been beloved by generations of summer holidaymakers. With great food, lovely beaches, tons of family-friendly activities, and other fun things to do, Rehoboth Beach is a great destination for people of all ages. Plus, with the election of local boy Joe Biden to the US presidency, it's about to get a lot more popular!
I grew up spending the summer at the Delaware beaches and have been traveling there for vacation since before I can remember. In the early years, we split our time between a beach house rental with our extended family and a week by ourselves in our RV. Soon, however, my parents realized that we could spend five weeks RV'ing at the beach for less money than it would cost to rent the house for a single week. From then on, I spent most of July and August living in a twenty-eight-foot-long camper at the beach.
It was a great way to grow up, and it cemented a deep love for Rehoboth Beach in my heart. Even though the area has changed a lot since I was a kid, I still look forward to heading to southern Delaware as often as I can. Today, I want to share some of my favorite things to do in Rehoboth Beach so that you can experience some of that same joy! (And if you happen to encounter some rain on your Rehoboth vacation, I have a list for that, too!)
A small note, though, before we start: Rehoboth Beach is the largest of a number of coastal communities in southern Delaware. Many of these are so close together that it's hard to tell where one ends and the next begins, so a lot of people vacationing in Rehoboth Beach end up eating, staying, or doing activities outside of the technical city limits. I will admit that while this list focuses on things to do in Rehoboth Beach, you'll notice worthy attractions in other communities like Lewes (pronounced LEW-iss), Dewey Beach, Bethany Beach, and beyond. None of them is terribly far from Rehoboth, though, so you can easily fit anything on this list into your trip!
And PS: don't miss my list of the 25 best restaurants in Rehoboth Beach for an extra tasty vacation!
(Note: some of the links in this article may be affiliate links, which means that I may earn a small commission from your purchase at no additional cost to you. Thank you for supporting Full Life, Full Passport! You can find the full disclosure here.)
---
20 of the Best Things to Do in Rehoboth Beach, Delaware
Visit the Beach
This one is obvious, and probably the whole reason you're headed to Rehoboth in the first place. If you're jonesing for some sand and surf, there are plenty of places to find it in the Rehoboth Beach area.
One of the most popular beaches is right downtown. It is free to access, though you'll have to pay for parking if you aren't staying within walking distance of the sand. This beach backs right up to the boardwalk and Rehoboth Avenue, so there are plenty of options for lunch and afternoon fun if you want a break from the sun. While this beach can get crowded and isn't the most scenic in the area, its close proximity to all the fun things to do in downtown Rehoboth Beach is a selling point.
The nearby towns of Lewes, Dewey Beach, and Bethany Beach also have nice stretches of public sand, and they are often less crowded than downtown Rehoboth. Dewey Beach can be a little tough to access if you're not staying in that area since parking is a bit scarce. Bethany Beach, however, also has a nice boardwalk and shopping area just off the beach for an afternoon break.
Furthermore, two beachfront state parks are within easy driving distance: Cape Henlopen and Delaware Seashore. While the availability of services differs, these parks are the place to go if you want to escape the big crowds in town. The main beach at Cape Henlopen and Towers Beach (also called Tower Road) at Delaware Seashore State Park are my personal favorite beaches in the area. You'll have to pay to enter ($5 for Delawareans, $10 for out-of-state visitors), but the beauty, cleanliness, and services available are worth it.
---
Walk the Boardwalk
What's a summer night at the beach without a stroll up and down the boardwalk? The boardwalk at Rehoboth Beach is an institution, and you simply can't miss it if you're planning a vacation here. In addition to Funland, featured separately below, there are souvenir shops, food stalls, hotels, arcades, restaurants, a rooftop mini-golf course, and more lining the wooden walkway. There's even a bandstand at the center where free concerts will take you back to a simpler time.
In my family's lexicon, "the boardwalk" also includes both sides of Rehoboth Avenue, the main drag into town. There, you'll find dozens of restaurants, boutiques, souvenir shops, food stalls, art galleries, and other fun places to explore. You could easily spend an afternoon ducking in and out of all the storefronts, which makes for a fun activity if rain drives you off the beach.
Don't Miss: The Sea Shell Shop, Browseabout Books, M2 (M Squared), Sole Kids, Critter Beach, First Anchor, Penny Lane Mall. Also, as mentioned above, Bethany Beach has a great boardwalk area, too!
---
Enjoy Tax-Free Shopping
Love shopping? Rehoboth is a great place for a little retail therapy. Not only are there plenty of places to shop, but you'll save a little money because Delaware doesn't charge a state sales tax!
There are three big Tanger outlet centers along Route 1 that are perfect for finding a great deal on name brands or even starting your holiday shopping early. (My mom used to be almost completely done with her Christmas shopping by the time we went home at the end of the summer.) Also, as mentioned above, boutiques and other fun shops line Rehoboth Avenue in downtown Rehoboth Beach. You'll also see tons of gift, specialty, souvenir, clothing, and other stores lining Route 1 from Lewes to Dewey.
Pro tip: In summer, try to hit the outlets on a bright, sunny day. They get swarmed when rain drives people off the beach. The outlets also get busy on November and December weekends when people come from all over to do their holiday shopping.
---
Indulge in Classic Boardwalk Eats
No trip to Rehoboth Beach is complete without chowing down on some of her most iconic foods. Favorites of locals and annual visitors alike include Grotto Pizza (colloquially called "Grotto's"), Thrasher's french fries, and Dolles homemade candies and caramel corn. My brother loves the "Nic-o-bolis" (strombolis) from Nicola Pizza. Personally, I can't leave the boardwalk without a Starkey's chocolate milkshake. And don't forget to stop into Candy Kitchen for some take-home treats, including their famous saltwater taffy!
Where to Find It:
You can't miss the giant Dolles sign at the top of Rehoboth Avenue. It's on the left-hand side as you face the ocean. (Note: As of early 2021, Dolles is moving from its iconic location just a little further down the boardwalk.)
Starkey's is also along the boardwalk. Turn right at the top of Rehoboth Avenue; it's just past the five and dime store.
Thrasher's has a couple of locations downtown, including one on the boardwalk and another right beside Dolles.
Nicola Pizza is located on Rehoboth Avenue near the 1st Street intersection.
Grotto's Pizza has three downtown locations, two on the boardwalk and one on the right side on the last block of Rehoboth Avenue as you face the ocean.
Candy Kitchen is also located on the boardwalk at the very end of Rehoboth Avenue, with a second location on the corner of 1st Avenue and Rehoboth Avenue.
PS: Don't miss my list of the 25 best restaurants in Rehoboth Beach to round out your culinary adventure!
---
Find Your Inner Child at Funland
As you can see from the photo at the top of this post, Funland has been one of my favorite things to do in Rehoboth Beach since I was a little kid. This little family-owned amusement park is fun for all ages, and the owners work hard to keep costs down so that families can have a great time without breaking the bank. (Seriously, the place is dirt cheap compared to boardwalk amusements in other Northeast beach towns!)
Funland boasts a nice assortment of rides and games packed into a small space. Their kiddie rides have been loved for generations; a couple of them have been on site since before the owners bought the property in the early 1960's. There are also thrill rides for older kids and kids-at-heart, including a Sea Dragon swinging ship, a gravitron, bumper cars, and a SuperFlip 360. The hand-built Haunted Mansion is one of the most respected "dark rides" in the country, and no trip to Funland is complete without a ride on the classic carousel.
My personal favorite part of Funland are the midway games, especially the Frog Bog and Goblet Toss. Most games cost $1-$2, and the owners are adamant that your chances of winning a prize here be as high as possible. We unfailingly come home with a haul of stuffed animals after even a quick trip to Funland.
The story behind Funland is really heartwarming, as well. Check out the short video below from a recent news feature about the family that owns the park. If you're interested in learning more – or just reading a feel-good story about people who genuinely care about running an ethical, customer-focused business – you should check out this book.
---
Go on a Bike Ride
One of my (Delaware native) in-laws' favorite things to do in Rehoboth Beach is go on a bike ride. There are lots of reasons that the Delaware beaches are great for biking (it's very scenic, you can avoid traffic, you get great exercise, etc.), but one of the best is that the whole area is incredibly flat. No massive, thigh-murdering hills here! So grab yourself a bike and a helmet – Atlantic Cycles, Lewes Cycle Sports, and Seagreen Bicycle are all great options – and let the ocean breezes caress your face as you explore!
Visit Cape Henlopen State Park
Just up Route 1 in Lewes is Cape Henlopen State Park. I already briefly mentioned the beaches here, which are great and well worth a visit. The main beach has lifeguards, a snack bar, and bathroom/changing facilities. Another beach, Herring Point, is dog-friendly, so you can bring Fido along for a day in the sun. Gordon's Pond (accessed from the town of Rehoboth rather than the main Lewes entrance) is one of my mom's favorite beaches and the best place to view the iconic World War II towers in the sand.
In addition to the beaches, there are plenty of other reasons to visit Cape Henlopen State Park. History buffs can visit or tour Fort Miles, which was a crucial East Coast defensive point during World War II. The Seaside Nature Center has a massive touch tank where visitors can get up close and personal with stingrays, horseshoe crabs, and other local marine life. There are (flat) hiking trails and bike paths throughout, including some that take you to some nice viewpoints. There are multiple spots for surf fishing and even a place to surf the small Atlantic swells. All in all, Cape Henlopen State Park is well worth a day on your Rehoboth Beach itinerary.
---
Go Crabbing or Fishing
I don't know about you, but the minute I start thinking about visiting Rehoboth Beach my mouth starts watering for some fresh seafood. What could be better than spending a day near or out on the water catching it yourself? There are plenty of opportunities to catch your dinner at the Delaware beaches. Surf fishing – where you stay on land but cast your line out into the sea – is hugely popular in Delaware Seashore State Park, and charter companies abound for deep sea and other off-shore fishing.
---
Check out the "Greatest Rock n Roll Bar in the World"
Ten minutes down the road from Rehoboth Beach is the iconic Bottle & Cork. This bar and live music venue has been rocking the little town of Dewey Beach for over eighty years and bills itself as the "greatest rock n roll bar in the world." In addition to their locally-beloved regular acts, big names like the Dave Matthews Band, the Goo Goo Dolls, Eric Church, and Blondie have all performed at the 'Cork.
Bottle & Cork aside, Dewey Beach outpunches its weight in terms of nightlife. You could easily bar hop your way through town, enjoying an adult beverage with your toes in the sand or taking in live music until the wee hours. This makes Dewey a haven for bachelor/bachelorette parties, college students, and other people looking for a good time.
Note: The Bottle & Cork is cash only, though there are ATM's on site.
---
Attend the Sea Witch Festival
One of the best things to do in Rehoboth Beach during the off-season is to attend the Sea Witch Festival, a massive Halloween celebration held in downtown Rehoboth Beach every October.  Among the highlights are a huge costume parade along Rehoboth Avenue, live music and entertainment, kid's activities, and trick-or-treating. It's not to be missed!
---
Go Antiquing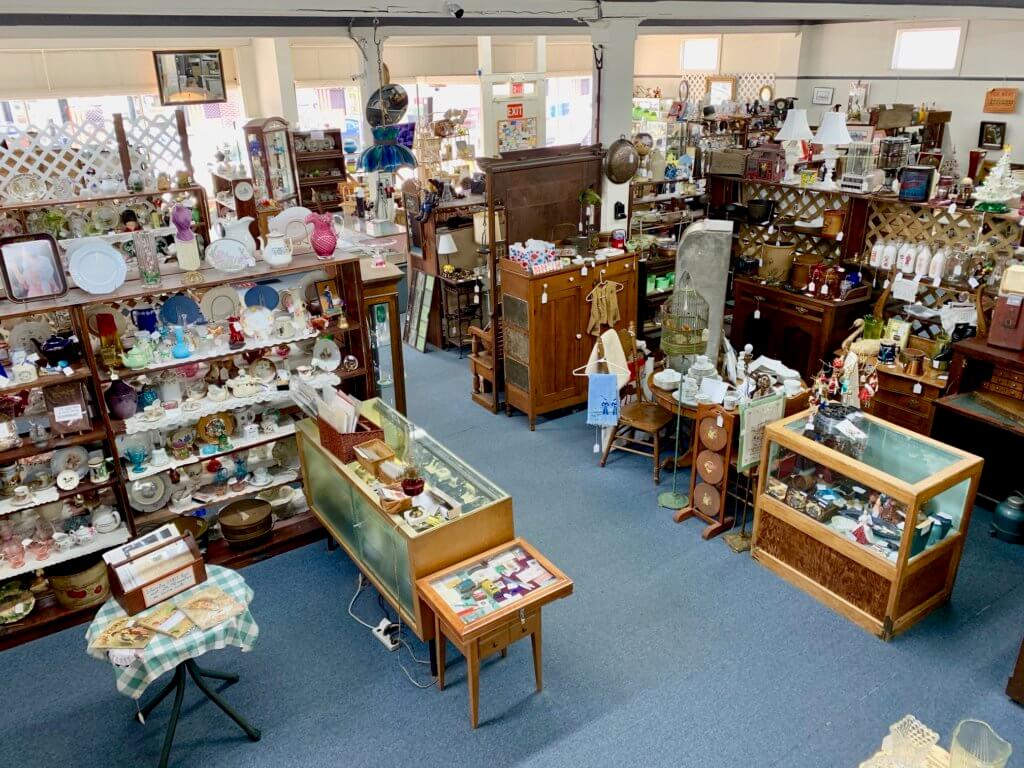 Antiquing is one of the most popular things to do in Rehoboth Beach. Scattered throughout the area are dozens of antique, craft, and gift shops where unique items are just waiting to be found. Especially if the weather is bad, browsing these little shops is a fun way to spend a day.
My mom loves antiquing. She's great at finding interesting pieces and has a real knack for rehabbing old furniture and decor into amazing new heirlooms. (She has already built E a play workbench and a LEGO table using stuff she found at Delaware antique shops.) Whenever she visits southern Delaware, which is about once a month, she devotes an afternoon to circling her favorite antique shops. It's one of her favorite pastimes at the Delaware beaches.
Although there are plenty of antique shops in Rehoboth Beach and the other coastal towns, some of the best places are a little further afield. Mom's favorite spots are The Brush Factory on Kings (Lewes), Antique Alley and Millsboro Antiques Mall (both in Millsboro), Heritage Antique Market (on Route 1 near Lewes), and The Mercantile at Milton (Milton).
---
Visit a Museum
Whether you're a history and culture buff or just a rain-dampened beachgoer, the Delaware beaches have a few interesting museums to pass the time. One of the most popular is the Rehoboth Beach Museum right on Rehoboth Avenue, where the history of this storied beach town is on full display. Other small but worthwhile museums are Nanticoke Indian Museum, the only Native American heritage museum in the state, and the Indian River Life-Saving Station Museum, located in Delaware Seashore State Park south of Dewey Beach.
---
Indulge in the Craft Beer Scene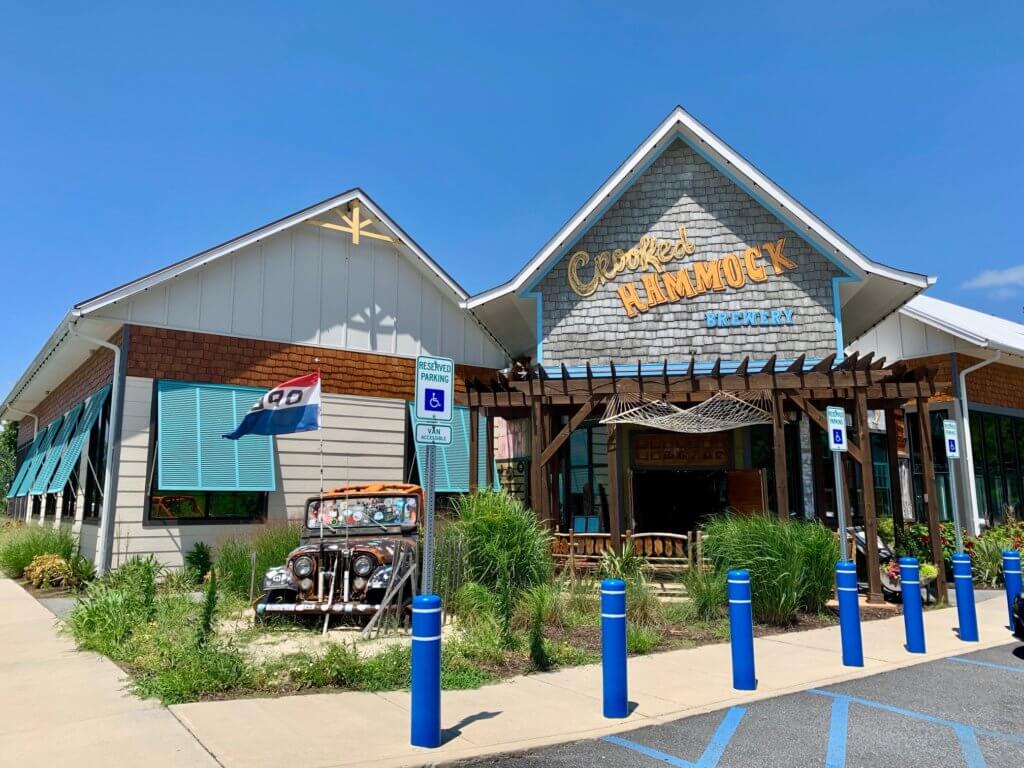 Like most of the rest of the USA, the Rehoboth Beach area has recently welcomed some great new craft breweries. After a long day on the beach or strolling the outlets, there's nothing better than relaxing with a cold draft beer and a tasty appetizer at one of the area's brewpubs.
The OG craft brewery in Delaware is Dogfish Head, which has grown to the point that it is now available in over 40 US states. Their 90-Minute IPA is a Delaware favorite and one of their better brews. The Dogfish Head brewery in Milton makes a great day trip from Rehoboth Beach, but you can also check out their side-by-side brewpubs on Rehoboth Avenue downtown.
One of my favorite breweries at the Delaware beaches is Crooked Hammock. I personally prefer their beers to Dogfish Head's, and their Lewes brewpub is awesome. It's huge, with lawn games, hammocks (obviously), and even a playground for the kids. In addition, Crooked Hammock beers are served at their sister restaurant, Big Chill Beach Club, which sits right on the ocean just south of Delaware Seashore State Park. It's everything you would want in a beach bar.
Other local craft breweries I enjoy include Big Oyster Brewing Company (I like their Hammerhead IPA and Shuckin' Pumpkin), Thompson Island Brewing Company (try the Afternoon Nap double IPA!) and Iron Hill Brewery (a local chain with solid brews). Check out this list if you're interested in trying everything the First State has to offer!
---
Sample Some Local Wines
If you prefer wine to beer – or just don't want to play favorites – Nassau Valley Vineyards is the place for you. Located near Lewes, this small but mighty winery offers self-guided tours and tastings and fun live events. Nassau Valley also hosts a farmer's market with live music and lots of vendors and artisans every Sunday from mid-May to mid-October. (Psst: there's a sangria bar!)
---
Visit the Farmer's Market
One of the highlights of Tuesdays downtown, the Rehoboth Beach Farmer's Market features dozens of food, produce, and handicraft artisans in a shaded grove. Swing by and pick up some delicious fruits and veggies for dinner or grab a handmade souvenir to take home! The market takes place each Tuesday from 10:00 AM – 2:00 PM in Grove Park.
---
Take the Cape May-Lewes Ferry
Another great day trip from Rehoboth Beach is a ride on the Cape May-Lewes Ferry. For more than fifty years, the ferry has carried passengers seventeen miles across the Delaware Bay between Lewes, Delaware, and Cape May, New Jersey. It's a beautiful, roughly hour-and-a-half-long trip that includes sightings of lighthouses, coastal towns, and – if you're lucky – dolphins!
You can choose to sail roundtrip all at once, but I recommend taking some time to explore pretty Cape May before you return. This historic town is the southernmost point in New Jersey and boasts good restaurants, nice beaches, a lighthouse, museums, shopping, an amusement and water park, and even a little zoo.
Roundtrip fares in summer are $18 per adult, $14 per senior citizen, and $9 for kids aged 6-13. Military and AAA discounts are also available. Taking your car on the ferry will cost $65 roundtrip during the high season. For more information on fares and schedules, check out their website.
---
Be a Pirate for a Day
Hit the high seas on a swashbuckling adventure for the entire family! Pirates of Lewes sets sail on an epic treasure hunt along the Delaware coast. Along the way, kids can engage in a water cannon battle, a sword fight, music, dancing, and more. Our kids aren't quite old enough for the fun yet, but multiple friends have confirmed that it is an absolute blast!
Pirates of Lewes also operates an adults-only evening cruise if you'd like a swashbuckling date night or a fun evening with friends.
---
Go on a Dolphin or Sunset Cruise
For the non-piratical among us, there are lots of other opportunities to get out on the water. Two of the most popular are dolphin cruises and sunset sails. Fisherman's Wharf offers dolphin and whale-watching tours, while Cape Water Tours and Taxis has excellent evening cruises (and more).
---
Have Some Family Fun
For the young and young-at-heart, there's nothing better to do at Rehoboth Beach than visit a family fun park.
The largest park in the Rehoboth Beach area, and in fact all of Delaware, is Jungle Jim's. There, you'll find plenty of fun for the whole family: miniature golf, batting cages, water slides, a wave pool, and other waterpark activities. While you can't pack a lunch, there is a cafe on-site.
Another great option is Midway Speedway Park, which is tucked behind a strip mall along Route 1. This little park has everything from miniature golf to a climbing wall, but the real attraction is the go-karts. My dad used to spend a day with each of us kids individually when we were in Rehoboth for the summer, and the go-karts were always my brother's choice. (Mine was probably the library or something lame like that.) Ticket information can be found here.
About 45 minutes south of Rehoboth Beach in Ocean City, Maryland, is Jolly Roger, another great choice for family fun. The waterpark features lots of slides, thrill rides, and little kid-friendly activities, while SpeedWorld® has ten go-kart tracks for every level of adrenaline junkie. Jolly Roger also runs the amusement park on the Ocean City boardwalk and a more traditional park on 30th Street.
---
Take a Food Tour
This is one of the more recent additions to my list of favorite things to do in Rehoboth Beach. A few years ago, my sister and I took our mom on a food tour with Eating Rehoboth as a Mother's Day gift. It was my first food tour ever, and it was so much fun! Not only did we have a great experience, but we owe the discovery of one of our favorite Rehoboth restaurants, Mariachi, to our tour.
A food tour of Rehoboth is a great thing to do if you've already visited the area a few times and are looking for something different, or if you're just a foodie who wants to sample a lot of what the town has to offer! Tours from Eating Rehoboth cost $55 per person and are available from May through November.
---
Tips for Visiting Rehoboth Beach
Getting There and Getting Around
One of the best things about Rehoboth Beach is that it is located within easy driving distance of many major East Coast cities. These include Philadelphia (2.25 hours), Baltimore (2.5 hours), Washington D.C. (2.5 hours), and New York City (3.75 hours). (Estimates do not include traffic.)
The closest major airports to the Delaware beaches are Philadelphia International and Baltimore/Washington International Thurgood Marshall Airport (locally known as "Baltimore" or by its airport code, BWI, for obvious reasons). Each airport is roughly 115 miles from Rehoboth Beach (about two and two and a half hours, respectively, without traffic), so renting a car is essential. Although it takes longer, the drive from Baltimore is more scenic. It includes the impressive Chesapeake Bay Bridge and winds through small towns and countryside, while the drive from Philly is mostly highway.
Dover International Speedway is fifty miles north of Rehoboth Beach and sits right along Route 1. If Dover is along your route, try to time your vacation so that it doesn't coincide with either of the two NASCAR race weekends that occur in Dover.
One of the major downsides of all the recent development in the Rehoboth area is that it has resulted in a significant increase in traffic. Getting anywhere along Route 1 during the weekend can take a frustratingly long time, so plan ahead. It's also wise to try to time your vacation arrival and departure so that they occur on weekdays or you're traveling earlier in the morning or later at night.
---
Other Tips for Visiting Rehoboth Beach
As with all Mid-Atlantic beaches, crowds swell on the weekends. If you're staying for more than a weekend, try to plan your trips to Funland, the outlets, the beach, and other big attractions for a weekday. The busiest weekends include Memorial Day, Labor Day, and the weekend(s) closest to the 4th of July.
Consider visiting the Delaware beaches off-season! Within the past few years, the area has become a year-round destination rather than just a summer getaway. Many of the best restaurants and shops stay open during the winter, and you'll face a lot less competition for a table. There's also something about the peacefulness of the beach in the fall and winter that I just love.
---
Where to Stay in Rehoboth Beach
There are literally hundreds of places to stay in Rehoboth Beach, let alone the surrounding communities of Lewes, Dewey Beach, and Bethany Beach. There's something for every budget, so be sure to shop around. It's best to book in advance for any dates between May and September, especially on weekends. Prices will also be higher during that time frame as well.
Avenue Inn and Spa. Classic Rehoboth accommodations one block off Rehoboth Avenue. Parking is complimentary.

Ocean Glass Inn. Newly-renovated motel with rooms, cottages, and condos right along Rehoboth Avenue. Gorgeous decor and exceptional reviews.
Rehoboth Guest House. Small bed and breakfast in downtown Rehoboth. Located on a quieter street within easy walking distance of the main drag and the beach. Adults only.
Homestead Bed and Breakfast. This exceptional inn is tucked well away from the noise and commotion of Route 1 while still being convenient to anywhere in the Rehoboth area.
Dogfish Inn. Located in Lewes, this funky boutique hotel has outstanding reviews. It's also pet friendly!
---
Need some help planning your trip to Rehoboth Beach? Full Life, Full Passport offers customized vacation planning for all kinds of trips and budgets!
Like the post? Pin to save or share!
---
Read More
25 of the Best Restaurants in Rehoboth Beach, Delaware
10 Reasons Why You Should Visit Rehoboth Beach Off-Season
10 Things to Do on a Rainy Day in Rehoboth Beach
—