With excellent wines, stunning views, and plenty to do, Virginia Wine Country is the perfect place for a bachelorette weekend!
What do you do when your friend's wedding has to be rescheduled twice, your original destination bachelorette party gets derailed by COVID, and the delta variant threatens her third wedding date?
You gather her closest gal pals together, book a fabulous Airbnb, and have a spectacular bachelorette weekend eating great food, drinking delicious wines, and relaxing in a huge private pool.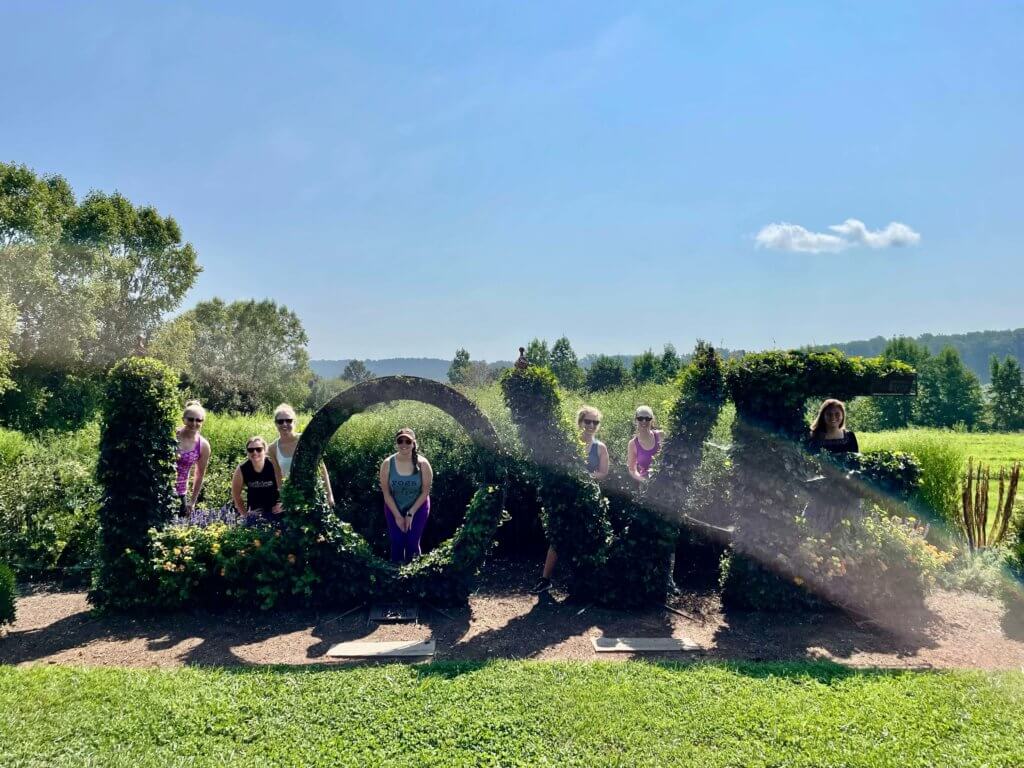 That's exactly what we did for Molly, my college roommate turned road trip buddy and one of my very best friends. (You may remember her from our exciting long weekend in Iowa and Nebraska and our fall visit to Yellowstone National Park.) Our original plan for her bachelorette last September involved us surprising her with a flight to New Mexico to tick off her 50th state in Santa Fe. Unfortunately, COVID put the kibosh on those plans and made rescheduling seem a bit risky, so we pivoted to find something closer to home. 
In the end, we chose a Virginia wine country bachelorette, and it exceeded every one of my expectations. I had been really bummed that New Mexico fell through (New Mexico is also one of the states I have yet to visit), and while Virginia seemed nice it didn't exactly get my heart racing. After staying in an incredible bed and breakfast, sampling some delicious wines, and being surrounded by excellent company, however, I am now a full-fledged Virginia fangirl. 
While the region may not be famous outside of the surrounding states, I highly encourage you to consider a Virginia wine country bachelorette to celebrate a special bride in your life – or yourself 
(Note: some of the links in this article may be affiliate links, which means that I may earn a small commission from your purchase at no additional cost to you. Thank you for supporting Full Life, Full Passport! You can find the full disclosure here.)
Day 1: "Hiking," Pool Time, and a Spectacular Dinner
Thanks to the kindness of M's parents, who agreed to watch E and S while he worked on Friday, I was able to make the drive to Virginia on Thursday night. I met up with another of Molly's good friends, Liz, outside Baltimore and we arrived at our Airbnb well after nightfall. As a result, we only got a quick – and dark – look around before turning in.
The next morning, I was excited to give the place more than the perfunctory look-over I'd done the night before. Molly and I were both up early, so we spent some time exploring this beautiful property.
Even though they do their booking through the Airbnb platform, calling the property an Airbnb is a bit of an understatement. The Farmhouse at Beautiful Run is an incredible, 23-acre working farm that feels more like an intimate bed and breakfast than just a place to lay your head. Our hostess, Pinkie, cooked us a fantastic breakfast each morning and was so friendly, hospitable, and generous with her local knowledge and recommendations. Although I was excited by what I saw that morning with Molly, the day would soon prove just what a perfect place The Farmhouse at Beautiful Run would be for our Virginia wine country bachelorette getaway.
The farmhouse itself had plenty of space for the eight girls who would be taking part in the weekend, with three rooms with queen beds and a loft with four singles. Surrounding the house were acres of pasture (occupied by two gorgeous horses), barns, a pond (complete with a 200-year-old oak tree), milk house, brand-new pergola, chicken coop, garden, pool house, and pool. 
Two yellow barn cats and two delightfully friendly yellow labs had the run of the place, and it just felt so homey and peaceful and secluded. If there hadn't been so much to do in the surrounding area I'm sure I would have been completely content to just while away the whole weekend on the farm.
Soon enough, it was breakfast time. It was a little delayed because Pinkie had a three-week-old Highland calf to bottle feed, but it was certainly worth waiting for. Our hostess immediately endeared herself to us by putting out a fabulous spread to fuel us up for our first day in Virginia.
There was home-baked bread with jam, perfectly-cooked bacon, sauteed veggies, fresh fruit, and the creamiest scrambled eggs you've ever seen. And, of course, we had to toast our bride-to-be with some mimosas!
One of the main reasons we chose Virginia wine country for our bachelorette weekend was the proximity to lots of excellent hiking. Shenandoah National Park is only a half hour from the Farmhouse, and the whole area is filled with gorgeous green hills that beg to be explored.
After some debate, we decided to keep things closer to home rather than venturing out into the park. (99% of this decision was due to us not wanting to miss breakfast, which wouldn't be available until 9 AM, and the promise of a scorchingly hot hike if we didn't get started until late morning.) Pinkie recommended a place called the Market at Grelen, a massive tree farm, orchard, market, cafe, and wedding venue that also had hiking trails (because why not?). It seemed like the perfect place to get in a little exercise and still be home for pool time in the afternoon.
Whether because we hadn't looked at the trail map carefully enough or we were distracted by our own conversations, we lost the trail approximately ten minutes after setting out on our grand adventure. (I have hiked before, I swear.) Despite turning around, I'm pretty sure the "trail" back to the market was not a trail at all but rather a road made for farm machinery. 
Thankfully, someone eventually took pity on us and directed us to the Orchard Pond Loop trail, which was much better marked and took us a couple of miles around the property to some pretty overlooks. While the "hike" ended up being more of a "walk through the grass on a farm," it was still beautiful and a great way to move our bodies.
With a couple of miles in the blazing sun under our belts, we couldn't wait to jump in the pool back at our (Air)B&B. Surrounded by bushes, it felt like a secluded little oasis and the water temperature was just perfect.
We spent the next couple of hours relaxing in and around the pool. Music was playing, snacks and drinks were plentiful, and it felt so good to just float and unwind.
Though it was tough to tear ourselves away from the pool, eventually it was time to get ready for dinner. Tonight would be a splurge: we were headed to Vintage Restaurant and Pub at the Inn at Willow Grove. Plus, Molly's sister and matron of honor, Kelly, had a surprise for us: a limousine to take us to and from the restaurant!
It was only my second time riding in a limo, the first being my wedding when everything was a crazy blur of excitement and activity and oh-my-goodness-we-just-got-married. It was such a treat to be able to sit back, sip champagne, and enjoy this ride!
The night just kept getting better as we arrived at Vintage. The place is beautiful, and we had an out-of-the-way back room almost entirely to ourselves. The service was great, and everything on the menu looked so tempting that it was hard to choose what to order. (I eventually settled on the Rohan duck with bulgar wheat, sour cherries, and Swiss chard – which was stellar – but I think Liz and Paola had the right idea in splitting four appetizers between them.)
All in all, it was a wonderful evening and felt like such a treat. While M and I love going out for a nice meal together, since kids and COVID those times have been few and far between. The fine dining experience at Vintage, coupled with the joy of Molly's impending (and long overdue!) wedding and the great company of her friends, made the night a really special one. 
After a dance party on the limo ride back to the Farmhouse at Beautiful Run, we spent the rest of the night sipping wine on the poolhouse porch and sharing lots of laughs. Before too long, we were headed to bed to rest up for the next day's adventures!
The second day of our Virginia wine country bachelorette was devoted to visiting a couple of the best wineries in the area… but not until after we devoured another amazing Farmhouse at Beautiful Run breakfast! This morning's offering was breakfast enchiladas, and they were absolutely delicious.
With our bellies full, we headed out for a day of vineyard-hopping. To save us from having to worry about driving, we booked a small bus to take us from place to place. Even though the radio was broken and the air conditioning barely functioned – making it pretty uncomfortable during the blazing-hot afternoon – it was still nice to be shuttled between locations and freely sample the wines on offer.
The first winery on our itinerary was Early Mountain Vineyards in Madison.
Whatever I was expecting from our Virginia winery experience, Early Mountain blew it out of the water. The place was much larger than I anticipated, absolutely gorgeous, and completely delicious. The interior was so cozy and welcoming. 
In addition to the ability to order individual glasses, Early Mountain offered curated flights that allowed us to try a range of their and other local wines. Most of us went that route, which made for a fun and crowded table! We also grabbed a couple of charcuterie boards, because are you even a white girl at a bachelorette party if you don't have a charcuterie board??
Early Mountain was a great place to spend a couple of leisurely hours eating, drinking, and enjoying each other's company.
Just before we left, I took a few moments to check out their outdoor space, which was also incredibly scenic. If it hadn't been so terribly hot that day, it would have been lovely to sit outside and enjoy the fresh air and countryside views.
Eventually, however, we had to hop back on our hot little bus and head to our next destination. Barboursville Vineyards was about a half hour away and is located on an estate that dates to the 18th century. Vineyards surround the tasting room and restaurant, and there are even ruins of a Thomas Jefferson-designed mansion on the property.
By this point in our day, most of us were ready for an actual meal, so we sampled from the restaurant menu in addition to tasting some more flights. I split two pasta dishes with Molly's friend Dani (a carb-loving girl after my own heart) and we agreed that the pesto dish in particular was scrumptious.
While the food and wine were tasty, the scenery at Barboursville was the real star of the show. We just couldn't get enough of the vineyard views. We had the benefit of a clear day, but I just can't imagine how you can come to this area and not feel relaxed and joyful. It's just so beautiful and peaceful.
Finally, however, it was time to return to our farmhouse for another round of pool time. We lazed away the remaining afternoon hours soaking up some of the last rays of summer.
Dinner was a casual affair as Kelly and I ran to get pizzas and salads from local favorite Jenny Lynd's in Madison. We made the girls wait a few extra minutes upon our return, however, because Pinkie and her daughter were feeding the aforementioned three-week-old Highland calf named Hank. He was just too adorable to resist.
We even got to offer some carrots to Hank's grown-up friend, Wallace!
The rest of the night was spent eating (delicious) pizza, playing The Game of Things, getting chased off the new pergola by a thunderstorm, and dreaming about the next morning's breakfast.
Spoiler alert: it didn't disappoint.
All in all, Virginia Wine Country end up being the perfect bachelorette destination for this pandemic bride and her crew! I'm so grateful to have been invited to take part, and especially grateful to her friends – many of whom were already close to each other – for welcoming me into the fold wholeheartedly. I can't count the number of times that someone said some version of "We need to go back!" at the wedding, and I, for one, am ready whenever they are.
There's so much to do in the area that we easily could have made it a Virginia Wine Country bachelorette week. If you're planning your own destination bachelorette getaway, you'll find no shortage of things to do no matter your interests. Wine-lovers have dozens more vineyards to sample, including some of the great ones like Pippin Hill closer to Charlottesville. There are plenty of historical sites like Monticello for the history buffs. Adventurous gals will revel in hiking in Shenandoah National Park and exploring the depths of Luray Caverns. And nearby Charlottesville has it all: a walkable downtown, a beautiful college campus, and lots of excellent shops and restaurants.
Wherever your Virginia Wine Country bachelorette takes you, I hope you have a blast!
Like the post? Pin to save or share!
Need some help planning your destination bachelorette party or trip to Virginia Wine Country? Full Life, Full Passport offers customized planning services for all kinds of vacations and budgets! 
Want to be the first to know when a new post is published, or to receive exclusive content directly to your inbox? Join our email list!