This is the story of one of the stranger promises I've kept. It involves my friend Molly, my bucket list goal of visiting all fifty US states, an understanding husband, cheap flights, and a free weekend in May 2017. It's the story of why I used precious vacation days to spend a long weekend in Iowa and Nebraska and my realization that there are a lot of fun things to do in these so-called flyover states.
---
(Note: some of the links in this article may be affiliate links, which means that I may earn a small commission from your purchase at no additional cost to you. Thank you for supporting Full Life, Full Passport! You can find the full disclosure here.)
---
The Backstory
In 2011, Molly and I spent two months traveling across the United States in a red Nissan Versa named Lucy. Roughly speaking, the first part of our route took us from our meeting point in Baltimore to Chicago, up through Wisconsin and Minnesota, and across the Dakotas to Yellowstone. Because we swung north out of Chicago, we missed Iowa and Nebraska, which left a gaping hole of unvisited states in the middle of our map. As we headed into Wisconsin, we promised each other that we would one day return to the Midwest to check Iowa and Nebraska off our lists together.
We also weren't sure who might want to come with us if we each went individually.
Finally, after years of casual reminders that we still needed to go, we committed to actually making the trip. We chose a long weekend in early May, found some fairly inexpensive flights, and set off for Iowa before dawn one Friday morning.
---
Day 1
After landing in Des Moines, the capital of Iowa, we picked up our rental car and set off on our great adventure, laughing a bit that we were actually following through on this somewhat crazy promise. Our first, and perhaps most appropriate, stop was the filming location for arguably the most famous movie about Iowa ever: Field of Dreams.
Fans will immediately recognize the property, as it looks nearly identical to how it appeared in the Oscar-nominated 1989 baseball classic. Even though they've since erected a red tourist shack and the corn hadn't yet sprouted, we could almost hear that voice whispering to Kevin Costner that, "If you build it, he will come."
The farm is located in Dyersville, which is about three hours east of Des Moines. It's free to visit, though you can take a tour of the farm house for $20 per person (less for kids, seniors, and active military). Also, you can now get the full "Kinsella Experience" and stay overnight. It's not cheap, but there are a few added perks like a gift basket, picnic setup with wine, DVD (guess which one?) and popcorn that rabid movie fans will enjoy.
After steeping ourselves in baseball and film history, Molly and I continued eastward toward the city of Dubuque. A short distance into the forty-five minute drive, we began to see signs for a winery up ahead. It was only mid-afternoon by that point, so we decided to swing by. It was definitely worth the detour; Park Farm Winery is really beautiful. It was still early spring, so the landscape wasn't as lush as it will be later in summer, but we loved the views.
The wines weren't bad, either, and the staff was very friendly and welcoming. I had never thought of Iowa as a wine destination, but it was a fun find!
From Park Farm, it was a short thirty-minute drive to the riverside city of Dubuque. We had made reservations at a bed and breakfast, which was a stately old home full of rich dark woods, antique furniture, Victorian knick-knacks, cats… and dust.
So. Much. Dust.
The proprietress, after checking us in, invited us to sit with her for a chat in the parlor, where she promptly asked us what we thought about our new president, Donald Trump. Later, the conversation turned to her various associations with fraternity boys and LSD in the '70s. So much for certain topics being off-limits among strangers.
After talking for a polite amount of time, Molly and I made our excuses and set out to see a little of Dubuque before darkness fell.
Situated right on the Mississippi River, Dubuque is a charming little city that has been an important economic and cultural center for over a hundred years. Just beyond the downtown area are bluffs that offer beautiful views. The best way to scale them is to take the Fenelon Place Elevator.
This funicular railway dates back to 1882 and is billed as the shortest and steepest scenic railway in the world. It costs $3 round trip to board a rickety cable car and be hauled a rocking 296 feet to the top of the bluff.
Once there, you're treated to a lovely vista out over Dubuque, the Mississippi River, and Illinois beyond.
After descending to the bottom of the bluff, we spent the rest of our night strolling the streets of Dubuque. There are some fun shops and restaurants downtown, though unfortunately, we didn't have much time to check all of them out. With night falling, we headed back to our dusty B&B to rest up for the remainder of our weekend.
---
Other Things to Do in Dubuque:
Mines of Spain Recreation Area. This state park, which is located along the Mississippi, offers ample opportunities for outdoor fun. Hike the trails, ski the slopes, visit the E.B. Lyons Interpretive Center, or just take in the lovely views of the city and river.
Crystal Lake Cave. Get subterranean with almost a mile of tunnels, formations, and the eponymous underground lake. There's even a gem mining area for kids.
And don't worry! Though I wouldn't recommend our B&B for a number of reasons, there are plenty of non-dusty places to stay in Dubuque!
---
Day 2
We might have been just a little crazy in planning the second day of our trip because it involved a five-hour drive across the entire state of Iowa. We had a reservation at another bed and breakfast outside Omaha that night and plans to explore the city the next day.
Despite the shabbiness of our bed and breakfast and our host's tendency toward uncomfortable conversation, the breakfast was pretty yummy. Afterward, we bade farewell to Dubuque and set off southwest toward the Amana Colonies.
The Amana Colonies are a cluster of seven villages built in the mid-19th century by German immigrants fleeing religious persecution in Europe. The settlers lived communally for almost a century, insulating themselves from the world around them. As a result, a visit to the Amana Colonies feels like a step back in time with a trip to Germany thrown in.
The colonies thrive on tourism now, and the streets are lined with family-style restaurants and lots of shops. There is a deep legacy of craftsmanship here. You'll find top-notch handmade furniture, clothing, quilts, metalwork, food products, and more, in addition to antiques and art. It's fun to stroll through all the little shops and admire the goods. In everything, German pride and heritage is on full display.
All of the colonies have very straightforward names: East Amana, West Amana, South Amana, Middle Amana, Main Amana, High Amana, and – randomly – Homestead. We only had time to visit one, so we chose Main Amana, which is often simplified to just Amana.
Are you tired of the word "Amana" yet?
We happened to drop in during Maifest, the traditional German springtime celebration. We arrived just after the parade ended, but we did get to witness one of the many Maipole dances of the day. Women in dirndls (traditional dresses) sang and circled an ornamental pole, holding ribbons and weaving around each other in a pattern. Their movements braided their ribbons down the pole as men in lederhosen played jaunty German music on accordions.
The hardest part of our time in Amana was figuring out what to eat and drink. Everywhere we turned were delicious-looking baked goods, cheeses, meats, sweets, wine, local beer, and, of course, lots of sausages and wursts. As someone who grew up in a heavily German and Pennsylvania Dutch area, I was in my glory.
We started with some sweetbreads from a bakery, moved on to a flight of local beers at the Millstream Brau Haus, and finished with a hearty lunch at the Ox Yoke Inn. There also may or may not have been many samples along the way.
Unfortunately, we eventually had to hit the road for the remainder of our drive to Omaha. We had put about a third of the drive behind us on the way to Amana, but we still had three and a half hours to go.
Three and a half hours of driving across Iowa.
Thankfully, it was a gorgeous day and the drive was actually rather pretty. We stuck to main highways just because of the time constraint, but springtime was starting to touch the fields and turn everything green. At one point, just when we were about to get a little loopy from all the flat miles rolling away under our wheels, we came across a scenic overlook.
Just outside of Honey Creek, Iowa, is a rest area with a wooden tower from which you can see out across both Iowa and Nebraska. On a clear day, the view isn't too shabby. It also makes for a nice opportunity to get out of the car and stretch your legs.
We crossed the Missouri River and entered Nebraska, making it to our destination before nightfall. After seeing the high prices of hotels in Omaha, we decided to stay at another bed and breakfast outside of the city. (We later found out that there was a huge convention in town that caused lodging rates to skyrocket.) Luckily, this decision led us to Oft's Bed and Breakfast in Bennington.
Oft's is exactly what you want out of a bed and breakfast. A family home passed down over generations, Oft's is quaint, charming, and full of history. (It's even featured on the National Register of Historic Places.) There's also a small museum of family heirlooms and local history on the second floor. Our room was clean and comfortable and the breakfast (and conversation with hosts Linda and Gordon) was to die for. We loved it!
No vacancy at Oft's? Check out some other places to stay in Omaha.
At our hosts' recommendation, we traveled an additional thirteen miles to the town of Waterloo to have dinner at Farmer Brown's Steak House. This unassuming place offers up delicious midwestern steaks, tasty sides, and a house Italian salad dressing so good I took a bottle home with me. It felt good to treat ourselves to a nice meal after a long day on the road.
---
Day 3
After a great night's sleep and a delicious breakfast, we were very sorry to say goodbye to Oft's Bed and Breakfast. It felt so homey that we could easily have snuck back upstairs and had a lazy day napping, reading, and hanging out on our room's balcony.
But Omaha was out there waiting to be explored, and so we set off toward the city. Our first stop was the Henry Doorly Zoo and Aquarium.
As I have mentioned before, I have mixed feelings about zoos, but everyone we consulted about what to do in Omaha had this one at the top of their list. Not wanting to miss something great or insult the people of Nebraska, we decided to check it out.
It was a beautiful day, perfect for wandering through the park and visiting the animals. The zoo has a really nice assortment of creatures from all over the world. It's organized by type of habitat, including grasslands, desert, and highlands. It also features a butterfly garden, house of nocturnal animals, and America's largest indoor rainforest.
Best of all, we got to see a baby giraffe who had only been born a couple of weeks before. Her name was Zoe and she was adorable on her wobbly knobby-kneed legs. I wasn't expecting her to be as big as she was, but baby giraffes can be six feet tall and weigh over 100 lbs at birth! Baby E has a lot of catching up to do, though I'm certainly glad not to be a mama giraffe.
We left the zoo around lunchtime, having seen and done everything we wanted to do. You could easily spend more time there, especially if you have kids, but we wanted to see more of Omaha.
Our first stop was our hotel. We hoped to check in early and stow our luggage, but mostly we were looking to park our car for free while we explored on foot. We had chosen the EVEN Hotel Omaha Downtown because it seemed well-located and boasted some interesting amenities.
I had never heard of EVEN hotels before, but we were immediately intrigued by their dedication to wellness in the hotel experience. There were tons of options for getting some exercise during your stay, including exercise equipment right in our room and a fantastic fitness center. The hotel was also conveniently located downtown. It was easy to access and included free parking, which is an anomaly in many cities. They also run a shuttle that will take you to shops, restaurants, and bars a short distance away. We chose to walk for lunch but took advantage of the service for dinner.
Speaking of lunch, we ate at Twisted Fork in the Old Market district. Once the retail and grocery center of the city, Old Market still retains its brick-cobbled streets. Its historic buildings are now filled with boutiques, tasty restaurants, live music venues, antique stores, and art galleries. It's a can't-miss destination for anyone visiting Omaha.
After lunch, we spent some time wandering the streets and ducking into the various shops (and an ice cream parlor, of course). One of the largest and most interesting was the Fairmont Mercantile. If you're looking for a massive, maze-like place filled with every kind of antique or piece of kitsch imaginable, the Mercantile is it.
Later that night, after taking full advantage of the great fitness facilities at the hotel, we returned to Old Market for dinner. By now we were quite enamored with little Omaha, which felt so quaint, walkable, and manageable compared to the behemoth cities we were used to on the East Coast. Our meal and brews at Upstream Brewing Company were delicious. Afterward, we found ourselves tucked into a corner at divey Mr. Toad's Pub listening to live jazz, enjoying strong drinks, and befriending a couple of old Brits in town for a convention. It was the perfect way to spend our last night in the Midwest!
---
Day 4
Since our flight didn't leave until 7:00 PM, Molly and I had lots of time to make our leisurely way back to Des Moines. Breakfast came in the form of fruit smoothies from the hotel and finishing off the rest of the sweetbreads we'd gotten in Amana. Nothing like a sugar rush to start your day of driving back across Iowa.
Rather than retracing our steps on the interstate, we headed north to take historic Route 30, also known as the Lincoln Highway. It was purported to be more quaint, scenic, and classically Iowan, and for the most part, it was. We passed through small towns and the endless miles of farmland, and most of our travel was done on two-lane roads.
One of our first stops was the Harrison County Historical Village and Iowa Welcome Center. We weren't expecting much when we pulled in, as it looked like a fairly unassuming place, but we were wrong. You could easily spend a few hours walking through all the different buildings, exhibits, and trails that celebrate the Lincoln Highway and life on the prairie.
If you wanted to learn about anything from farming to wildlife to Midwestern culture to the building of US Route 30, you could do it here. I'm sure it's an obligatory destination for at least one class field trip at every school within a hundred miles.
If we had had more time, it would have been nice to walk the short, looping trails near the center and take in some more of the views, but unfortunately, we soon had to get back on our way. We didn't want to linger too long at any one place when we still had a couple of hours to drive before we hit Des Moines.
Continuing along Route 30, we watched rural Iowa go by before stopping for lunch at a family restaurant along the highway. (Side note: I am a sucker for a good "family restaurant." I love how simple and homey they are, with unpretentious menus, vinyl booths, old-timers bellied up to the counter, and either the best or worst food you've ever had in your life.)
This one checked most of those boxes but fell more toward the "worst" side of things food-wise. It did the trick, though, and soon we were taking a detour off the main highway to see the biggest tourist attraction around: the birthplace of Mamie Eisenhower.
Before marrying Dwight, who would go on to be a hero of World War II and the 34th president of the USA, Mamie called Boone, Iowa home. Even though she lived there only a short time, her house is preserved as a museum and filled with family heirlooms. It was closed when we arrived, but we did a quick drive-by to see what all the fuss was about.
With that patriotic duty done, we turned back to the highway and eventually made it to the city of Ames. Ames is best known as the home of Iowa State University, but we were most interested in an ice cream stop at Culver's. The fast food and frozen custard chain is a Midwestern institution, so of course we needed to pay our respects.
Our final stop before hitting the airport was to visit the Iowa State Capitol building in Des Moines. It was touted as one of the most beautiful state capitols in the country, and, after visiting, I don't have much doubt that that's true.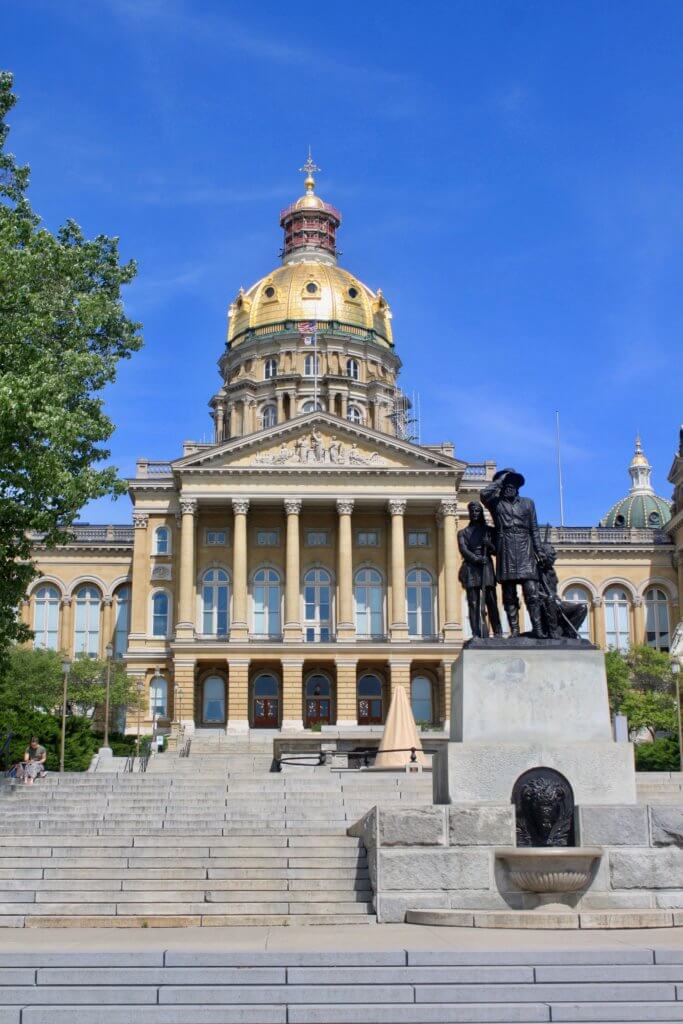 The Capitol is located in a nice open space away from downtown Des Moines. Approaching it from the front grants you some nice views of the city skyline.
It's the interior of the building, however, that really sets it apart. The architecture is beautiful, and I particularly loved the use of color on almost every surface. There are also plenty of murals celebrating the state's history and people if that's your thing. (It's definitely mine.)
In addition to family restaurants and murals, I'm also a sucker for a good domed ceiling. The Iowa State Capitol's didn't disappoint.
One of the nice things about the Capitol was that we could explore it on our own without having to stick to a group tour. Sure, there were places that were closed to visitors and we missed out on learning any relevant information about the building, legislature, or Iowa in general, but it was nice to just wander the halls and appreciate how lovely the building is.
The legislature was not in session, and the building was about to close for the evening, so it mostly felt like we had the place to ourselves. We even got to peek into some offices. In one, a young employee jumped up to welcome us and gave us an impromptu office tour. He showed us the glass-enclosed Iowa Constitution as well as their cramped, three-story record library. We were also warmly welcomed into the opulent offices of the governor and lieutenant governor.
Midwesterners are just so nice.
My favorite part of the building, unsurprisingly, was the library. It was glorious. The room was open at the center and lined with tables whose reading lamps encouraged you to sit down and pore over a tome. Around the perimeter were four stories of bookshelves accessible by a spiral staircase at either end of the room. If the books hadn't been overwhelmingly law-related, it could have been my dream library.
We stayed until closing time, then made our way to the airport to return our rental car and catch our flight back to Philadelphia.
Spending a night in Des Moines? Find a great place to stay.
---
Molly and I weren't quite sure what to expect when we planned our trip to Iowa and Nebraska. All we knew was that we didn't just want to go to say that we went; we wanted to give these often-neglected states their due in the process of crossing them off our list. Happily, the more we researched, the more we discovered that there are little hidden gems everywhere!
People are often quick to dismiss the Midwest in favor of other U.S. destinations. While it's true that the states we visited aren't as flashy or Instagram-famous, there's something charming and attractive about a region with a nickname like "America's Heartland." All in all, I'm really glad that Molly and I had the opportunity to experience Iowa and Nebraska. They were so much prettier than I expected, with interesting histories and citizens who were unfailingly kind and proud of their home states. Our weekend was filled with unexpected delights, from our spontaneous detour to the Park Farm Winery to the May Day celebration in Amana, Oft's delicious breakfast, and the gorgeous interior of the Iowa State Capitol.
Crossing off Nebraska and Iowa leaves me with five states to go in my quest to hit all fifty: Rhode Island, South Carolina, Michigan, New Mexico, and Hawaii. Molly, on the other hand, is sitting pretty with just New Mexico left on her list. We throw around the idea of a New Mexico trip every once in a while, though life (and the desire to travel with our other loved ones) can has thus far kept the trip off our calendars. Who knows, though. If we can follow through on a little dream like a long weekend in Iowa and Nebraska, the chances of hitting New Mexico together someday look pretty good.
(2023 edit: we were able to cross that 50th state off Molly's list in fall 2022 with a long weekend in Santa Fe and Albuquerque!)
(Like the post? Pin to save or share!)
—
Read More:
5 Tips For Road Tripping with Your Best Friend
Take the Detour
A Long Weekend in the Finger Lakes
—
This article about things to do in Iowa and Nebraska was first published on March 3, 2020 and last updated on March 4, 2021.
—
Need some help planning your trip to the Midwest? Full Life, Full Passport offers customized vacation planning for all kinds of vacations and budgets!
—
Want to be the first to know when a new post is published, or to receive exclusive content directly to your inbox? Join our email list!