Stuck with a rainy day in Rehoboth Beach and wondering what to do? Use the list below to enjoy your time (and entertain the kids) even when beach days are washed out.
Few things put a damper – quite literally – on a vacation like bad weather. And while no tourist is jumping for joy when it's pouring in Prague or storming in Saigon, there's something especially disappointing about rain during a beach vacation. The whole point is to be soaking up the sun!
Thankfully, there are still plenty of fun things to do indoors if you're faced with a rainy day in Rehoboth Beach, Delaware. So while I probably can't fully soothe your disappointment at losing a perfect beach day in "America's Summer Capital," I can pass along ten of my favorite things to do when the weather is dismal. I hope they help you have a great time despite the less-than-great weather, and that you're back basking in the sunshine soon 🙂
PS: Don't miss my list of the 25 best restaurants in Rehoboth (almost all of which are excellent in rain or shine!) or my full list of all the best things to do at the Delaware Beaches for when the weather improves.)
(Note: some of the links in this article may be affiliate links, which means that I may earn a small commission from your purchase at no additional cost to you. You can find the full disclosure here. Thank you for supporting Full Life, Full Passport!)
10 Things to Do on a Rainy Day in Rehoboth Beach
Check out the Rehoboth Beach Museum
Located just over the canal on Rehoboth Avenue downtown, the Rehoboth Beach Museum chronicles and celebrates the history and unique characteristics of "America's Summer Capital." While not a massive facility, the museum has many interesting displays and relics of the area's history as a summer hotspot. The Rehoboth Beach Museum is also the new home of the iconic Dolles sign, which was a boardwalk landmark for generations. (You can't miss it mounted on the side of the building as you drive up Rehoboth Avenue from Coastal Highway.)
Admission is on a voluntary donation basis, and there's even a room especially geared toward children. (Plus, there's a playground right next door if the weather improves!) Make sure to check out their website for upcoming events and tours.
Other worthwhile museums in and around Rehoboth Beach include:
Tire Out the Kids at Shell We Bounce
One of the best outlets for all that pent-up, rainy-day kid energy is Shell We Bounce. This trampoline park near Lewes is the perfect spot to let the kids wear themselves out bouncing, climbing, jumping, and playing in the arcade.
Multiple zones include standard trampolines, dodgeball courts, basketball hoops, a jousting area and balance beam, a giant air bag, and more. There's also a big indoor jungle gym called the Kid Zone, an arcade, and a snack bar.
Prices start at $15 per person for a half hour of bounce time and top out at $27 per person for three hours. Each bouncer needs to wear special trampoline socks ($2 per pair) that can be brought back for future visits. The snack bar and arcade are not included in the price of admission.
Pro Tip: Save yourself time at check-in by signing your waiver(s) online prior to arrival.
An easy way to pass a few hours on a gloomy day is to check out the Tanger Outlets. A year-round destination for shoppers looking for tax-free deals, the outlets are divided into three centers and feature everything from luxury clothing brands and housewares to jewelry and tools. All three complexes are conveniently located right on Route 1/Coastal Highway. 
The only downside to the outlets – other than how easy it is to spend a lot of money there – is that they can get VERY crowded on gloomy days. Bring your patience!
You won't even notice the torrential downpour outside as you take in a summer blockbuster or trendy indie film at The Movies at Midway. Family-owned for three generations, The Movies at Midway offers first-run movies at reasonable rates. Matinee showings are $11 per adult, and evening tickets are $13. Films screened in The Cube (the theater's largest screen and most immersive experience) are a few dollars more.
The Movies at Midway also get crowded on rainy days, so make sure to buy tickets ahead of time; try the day before if you know the next day is going to be a washout!
A rainy day in Rehoboth gives you the perfect excuse to do absolutely nothing! While you may not be able to chill on the beach, you can still do so in your hotel, beach house, or vacation rental! Sleep late, lounge in your pajamas, catch up on a show or movie you've been meaning to stream, take a relaxing bath, order food delivery, and just enjoy the opportunity to unwind.
(And yes, I'm aware that this is much easier said than done if you're traveling with kids!)
If you're willing to venture out during the deluge, there are multiple spas, nail salons, and other similar businesses waiting to pamper you!
Find the perfect place to stay in Rehoboth Beach!
Check Out the Antique Shops
There are lots of interesting antique, craft, and thrift shops scattered around southern Delaware, and a rainy day in Rehoboth Beach provides the perfect opportunity to explore them. Here are some of our favorites: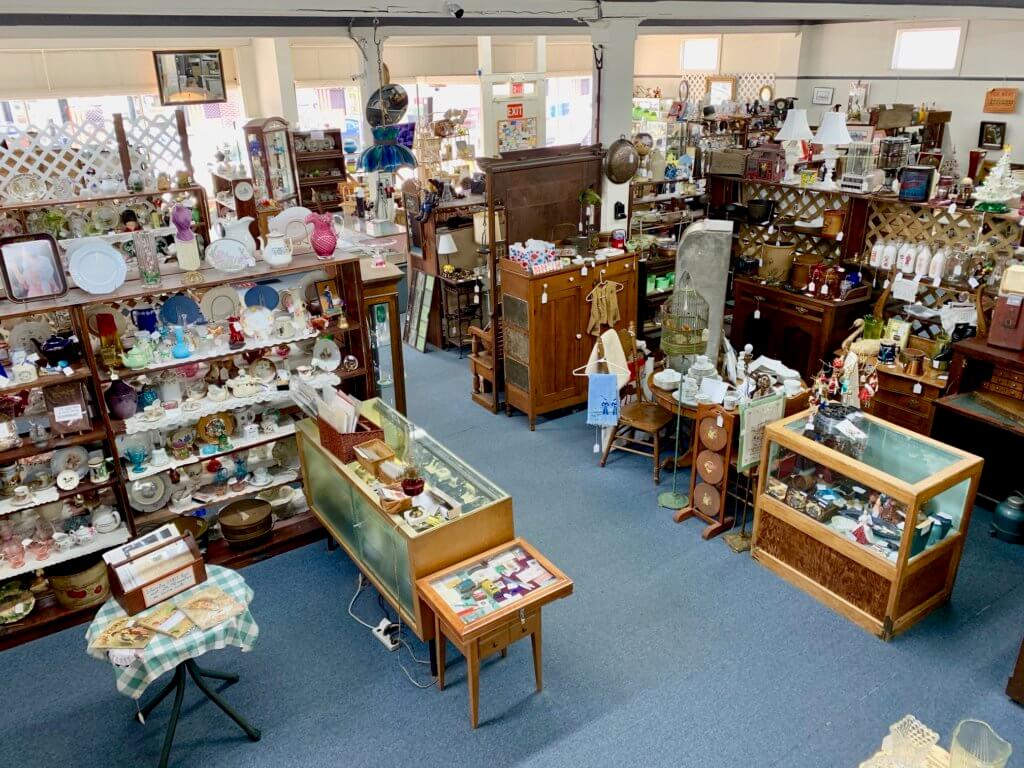 Create Your Own Food Tour
One of the downsides to a Rehoboth Beach vacation is that there usually isn't enough time to try all of the excellent places to eat in the area. A rainy afternoon could be a great excuse to check out a few different restaurants in a DIY food tour. Spend a few hours traveling from place to place, sampling or splitting small plates and appetizers and perhaps a beverage or two along the way.
Depending on your tastes, there are multiple ways you can structure your food tour. Quintessential takeaway Rehoboth eats like Grotto Pizza, Thrasher's Fries, and Kohr Brothers soft serve are all excellent options, though this sort of tour may be challenging without interior seating on a rainy day. Alternatively, you can bounce between a few sit-down restaurants, escaping the raindrops but spending a little more time and tip money. It's up to you! If you choose the restaurant option, though, please do your touring in the afternoon, as restaurants get very busy during dinner service.
Eating Rehoboth also does a great organized and guided food tour of Rehoboth Beach. It was seamless and stress-free, and I found one of my favorite restaurants (Mariachi) through their tour!
Visit a Brewery or Winery
Another fun indoor thing to do on a rainy day in Rehoboth Beach is to visit a winery or brewery. 
A quick drive from downtown Rehoboth, Nassau Valley Vineyards has been crafting wines outside of Lewes for over thirty years. You can stop by for a free self-guided tour of their wine museum and/or a tasting ($15 per person, including a souvenir glass). Local art is always on display and available for purchase, as well.
If you're up for a road trip, try making the quick 35-minute drive to Milton to visit Dogfish Head's brewery and tasting room. Dogfish is Delaware's most famous and popular beer maker, with "off-centered," unique brews. The Milton location offers tours of the brewing operations, beers on tap, a small food menu, live music and other events, and even a Steampunk Treehouse. 
If you'd prefer to stay local, there are multiple brewpubs at the Delaware Beaches, including Crooked Hammock, Big Oyster Brewery, and Dogfish's downtown Chesapeake and Maine.
Have Fun on the Boardwalk
If you can dodge the raindrops to get there, there's plenty of fun to be had on the Rehoboth boardwalk! Funland, a Rehoboth institution since 1962, continues to operate their indoor rides and games in most inclement weather. While the most thrilling rides are outdoors, you'll be safe and dry with many of the kiddie rides, a few midway games, the carousel, arcade, teacups, Gravitron, and the world-famous Haunted Mansion.
A block away, Zelky's has three indoor arcades along the boardwalk. The Central and South locations are steps apart between Wilmington and Delaware Avenues, and the North location is at the other end of the boardwalk past Rehoboth Avenue. All three are family-friendly, with attractions ranging from classic pinball and skee-ball (still 10¢ per game!) to immersive modern video games.
If you're lucky, the lack of beachgoers will make it easier for you to find parking near the boardwalk, but bring an umbrella for the walk just in case!
Built to defend Delaware Bay at the start of World War II, Fort Miles sits among the sand dunes at Cape Henlopen State Park near Lewes. Now that it's been decommissioned as a defensive installment, the fort makes a fascinating activity for a rainy day at Rehoboth Beach. 
Today, the 15,000-square-foot underground bunker known as Battery 519 has been turned into a museum. Nearby are barracks and other support buildings as well as an artillery park. It's a bit mind-blowing to think that all of this military history is located only steps from one of the area's best vacation beaches, but that's Delaware for you!
The museum is open daily during the summer months, with more limited hours during the off-season. Admission is included in your state park entrance fee ($5 for Delaware residents, $10 for out-of-state visitors), though a guided tour costs an additional $5 per person. Advance reservations are recommended for tours.
I hope this guide to rainy day activities in Rehoboth Beach has been helpful for you! Let me know in the comments how you ended up spending your time, and I wish you sunny days for the rest of your vacation!
Like the post? Pin to save or share!
Need some help planning your (hopefully non-rainy!) trip to the Delaware Beaches? Full Life, Full Passport offers customized planning services for all kinds of vacations and budgets!