If you're at all interested in the history of the Vietnam War, you can't leave Vietnam without a visit to the Củ Chi Tunnels. This easy day trip from Saigon (also called Ho Chi Minh City) provides a fascinating glimpse into the guerilla war waged by the North Vietnamese and Viet Cong against the United States military.
---
Few countries have surprised me as much as Vietnam. We had already spent a couple of weeks exploring northern Thailand and Laos, but arriving in Vietnam felt like a shock to the system. Car horns blared constantly, as though using it was essential to the function of the vehicle. The language was louder, sharper, more staccato. Facebook was blocked, one of many reminders that we had entered a communist country. We learned that crossing the street was not an exercise for the faint of heart.
What surprised me most about Vietnam, however, was how warmly we were welcomed there. Given our two countries' not-so-distant history of brutal conflict, I had worried about how we would be received as Americans. My traveling companions and I had even discussed whether or not we should claim to be Canadian if asked where we called home. Almost immediately after arriving in Vietnam, however, we realized there was no need. We were welcomed with open arms, and throughout the three weeks in the country, we were rarely treated with anything but respect and courtesy.
That said, the history of colonial rule, armed conflict, and insurrection in Vietnam is inescapable. The country spent much of its history being ruled or occupied by other nations, most notably China, France, and Japan. Many of those scars were still fresh when American boots arrived on Vietnamese soil in the 1960s.
(Note: some of the links in this article may be affiliate links, which means that I may earn a small commission from your purchase at no additional cost to you. Thank you for supporting Full Life, Full Passport! You can find the full disclosure here.)
---
Củ Chi (also spelled Cu Chi) is a district that sits to the northwest of Saigon. There, in the 1940s, Vietnamese guerillas struggling against French colonial rule began constructing a tunnel network. During the "American War," as it is known in Vietnam, the tunnels would become an essential part of resistance efforts in the south.
The network was massive and massively important. Their location near Saigon, the southern capital, allowed the North Vietnamese Army and Viet Cong to strike and harass the US military before disappearing back beneath the jungle floor. The tunnels also served as the main base of operations during the 1968 Tet Offensive that helped turn the tide of the war.
Not only were the tunnels used to transport weapons and personnel from place to place, but entire villages were constructed underground. People lived their lives down there, not only sleeping and eating but also running hospitals, weapons factories, and even theaters below the jungle.
Today, the Cu Chi tunnels are protected by the Vietnamese government along with other remnants from the American War. They are a popular destination for day-trippers from Ho Chi Minh City and provide a compelling glimpse into the conflict.
---
I was one of those day-trippers when I visited the Củ Chi Tunnels during my backpacking trip across Southeast Asia. Our little group of five (including my traveling companions, Katie and Kyle, and our new British friends, Sarah and Andrea) joined a tour out of Saigon and spent the morning immersing ourselves in the tunnel way of life.
The drive from Saigon to the Củ Chi Tunnels took about two hours, even though mileage-wise they aren't that far from the city. We traveled through the sparsely-populated countryside, passing rubber tree farms and rice paddies until finally, we arrived at the complex.
We liked our tour guide, Tung, immediately. First and most importantly, he was an excellent guide. The breadth and depth of his knowledge about the tunnels and the war itself were impressive. He also spoke fantastic English and was quick to regale us with a song or a joke. (My personal favorite was a piece of advice to the guys in our group about how to woo Vietnamese women: "If you want a pretty girl, buy a nice motorbike. If you buy a cheap motorbike, you're going to get an ugly girl.")
Tung wasn't telling us stories he had learned from a book or some sort of tour guide certification program. He grew up in the area and joined the Viet Cong at the age of 21 after most of his family members were killed in the conflict. He told us that he had tried to stay out of the war, but there came a time when too many of his friends and family members were dying and he could no longer stand aside wishing for peace.
It was both powerful and humbling to be learning about the tunnels from someone who had once called them both home and battleground.
Our first order of business was to watch a film that explained why the tunnels were built and their importance to the war effort. It was unsurprisingly heavy on the anti-American sentiment and lauded the Viet Cong who used the tunnels as patriots and heroes. Between the film and Tung's helpful color commentary, we slowly got a sense of just how huge this tunnel network was.
Next, we were released into the outdoors. The whole area was wooded, the vegetation having grown back long ago after the devastation of the war years. The jungle has somewhat obscured the bomb craters that pockmark the ground, but posted signs help you distinguish the massive scars.
Our first experience with the tunnels themselves came in the form of a trapdoor entrance to the system. Tung explained how there were trapdoors all over the jungle that allowed fighters to ambush enemies and then easily slip back underground. He lifted a small, rectangular board to reveal a narrow hole in the ground. Anyone who wanted to do so was welcome to climb in.
I am a fairly thin person, and I could barely shimmy down through the trapdoor. Even though only the lower half of my body was underground, I still felt instantly claustrophobic. I couldn't imagine sliding in and out of tunnels that tiny on a daily basis. I also whacked my hip bone painfully trying to get out, so, other objections aside, I don't think I would have made a very promising Viet Cong recruit.
As we continued on the tour, we could see other tunnel entrances peeking out of the dirt. Some of the holes were so small that they looked more like the burrows of tiny animals than a transportation system for human beings.
Also scattered across the grounds were examples of the booby trap techniques employed by the Viet Cong. One particularly gruesome example was a trapdoor that, when stepped on, dropped the unsuspecting victim into a pit filled with sharpened stakes.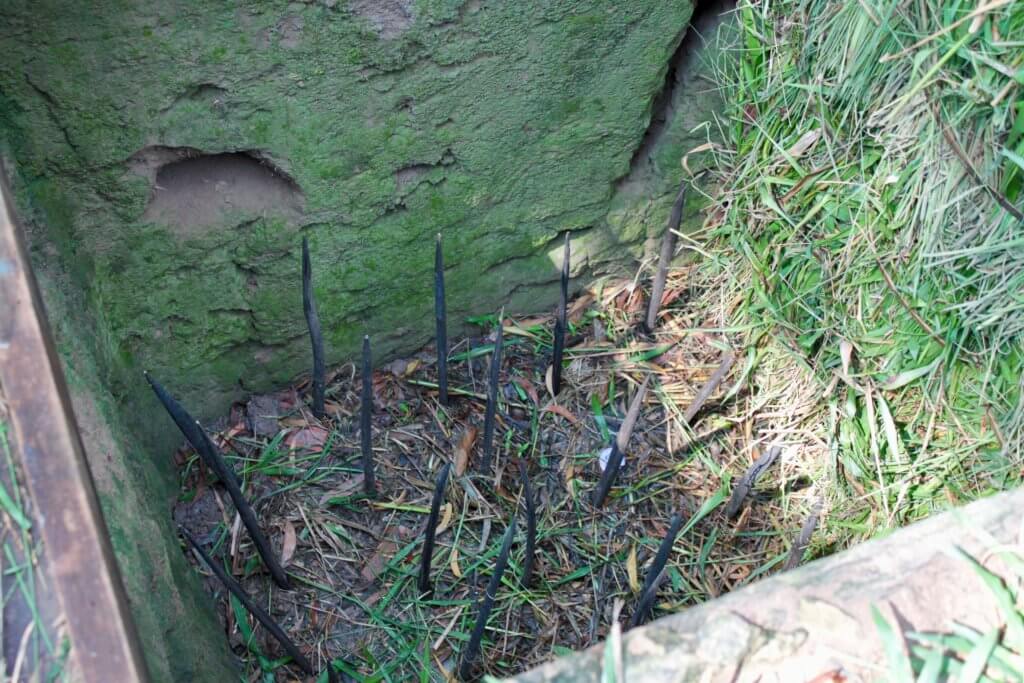 Further along, we came upon an American tank that had been crippled and captured…
… along with a whole exhibit that displayed the uniforms, weapons-making processes, and other aspects of the daily life of the members of the Viet Cong. It was fascinating to hear Tung talk about how the people occupying the tunnel network were able to be so resourceful despite rampant disease, scarcity of provisions, and the constant threat of discovery and death.
Throughout the tour, we heard occasional reports of automatic gunfire. It was more than a little eerie, as if the ghosts of the war were just around the corner. Feeling the reverberation of gunfire in your chest drove home the peril that both the Viet Cong and the American soldiers faced every day, and it made my palms sweat to think of it.
The source of the gunfire soon became clear. Part of the Cu Chi Tunnels complex had been given over to a shooting range where visitors can try their hands at firing AK-47's and other automatic rifles and machine guns. While some in my group were excited to try, I declined. As we got closer and the gunshots pounded my eardrums and chest, I was struck by how wrong it felt to fire these weapons for a lark when this ground had seen such brutal fighting and human suffering.
The rest of my group, however, didn't share my convictions, and I was more than happy to wait for them to try their hand at firing the weapons. After they had channeled their inner Rambos, we finally got our chance to go underground and experience the tunnels for ourselves. Although we had heard that this particular section of the tunnels had been widened to allow tourists to pass through more easily, the thought of crawling through a narrow tunnel had me feeling more than a little nervous.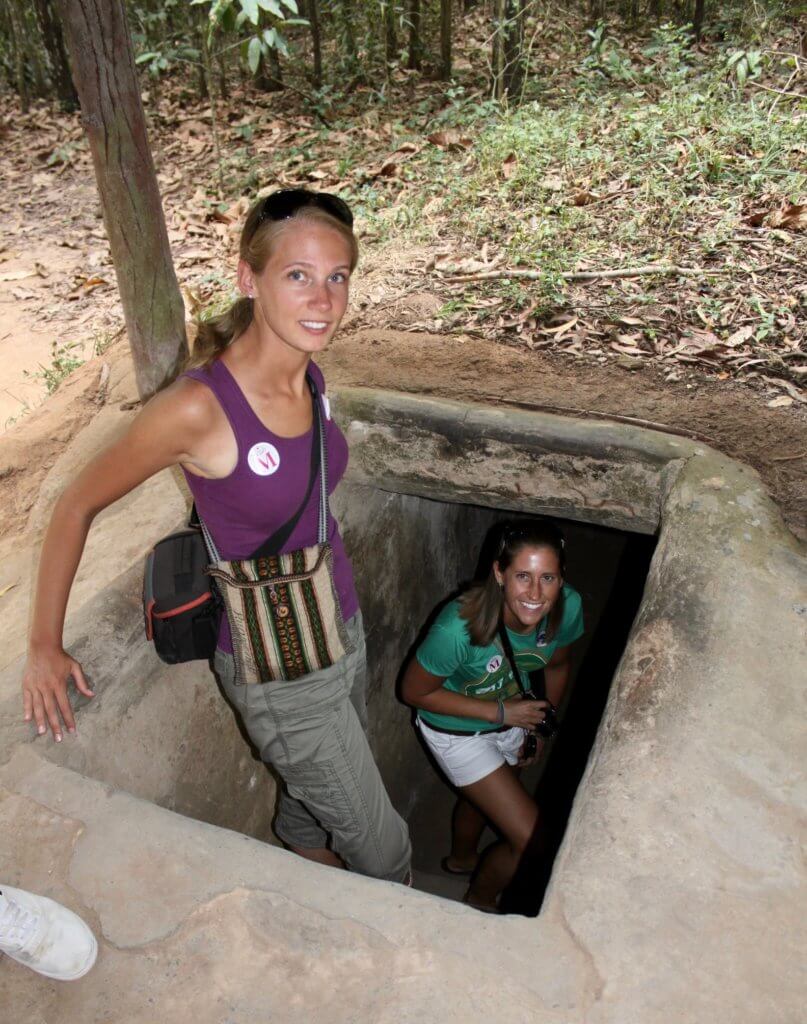 Mustering our courage, we went down a short set of stairs and into a bunker area. From there, we moved into the much narrower, dome-roofed tunnel. You had to go along on your knees or bent in half at the waist. It was tight, airless, and oppressive, but I'm sure the Viet Cong would have loved to have as much breathing room as we did. I couldn't imagine having to crawl behind a bunch of people (who probably hadn't bathed in days) through complete, stuffy darkness with all my battle gear and weaponry in a tunnel half as large and twice as dark as the one we traversed.
While I could have traveled farther through the tunnel network, I took the first exit I came across. That was enough of a taste for me. Others in the group did more exploring through the system, emerging through other exit holes like so many gophers.
Having survived the tunnels, our group gathered around a couple of long tables for a bit of tea and a snack. The sound of automatic gunfire continued to slice through the air as we sat and reflected on everything we'd seen. The heaviness soon dissipated, however, as Tung entertained us with a couple more ditties. My personal favorite of his repertoire included a rousing chorus that repeated the words, "Vietnam, Ho Chi Minh! Vietnaaaaaaaam, Ho Chi Minnnnnnnh!" over and over. He sang with gusto and encouraged us to join in.
Soon enough, we were piling into our van and heading back to Saigon.
---
How to Visit the Cu Chi Tunnels
The easiest and most informative way to visit the Cu Chi Tunnels is by going on an organized tour. Most of the tour providers in Saigon offer a version of the Cu Chi tunnel tour, so feel free to comparison shop, or book the well-reviewed option below.
If a group tour isn't your thing, Tours By Locals offers a number of private tour options like this one. You can also try your hand at DIY'ing your trip using this helpful guide.
---
Tips for Visiting the Cu Chi Tunnels
Wear sturdy footwear, as the ground is uneven. Close-toed shoes or toe-protecting sandals (like the KEENs I love so much) are best, especially if you intend to crawl through the tunnels.
Dress in light, breathable clothing, as it can be warm and stuffy in the forest and especially in the tunnels.
Remember that this is an area where a tremendous amount of human suffering occurred on both sides of the war. Be respectful.
Don't leave Saigon without visiting the excellent War Remnants Museum. This museum chronicles the American War and its aftermath, including some very emotional exhibits on topics like the effects of Agent Orange and other chemical defoliants on local populations.
I also highly recommend that anyone visiting or interested in Vietnam watch Ken Burns's excellent documentary series The Vietnam War. I learned so much from this series. Even though many parts are very difficult to watch, I consider it essential viewing for anyone who wants to better understand the complexities of the conflict. As of the time of writing, it is currently available on Netflix or for purchase digitally or in DVD form through Amazon Prime Video.
Like the post? Pin to save or share!
—
Read More:
Flashback Friday: An Overnight Cruise through Vietnam's Ha Long Bay
Flashback Friday: Riding the "Death Railway" Over the Bridge on the River Kwai
Travel Career Snapshot: Military Nurse

—
Need some help planning your trip to Vietnam and the Củ Chi Tunnels? Full Life, Full Passport offers customized vacation planning for all kinds of trips and budgets!
—
This guide to the Củ Chi Tunnels was originally posted on June 23, 2020, and last updated on June 23, 2021.
—
Want to be the first to know when a new post is published, or to receive exclusive content directly to your inbox? Join our email list!