When people think of Caribbean islands, St. Kitts and Nevis may not be the first ones to come to mind. This little two-island nation doesn't get the tourist traffic of all-inclusive-packed Dominican Republic or cruise ship favorites like St. Thomas and the Bahamas, but it's absolutely worth a visit nonetheless. And whether you're traveling on your own or via cruise ship, one of the best St. Kitts excursions is renting a motorbike or scooter and taking a road trip around the island.
St. Kitts is located near the top of the island chain known as the Lesser Antilles, which forms a roughly north-south arc on the eastern edge of the Caribbean Sea. Along with its sister island of Nevis, it's an independent nation under the British Commonwealth that might be most famous for being the "forgotten spot in the Caribbean" where Alexander Hamilton was born and spent much of his childhood.
M and I spent a day on St. Kitts as the second stop on our honeymoon cruise, and we quickly fell in love with this fun and unassuming island. After snorkeling the previous day on St. Croix, we decided to play St. Kitts by ear and just spend our time exploring. This led to us renting motorbikes to cruise around the island, which wound up being a great decision. We spent the day with the wind in our faces and warm Caribbean sun on our shoulders, whizzing around the island and stopping whenever something seemed interesting or particularly beautiful.
While there are plenty of other great St. Kitts excursions and things to do, I highly recommend you do the same.
---
Almost as soon as our cruise ship docked in Basseterre, the capital of St. Kitts and Nevis, M and I disembarked and made our way to Sunny Blue Scooter Rentals. At the time, the office was located in an old shipping container on the outskirts of town, though it now appears that the business has grown into a more permanent structure that also features ATV rentals and tours. When we arrived and saw the bright yellow office, however, we knew we were in for an adventure.
After signing the necessary paperwork and donning our helmets, we were on our way! We sped through Basseterre and soon emerged on a flat, pleasant stretch of road that would eventually take us around the entire perimeter of the island. The road hugged the coastline, with the green, volcanic mountains of the interior sweeping down to kiss the sea.
Our first stop, about a half-hour outside of Basseterre, was Brimstone Hill Fortress. As its name would suggest, we had to wind our way up a hill to reach the fort at the top. There, we were rewarded with sprawling views of the mountains and coastline in addition to the fascinating fort itself.
The fortress is a national park in addition to being a UNESCO World Heritage site, and it's one of the most popular tourist attractions on the island. You'll find lots of options to tour it as a St. Kitts shore excursion, but it's even more fun to visit on your own.
Brimstone Hill Fortress was built by enslaved African laborers in the 17th and 18th centuries to protect the island and its people. Today, it is one of the best-preserved fortifications in the Americas. While the multilevel fortifications themselves are impressive, I could help but be struck most by the views out over the island and the Caribbean Sea. You could even glimpse the island of Sint Eustatius off in the distance. It didn't take much imagination to see how effective the fort must have been at spotting and warding off enemy attacks.
Eventually, we tore ourselves away from Brimstone Hill Fortress to continue our loop around the island. We knew we had to be back at the ship by late afternoon, and we didn't want the day to get away from us! There was still so much of St. Kitts left to see.
Leaving the fort behind, we drove through coastal lowlands that were once covered with sugar plantations. We were surrounded by lush greenery, with volcanic Mt. Liamuiga providing a beautiful backdrop.
Sights along the way included Dieppe Bay, where you can snorkel or grab a yummy lunch at Arthur's Beach Bar. Dieppe Bay Town is small but historic, and there are some pretty views out over the water. Continuing around the eastern side of the island are the Black Rocks, a volcanic rock formation along the coast near the town of Saddlers that's worth a photo stop and maybe even a dip in the pools.
Having worked up an appetite on our drive, our next stop was Ottley's Plantation Inn*, a restored plantation house with a restaurant onsite.
The location was beautiful, and our timing was perfect as a light rain was just starting to fall.
The restaurant was covered but open-air, which provided an excellent opportunity to enjoy dining alfresco while still staying dry and enjoying the views. We could see out over the property all the way out to the sea.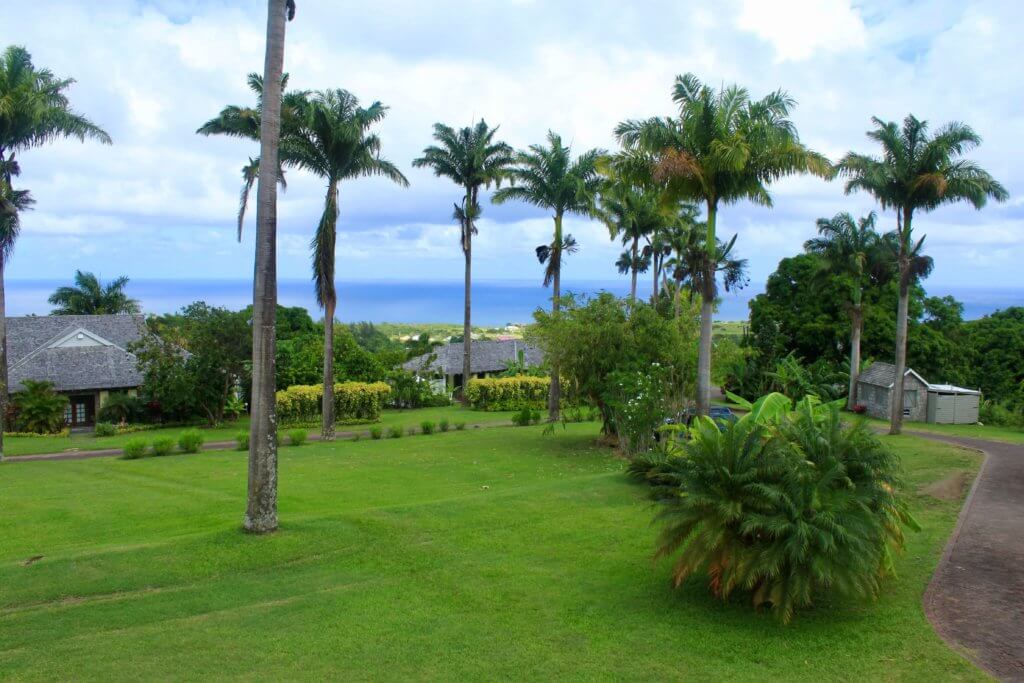 The great thing about motorbiking on St. Kitts was that we didn't have to feel rushed. There was plenty to see, but we could take our time at places like Brimstone Hill Fortress and Ottley's. We lingered over lunch, enjoying the delicious meal and the beautiful scenery and waiting for the clouds to part so we could hop back on our scooter and complete our circuit of the island.
Finally, it was time to hit the road again. We made our way down the eastern side of St. Kitts and back toward Basseterre. It was with a little sadness that we puttered up to Sunny Blue Scooter Rental and returned our motorbike, but we were absolutely convinced that driving around the island was one of the best St. Kitts excursions we could have done. We loved having the flexibility to stop when we wanted, and it was great seeing the island with the wind in our faces and the sun on our shoulders. I would definitely recommend renting a motorbike or scooter to explore St. Kitts on your own!
---
Other St. Kitts Excursions and Things to Do:
Visit the National Museum in Basseterre.
Go diving or snorkeling. There's even a sunken freighter to explore called River Taw.
Spend some time in Frigate Bay, where beach bars, resorts, and beautiful beaches abound. If you're the partying type, weekend evenings can get raucous.
Stop into Romney Manor outside Basseterre to visit Caribelle Batik, where you can buy batik handicrafts from local artisans and wander the scenic gardens.
Ride the St. Kitts Scenic Railway, a perennial favorite St. Kitts cruise excursion.
Hike Mt. Liamuiga.
Take a trip to nearby Nevis, which is even more quaint and unspoiled.
---
*Unfortunately, Ottley's seems to have ceased operations since our visit, but I still highly recommend stopping into another plantation inn or restaurant to grab lunch along your way.
Like the post? Pin to save or share!
—
Read More:
The Pros and Cons of Cruising
Flashback Friday: Taking a Cooking Class on Dominica
The Pros and Cons of All-Inclusive Resorts
—
Need some help planning your trip to St. Kitts and Nevis or finding the perfect cruise? Full Life, Full Passport offers customized planning services for all kinds of vacations and budgets!
—
Want to be the first to know when a new post is published, or to receive exclusive content directly to your inbox? Join our email list!