Looking for a travel destination that is truly off the beaten path? How about an impossibly beautiful land of rugged mountains, abundant wildlife, and mile upon mile of untamed wilderness? Allow me to introduce – or reintroduce – you to Canada's Yukon Territory.
While I certainly adore Alaska and will always encourage people to visit, in a lot of ways the Yukon might be even better. The two have a lot in common – vast wilderness, much of the same flora and fauna, a shared history of gold fever and hardy pioneers – but the Yukon is less touristed, less populated, and was home to one of the greatest gold rushes of the 19th century. Its national and territorial parks are beyond stunning, and the scenic Alaska Highway – an incredible feat of engineering – cuts right through its center.
I've already shared ten reasons why the Yukon should be on your travel list, but now I want to make it even easier for you to head north with this ten-day Yukon itinerary! The plan includes the territorial capital of Whitehorse, the Alaska Highway, the unparalleled wonder of Kluane National Park and Reserve, the funky gold rush town of Dawson City, and more. It has everything you need for a once-in-a-lifetime trip to a once-in-a-lifetime place.
Now you just need to book your flights!
---
10-Day Yukon Itinerary at a Glance
Day 1: Arrive in Whitehorse
Day 2: Travel the Alaska Highway to Haines Junction
Days 3 and 4: Kluane National Park
Day 5: Return and Explore Whitehorse
Day 6: Travel to Dawson City
Day 7: Dawson City
Day 8: Tombstone Territorial Park
Day 9: Dawson City
Day 10: Return to Whitehorse
Other Things to Do in the Yukon
Tips for Traveling in the Yukon
---
(Note: some of the links in this article may be affiliate links, which means that I may earn a small commission from your purchase at no additional cost to you. Thank you for supporting Full Life, Full Passport! You can find the full disclosure here.)
---
Day 1: Arrive in Whitehorse
Start your Yukon adventure by flying into the territorial capital, Whitehorse. Don't worry if your flight schedule has you arriving late; you'll be back for a full day of exploring in the middle of your trip. Plus, while there are certainly worthwhile things to do in Whitehorse, the real gems of the Yukon are located in the wilderness outside the city.
Whitehorse is a small, historic city with a gold rush past and a unique vibe. Stay downtown for easy access to the action, or choose a place outside the city to start reveling in the gorgeous landscapes.
Places to Stay in Whitehorse
Northern Lights Resort & Spa. Cozy chalets with a spa and wellness center located twenty-five minutes outside of town. The outdoor hot tub is perfect for northern lights spotting in winter.
Hidden Valley Bed and Breakfast. Comfortable four-room B&B offering exceptional breakfast and peaceful accommodations. Located twenty minutes from the city center near Takhini Hot Springs.
SKKY Hotel. Located right across from the airport along the Alaska Highway with a free airport shuttle available. Convenient option for your first night in Whitehorse.
Edgewater Hotel. With an excellent downtown location within walking distance of many attractions, Edgewater also boasts bright, airy rooms, complimentary WIFI, and a free airport shuttle.
Raven Inn Whitehorse. Also conveniently located downtown, this family-owned boutique hotel has amazing views from its top floors.
Places to Eat in Whitehorse
Klondike Rib and Salmon. Tasty joint downtown with some great wild game options. I tried musk ox and caribou for the first time here!
Antoinette's. Caribbean and Canadian fusion in a colorful, welcoming space.
---
Day 2: Travel Alaska Highway to Haines Junction
It's time to hit the road! First on your list of destinations is the village of Haines Junction, which is a little less than two hours west of Whitehorse along the historic Alaska Highway.
Also known as the Alaska/Canada Highway, ALCAN, or Highway 1 in the Yukon, the Alaska Highway runs from Dawson Creek, British Columbia and Delta Junction, Alaska. It was built during World War II to connect Alaska to the Lower 48 states in the face of the Japanese threat to the west coast of the USA, and the original highway was a remarkable feat of engineering, perseverance, and fortitude by the Army Corps of Engineers. These men battled extreme temperatures, permafrost, mosquitoes, isolation, rough terrain, and other harsh elements to complete 1,700 miles (2,700 km) of road in just seven months.
While you can certainly speed your way toward Haines Junction, I recommend taking a leisurely approach. Don't hesitate to stop for photos, enjoy the scenery, and keep an eye out for moose, bears, and other wildlife.
If you're willing to drive a little farther, gorgeous Kluane Lake is about forty-five minutes beyond Haines Junction. There's a wide beach perfect for skipping rocks – we actually used to call the place "Skipping Rock" – and the excellent Thachäl Dhäl Visitor Centre is just a little further around the bend. There, you'll find lots of information about the history and geography of the area, and Dall sheep are known to frequent the surrounding mountains. You can also hike the short (1 km) Soldiers Summit Trail to the site where the Alaska Highway was officially opened in 1942.
Places to Stay in Haines Junction
Mount Logan Lodge. A ski-to-door property at the edge of Kluane National Park with on-site dining and excellent mountain views.
Parkside Inn. Small bed and breakfast located on the outskirts of town. Kitchenettes are available in all rooms and you can access Kluane National Park hiking trails right on the property.
Wanderer's Inn Backpacker's Hostel. The best budget option in town, Wanderer's Inn offers dorm-style or private rooms within walking distance of Haines Junction amenities.
Raven's Rest Inn. Within walking distance of the Visitor Centre, this well-reviewed hideaway offers comfortable accommodations and adventure gear rental.
Stardust Motel. Fairly standard motel-type accommodation along the Alaska Highway. Lovely mountain views and a wooden front porch add some charm.
Places to Eat in Haines Junction
Village Bakery and Deli. Awesome little find with great breakfast, lunch, dinner, and treats. Especially great for sandwiches and baked goods. Try the budgie bars if they still have them!
---
Days 3 and 4: Kluane National Park
Your next two days should be devoted to one of the crown jewels of the Yukon Territory: Kluane National Park and Reserve. Pronounced "Kloo-ah-nee," this massive swath of public land is home to the largest non-polar ice field on Earth, the highest mountain in Canada (Mt. Logan), stunning scenery, and tons of wildlife. Seventeen of Canada's highest peaks are here, as well as excellent hiking, river rafting, and backcountry camping opportunities. It's an outdoor paradise!
Tours can be arranged in Haines Junction but are best booked in advance.
Things to Do in Kluane National Park:
Take a flightseeing tour. Seeing all those majestic mountains from the air is an experience you'll never forget. It's worth every penny.
Go hiking. There are endless opportunities to explore the park on foot.
Get out on the water. One of the best ways to experience the wilderness of Kluane is by rafting, kayaking, or canoeing.
Visit Kathleen Lake. One of the most popular destinations in the park, Kathleen Lake is perfect for hiking, camping, or a picnic.
Enjoy the winter. The fun doesn't stop when the summer ends! Skiing, snowshoeing, snowmobiling, and other fun winter activities abound.
---
Day 5: Return and Explore Whitehorse
It's time to get back to civilization… at least for a little while! Leave Haines Junction in the morning so that you can spend the afternoon enjoying Whitehorse. Tomorrow is a full day of driving to Dawson City, so the sooner you get back to Whitehorse the more time you'll have to relax between car rides!
Things to Do in Whitehorse:
Visit the Yukon Beringia Interpretive Centre. Excellent museum detailing the history of Beringia, the landmass the connected North America and Asia during the Pleistocene era, and its effects on the wildlife and peoples of both continents.
Explore Miles Canyon. Gorgeous canyon with emerald water just south of town. You can view it from a highway pull off or explore on foot via hiking trails or a suspension bridge.
Soak in the some hot springs. Located half hour from Whitehorse, these natural hot mineral pools are perfect for soaking away your stresses.
Tour the SS Klondike. Before roads, sternwheelers were the main form of mass transportation in the Yukon. The Klondike was one of the largest and has been meticulously restored to allow visitors to experience that part of history right in downtown Whitehorse.
See the fish ladder. This wooden structure helps migrating salmon circumvent the Whitehorse dam to reach their spawning grounds.
Hike or ski some of the hundreds of kilometers of nearby trails. If you haven't had enough hiking yet, or just want some different views of the city, there are plenty of trails in and around Whitehorse.
Stock up on supplies for the rest of the trip. If you've forgotten or run out of anything, now is the time to stock up! Options may be limited (or more expensive) in Dawson City.
---
Day 6: Travel to Dawson City
Get ready for a full day of incredible scenery on your way to Dawson City! During your six-hour drive along the Klondike Highway, you'll follow in the footsteps of Klondike Gold Rush "stampeders" who braved extreme weather, unforgiving wilderness, and innumerable other obstacles to make it to the gold fields near Dawson City. It's a fascinating, if often overlooked, chapter in North American history, and there's no better place to experience it than the Yukon.
While six hours may seem like a daunting amount of driving, there are some worthwhile landmarks along the way to break up the time, as well as unlimited opportunities for photo stops. About an hour and fifteen minutes into your drive, swing into Braeburn Lodge for coffee and a bathroom break. The food here is ginormous – try a cinnamon bun the size of a dinner plate or giant sandwich to get you through the next portion of your drive.
A half hour further north are the ruins of Montague Roadhouse, a log structure that housed and fed travelers in the early 20th century.
Twenty minutes beyond the roadhouse is the historic town of Carmacks, named after one of the people who first discovered gold in the Yukon. Stop in to learn about the town's history or admire the views of the Yukon River from the waterfront boardwalk. Just north of town, the Tagé Cho Hudän Interpretive Centre offers great insight into the lives of First Nations peoples reaching back into antiquity.
One of the most scenic stops along the highway is Five Finger Rapids, which sits just off the road about fifteen minutes beyond Carmacks. Once one of the most perilous water passages on the journey between Whitehorse and Dawson, the area is now known for its remarkable beauty. Pull into the gravel parking lot and admire the views, which stretch across miles of untamed wilderness.
After Five Finger Rapids, you'll mostly be passing through this vast, seemingly untouched wilderness. Keep your eyes peeled for moose (they love marshy spots), bears, and other wildlife! About two hours of driving will bring you to Moose Creek Lodge twenty minutes beyond the town of Stewart Crossing. This is a perfect opportunity to stretch your legs and grab a meal or a snack, browse the gift shop, and hit the bathroom. I am a personal fan of their baked goods, and their sausage rolls were always a big hit.
Roughly 100 kilometers beyond Moose Creek Lodge is a large pull-off to view the Tintina Trench, the largest geological fault in North America. I'll be honest that I never really saw much of a trench (and I'm not a geologist), but it's still an impressive landscape and good for a final stretch of the legs before heading into Dawson City. The viewpoint is at kilometer 655 and there are some big placards to help you understand what you're seeing.
With the Tintina Trench in your rearview mirror, you'll soon be pulling into Dawson City! Reward yourself with a hot meal and a cold drink and get ready for a few days of gold rush adventuring.
Places to Stay in Dawson City
Aurora Inn. With a long-standing reputation for hospitality, the Aurora is a good bet for comfortable accommodations.
Dawson Lodge. Newly-renovated, pet-friendly boutique hotel with great reviews.
Dawson City Bed and Breakfast. Excellent B&B located away from the "bustle" of downtown near the confluence of the Yukon and Klondike rivers. Complimentary bicycle rental available!
Westmark Inn Dawson City. Large, well-kept hotel within walking distance of Dawson's main attractions. I've stayed here with tour guests more times than I can count and it was always clean and comfortable.
5th Avenue Bed and Breakfast. Charming inn owned by the same proprietors of the Aurora Inn. I got to stay here once when the Westmark was full and it was a real treat!
Places to Eat in Dawson City
Sourdough Joe's. Bar and pub fare with possibly the best halibut and chips in the Yukon.
Klondike Kate's. Tasty appetizers, sandwiches, poutines, and entrees with some fun twists.
---
Day 7: Dawson City
After your long travel day yesterday, now is your chance to relax and enjoy this little city that's like nowhere else on earth. Once known as "the Paris of the North," Dawson's history is as colorful as the buildings that line its streets. One of the best things to do in Dawson City is just wander around the town; it's small enough to be completely walkable and there's so much to explore! You'll pass crooked buildings knocked sideways by permafrost, see a huge scar in the mountainside where an ancient landslide marred the bluff, witness the convergence of the Yukon and Klondike Rivers, and more.
While upwards of 30,000 people called Dawson City home during the height of the Gold Rush in 1898, today there are fewer than 1,500 permanent residents. (That's still enough to make it the largest town in the Yukon after Whitehorse, though.) That said, there are tons of great things to do to occupy the two days you'll spend here.
Things to Do in Dawson City
Try your luck at Diamond Tooth Gertie's. One of the most popular things to do in Dawson, Gertie's is an old-timey gambling and dance hall offering three can-can/vaudeville shows a night during the summer season. The best part is that all proceeds from admission, the table games, and the bar benefit the local community.
Tour the goldfields that started it all. Step into history by visiting some of the mines, goldfields, and gold dredges outside of town. You can even pan for gold! Many goldfields excursions include a historical tour of Dawson City as well.
Hike to the Midnight Dome. For the best views of Dawson and her two rivers, make the trek to the top of the mountain overlooking the city. It's well worth the climb.
Join the Sourtoe Cocktail Club. Not for the faint of heart, the Sourtoe Cocktail Club is one of the strangest "organizations" you can join anywhere in the world. Visit the Downtown Hotel and take a shot of Yukon Jack whiskey with a preserved human toe tossed in. "You can drink it fast, you can drink it slow, but your lips have got to touch the toe" for your membership to count. Sounds weird and gross – and definitely is – but it's a lot of fun.
Visit the Gold Rush cemetery. Located just outside of town, this peaceful plot is the final resting place of dozens of prospectors and other townsfolk who came to Dawson from all over the world to seek their fortune.
Explore Sternwheeler's Graveyard. (Also known as Paddlewheeel Graveyard.) Across the river from Dawson City are the remains of multiple sternwheelers that can be visited at your own risk. Take the ferry and walk north along the river until you reach the wreckage. Please exercise caution, however, as parts of the wreckage may be unstable.
Check out the Dänojà Zho Cultural Centre. This beautiful building along the river offers a fascinating glimpse into the lives, history, and customs of the Tr'ondëk Hwëch'in, the first peoples of the Klondike.
Take a boat ride on the Yukon River. Enjoy a narrated, hour and a half-long tour up and down the river on the Klondike Spirit paddlewheeler.
Visit the Robert Service cabin. Known as the "Bard of the Yukon," Robert Service's poetry evokes all the wildness, drama, peril, and emotion of the Klondike Gold Rush and the Yukon in general.
---
Day 8: Tombstone Territorial Park
Take a break from Gold Rush history today to visit Tombstone Territorial Park, a unique wilderness an hour and a half outside of Dawson City. There, you'll have seemingly endless opportunities for hiking, wildlife spotting, fishing, winter activities, camping, and admiring the scenery of one of the most remote swaths of public land in the country.
While you can certainly drive yourself to the park, full-day tours are also offered from Dawson if you'd rather relax and let someone else take the wheel. Although you won't have full control of your day, there's a lot to be said for having an expert guide along to show you the sights. Not only will you learn a lot more about what you're seeing, but local guides are excellent at spotting wildlife and can give you a much better appreciation for the history and topography of the area.
Note: You can visit Tombstone at any point during your stay in Dawson City, but I recommend doing it between two "local days" in and around town. This helps break up your long days on the road and provides a respite in between them.
---
Day 9: Dawson City
Enjoy your final day in Dawson City! It's your last chance to hit any of those must-do activities before you head back to Whitehorse tomorrow.
---
Day 10: Return to Whitehorse and fly home
All good things must come to an end, and unfortunately that includes Yukon adventures. Make your way back to Whitehorse today (I recommend starting early to give yourself maximum time) and prepare to head home.
---
Other Things to Do in the Yukon
If you have more time or want to adjust this itinerary, check out some of the other great things to do during your time in the Yukon Territory:
Watson Lake and Signpost Forest
Almost five hours east of Whitehorse, on the border of British Columbia, is a town that's a popular stop for tourists traveling the entire length of the Alaska Highway. Its most unique feature is the Signpost Forest, where tens of thousands of signs from towns all over the world are tacked onto innumerable posts. Stop in and add yours!
There's also a lot of military history here from the days of constructing the ALCAN as well as some nice recreation areas.
Take a Day Trip to Skagway
A little over two hours south of Whitehorse is the American town of Skagway, which is one of my personal favorite places in Alaska. It was here that tens of thousands of prospectors arrived at the start of their Klondike adventure, and the town is loaded with history as a result.
Another reason to visit Skagway is that it is an absolutely gorgeous drive from Whitehorse with a lot to see along the way. Make sure to pull over for a photo at the impossibly scenic Emerald Lake, explore the dunes of the Carcross Desert (said to be the world's smallest), swing into the colorful town of Carcross for some refreshment, and admire the stunning beauty of the White Pass on your way into Skagway. You can even take one of the greatest train rides in the world, the White Pass & Yukon Route, from Fraser or Skagway.
Make sure to take your passport, as you'll be crossing an international border on the way!
Drive the Top of the World Highway
While the Alaska Highway is the more time-honored way to drive from the Yukon into Alaska, the road even less traveled leaves from Dawson City. Taking the ferry across the Yukon River deposits you on the Top of the World Highway, a long and lonely stretch of road through incredibly remote landscapes. It's not for the faint of heart – the road is unpaved and there are some sheer drop-offs – but the views are stunning and it's as off-the-beaten-path as it gets.
---
Tips and Helpful Information for Traveling in the Yukon
It is absolutely essential to book accommodations in advance when traveling the Yukon in summer. Since many places have limited options, you don't want to be stuck without a place to stay during high season! The same is true for any tours and activities that you absolutely do not want to miss.
Please note that all travel times listed in this article are estimated and subject to delay. Weather, road conditions, flat tires, wildlife crossings, forest fires, and any number of other eventualities can easily add time to your drive. Make sure to plan accordingly.
Similarly, delays and mishaps can happen on the long, lonely stretches of the Alaska and Klondike Highways, so it's best to be prepared. Travel with snacks, water, an emergency kit, and plenty of gas. If you're renting a car, this is not the time to decline extra coverage, as flat tires, cracked windshields, and other annoyances are common on the rougher parts of the road.
If you want to spare yourself the long drive from Whitehorse to Dawson City, it is possible to fly between the two cities. The flight takes about an hour and fifteen minutes, as opposed to a six-hour drive. I recommend making the drive, however, as the scenery is breathtaking and you really get a sense of how remote the area is. You'll also have a chance to spot wildlife like bears and moose along the way.
The Yukon is a great place to witness the northern lights, or aurora borealis. Remember, however, to make sure to travel to the Yukon in the fall or winter if seeing the northern lights is a priority. During the spring and summer, the midnight sun prevents it from getting dark enough to witness the aurora.
Be advised that while clean and comfortable, most accommodations in the far north are more rustic than you'll find in the more southerly parts of Canada and the United States. You may encounter hotels without elevators or air conditioning, outdated furnishings, and a lack of four- and five-star options. Embrace the adventure!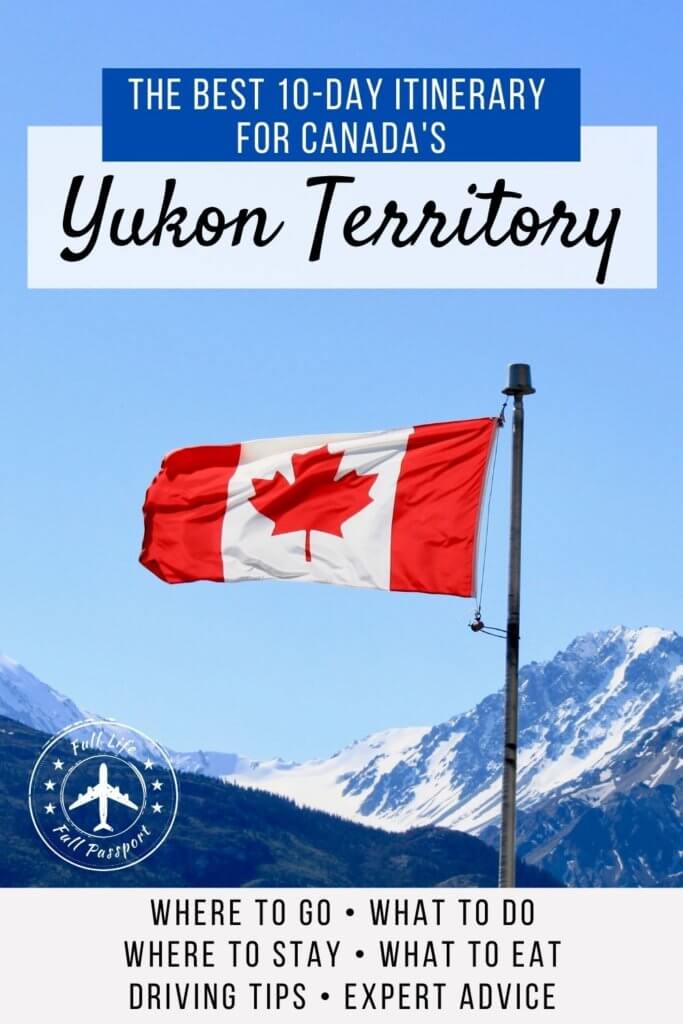 Like the post? Pin to save or share!
—
Read More:
10 Reasons Why the Yukon Should Be on Your Travel List
The Ultimate 10-Day Alaska Itinerary
Flashback Friday: Returning to Alaska
—
Need some help planning your Yukon itinerary? Full Life, Full Passport offers customized planning services for all kinds of vacations and budgets!
—
Want to be the first to know when a new post is published, or to receive exclusive content directly to your inbox? Join our email list!