San Ignacio, Belize, is the kind of place where there's something for everyone. Located about fifteen kilometers by road from the Guatemalan border, San Ignacio is a popular base for exploring the mountainous, jungle-covered Cayo District. Backpackers will love the plethora of inexpensive accommodations and the lively bars along Burns Avenue. Adventure seekers will revel in opportunities to trek through mysterious, sacred caves and explore the countryside on horseback. History nuts will delight in the abundance of important Mayan ruin sites nearby. Chocoholics will enjoy the chance to learn about the chocolate-making process from the descendants of the people who created it – and sample the goods, of course!
When my mother, sister, and I spent a week in Belize on our first mother-daughter vacation, San Ignacio was the first stop on our itinerary. We stayed for three nights, which gave us two full days to enjoy all of the things to do in and around San Ignacio. While we wished we could have stayed longer, we certainly made the most of our time and did some unforgettable sightseeing!
Today, I'm sharing a comprehensive breakdown of how we spent our two days in San Ignacio, along with lots of tips, tricks, and suggestions for other things to do during your visit!
---
(Note: some of the links in this article may be affiliate links, which means that I may earn a small commission from your purchase at no additional cost to you. Thank you for supporting Full Life, Full Passport! You can find the full disclosure here.)
---
This Article at a Glance
---
Day 1: Explore Mayan Ruins with a Trip to Caracol
Day 2: San Ignacio market, Cahal Pech ruins, and chocolate tour
Other Things to Do in San Ignacio
Getting to San Ignacio
Where to Stay
Where to Eat
---
Day 1: Explore Mayan Ruins with a Trip to Caracol
---
For such a small country, Belize boasts an impressive number of Mayan ruins. Despite the tremendous historical and cultural importance of many of the sites, they lack the fame of neighbors like Tikal and Tulum. As a result, they also lack the accompanying crowds. While it would have been easy for us to cross the Guatemalan border and visit Tikal, we decided to stay in-country and see what Belize had to offer. We're so glad we did because we ended up at the largest Mayan complex in Belize: Caracol.
Caracol was once a major political center that rivaled, warred with, and influenced Tikal. At one point, the population was more than twice the size of modern-day Belize City, and its largest pyramid remains the tallest man-made structure in the whole country.
The word "caracol" literally means "snail." Some say that the place got its name because the way to get there was long and winding, like the swirls in a snail's shell. Less colorfully, our guide told us that it was because it is home to tons of snails. Either way, it's pretty spectacular.
Caracol is located deep in the mountainous jungles about 80 km south of San Ignacio. It's no easy feat getting there; while the ruins of Xunantunich and Cahal Pech (see below) are within walking or a short driving distance of San Ignacio, it takes about two and a half hours to access Caracol by way of rough, largely unpaved roads. The scenery along the way is magnificent, and the remote location means that you won't be sharing the ruins with mobs of other tourists. In fact, we encountered fewer than ten other groups during our time at the site, and our party of nine was the largest by far.
We booked an all-day excursion through Belize Nature Travel and were not disappointed. Santiago, our driver, had a wicked sense of humor and expertly navigated the pothole-ridden roads in an effort to minimize our lumbar trauma. Our guide's name was Rene, and he had participated in excavations and research at Caracol and other Mayan ruin sites for over two decades. The guy really knew his stuff.
We spent a few hours exploring the grounds as Rene painted a detailed and intriguing picture of what the human experience would have been like as an ancient resident or visitor of Caracol. We were also able to climb up most of the structures. This afforded incredible views over the complex and surrounding jungle, and at one point we could see the whole way to Guatemala. It also allowed us to explore the tombs, chambers, and other nooks and crannies of the ruin. Considering the fact that many of the more famous Mayan sites in Central America are now roped off so that climbing is prohibited, this was a rare treat.
When, as Santiago put it, our "baby jaguars started growling," we satisfied our hunger with lunch in a nice, shaded pavilion before changing into our swimming suits and piling back into our van.
Our next stop was the Rio Frio Cave about halfway back to San Ignacio.
Rio Frio cave sits tucked back in the jungle off the main road between Caracol and San Ignacio. After leaving the van and hiking a short distance, the mouth of the cave seemed to appear out of nowhere and we traversed a little incline to enter into it. The cavern wasn't very long from one opening to the other, but it was very wide and tall and covered in stalactites, stalagmites, and other formations. It was amazing how quickly you found yourself plunged into darkness with only the circles of weak, leafy light at each end of the cave to orient yourself. We didn't stay long, but we definitely had enough time to appreciate the grandeur to be found underground.
Our final destination of the day was supposed to be Rio on Pools, a set of lovely waterfalls and natural swimming pools where most Caracol tours stop for a respite before the final push back to San Ignacio. Santiago, however, had other plans. He asked us if we wouldn't rather go to a more beautiful, more secluded spot called Big Rock Falls. We were game, and we ended up being very glad we said yes.
The appropriately-named Big Rock Falls sits at the head of a ravine and is surrounded by a tumble of boulders and vegetation. Reaching the falls can be challenging, as you have to descend a long succession of wooden and earthen stairs to reach the river. Then, you carefully make your way along the slippery rocks to access a pool at the base of the roaring cataract. The view and the swimming are well worth the effort, though. Just watch your step!
It was a glorious, peaceful place to sit and bask in the sun or take a dip and wash away the exertion of our long day of exploring! As an added bonus, we had the pool almost entirely to ourselves.
After we finally tore ourselves away from this little hidden paradise, our stalwart crew endured another bumpy hour of driving to return to San Ignacio. We were sorry to say goodbye to Santiago, Rene, and our new friends on the tour, but filled with excitement after a fabulous first day in Belize!
---
As I mentioned, we chose to book a tour to Caracol through Belize Nature Travel. The cost was $100 USD per person and included driver and guide services, the $15 park entry fee, snacks, water, lunch, and stops at Rio Frio Cave and Big Rock Falls on the way back. While it wasn't cheap, especially compared to the prices of other tours I've taken in Latin America, when all was said and done the three of us agreed it was a good value. Santiago and Rene took good care of us, the snacks and lunch were plentiful and tasty, and we even stopped at the more scenic and secluded Big Rock Falls rather than the advertised Rio on Pools that every other tour company includes. The tour was also small, just us and a lovely Canadian family of four, which made for a great day. You can book directly through Belize Nature Travel or choose another tour, below.
---
Tips for a Day Trip to Caracol
While I highly recommend making the trip to Caracol, it is a long, rough ride that would not be pleasant for anyone with spinal problems or other injuries. If you are prone to back pain or motion sickness, try to sit as close to the front of the vehicle as possible and bring appropriate pain or nausea relief medications.
Don't forget your sunscreen and bug spray, and reapply frequently!
It's also helpful to bring a towel if you plan on taking a dip in the pools.
Watch where you step, as army ants patrol the grounds of Caracol and their bites are no fun at all.
It's a good idea to change into your bathing suit before leaving Caracol, as the facilities there are very nice compared to being rather basic or nonexistent elsewhere.
If your fellow tour members are fit enough for the short hike down to the falls (and back up again), ask your driver and guide about visiting Big Rock Falls instead of Rio on Pools.
Tips (customarily between 5-10% of the tour cost) for your driver and guide are much appreciated.
If you choose to self-drive to Caracol, my understanding is that you must join a convoy of vehicles to do so. Check with the Welcome Center in town for more information before you set out on your own.
---
---
Day 2: San Ignacio market, Cahal Pech ruins, and chocolate tour
---
After our adventure the day before, we used our final day in San Ignacio to experience the town itself. Following a fabulous breakfast at our hotel (more on that later), we wandered the streets, eventually arriving at the pretty Cayo Welcome Center. The folks inside were very helpful as we planned out our day, and my mom enjoyed the looping fifteen-minute video about visiting Belize. There's also a little one-room museum about the history of the area.
Maps and plans in hand, we walked the short distance to the market, which was bustling with shoppers, vendors, artisans, and a couple of fellow tourists. I love visiting markets in other countries; it's so fun to feast my eyes on the sea of colors, investigate the interesting new fruits and vegetables to be sampled, and take in a glimpse of the local life and culinary culture of each place. San Ignacio's market didn't disappoint in any of those respects.
Next on our list was a trip to AJAW Chocolate and Crafts for a demonstration on the art of Mayan chocolate making. Let's be honest – once we heard the word "chocolate" at the Welcome Center there was no way we three ladies weren't moving heaven and earth to find this place. It ended up being such a fun little find, and we were lucky enough to have the experience all to ourselves!
The fine folks at AJAW took us step-by-step through each part of the chocolate-making process, starting with the history of cacao cultivation and ending with some delicious taste-testing! We got to sample cacao beans right from the pod, after having dried in the sun, and post-roasting, and even got to grind our own beans into a paste on a warm stone.
Next came the best part: sampling the chocolate! We were given spoonfuls of the cacao paste in little wooden bowls, into which was then added hot water, honey, and a variety of spices such as cinnamon, allspice, and chiles. I thought it was delicious; Mom is more of a milk chocolate kind of gal and found it a little bitter! Either way, it was fun to drink hot chocolate the way the ancient Maya would have done.
Afterward, we went next door to the little gift shop where we were given samples of chocolate bars made of 90% cacao. Of course, we picked up some souvenirs (mostly of the consumable variety) before heading on our way!
(If you're interested in exploring the art of Maya chocolate making at AJAW, demonstrations [$12 USD] start every hour on the hour between 9:00 AM and 6:00 PM Monday through Saturday.)
Our final stop of the afternoon was the ruins of Cahal Pech.
Where Caracol was an urban center, Cahal Pech was a palace complex. Therefore, while Cahal Pech is not as large or impressive, it is still definitely worth the time to explore. In a funny twist of fate, we arrived at the visitor's center to find Rene, our guide from the day before, waiting to offer tours. We quickly enlisted his help and greatly appreciated his commentary and insight. The guy's depth of knowledge is seriously impressive.
Even if you've done Caracol, I still recommend paying a brief visit to Cahal Pech since it is a very different type of complex. Make sure to enlist the services of a guide, though. There aren't many signs or readable placards, and a guide can make all the difference in turning a pile of old rocks into a thriving palace complex. Rene was able to paint a fascinating picture of the life of a ruling family as we walked through their courtyards, kitchens, bedrooms, and ceremonial sites, which overall gave us a much more well-rounded view of Mayan life.
We paid about $15 per person for the entry fee and Rene's 1.5 hour tour. Other guides might offer a more expedited experience if you'd prefer. We weren't in a hurry and asked a lot of questions, though I also suspect that Rene is probably on the more thorough side as tour guides go!
After finishing up at the ruins, we grabbed a snack at the nearby Cahal Pech Village Resort restaurant. Later, we returned to relax and enjoy the balcony at our hotel before heading out for a nice dinner to celebrate our final night in San Ignacio.
---
Tips for a Day in San Ignacio
If you're not sure how to spend your time, the Welcome Center is very helpful.
It is a 25-minute uphill walk from the Welcome Center to the ruins of Cahal Pech, so depending on the heat and your stamina it may be prudent to take a quick cab ride. You can also rent mopeds or bikes in town to facilitate your exploration of the city.
Sunscreen and bug spray are your friends! 🙂
---
---
Other Things to Do in San Ignacio
---
Actun Tunichil Muknal
If I am fortunate enough to return to Belize, I will absolutely be doing a tour of Actun Tunichil Muknal, or ATM Cave. It was a little aggressive for my traveling companions on this trip, but everyone we spoke to (and our guidebook) said it was an absolute must-do. ATM (roughly translated as the Cave of the Crystal Sepulchre) is a sacred cave in the Cayo District that contains ancient Mayan artifacts and the skeletons of victims of human sacrifice rituals. In addition to witnessing Mayan wonders, you will hike through the jungle, climb through crevices, wade and swim across subterranean waters, and traverse all manner of obstacles to reach the sacred site tucked deep in the cave. It sounds amazing, and I encourage you to check it out. Trips are available through Belize Nature Travel and most other outfits in town.
(Want to know more? Read Ashley from My Wanderlusty Life's thoroughly entertaining account of her visit here.)
Visit the Ruins of Xunantunich
Another impressive Mayan ruin site, Xunantunich is more accessible than Caracol and a great alternative for folks who don't want to make that long journey. It features a hand-cranked ferry across the Mopan River, stunning views, lovely temples, and a pretty jungle setting. A family friend (the same one whose trip inspired my mother's bucket list desire to see Belize) visited Xunantunich on horseback and had a fantastic experience. And on that note…
Go Horseback Riding, Trekking, or Canoeing
Outdoor activities abound in San Ignacio, so there's no shortage of options to explore the gorgeous countryside by foot, boat, or horse.
Go Cave Tubing
There are lots of caves to explore in western Belize, but one of the best ways to do it is by tubing through them. About an hour and fifteen minutes east of San Ignacio is the Nohoch Che'en Caves Branch Archaeological Reserve, where we had a fantastic time cave tubing later in our trip. It was one of the most unique experiences in my travels! You can arrange a trip in town or hit the reserve on your way to or from San Ignacio, since it's just off the main highway. You can also visit the Barton Creek Cave closer to town by canoe.
Take a Day Trip to Tikal, Guatemala
One of the most famous Mayan ruin sites in Central American is just across the border from San Ignacio. While I highly recommend giving Belize's ruins priority, it's hard to resist being so close and not seeing Tikal! Most tour outfits in town offer a day trip to Tikal. You can also use San Ignacio as a jumping-off point for a longer trip through Guatemala.
---
---
Getting to San Ignacio
---
San Ignacio is about two hours west of Philip SW Goldson International Airport, the biggest airport in Belize. While you can take a bus or a half-hour flight, it's actually very easy to rent a car and make the drive.
No matter which car rental company you use, you'll have no trouble locating it. All of the companies occupy side-by-side storefronts in a long building just across the small parking lot from the airport. At a friend's recommendation, we utilized Crystal Auto Rental and overall had a very positive experience.
A couple of tips about renting a car in Belize:
Make sure to check your credit card and/or car insurance benefits to see if rentals are covered in foreign countries and what benefits are offered. We saved over $100 by declining the insurance offered by the rental agency because we were covered by my Chase Sapphire card.
While the major highways in Belize are well-kept and easy to drive, watch out for speed bumps and raised pedestrian crossings! There are a lot of them, especially on the major thoroughfares. While many are clearly marked, some are more difficult to spot.
Navigation in Belize is fairly straightforward, as the major highways are few and well-signed. Chrystal offers the option to rent a GPS device for $9 per day, but if you have your own Garmin, I suggest purchasing the Belize map from GPS Travel Maps and loading it into your device. It cost us a little over $15 and worked well. (As of 2020, it's now $18.)
---
Where to Stay
---
There are lots of options for lodging in San Ignacio, including hotels, hostels, resorts, and guesthouses for every budget. Cahal Pech Village Resort has incredible views and a nice pool, and hostels line the streets in the area around Burns Avenue. We also considered the Maya Mountain Lodge or splurging on the San Ignacio Resort Hotel.
In the end, though, we ended up at Martha's Guesthouse and couldn't have been happier.
Martha's occupies a very convenient location right in downtown San Ignacio. We were within easy walking distance of the main tourist drag that is lined with shops, restaurants, and tour agencies. There was also a little store across the street to pick up any drinks, snacks, or personal items we might have forgotten.
The best part about Martha's, though, was our room and balcony.
Because there were three of us traveling together, by necessity we ended up booking larger rooms than if I had just been on the trip with M. At Martha's, that meant that we were in the First Lady Suite. Occupying the whole of the top floor of the building, the First Lady Suite gave us two king beds, plenty of room for our luggage and general lounging, and a spacious bathroom. Through a sliding glass door was a veranda that was almost the same size as the room itself. From it, we had a panoramic view of the colorful town of San Ignacio.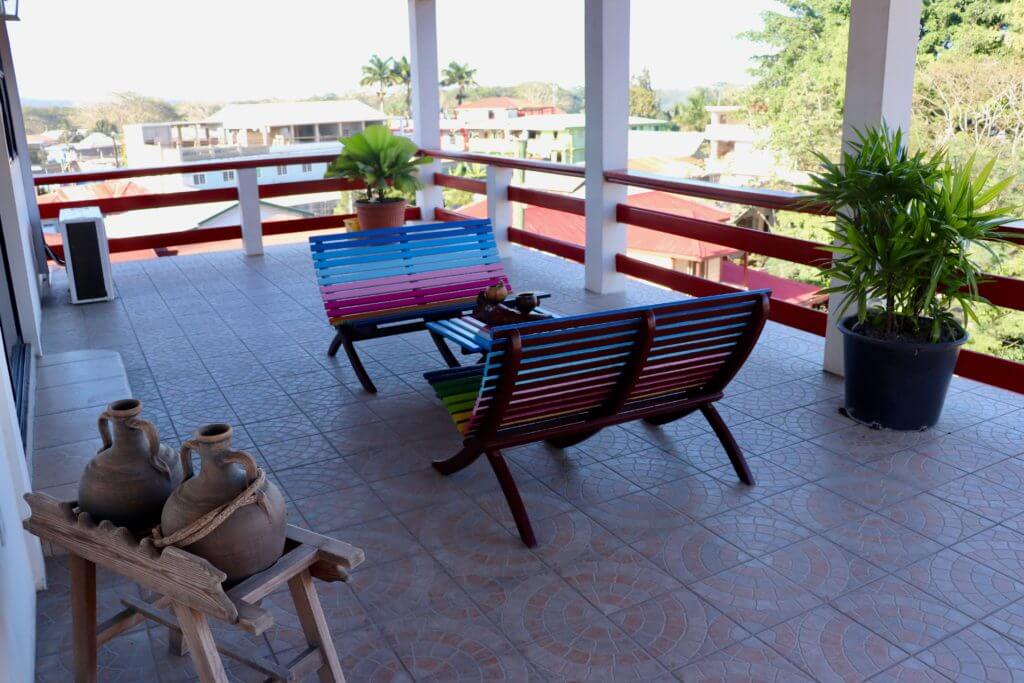 And the best part? The home-cooked breakfast in the morning! My feast of scrambled eggs with onion and veggies, beans, cheese, and traditional fry jacks was so good I ordered the same thing every morning after.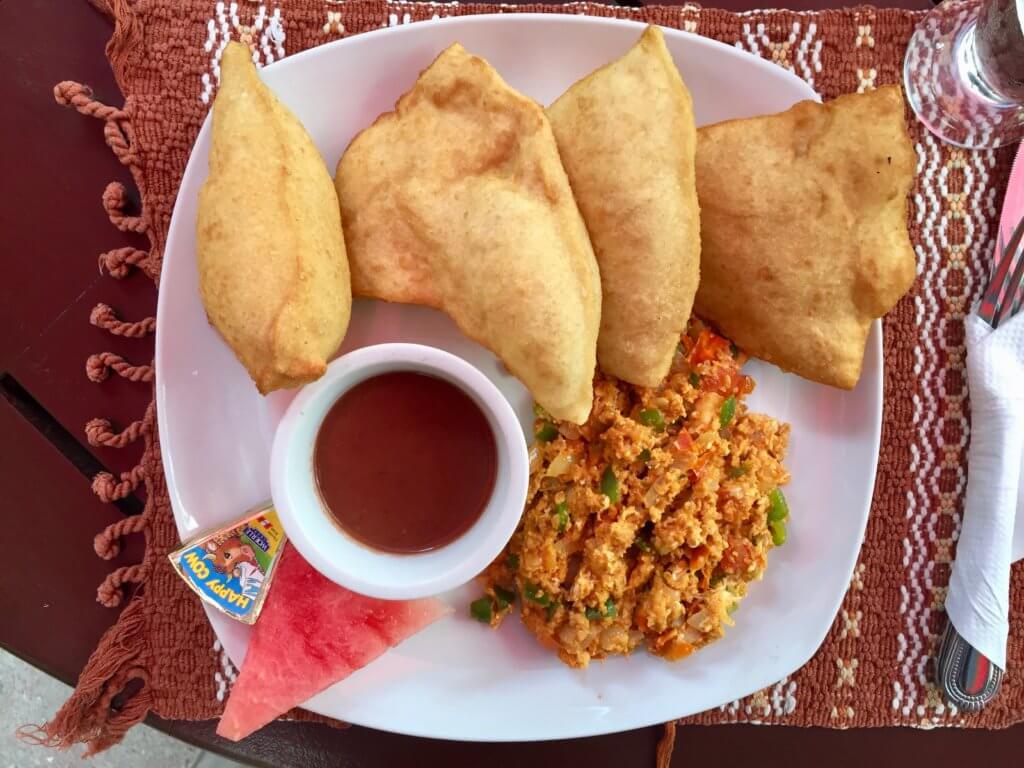 If you're looking for a reasonable price, convenient location, delicious breakfast, and friendly hospitality, I highly suggest you consider Martha's. You won't regret it.
---
Where to Eat
---
San Ignacio has a wealth of delicious food options, including a number of different cuisines that will suit most any palate. Here were some of our favorites:
Ko-Ox Ha-Nah translates to "Let's Go Eat" in Mayan, and you certainly should follow that advice! This unassuming little place sits right on Burns Avenue and serves delicious homestyle breakfasts, lunches, and dinners. Don't be surprised if you have to wait – it's worth it!
We ended up at the restaurant at Cahal Pech Village Resort after taking in the ruins of the same name. The food was good, but the view from the restaurant is the real attraction. (The menu was limited when we arrived in the middle of the afternoon but I understand that the expanded offerings are quite tasty.)
Probably our favorite restaurant in San Ignacio, Guava Limb was the first recommendation anyone gave us when we asked for local dining advice. The food was fresh and delicious, the drinks were dangerously good, and the menu was extensive and varied. Our fellow tour members at Caracol implored us to wear bug spray, as apparently the little critters were out in force when they ate there the night before. We didn't have trouble, but be prepared just in case.
Did I mention that Martha's has fabulous breakfasts?? Non-guests are welcome to stop in to eat as well.
---
And there you have them: My best tips on how to spend two days in beautiful and adventurous San Ignacio, Belize. I hope you enjoy your time in this charming little town as much as we did!
Like the post? Pin to save or share!
—
Need some help planning your vacation to Belize? Full Life, Full Passport offers customized itinerary planning for all kinds of trips and budgets.
—
Read More:
15 Reasons Why Belize Should Be on Your Bucket List
The Ultimate 7-Day Belize Itinerary
The Essential Belize Packing List
—
This post of things to do in San Ignacio was originally published on December 11, 2018, and last updated on December 14, 2020.
—
Want to be the first to know when a new post is published, or to receive exclusive content directly to your inbox? Join our email list!