The small Central American/Caribbean nation of Belize packs a huge punch when it comes to natural beauty, history, and fun and unique things to do. Read on to learn why you should add Belize to your travel bucket list.
I'll be honest: before about 2016, I hadn't really given much thought to Belize. I knew it existed and where, and I probably could have at least given you the fun fact that it's the only Central American country whose national language is English. But my travel planning gaze was turned elsewhere, and Belize was somewhere in the middle of a long list of places I'd get to "eventually."
But that's about the time my mom became captivated by the idea of visiting the small Central American nation. I'm not sure what sold her on it first: the gorgeous coastline, the fascinating history, the warm winter weather, or the rave reviews from a family friend who had just visited. Whatever the cause, Belize was instantaneously on her bucket list, and she couldn't wait to go. 
Fast forward a few years, and there we were on a plane headed west from Miami over the glistening Caribbean Sea, about to touch down in a brand new country that some of our friends and family hadn't known existed.
It didn't take long, however, for us to realize that this place was special. Not only was it beautiful and easy to get around, but the people were incredibly friendly, the food was great, and there was just something in the air that made us fall in love almost immediately. 
We spent seven blissful days exploring as many corners of Belize as we could and left wanting so much more. In fact, we had such a good time in Belize that it convinced us to make mother-daughter trips an every-other-year occurrence. 
Today I want to share fifteen reasons why you, like my mom, should add Belize to your bucket list. I hope that this list inspires you to visit this hidden gem and come away with your own love affair with Belize!
(Note: some of the links in this article may be affiliate links, which means that I may earn a small commission from your purchase at no additional cost to you. You can find the full disclosure here. Thank you for supporting Full Life, Full Passport!)
15 Reasons Why Belize Should Be on Your Bucket List
1.) It's off the beaten path.
When it comes to Central American vacations, people are quick to think of places like Mexico, Costa Rica, and even Guatemala. But tucked into the coast of the Yucatan Peninsula
But how How many people do you know who have been to Belize? Chances are, that number is smaller than  Chances are, the number is smaller than those who have been to Mexico, Costa Rica, or even Guatemala, but Belize offers a lot of the attractions available in neighboring Mexico, Guatemala, and Costa Rica, but without the crowds. Stunning beaches? Check. Thick, wildlife-filled jungles? Check. Mayan ruins, great food, pretty swimming holes, and fascinating culture? Check, check, check, check. 
Though Belize is slowly gaining attention, it still feels like a hidden gem. Especially if you're visiting the mainland (as opposed to the popular islands of Ambergris Caye and Caye Caulker), you won't find a lot of flashy resorts, big tour groups, or spots that feel like America just migrated south. 
2.) There are Mayan ruins everywhere.
Before our trip to Belize, I had no idea just how important the area was during the height of the Mayan Empire, nor how many significant archaeological sites the Maya left behind. No matter where you're visiting in Belize, there's bound to be a ruin site within an easy drive.
One of the most impressive sites is Caracol, a large complex deep in the western wilderness of Belize. It takes about two hours of bumpy, dirt-road driving to get there from San Ignacio – the nearest city of any size – but it is absolutely worth the effort. At Caracol you'll find the remnants of one of the most important sites of the Classic Period. One of the buildings, Caana, is still the tallest manmade structure in the entire country, and you can actually see Guatemala from its higher reaches.
3.) ... including some that are virtually crowd-free!
4.) The second-largest barrier reef is just offshore.
While you should absolutely take in some Mayan ruins in Belize, do not leave without exploring the underwater world of the Belize Barrier Reef. Running almost the entire length of the country, this second-largest reef system in the world is teeming with coral, fish, and other life. It was the most incredible snorkeling I've ever done, and I would go back in an instant to experience those underwater wonders all over again.
Snorkeling and scuba trips out to the reef are available almost anywhere along Belize's coast and in the islands, making it easy to get up close and personal with the reef and its inhabitants. We had a fantastic experience with Seemore Adventures out of Hopkins.
5.) The people are incredibly friendly.
Of all the places I've been and all the people I've met along the way, I have to say that Belizeans are noticeably the kindest, friendliest group overall. Everywhere we went, people were warm, welcoming, and had a great sense of humor. We absolutely fell in love, and it made us feel so at home!
6.) It's culturally diverse.
Did you know that there are Mennonites in Belize? How about a large population of East Indians? Would you be surprised to find Mayans rubbing shoulders with American ex-pats?
Belize is a melting pot, with citizens descended from almost everywhere. Spanish, Maya, and African ancestry is most common, with many people drawing their heritage from a mix of some or all of those groups. 
Mayan people have lived in Belize for centuries, and today, you'll find modern-day Mayan villages in the shadows of the ruins of some of their civilization's greatest cities. Another major ethnic group in Belize are the Garifuna, descendants of enslaved Africans who survived a shipwreck, intermarried with indigenous peoples, and kept their freedom by resisting and fleeing from colonial forces. You'll feel their cultural presence especially in towns like Hopkins along the coast.
Wherever you go in Belize, you're bound to hear multiple languages being spoken and find plenty of diverse cuisines to try!
7.) The food is great, as well.
And speaking of diverse cuisines… with all those cultural backgrounds coming together in one place, it's no surprise that there is a wealth of delicious food to be found in Belize as well. You'll find everything from rice and beans to delicious stewed meats to some of the freshest seafood you've ever tasted. Make sure to try local specialties like conch, fry jacks (fried dough typically eaten with breakfast), garnaches (a snack food made using a fried tortilla and delicious toppings), and all the fresh fruit you can eat.
Even if you're not a huge fan of hot sauces, don't miss an opportunity to try some of Marie Sharp's. They're found on almost every table in the country and exceptionally tasty. You can even tour the factory in Dangriga to sample the goods and learn more about the inspiring Marie Sharp herself.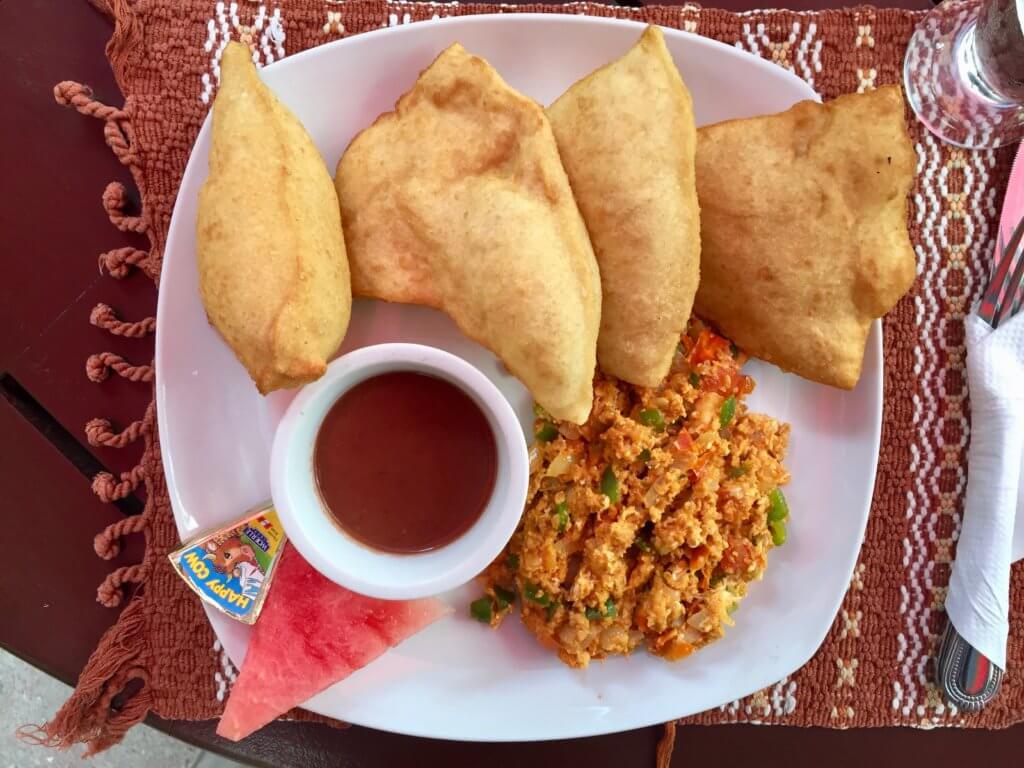 Find the perfect place to stay in Belize!
8.) There are caves galore to explore!
Did you know that Belize has the highest concentration of caves in all of Central America? Whether you're a professional spelunker, an underworld enthusiast, or just someone who likes seeing the unique topography to be found underground, you'll relish in the abundance of options available. Some of the most popular include Actun Tunich Muknal (ATM) Cave, once used by Mayan priests for sacred rituals, and those along the Caves Branch river, where you can spend an afternoon tubing through the caverns! 
9.) There's a huge variety of wildlife.
Aboveground, there's plenty to see as well. Belize really packs a punch when it comes to wildlife. Elusive jaguars stalk the jungles, howler monkeys live up to their name causing a racket, and there seems to be a new bird or butterfly around every corner. Add to that the abundance of marine life to be found offshore and you're in for an incredibly wild vacation!
10.) It has an excellent zoo with a great mission.

One of the best places to encounter Belize's wildlife is at the Belize Zoo. Located about forty-five minutes outside of Belize City along the Western Highway, the Belize Zoo is a wildlife rehabilitation and educational center that shouldn't be missed. Their animals are all native to Belize – no polar bears sweating in the heat here! – and their enclosures mimic their natural habitats as much as possible.
The zoo was originally founded to provide homes for animals who had been used in the filming of a documentary and then essentially abandoned. Today, the mission of caring for rescued, orphaned, injured, and abandoned animals continues, along with a passion for exposing and educating Belizeans about their treasure trove of wildlife. It's truly unlike any zoo I've ever visited and absolutely worth a stop.
11.) It's easy to get around.
One of the great things about visiting Belize is how much of the country you can see in a short time, as well as how easy it is to do it. The country is a little bigger than the US state of New Jersey (or roughly the size of Israel or Wales), and you can drive its length in about a half a day. Even the cayes are quickly reached; flights to San Pedro or Caye Caulker take ten to fifteen minutes and it's less than two hours by boat.
In addition to manageable distances, the major highways in Belize are easy to navigate and well-maintained. Just watch out for speed bumps!
That said, there are definitely areas of Belize that are more difficult or time-consuming to access but still very much worth your while. Southern Belize's Toledo District offers tremendous cultural diversity, ancient Maya sites, beaches, rainforest, and more. The ruins at Caracol lie at the end of two hours of bumpy, dirt road but shouldn't be missed. And the more remote your island, the more likely you'll have that beautiful paradise all to yourself.
12.) Flight times from the United States are very reasonable.
Whether you hate flying, have limited time off, are worried about entertaining kids on long flights, or just want to maximize your vacation time, Belize is a great choice. You can jet off to someplace completely new and exciting without having to spend an entire day getting there! Direct flights from New York City and Seattle are five and six hours, respectively, and there are plenty of other states where you can make the trip in four hours or less. 
13.) English is the national language.
If you're intimidated by a language barrier, taking your first international trip, or just looking for ease of communication, try Belize! Formerly known as British Honduras, Belize was a British colony until 1981 and English is still the national language. The widespread use of English makes traveling a snap, but there are still plenty of other tongues spoken throughout the country, including a Belizean Creole, various Maya dialects, Spanish, and Garifuna, among others, to help you appreciate Belize's tremendous cultural diversity.
14.) The currency is tied to the US dollar, making things easy for Americans.
For me, one of the little annoyances of travel is having to calculate exchange rates in my head for the duration of a trip. This is especially true when the number isn't easily divisible, like when we were traveling through Laos and there were 8,450 kip to the dollar.
If you're American or have a general idea of what a dollar is worth in your native currency, though, calculating the exchange rate in Belize is simple. Since 1978, the Belizean dollar has been tied to the US dollar at a rate of $2 BZ to $1 US. Just divide your Belizean bill by two and you'll always know exactly what you're spending!
15.) There's something for everyone!
Regardless of what you're looking for out of a vacation, chances are Belize has it. (Except maybe skiing… you might be out of luck there.) There are lush mountains, plentiful wildlife, stunning beaches, fresh and tasty cuisine, party islands, quiet cays, adventure, culture, relaxation, water sports, and more! Although Belize's small size means that you can see a lot in a short amount of time, it's also the kind of place where you can come back again and again and not run out of things to do.
Headed to Belize? Don't forget travel insurance!
Like the post? Pin to save or share!
Need some help planning your trip to Belize? Full Life, Full Passport offers customized planning services for all kinds of vacations and budgets! 
Want to be the first to know when a new post is published, or to receive exclusive content directly to your inbox? Join our email list!