There are few places more perfect for a weeklong vacation than the Central American nation of Belize! Today, I'm going to share our Belize itinerary in the hope that it encourages you to add this tiny gem to your travel list immediately.
---
When I began writing this post, my home state of Pennsylvania was getting thwacked by its fourth nor'easter in three weeks. M had just bundled up to take our dog for a walk through the wintry mix, schools had let out early, and we were expected to get somewhere between 7-13 inches of snow by the time all was said and done.
With all that in mind, and my body wrapped in three layers of clothing as well as a blanket, I could think of no better time to tell you all about warm, sunny, friendly, beautiful Belize.
Belize is a small country tucked between Mexico and Guatemala on the Caribbean Sea. Although it is only about the size of the US state of Massachusetts, Belize packs quite a punch. The country was once an important part of the Mayan empire and is scattered with impressive ruins, many of which haven't yet been fully excavated. Much of the land is covered by rainforests containing jaguars, tapirs, howler monkeys, macaws, and hundreds of other colorful, diverse species. The world's second-largest living reef is just offshore, with world-class diving and snorkeling opportunities that will make you feel like you're living inside a National Geographic special. The country's location and history has given it a fascinating culture that blends Caribbean and Latin American influences into something uniquely Belizean. The people are warm, welcoming, and incredibly proud of their homeland. And don't even get me started on the food.
Have you booked your flight yet?
My mother, sister, and I chose Belize for our very first mother-daughter trip and couldn't have asked for a better experience. Although this is a country that commonly flies under the radar, it is poised for a tourist explosion. There are so many reasons why Belize should be on your bucket list! I encourage you to give it a second glance before everyone else does!
Below are my recommendations to help you create an unforgettable Belize itinerary.
---
(Note: some of the links in this article may be affiliate links, which means that I may earn a small commission from your purchase at no additional cost to you. Thank you for supporting Full Life, Full Passport! You can find the full disclosure here.)
---
Belize Itinerary at a Glance
Day 1:  Arrive in Belize and drive to San Ignacio
Day 2:  Full-day tour of Caracol Mayan ruins, with stops at Rio Frio Cave and natural swimming pools
Day 3:  Explore San Ignacio, including Mayan chocolate demonstration and Cahal Pech ruins (with alternative options)
Day 4:  Drive to Hopkins, with stop for cave tubing at Nohoch Che'en Caves Branch Archaeological Reserve
Day 5:  Full-day snorkeling tour on the Belize Barrier Reef
Day 6:   Free day in Hopkins for beach time and exploring (with alternatives)
Day 7:   Drive north to final hotel, with stops at St. Herman's Blue Hole National Park and the Belize Zoo
Day 8:  Flight home
---
Day 1: Arrive in Belize and Drive to San Ignacio
When planning our itinerary for Belize, we made the decision to brave a 6:00 AM flight (and the consequent 3:30 AM wake-up) so as to be able to arrive in Belize by noon local time. As a result, we got to spend most of our first day in-country. The Philip S. W. Goldson International Airport is small but efficient, and it was glorious to emerge from the plane into the bright sunshine and warmth! All loading and unloading of planes are done via stairs rather than jetways, so we got a fun vacation vibe right off the bat as we disembarked.
After being stamped into the country and collecting our luggage from one of the two baggage carousels, we gave our customs forms to the agent and left the airport in search of our car rental agency. If you choose to rent a car at the airport, you'll have no trouble at all figuring out where to go when you leave. All of the car rental agencies occupy side-by-side storefronts in a long building just across the parking lot. We grabbed our Nissan Rogue from Crystal Auto Rental, and, after a straightforward pick-up process and loading up our gear, were on our way!
Our first destination was San Ignacio, which is the largest town in the Cayo District and a hub for exploring the natural and historical wonders of western Belize. It was an easy drive to get there via the George Price (or Western) Highway, which is the most heavily trafficked road in the country. "Heavily trafficked" is a relative term; we still experienced long stretches of open road with gorgeous scenery and few fellow drivers.
The drive was sun-soaked and pretty as we traveled through colorful villages tucked into low, thick swaths of vegetation. Green mountains loomed in the distance to the south and curved to greet us as we drove deep into the Cayo District. After about two hours of driving (interrupted by a delicious stop for lunch), we arrived in San Ignacio and checked into Martha's Guesthouse.
Martha's occupies a very convenient location right in downtown San Ignacio. We were within easy walking distance of the main tourist drag lined with shops, restaurants, and tour agencies, and there was a little store across the street to pick up any drinks, snacks, or personal items we might have forgotten. It was the perfect place to spend the next three nights.
The best part about Martha's, though, was our room and balcony.
Because there were three of us traveling together, we ended up booking larger rooms than if I had just been on the trip with M. At Martha's, that meant that we were in the First Lady Suite. Occupying the whole of the top floor of the building, the First Lady Suite gave us two king beds, plenty of room for our luggage and general lounging, and a spacious bathroom. Through a sliding glass door was a glorious veranda overlooking the vibrant town of San Ignacio. It was almost as big as the room itself.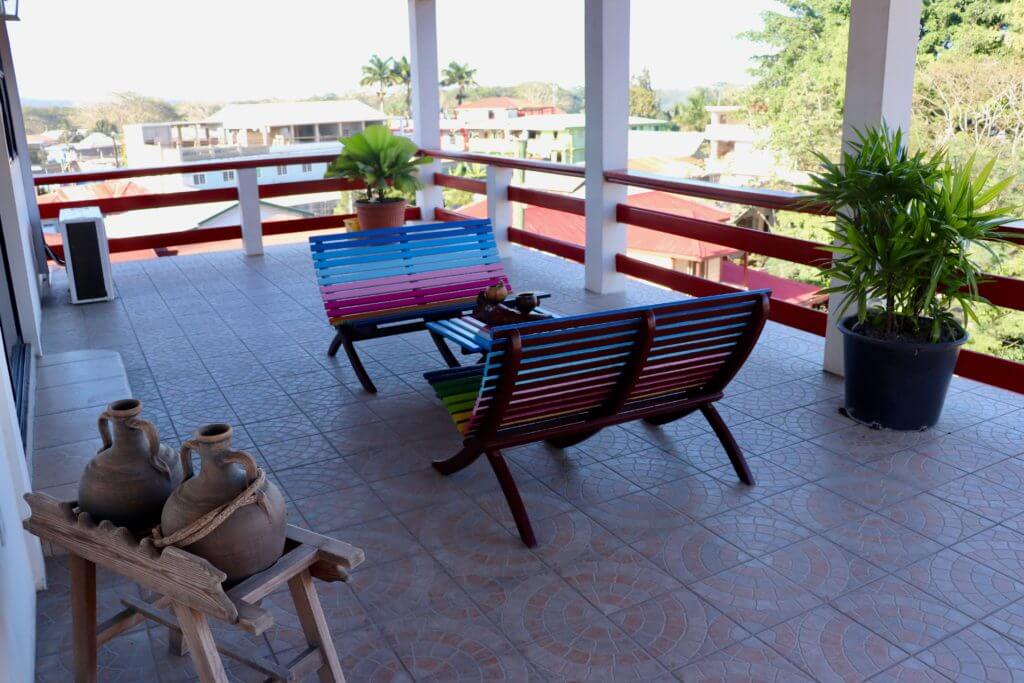 After a long day of travel and a big lunch, the rest of our night was low-key. We stopped by an open-air bar along the tourist strip for a rum punch apiece, then came back to the room to clean up and rest for our Caracol ruins tour the next day!
—
Tips for Arriving and Driving:
Try to arrive as early in the day as possible so that you have plenty of time to get to your first destination. Although the early wake-up was less than ideal, by the time we went to bed we felt like we had had almost had a full day in Belize.
I'm not sure if everyone is a stickler for this, but our immigration officer demanded that we list specific hotels rather than just the names of the towns on our Belize itinerary. It may be prudent to fill out your immigration form with as much detail as possible before you get to the window.
Make sure to check your credit card and/or car insurance benefits to see if rentals are covered in foreign countries. We saved over $100 by declining the insurance offered by the rental agency because we were covered by my Chase Sapphire card.
Driving directions for this Belize itinerary are fairly straightforward and highways are relatively well-marked. If you'd prefer, GPS devices are available from Crystal Auto Rental for $6 per day. For those with their own Garmin, I suggest purchasing the Belize map from GPS Travel Maps and loading it onto your device. It cost us a little over $15 and worked well. (2021 update: the current price is $18.)
While the major highways in Belize are well-kept and easy to drive, watch out for speed bumps and raised pedestrian crossings! There are a lot of them, especially on the major thoroughfares. While many are clearly marked, some are more difficult to spot.
—
Top Eats:
We stopped for lunch at a roadside restaurant called Cheers and loved it so much we ate there again on our way back north! It is located at Mile 31 on the Western Highway about halfway between the airport and San Ignacio. Their stewed pork with rice and beans (not to be confused with beans and rice) was superb and tasted even better when washed down with some fresh limeade. Cheers has a charming open-air setting, clean and well-appointed bathrooms, reliable WiFi, and a gift shop; they also offer cabanas if you need a place to stay the night.
---
Day 2: Explore Mayan Ruins with a Trip to Caracol
Our first full day in Belize started early. After a delicious breakfast at Martha's, we were picked up at 7:45 AM for our full-day excursion to Caracol.
Belize boasts an impressive number of Mayan ruins for such a small country and includes some tremendously important sites. While many people hop the border to visit Tikal in Guatemala, we decided to check out the largest Mayan complex in Belize instead.
Caracol is located about 80 km south of San Ignacio, deep in the mountainous jungles of western Belize. It's no easy feat getting there; while the ruins of Xunantunich and Cahal Pech are within walking or a short driving distance of San Ignacio, it takes about two and a half hours to access Caracol by way of rough, largely unpaved roads. The scenery along the way is magnificent, though, and the remote location means that you won't be sharing the ruins with mobs of other tourists. In fact, we encountered fewer than ten other groups during our time at the site, and our party of nine was the largest by far.
We chose to book an all-day excursion through Belize Nature Travel and were not disappointed. Santiago, our driver, expertly navigated the pothole-ridden roads to minimize our lumbar trauma and had a wicked sense of humor to boot. Our guide's name was Rene, and he had participated in excavations and research at Caracol and other Mayan ruin sites for over two decades.
We spent a few hours exploring the grounds as Rene painted a detailed and intriguing picture of what the human experience would have been like as an ancient resident or visitor of Caracol. As you can see, we were also able to climb up most of the structures. This not only afforded incredible views over the complex and surrounding jungle (at one point we could see the whole way to Guatemala), but allowed us to explore the tombs, chambers, and other nooks and crannies of the ruin. Considering many famous Mayan sites are roped off so that climbing is prohibited, this was a rare treat.
When, as Santiago put it, our "baby jaguars started growling," we sated our hunger with lunch in a nice, shaded pavilion.
Our next stop was Rio Frio Cave, about halfway back to San Ignacio.
A short hike brought us to the gaping mouth of the cave. Although the cavern was huge, it was amazing how quickly we found ourselves plunged into darkness.  Circles of weak, leafy light at each end were all we had to orient ourselves and illuminate the innumerable stalactites and stalagmites that adorned the cavern. We didn't stay long, but it wasn't a place that took a long time to appreciate.
Our final destination of the day was scheduled to be Rio on Pools. This lovely set of waterfalls and natural swimming pools is a popular stop on most Caracol tours before the final push back to San Ignacio.
Santiago, however, had other plans. He asked us if we wouldn't rather go to a more beautiful, more secluded spot called Big Rock Falls. We were game, and we ended up being very glad we said yes.
To reach the falls, you have to descend a long succession of wooden and earthen stairs. These bring you to the river, after which you carefully make your way along the slippery rocks toward a wide pool at the base of the roaring falls. The view and the swimming were well worth the effort, especially since we had the place almost entirely to ourselves. It was the perfect spot to bask in the sun and natural beauty or take a dip to wash away the exertion of our day!
—
Tour Information:
Our tour cost $100 USD per person and included driver and guide services, the $15 Caracol park entry fee, snacks, water, lunch, and three stops: Caracol, Rio Frio Cave, and Rio on Pools. While it wasn't cheap, especially compared to the prices of other tours I've taken in Latin America, the three of us agreed that it was a good value. Santiago and Rene took good care of us, the snacks and lunch were plentiful and tasty, and we even stopped at the more scenic and secluded Big Rock Falls rather than the advertised Rio on Pools that every other tour company includes. The tour was also small, just us and a lovely Canadian family of four, which made for a great day. You can book directly through Belize Nature Travel.
—
Top Tips for a Day Trip to Caracol:
While I highly recommend making the trip to Caracol, it is a long, rough ride that would not be pleasant for anyone with spinal problems or other injuries. If you are prone to back pain or motion sickness, try to sit as close to the front of the vehicle as possible and bring appropriate pain or nausea relief medications.
Don't forget your sunscreen and bug spray, and reapply frequently!
It's also helpful to bring a towel if you plan on taking a dip in the pools.
Watch where you step, as army ants patrol the grounds of Caracol and their bites are no fun at all.
Make sure to utilize the restrooms at Caracol to change into your bathing suit, as facilities elsewhere may be either very rough or nonexistent.
If your fellow tour members are fit enough for the short hike down to the falls (and back up again), ask your driver and guide about visiting Big Rock Falls instead of Rio on Pools.
Tips (customarily between 5-10% of the tour cost) for your driver and guide are much appreciated.
If you choose to self-drive to Caracol, my understanding is that you must join a convoy of vehicles. Check with the Welcome Center for more information before you set out on your own.
---
Day 3: Local Day in San Ignacio
After our adventure the day before, we used our final day in San Ignacio to experience the town itself. Following another fabulous breakfast at Martha's, we wandered the streets, eventually arriving at the pretty Cayo Welcome Center. The folks inside were very helpful as we planned out our day, and my mom enjoyed the fifteen minute video about visiting Belize. There's also a little one-room museum about the history of the area.
Maps and plans in hand, we walked the short distance to the market, which was bustling with shoppers, vendors, artisans, and a couple of fellow tourists. I love visiting markets in other countries. It's so fun to feast my eyes on the sea of colors, investigating the interesting new fruits and vegetables to be sampled. Walking through a local market gives you a unique glimpse of the local life and culinary culture of each place.
Next on our list was a trip to AJAW Chocolate and Crafts for a demonstration on the art of Mayan chocolate making. This was such a fun little find, and we were lucky enough to have the tour all to ourselves! Let's be honest – once we heard the word "chocolate" there was no way we three ladies weren't moving heaven and earth to find this place.
The fine folks at AJAW took us step-by-step through each part of the chocolate making process, starting with the history of cacao cultivation and ending with some delicious taste-testing! We got to sample cacao beans right from the pod, after having dried in the sun, and post-roasting, and even got to grind our own beans into paste on a warm stone.
Next came the best part: sampling the chocolate! Each of us was given a little wooden bowl with a spoonful of cacao paste. Our hosts then added hot water, honey, and a variety of spices such as cinnamon, allspice, and chiles. I thought it was delicious; Mom is more of a milk chocolate kind of gal and found it a little bitter! Either way, it was fun to drink hot chocolate the way the ancient Maya would have done.
Afterward, we went next door to the little gift shop, where we were given samples of chocolate bars made of 90% cacao. Of course, we picked up some souvenirs (mostly of the consumable variety) before heading on our way!
Our final stop of the afternoon were the ruins of Cahal Pech.
While not as large or impressive as Caracol, Cahal Pech is a palace complex rather than an urban center and thus was definitely worth the time to explore. In a funny twist of fate, we arrived at the visitor's center to find Rene, our guide from the day before, waiting to offer tours. We quickly enlisted his help and greatly appreciated his commentary and insight. Even if you've done Caracol, I suggest stopping in at Cahal Pech and enlisting a guide. Rene was able to paint a fascinating picture of the life of a ruling family as we walked through their courtyards, kitchens, bedrooms, and ceremonial sites.
The rest of our afternoon consisted of a late lunch, wandering the streets of San Ignacio, relaxing and journaling on our verandah at Martha's, and having a fabulous final dinner at local favorite Guava Limb (below). With so much that we didn't have time to see and do in San Ignacio, it was hard to accept that it was our final night. Happily, the rest of Belize would soon prove itself more than worthy of being explored.
—
Tour Information:
If you're interested in exploring the art of Maya chocolate making at AJAW, demonstrations ($12 USD) start every hour on the hour between 9:00 AM and 6:00 PM Monday through Saturday.
We paid about $15 per person for the entry fee to Cahal Pech and Rene's 1.5 hour tour.
—
Day 3 Alternatives:
If I am fortunate enough to return to Belize, I will absolutely be doing a tour of Actun Tunichil Muknal, or ATM. It was a little aggressive for my traveling companions on this trip, but everyone we spoke to (and our guidebook) said it was an absolute must-do. ATM (roughly translated as "the Cave of the Crystal Sepulchre") is a cave in the Cayo District that contains ancient Mayan artifacts and skeletons from victims of human sacrifice rituals. The sacred site is tucked deep in the cave, and to get there you have to hike through the jungle, climb through crevices, wade and swim across subterranean waters, and traverse all manner of obstacles. It sounds amazing, and I encourage you to check it out. Trips are available through Belize Nature Travel and most other outfits in town.
(Want to know more? Read Ashley from My Wanderlusty Life's thoroughly entertaining account of her visit here.)
In addition to ATM, there are plenty of other outdoor adventures to undertake during your time in San Ignacio. A friend of ours took a half-day and rode to the ruins of Xunantunich on horseback, which sounded lovely. Other equestrian tours, ruin visits, cave explorations, and wildlife safaris abound. San Ignacio is your oyster!
—
Top Tips for a Day in San Ignacio:
If you're not sure how to spend your time, the Welcome Center is very helpful.
It is a 25 minute uphill walk from the Welcome Center to the ruins of Cahal Pech, so depending on the heat and your stamina it may be prudent to take a quick cab ride. You can also rent mopeds or bikes in town to facilitate your exploration of the city.
Sunscreen and bug spray are your friends! 🙂
—
Top Places to Eat in San Ignacio:
Ko-Ox Ha-Nah translates to "Let's Go Eat" in Mayan, and you certainly should follow that advice! This unassuming little place sits right on Burns Avenue and serves delicious homestyle breakfasts, lunches, and dinners. Don't be surprised if you have to wait – it's worth it!
We ended up at the restaurant at Cahal Pech Village Resort after taking in the ruins of the same name. The food was good, but the view from the restaurant is the real attraction. (The menu was limited when we arrived in the middle of the afternoon but I understand that the expanded offerings are quite tasty.)
Probably our favorite restaurant in San Ignacio, Guava Limb was the first recommendation anyone gave us when we asked for local dining advice. The food was fresh and delicious, the drinks were dangerously good, and the menu was extensive and varied. Our fellow tour members at Caracol implored us to wear bug spray, as apparently the little critters were out in force when they ate there the night before. We didn't have trouble, but be prepared just in case.
---
Day 4: Drive to Hopkins, with Cave Tubing at Nohoch Che'en
We were sad to leave San Ignacio and the beauty of the Cayo District, but the fact that we were headed to the beach eased the parting a little! We were also excited to traverse the famed Hummingbird Highway, considered one of the most beautiful drives in Belize, and to stop at Nohoch Che'en Archaeological Reserve (or Caves Branch) for some tubing along the way.
Belize has a lot of caves for such a small country, and many of them are accessible for travelers to explore. One of the most unique ways to do so is cave tubing. You don a headlamp and lifejacket, plop yourself (somewhat ungracefully, in my case) into a large, inflated tube, and float through the lush jungle into the darkness of the Mayan underworld.
It was an easy, hour-and-fifteen-minute drive back up the Western Highway (with a right turn at Mile 37) to reach our cave tubing destination. Together with a fun family of four from Arkansas, we suited up and set off through the forest to our river entry point. Along the way, our guide, Manuel, pointed out notable plants, trees, and insects, and even challenged us to eat termites like the ancient Maya would have done on a trek.
The hike included three river crossings that ranged from ankle- to waist-deep, but the water was cool and refreshing and a rope was available to help you through any stronger currents. As a plus, we got views like this one as we crossed the rocky shallows:
Finally, we reached our entry point, which really made you feel like you were about to float your yellow tube right into the underworld.
Our guides helped us into our tubes and linked us all together. Then, we set off into the darkness.
It was an experience unlike any I've had in my travels. The first cave was low and wide, with little stalactites hanging so close above your headlamp that you felt like you could reach up and touch them. Manuel had a stronger flashlight to point out interesting formations, and he shared the natural and human history of the caves as we floated along. The blackness was pierced only by our artificial lamps, and it was silent and still with the exception of the soft movement of the river underneath us. It was otherworldly, and not a little eerie.
Soon enough, though, the darkness waned and we emerged back into the jungle.
After a short, peaceful float, the next cave appeared. This cave was longer, larger, and more varied in its chambers and formations. We saw huge stalactites and stalagmites, rocks that glinted and sparkled as our lights hit the quartz fragments within them, and even a couple of small, unimpressed bats hanging out in cozy corners.
All too soon, we slipped out into the sunlight for the final time and enjoyed a leisurely float back down the river. We were permitted to hop out of the tubes to swim in one of the deeper stretches, but I was far too relaxed and comfortable to move.
After splashing out of the river, returning our tubes, and changing into dry clothes, we drove back to our tour company's headquarters for a delicious homemade lunch. Then, with a fond farewell to Nohoch Che'en and our new Arkansan friends, we continued on our way toward Hopkins.
The route had us heading west to Belmopan before turning onto the Hummingbird Highway, a truly breathtaking stretch of road that winds south through the impossibly lush Maya Mountains. It was sunny and warm, with a new postcard-perfect view at every turn. It was impossible to feel anything except jubilant, grateful, and optimistic for the rest of our trip. The two-hour drive flew by in a flash.
Soon enough we rolled into the funky, colorful beach town of Hopkins and located our hotel near the end of the dusty main drag. Parrot Cove Lodge sits on one of the few stretches of sandy beach in mainland Belize and boasts clean, bright rooms, a lovely pool area, and plenty of hammocks and beach chairs to enjoy the sunshine between the palm trees. One of the best restaurants in town is on property, and the staff are among the friendliest and most welcoming people we met on our trip.
As in San Ignacio, our room options were somewhat limited because we were traveling as a group of three. This worked in our favor at Parrot Cove, though, because the rooms that were large enough for us just happened to be facing the ocean. As none of us typically springs for a beachfront room on vacations, it was such a treat to be able to walk onto our balcony and be greeted with a view of the Caribbean Sea.
Brooke, in particular, was excited about the hammock on our balcony. The bar downstairs wasn't exactly unwelcome, either, as we all enjoyed a round of celebratory drinks served by the bartender (and our new best friend), King.
Is there anything better than a rum punch and oceanside sunset at the end of a long day of adventure in the tropics?
—
Tour Information:
We chose Cave Tubing Belize to be our guides through the caverns, and they were great. Our tour cost $45 USD per person and included the $5 park entrance fee, tubes, life jackets, head lamps, guide services, and a delicious home-cooked lunch afterward. A nice touch was that our tubes were carried to the entry point for us so that we didn't have to bother with them on our short jungle hike. You can book directly through their website or choose any of the other tours below.
—
Top Tips for Cave Tubing:
Bring a waterproof camera or take precautions with your electronics. Not only will you be crossing rivers and floating upon them, but water can drip unexpectedly from the cave ceiling.
Wear sturdy shoes that are appropriate for a jungle walk but also able to get wet as you tube. I love my KEEN Sandals that I got specifically for this trip.
Especially if you plan to swim on the final stretch of the river, having a towel and change of clothes in your pack is handy. There are nice changing facilities in the reserve.
Say it with me: Bug spray and sunscreen!
Tips (customarily between 5-10% of the tour cost) for your guide(s) are much appreciated.
—
So there you have it: Part I of our itinerary for a week in Belize! Stay tuned for Part II, which will hit the site on Wednesday. Want to be the first to know when it arrives? Do yourself a favor and subscribe using the handy form on the right side of this page!
See you Wednesday!
—
Read More:
The Essential Belize Packing List
15 Reasons Why Belize Should Be on Your Bucket List
25 Perfect Mother-Daughter Trip Destinations
25 Lessons from My First 25 Countries
—
This Belize itinerary was first published on April 2, 2018, and last updated on April 4, 2020.
—
Need some help planning your own Belize itinerary? Full Life, Full Passport offers customized itinerary planning for all kinds of trips and budgets.
—
Want to be the first to know when a new post is published, or to receive exclusive content directly to your inbox? Join our email list!