Welcome to the first Flashback Friday of 2021! Today I'm flashing back to early 2011 when I was backpacking Southeast Asia. One of my favorite things we did on the trip was take a two-day Mekong River cruise in Laos. It was a unique, relaxing way to experience the beauty of the Lao countryside and gave us an immediate appreciation for this hidden gem of a country.
Check out my account of this off-the-beaten-path trip below! I've included plenty of photos as well as actual excerpts from the journal I kept during my two-month backpacking adventure.
---
(Note: some of the links in this article may be affiliate links, which means that I may earn a small commission from your purchase at no additional cost to you. Thank you for supporting Full Life, Full Passport! You can find the full disclosure here.)
---
January 26 – 27, 2011
We had crossed into Laos from Thailand the night before. It had felt like a blaze of glory; the sun was setting over the Mekong as we raced across in our longboat taxi. It had been a long day of travel from Chiang Mai, our home for the past few days and where I had celebrated my 24th birthday. Now, we had what felt like moments to spare to make it to the Lao side of the river before the passport office closed and we were turned back to Thailand. We made it just in time.
The whole reason we had journeyed this far north was to ride the slow boat. One of Southeast Asia's backpacker rites of passage, the slow boat was a two-day journey down the Mekong River in a rickety, long, narrow, brightly painted wooden boat. It was supposed to be a trip of incredible beauty, a languid float through the pretty Lao countryside, and considerably less dangerous than the "fast boat" that rocketed down the river and sometimes failed to arrive at its destination in one piece.
Thanks to a helpful employee at our hostel, we were picked up early the next morning and able to secure good seats on our boat. Everything we'd heard and read about the slow boat had indicated that we'd be sitting on hard, wooden benches for the duration of the ride, but we arrived to find the cabin lined with rows of what appeared to be old car seats. We had bought cheap cushions in Huay Xai in anticipation of an uncomfortable ride, but ended up not needing them.
My two traveling companions and I managed to score seats on a raised platform at the front of the boat, far from the bathroom and noisy engine in the rear. Our seats faced into the boat, so we were able to stare straight ahead and watch the world go by while enjoying lots of room to stretch our legs.
That morning was pretty typical of our backpacking experience in that we arrived at our stated time only to find out that we wouldn't be leaving for hours. Ours and the boats around us slowly filled up with passengers, casting off one by one once they'd reached capacity. Finally, we were on our way.
The scenery did not disappoint. As I wrote in my journal that night,
"This ride has been probably my favorite part of the trip so far. As we slid through the water, hitting only the occasional bump as we went over another boat's wake, the world passed by in a continuous stream of green-mountained splendor, punctuated occasionally by a bamboo hut village or some farmers or fisherfolk at work.
I felt worlds away from civilization, like it was just us and the sunshine and the breeze coming in through the open, glassless windows. Even though the scenery didn't change much, it never got boring. The river was punctuated by rocks sticking up out of the water at random, and the rest was all sandy beaches and rolling green hills.
Occasionally a giant boat would pass by, a long iron monstrosity with an entire two-story house perched on the back, often with a satellite dish. It was a pretty interesting juxtaposition.
Laos is absolutely breathtakingly gorgeous. The passengers seemed well content, buying food from the little snack bar of sorts and sitting in the windows with a foot or two dangling out over the water. It was hard not to feel at peace."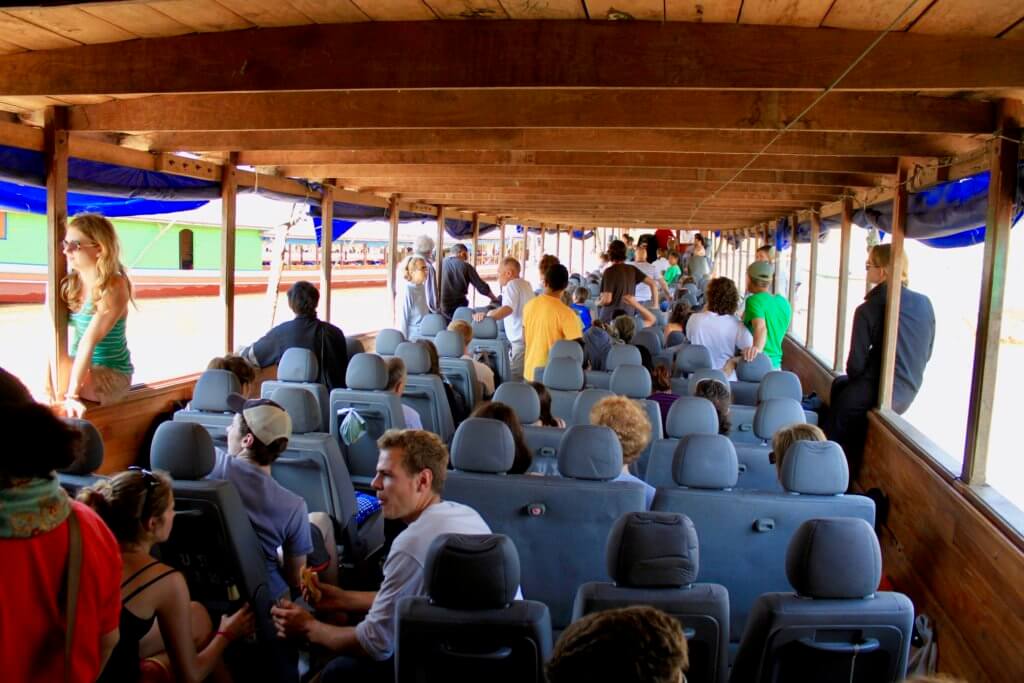 The sun was starting to set when our boat finally turned toward the shore. We would be spending the night in Pak Beng (or Pakbeng), a village that seemed to have been built for the sole purpose of housing people off the slow boat. The place was crowded with guest houses, hotels, restaurants, and bars. As more and more longboats docked, hordes of tired, hungry travelers descended upon Pak Beng like a swarm of locusts. For a while, it was pure madness as people rushed off to find accommodations.
In typical backpacker style, we hadn't researched places to stay ahead of time, let alone booked ahead. Thankfully, we were able to find a room in a cheap (if somewhat sketchy) guest house despite the crowds.
The next morning, we got to the boats early again to try to grab another round of good seats. For the most part we succeeded, even though this boat was considerably less comfortable than the first. We ended up on wooden benches, where the cushions we'd purchased in Huay Xai quite literally saved our bottoms during the nine-hour-long ride.
The second day's ride felt longer, but the scenery was still impressive. The portion of the roof above where we were seated retracted on rickety tracks, so we enjoyed the open air as we moved down the river. I spent a lot of time at the back of the boat sitting on the wooden windowsill and staring out at the passing countryside. The wind in my face and the gorgeous view did wonders for the soul.
From my journal:
"… It was a bit of a long afternoon. We left at about 9:30 AM and didn't get into Luang Prabang until 6:30ish. Lots of reading and music. The last hour or so, however, was completely worth any money we paid for the trip. The scenery got more dramatic as a huge mountain covered in green vegetation appeared, with a bare, white, flat side facing the river. In the mountain was a cave with a shrine to the Buddha, with glistening white stairs and paths leading up to it.
The sun was also beginning to set, throwing everything into wonderful color and setting the sky on fire with a gorgeous array of blues, reds, oranges, and purples.
We made it to Luang Prabang just as the sun dipped below the mountains, whose peaks looked like the rolling waves of the sea. It was jaw-dropping, heart-stopping beautiful."
---
If you ever find yourself headed to Southeast Asia, I highly encourage you to put Laos on your list. While it doesn't get the attention that neighboring Thailand, Vietnam, and even Cambodia receive, it is definitely worth a visit. We only spent about ten days in Laos between the Mekong River cruise, Luang Prabang, Vang Vieng, and the capital of Vientiane, but we could have easily stayed longer to explore more. The food is outstanding, the landscapes are breathtaking, and there are plenty of cultural and outdoor activities to fill your time. You won't regret it!
Like the post? Pin to save or share!
—
Read More:
The Death and Rebirth of Vang Vieng, the (Former) Party Capital of Laos
Flashback Friday: An Overnight Cruise in Vietnam's Ha Long Bay
Flashback Friday: Riding the "Death Railway" over the Bridge on the River Kwai
Exploring Vietnam's War History in the Cu Chi Tunnels
—
Need some help planning your trip to Laos? Full Life, Full Passport offers customized planning services for all kinds of vacations and budgets! 
—
Want to be the first to know when a new post is published, or to receive exclusive content directly to your inbox? Join our email list!