You may have heard of or seen the 1957 film The Bridge on the River Kwai, but did you know that you can tour the actual bridge site in Thailand? Visiting the Bridge on the River Kwai was one of the first day trips we took during our 2011 Southeast Asia backpacking adventure, and it was one we wouldn't soon forget.
---
The only thing I knew about the Bridge on the River Kwai before arriving in Asia was that it was the name of an old movie. I didn't know that there was a real bridge and that the Kwai (or Khwae) was a real river. I definitely didn't know that the bridge was just a tiny, albeit famous, part of the Burma Railway, whose construction would cost over 12,000 Allied soldiers their lives.
During World War II, the Japanese forced prisoners of war to build a rail link that would ultimately connect Bangkok, Thailand, with Rangoon, Burma (now Yangon, Myanmar). Conditions were horrific; prisoners suffered from disease, malnutrition, and brutal violence from their captors all while enduring backbreaking labor in the dense and mountainous jungle. While much of the "Death Railway" fell into disrepair or was dismantled after the war, parts of the railroad are still in use in Thailand.
Now, visiting the Bridge on the River Kwai has become a tourist activity. There's a small museum nearby, and many people take a sightseeing train ride out into the countryside. Despite the suffering that occurred in its construction, it was a peaceful spot and a beautiful ride.
Instead of summarizing our experience for today's Flashback Friday post, I thought it would be fun to share my actual journal entry from visiting the Bridge on the River Kwai and riding a portion of the Death Railroad.
---
January 19, 2011
Ayutthaya, Thailand
We woke to an alarm this morning so as to be able to make our 8:00 AM rendezvous with our driver, Tok. He was a happy, easygoing sort with a lead foot and an easy laugh. We soon were speeding out of the city, with Kyle and Katie in the backseat and me in the front. It was kind of weird being in the front left [seat] and not driving, but I got a great view as we flew past rice paddies and bustling towns.
It took about two hours or so to reach Kanchanaburi, which was a larger town than I anticipated. Our first stop was the war cemetery, where [some of] the Dutch and Commonwealth servicemen who perished building the Death Railroad and the bridge over the River Kwai are interred. It is a solemn, peaceful, and impactful place, with rows of identical headstones separated by different kinds of flowers and low shrubbery. There was a wide space up the middle with a cross at the center, as well as a few trees spaced throughout.
I walked through a row on the Commonwealth side, where the headstones bore the names, ages, branches, and dates of death for each man there. Under all that information was sometimes an epitaph from spouses or family that choked me up.
Such a waste.
We didn't stay long, and then it was off to the bridge and a little museum. We paid 40 baht ($1.33) to enter the JEATH War Museum and got our first look at the Bridge Over the River Kwai from a platform just inside… Built of black iron, it spans a rather pretty river Kwai (or Kwae) that is lined with green vegetation and floating houses and restaurants on either side.
After we wandered the museum, which had some weapons, artifacts, and photos but not much else… I ended up walking the bridge to about the middle, taking photos and generally exploring. It was neat to be able to walk across, though it was crowded with tourists. Railroad tracks took up the middle but other than that it was a normal bridge until you remembered the sacrifices that had been made to construct it.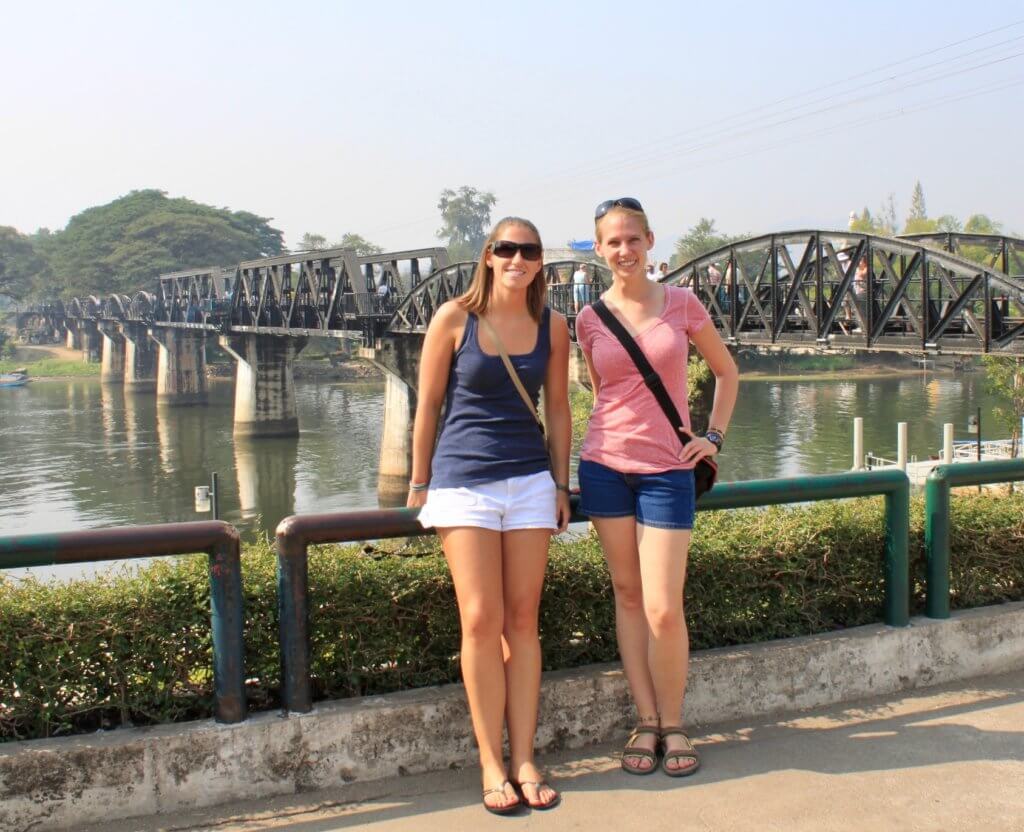 … We took more photos before returning to Tok. He led us to a train platform for what he promised was a beautiful ride along what I assumed to be part of the Death Railway. The three of us found ourselves in a carriage full of Thais, including a couple who wanted a photo with the white people. There were a bunch of kids right behind us, including one who kept making the most remarkably lifelike bird calls.
It cost 100 baht to go for about an hour and a half through the countryside. Immediately outside the platform and over the Bridge we were removed from city life and spent the trip rocking and rolling through fields and past rivers. Things are quite dry right now; brown and red earth mixes with the occasional bright green of a rice paddy or deeper green of trees and foliage.
We passed some mountains that were rounded and dramatic and the very kind of topography I had been excited to see in Asia. Often they were off in the distance, shrouded in haze and more brown in color than I might have thought from all those photos of those gorgeous southern Chinese river valleys, but the effect was still striking.
We were a little nervous that we wouldn't know where to get off the train and that Tok wouldn't be there (a few jokes were made about us finding ourselves in Burma [Myanmar]), but as we pulled into a rather beautiful, resort-like place nestled in a river valley there he was, waiting. Enthusiastically, we greeted him and then followed him to his car.
Visiting the Bridge on the River Kwai and riding the Death Railway only took a few hours of our time, but it was very impactful. Having not yet been to Europe, these were the first World War II sites I had ever visited. Not only that, but it was an episode of the war with which I had been completely unfamiliar.
After the heaviness of the war cemetery and the little museum in the shadow of the bridge, the train ride was actually a really beautiful way to end our visit. Although we were traveling along a track that had been built under the most horrific conditions, the countryside was so lovely and peaceful. It gave me a lot of hope that even times of terrible darkness don't last forever, and that joy and beauty can come along after all.
Like the post? Pin to save or share!
—
Read More:
Flashback Friday: A Secluded Beach Getaway in Thailand
Exploring Vietnam's War History in the Cu Chi Tunnels
The Death and Rebirth of Vang Vieng, the (Former) Party Capital of Laos
—
Need some help planning your trip to Thailand? Full Life, Full Passport offers customized planning services for all kinds of vacations and budgets!
—
Want to be the first to know when a new post is published, or to receive exclusive content directly to your inbox? Join our email list!