Looking to take a long layover or short trip to Iceland? Use this guide to see some of the best sights in a short time!
---
A few weeks ago, I shared an action-packed itinerary from M's and my trip to Iceland. Our visit came as a result of finding a great deal for a three-night trip, which meant we didn't have much time to waste in this incredible country that had been so high on our travel lists. We hit the ground running and didn't stop, packing two full-day road trips (totaling about 1,250 km, or 780 miles), a guided tour of the Golden Circle, and some quick wandering around Reykjavik into our three days.
There's no question that Iceland is a place that lends itself to exploration. Even though it's not a big country, it's easy to be overwhelmed by the sheer volume of things to do, places to see, and one-of-a-kind experiences available. While we put the pedal to the metal and loved every minute, there is a lot to be said for adopting a slower pace and not pushing to travel so far afield. There is plenty to see and do within a couple of hours of Reykjavik that will leave you absolutely enamored with this amazing island, including spots that M and I had to pass by in the interest of reaching our far-flung destinations.
Therefore, as promised, here is a more leisurely itinerary for your quick stopover or long weekend trip to Iceland!
---
(Note: some of the links in this article may be affiliate links, which means that I may earn a small commission from your purchase at no additional cost to you. Thank you for supporting Full Life, Full Passport! You can find the full disclosure here.)
---
---
---
Itinerary at a Glance: A Short Trip to Iceland
Day 1: Reykjavik and the Blue Lagoon
Day 2: The Golden Circle, with seasonal northern lights tour
Day 3: Road Trip to Vík
---
---
Day 1: Reykjavik and the Blue Lagoon
One of M's and my biggest regrets from our trip was that we didn't get to properly explore Iceland's fun, funky capital city of Reykjavik. It's a colorful town prettily situated along the water, with mountains looming in the distance, clean streets, interesting museums, good food, and lots to do. Especially if you are landing early in the morning after a red-eye flight, staying local and getting acquainted with this lovable city would make for a great, low-key first day!
On our final morning in Iceland, M and I used the few hours we had before our afternoon flight home to walk the city. Because our hotel was located near Old Harbor, our journey largely took us along the water. We ended up at a little grass-covered hill (actually an art installation) called Þúfa, which had a nice view of the sea, mountains, city, and marina.
You can reach Þúfa by heading toward the Saga Museum located at Grandagarður 2 (and well worth a visit in its own right). Follow Grandagarður street behind the museum until it forks in front of a low stone wall. Turn right and follow the wall to the end of the little peninsula and you'll see Þúfa!
Afterward, we turned back toward the city center and wandered the streets, taking in the colorful buildings and enjoying the bright sunshine. When we return, we'll be doing a lot more of that! First on our list of things to see will be the iconic Hallgrímskirkja, the famous concrete church in the center of Reykjavik that adorns many postcards and Instagram feeds.
Designed to reflect Iceland's rocky, icy, otherworldly landscape, Hallgrímskirkja is the most recognizable landmark in the city and one of the tallest manmade structures on the island. The tower soars almost a half-mile skyward. It has an observation deck that affords 360° views out over the city, ocean, and surrounding countryside, which would be well worth the $10 USD admission on a clear day. For more information about visiting Hallgrímskirkja, check out this link.
M and I were able to circle the church after dark one night, but I would love to visit again and see the interior – including the spectacular pipe organ – and take in the view from the top! I highly suggest you make Hallgrímskirkja a priority.
Other fun activities for your day in Reykjavik include:
• Checking out one of the many excellent museums, which range from historical to cultural to natural to phallological (yes, you read that correctly).
• Stopping into one of Reykjavik's ubiquitous cafes to enjoy a tasty cup of joe with the locals. If you, like M, are an ardent drinker of coffee, you'll love Reykjavik's thriving cafe culture. Many of these cozy spots evolve nightly into hip bars, so you really never have to leave. Look for happy hour deals to cut down on your alcohol expenditure; drinking is pricey in Iceland.
• Admiring Harpa, the concert hall and conference center that sits along the waterfront and dazzlingly reflects light off of its textured glass facade. If you'd like, tours are also offered for about $15 USD. As an added bonus, the famous Sun Voyager sculpture is only about a ten-minute walk away!
• Making like a local and taking a dip in one of the many municipal swimming and thermal pools (sometimes called "hot pots") that dot the city.  Popular places to do this include Laugardalur Park (which also boasts a spa, zoo, sports facilities, a botanical garden, and more), Árbæjarlaug (which is great for families), and Sundhöllin (conveniently located right in the middle of town).
• Shopping on Laugavegur street.
• Taking one of the many adventure and/or sightseeing tours available outside of the city, if you've had your fill of the urban scene already. Tour providers abound, offering everything from horseback riding to hiking to Jeep adventures.
—
To end your day, head about forty-five minutes outside of Reykjavik to one of Iceland's most famous and popular tourist attractions, the Blue Lagoon. This paradise of relaxation offers everything you could need for a day of pampering: perfectly warm water, exfoliating mud, a spa, sauna, steam rooms, and a bar.
For added bliss, treat yourself to an in-water massage: float on a mat while someone kneads and rubs away all your stress! You'll head back to Reykjavik feeling like a warm noodle and ready for your days of adventure to come!
The Blue Lagoon is a bit polarizing; some say it's overpriced and overcrowded, while others count it as a highlight of their time in Iceland. There are plenty of other hot springs and thermal pools around the country if you'd prefer, but accessing the Blue Lagoon is very easy from Reykjavik if you're on a short trip to Iceland.
---
Tips for Reykjavik and the Blue Lagoon:
Our travel deal included a three-night stay at the Icelandair Hotel Reykjavik Marina, which we really enjoyed. The hotel was clean and comfortable, with a great breakfast and a beautiful, convenient location. As the name suggests, we were right on the marina, which made for some nice strolling on the morning of our departure. The hotel is about a twenty-minute walk from Hallgrímskirkja and ten minutes from the Harpa concert hall.
One of the most cost-effective ways to experience Reykjavik is to purchase a City Card that includes "free entry to a great selection of museums and galleries, all swimming pools in Reykjavík and free unlimited travel by bus within the Reykjavik Capital Area. In addition, the card also gives you a free ferry trip to Viðey island and discounts on various tours, in shops and on services" (source). These cards are available at many hotels, museums, and tourist offices. If you're planning to spend a couple of days in the city, the best value is the 72-hour card, which nets out to a little less than $18 USD per day.
Regardless of whether you're visiting the public baths or the Blue Lagoon, any geothermal soak must be preceded by a full shower – without your swimming suit.  Cleaning yourself completely helps prevent the growth of bacteria in the warm water, and it's a big, offensive faux pas to skip this step.
Pre-booking is essential for visiting the Blue Lagoon. As it is located about forty-five minutes outside of Reykjavik, you will also need to arrange transportation to the site. If you don't have a rental car, you can take a public bus or consider booking through a tour company. (I have read that the latter option can actually be more cost-effective than buying a public bus ticket and lagoon admission separately.) We had a great experience on our Golden Circle tour with Reykjavik Excursions (see below), and they also offer a variety of Blue Lagoon-inclusive tours ranging from simple transfers ($32 USD) to transfers plus admission ($118 – $140 USD depending on the package) to tours that pair the Blue Lagoon with other activities (price varies).
---
For a little more adventure…
---
Day 2: The Golden Circle, with seasonal northern lights tour
Our package included an organized tour of the Golden Circle through Reykjavik Excursions for our second day in Iceland. It was wonderful to enjoy a full day of exploration but not have to drive ourselves or do any planning! We were also grateful for our tour guide's commentary, which helped us to understand and appreciate the unique and fascinating places we were experiencing.
Our Golden Circle tour began with a quick coffee stop at Icelandic Horse Park Fákasel, where we got up close and personal with some of the island's iconic horses…
… followed by a drive out to one of Iceland's most famous waterfalls, Gullfoss.
Although we had a lot of stops to make on our tour, M and I rarely felt that the pace was too hurried. We had enough time to admire the waterfall from a number of viewpoints along the wooden boardwalk and even managed a quick browse through the gift shop before we had to board the coach.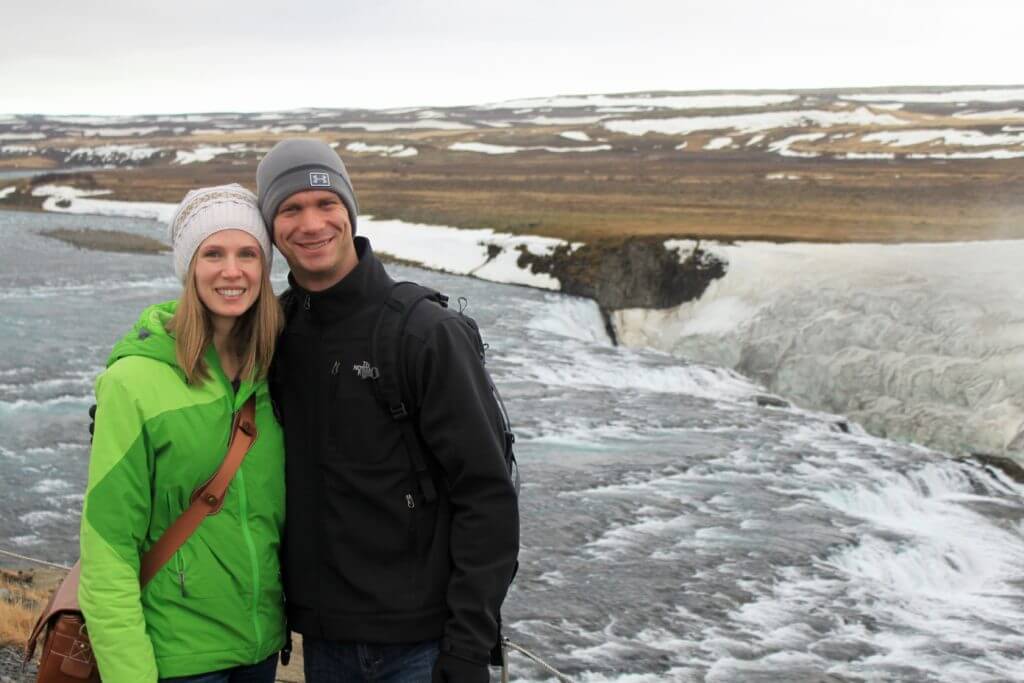 It was a quick drive from Gullfoss to our next stop, Geysir, where we were able to marvel at this geothermal hot spot and grab some lunch at the sizable gift shop and restaurant complex across the street. Although the famous Great Geysir, after which all geysers on Earth are named, is presently going through a period of inactivity, its younger brother Strokkur was happily bubbling away and erupted multiple times as we wandered the grounds.
By that point, it was time for some mid-tour relaxation. Not far from Geysir are the Laugarvatn Fontana Geothermal Baths. Much smaller and less famous than the Blue Lagoon, these baths have a lot going for them. First, the hot springs at Laugarvatn are naturally occurring, rather than pumped in from the nearby geothermal power plant like at her more famous cousin. The saunas sit right over naturally occurring steam vents, so if you're looking to get close to the source, you've found it!
Second, the setting is gorgeous, with the facilities located alongside a pristine lake ringed by mountains. If you'd like to be truly Nordic, you can hop out of the pools or saunas and plunge into the lake water, which is warm toward the shore but quickly turns chilly as you paddle away. M was brave enough; I stayed comfortably settled in the baths. We were also fortunate that it was not crowded – there were few other bathers aside from those in our own group.
Before we showered (again, required to prevent bacterial growth in the springs) and sank into hot tub bliss, our group was treated to a demonstration of a traditional method of Icelandic bread baking. We were ushered from our bus to the lakeside, where you could see hot water bubbling up through the sand. Our host, Snorri, used a shovel to unearth a ceramic pot that had been filled with bread dough and buried over a hot spring the day before. Now, twenty-four hours of bubbling later, the dough had cooked into a delicious rye bread that we enjoyed with fresh butter.
If you're not with a tour, entrance to the baths will cost you about $30 USD, with an additional $6.50 each if you need to rent a towel or bathing suit. There's a restaurant on site with a lovely view of the lake, as well as shower and locker facilities. The geothermal bakery experience above costs $12.
It was hard to tear ourselves away from the thermal spa, but we eventually had to move on to our last stop of the day, Þingvellir (pronounced "THING-vell-eer") National Park.
We could have spent more time at most of the stops on the tour, but Þingvellir was the only place we felt rushed. Located on the boundary of two separating tectonic plates and the site of the first democratic parliament in world history, the whole place is of tremendous historical and geological importance. There's excellent hiking and even scuba diving in the rift valley, but unfortunately, we didn't get much more than some drive-by narration and a quick photo stop.  Þingvellir is so big, though, and has so much to do that anything short of a full day would have felt insufficient.
Photos snapped, we hopped back on the coach and returned to Reykjavik, where M and I found some dinner and called it an early night. We had planned to seek out the northern lights after our tour, but the forecast was low and the cloud cover had been pretty thick all day. Speaking from experience, though, I recommend taking any opportunity you can to see the lights if the skies and forecast are promising. They're absolutely breathtaking. Your hotel or guest house should be able to help arrange a tour and give you information about your chances of seeing them on any given night.
There also is plenty to do in Reykjavik after dark; that lively bar and cafe culture I mentioned above is worth experiencing if you're so inclined. We were simply tired and wanted to rest up for another full schedule the next day!
---
We were happy to have taken a guided tour of the Golden Circle, but if you prefer to do things independently and control how much time you spend at each location, you could easily replicate our tour itinerary with your own rental car. Be advised that you may be charged an entrance fee for some or all of the the attractions listed here, so it may be prudent to estimate what your total cost might be and judge for yourself whether a tour makes more or less financial sense.
---
Tips for the Golden Circle and Northern Lights:
While the setting of the Laugarvatn Fontana Geothermal Baths is lovely, feel free to choose a tour without the baths if you have already visited the Blue Lagoon or intend to later in the trip. There's nothing wrong with a little extra relaxation, though!
There are a few different options when it comes to tour itineraries for the Golden Circle. In our experience, most included the big three: Gullfoss, Geysir, and Þingvellir. At the time of writing, the price for the tour we took (which included the Laugarvatn Fontana Geothermal Baths) was about $103.
If the forecast looks promising, drive your rental car outside the city or book an organized tour to see the northern lights. Remember that the lights are only visible when the sky is dark, so if seeing them is a priority you will want to visit in the fall, winter, or early spring. They can be visible at any point during the night and are notoriously fickle, but the best hours were between 11:00 PM and 2:00 AM based on our research.
---
If you have more time…
Spend at least a half-day at Þingvellir, and try the scuba diving for a completely unique and unexpected experience!
Visit Laugarvatn Fontana Geothermal Baths in the evening to bathe under the stars and – if you're lucky – the northern lights.
---
Day 3: Road Trip to Vík
It's time to hit the road on your own! After exploring Reykjavik, relaxing in the Blue Lagoon, and taking in the wonders of the Golden Circle, your best option for your final day in Iceland is to head farther afield and experience part of the famous Ring Road.
On our third day in Iceland, M and I traveled almost eight hundred kilometers roundtrip along the Ring Road to reach the glacial lagoon Jökulsárlón. It was an incredible day, but long and exhausting! Luckily, you can easily cut our driving distance in half and make the southern town of Vík your destination instead. Vík is less than two hundred kilometers below Reykjavik, or about a two-and-a-half-hour drive, with plenty to see and do along the way to break up your time on the road.
The Ring Road, or Route 1, is very well-maintained and easy to navigate, making it a joy to drive. Leaving Reykjavik, you'll spend about an hour or so passing through scattered towns and villages before the country really starts to open up. The scenery doesn't disappoint; one of our favorite parts of driving the Ring Road was how often we would look out the window to find a waterfall plunging over the cliffs.
Two of the most recognizable Icelandic waterfalls, Seljalandsfoss and Skógafoss, are clearly visible from the highway about an hour and a half and two hours outside of the capital, respectively. They're very easy to access, with signs marking where you should turn off the Ring Road for each.
We visited Seljalandsfoss after dark on our way back to Reykjavik and admired Skógafoss from the car in the morning as the rain came down in sheets, but on a better day there are footpaths to follow at both cataracts for additional views. Thanks to Instagram, these waterfalls can get quite crowded, so it's best to go early or very late for more elbow room.
Once you've reached this area, you're officially in the land of fire and ice. To your left, often hidden behind the ridges, are volcanoes, glaciers, and other natural wonders. One of the most famous volcanoes under whose shadow you will pass is Eyjafjallajökull. This mouthful of a force of nature wreaked havoc on European air traffic back in 2010 and drew so much attention in doing so that it became a major reason for Iceland's massive boom in tourism.
Also nearby are Sólheimajökull, an easily accessible glacier, and the ice cap Mýrdalsjökull, which blankets the volcano Katla.  There are plenty of opportunities for hiking, exploration, and ice climbing, but make sure to check with local offices to see if you need a guide. Never attempt a glacier hike alone, as the ice can be unstable and crevasses are easily concealed by snow. The town of Skógar (adjacent to Skógafoss) is a great place to find tour operators and hiking guides.
The stretch between Skógar and Vík is less than thirty-five kilometers long, but you could easily spend the majority of your day there exploring Iceland's otherworldly topography. If beaches and coastlines are more your style, turn off the Ring Road before you roll into Vík. There, you'll find the wreckage of a US Navy plane, the black sand beach of Reynisfjara, and a massive sea arch called Dyrhólaey. (Take caution on the beach, as "sneaker" waves can strike unexpectedly.)
The largest town for dozens of kilometers, Vík makes a worthy stop in and of itself, with a beautiful black sand beach, green cliffs where puffins roost, a series of impressive sea stacks, ice-capped mountains in the distance, and plenty of services. Opportunities for great vistas abound, whether by walking up to the church in the photo below or taking the more strenuous hike to the top of the ridge west of town.
If you're in need of a bite, there's a supermarket in town for self-catering, or you can follow in M's and my footsteps and enjoy cozy, tasty Suður-Vík. You can also fill up your tank, if needed, before pointing your headlights back north toward Reykjavik.
---
Tips for Driving to Vík:
Consider an early departure. While the drive to Vík would take a little less than two and a half hours if you drove it without stopping, there is so much to see and do along the way that you will want to make sure you have plenty of time to enjoy as many sights as possible.
It's helpful to pack some snacks and water, as there are some stretches that have few to no services available.
Make sure to dress in layers or have extra clothing in your pack, as the weather can change quickly. A rain jacket is imperative; better to have it and not need it than to find yourself unprepared in a sudden shower! Particularly if you're planning to explore the glaciers or hike to any height, it's wise to have warm clothing.
Iceland's landscapes are extremely fragile, so you should never stray from marked paths, trails, and roads. Something as seemingly innocuous as a footprint on some moss could actually mean damage that will take decades to heal.
---
If you have more time:
Plan to stay in one of the many small, family-run guesthouses that line the Ring Road for a quiet night outside the city. Make sure to book ahead, especially in summer. Alternatively, you can stay overnight in Vík to break up your drive and spend more time exploring.
One of the most popular hikes in Iceland lies just off your route. Laugavegurinn is a 55km trek that takes about four days to complete. Whether you go with a guide or not, booking ahead is essential to ensure space in the rest huts along the way.
---
For a little more adventure…
Leave early in the morning and make Vík your halfway point on a trip out to the glacial lagoon of Jökulsárlón. Some of Iceland's most stunning scenery lies along the highway east of Vík, including lava fields, glaciers, waterfalls, tiny colorful villages, huge swaths of black sand, and formidable mountains.
—
There you have it – a less strenuous, but still exciting and comprehensive, itinerary for a long weekend or short trip to Iceland! I hope that these two articles have been helpful as you've planned your own trip or inspired you to consider making this unbelievable country a priority. You certainly won't regret it; I'm already planning my return!
Happy travels!
—
Have you been to Iceland? What were the highlights from your trip?
Are you more pedal-to-the-metal when traveling, or do you like to take your time?
Like the post? Pin to save or share!
—
Read More:
Three Action-Packed Days in Iceland
10 Things I Will Do on My Next Trip to Iceland
Wanna Know My Secret?
—
Need some help planning your vacation to Iceland? Full Life, Full Passport offers customized itinerary planning for all kinds of trips and budgets.
—
This guide to how to spend three days in Iceland was originally published on May 7, 2018, and last updated on May 27, 2021.
—
Want to be the first to know when a new post is published, or to receive exclusive content directly to your inbox? Join our email list!