Headed to Iceland, but only have a few days? Check out this account of all the great things we found to do in Iceland despite only being there for three days!
---
Two years ago, M and I found an offer through Icelandair that we simply couldn't refuse. Iceland had been at the top of my travel list for a few years by that point, so when we realized that we could get nonstop airfare, three nights in a four-star hotel in Reykjavik, transfers from and to the airport, and a full-day Golden Circle tour all for under $1,500 for the two of us, we jumped on it pretty quickly. 
Part of the reason that our trip was so inexpensive was that we left in early April – prime shoulder season – but we didn't mind in the least. Iceland was exploding in popularity by that point, so although we were seasonally in between a wintery wonderland and a green hiker's paradise, we relished the lack of crowds and often had some of the most popular sites nearly to ourselves.
With Iceland's brilliant reinvention of the layover and emergence as the ultimate stopover destination, getting there is easier and more affordable than ever. Especially if you're coming from Western Europe or the USA's East Coast, the short flight even makes it a feasible destination for a long weekend getaway. Although you could easily spend a month in Iceland and not grow tired of its charms, it is possible to have an incredible experience even if you only have a few days to spare.
M and I are generally pretty aggressive in our activity level when traveling, but we turned it up a notch in Iceland to take advantage of our limited time in this unbelievable place. Therefore, I will be sharing two itineraries with you: the one below, which is aimed at folks like us who are looking to cover a lot of ground in a short amount of time; and one for people who would prefer a more leisurely pace.
For now, please enjoy my best suggestions for an action-packed, multi-day layover or short trip to Iceland!
---
---
The Itinerary at a Glance
Day 1: Driving the Snæfellsnes Peninsula
Day 2: Golden Circle tour
Day 3: Ring Road road trip to Jökulsárlón
(Note: some of the links in this article may be affiliate links, which means that I may earn a small commission from your purchase at no additional cost to you. Thank you for supporting Full Life, Full Passport! You can find the full disclosure here.)
---
Day 1: Circling the Snæfellsnes Peninsula
---
Our first day in Iceland began when our red-eye flight touched down at Keflavík International Airport just after 7:00 AM. It ended when we finally returned to the Icelandair Hotel Reykjavík Marina around 11:00 PM following a full day of exploring. I think we even surprised ourselves with our fortitude, but don't worry; you can spend as many hours out and about as you'd like.
The first order of business was to check into our hotel, change clothes, freshen up, and acquire our rental car. Afterward, we spent the rest of the day on the Snæfellsnes Peninsula, which juts westward into the Atlantic just above Reykjavik. It makes for an easy day trip from the capital if you're willing to hit the road, which you should be. The wonderful thing about Iceland is that driving is a delight in and of itself.
The roads are well maintained and you don't seem to mind the miles when you're surrounded by breathtaking scenery at every turn. The Snæfellsnes is a gorgeous place, much more lightly traveled than the Golden Circle (featured on Day 2). There are ample opportunities for hiking and marveling at the incredible Icelandic topography.
Our first destination was Hellnar, which is located along the bottom coast of the peninsula just outside of Snæfellsjökull National Park.  There, we hiked through the lava fields along the jagged coastline. Later, we rewarded ourselves with a late lunch of delicious lamb stew and meatballs at the Prímus Café (also spelled Prímus Kaffi) near the trailhead.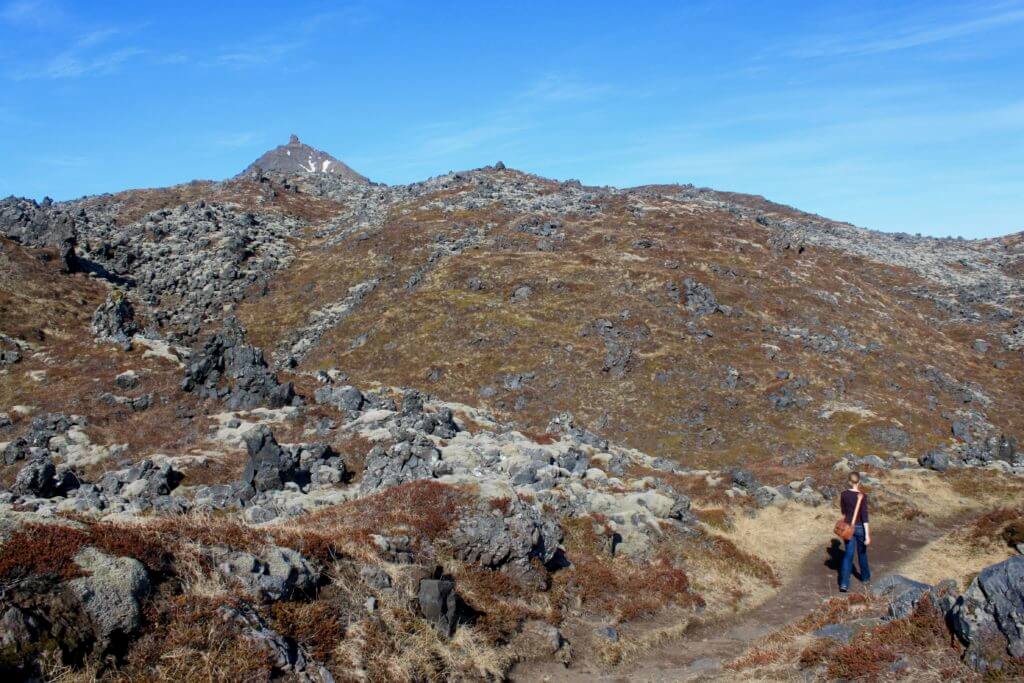 Snæfellsjökull National Park, with its stunning, ice-capped mountain, is an excellent place for hiking, exploring lava fields and tubes, and glacier tours. If you have the time, I'd encourage you to spend some of it here. We were only able to drive through the park on our way around the peninsula, but we would have loved to have seen more. Information, maps, a museum, and ranger tours are available at the visitor's center in Hellnar.
With our bellies full, we continued on around the western edge of the peninsula, stopping frequently at the scenic viewpoints and historic sites that seemed to pop up every time we turned a corner. Mountains, waterfalls, sea cliffs, and colorful homes and farms dotted the landscape, and it was easy to get lost in the grandeur of it all.
Our final stop on the peninsula was Stykkishólmur, a quaint, colorful harbor town on the northern coast. If you're willing to climb a few steps, a lighthouse sits atop a basalt island that affords a beautiful panoramic view of the town, fjord, and sea.
With the skies starting to cloud up and night approaching, we headed back toward Reykjavik, stopping for dinner at the restaurant at the Settlement Centre in the town of Borgarnes. It was pricier than we were expecting, but the food was phenomenal. The Settlement Centre itself would have made an excellent stop if we had had more time; there are interesting displays that chronicle the history of human habitation on the island.
---
Driving the Snæfellsnes Peninsula was a perfect way to spend our first day in Iceland, as it offered us a taste of so many of the delights the island has to offer. We were blessed with good weather and often had the road to ourselves, which made us feel like were were alone on this otherworldly paradise. You won't regret making a day of it!
---
Top Tips for Snæfellsnes:
Start your day as early as possible. M and I were somewhat limited because we had flown in that morning, but the earlier you hit the road, the more you will be able to see and do. The drive from Reykjavik to Hellnar will take about two and a half hours (without stops), and a circuit of the peninsula from the capital could mean between five and seven and a half hours of driving depending on your route. Leaving early will allow you the freedom to tarry at a historic site, take short hikes, or stop for photos at will without feeling rushed.
Make sure that you bring a few snacks and some water, as towns and particularly restaurants may be few and far between. Food is notoriously expensive in Iceland, so it may be prudent to pack a lunch if you're on a budget.
Similarly, anytime you're driving outside of Reykjavik it's a good idea to make sure your gas tank is full before you leave and top off whenever you come across a gas station.
---
If you have more time…
Stay overnight on the peninsula and spend a full day exploring Snæfellsjökull National Park.
Check out the Settlement Centre in Borgarnes.
---
Day 2: The Golden Circle, with northern lights tour (seasonal)
---
Our package included an organized tour of the Golden Circle through Reykjavik Excursions for our second day in Iceland. The timing was perfect because we were fighting a bit of jet lag and sleep deprivation after our long day on the Snæfellsnes. It was wonderful to enjoy a full day of exploration without having to drive ourselves or do any planning! We were also grateful for our tour guide's commentary, which helped us to understand and appreciate the unique and fascinating places we were experiencing.
Our Golden Circle tour began with a quick coffee stop at Icelandic Horse Park Fákasel, where we got up close and personal with some of the island's iconic horses…
… followed by a drive out to one of Iceland's most famous waterfalls, Gullfoss.
Although we had a lot of stops to make on our tour, M and I rarely felt that the pace was too hurried. We had enough time to admire the waterfall from a number of viewpoints along the wooden boardwalk and even managed a quick browse through the gift shop before we had to board the coach.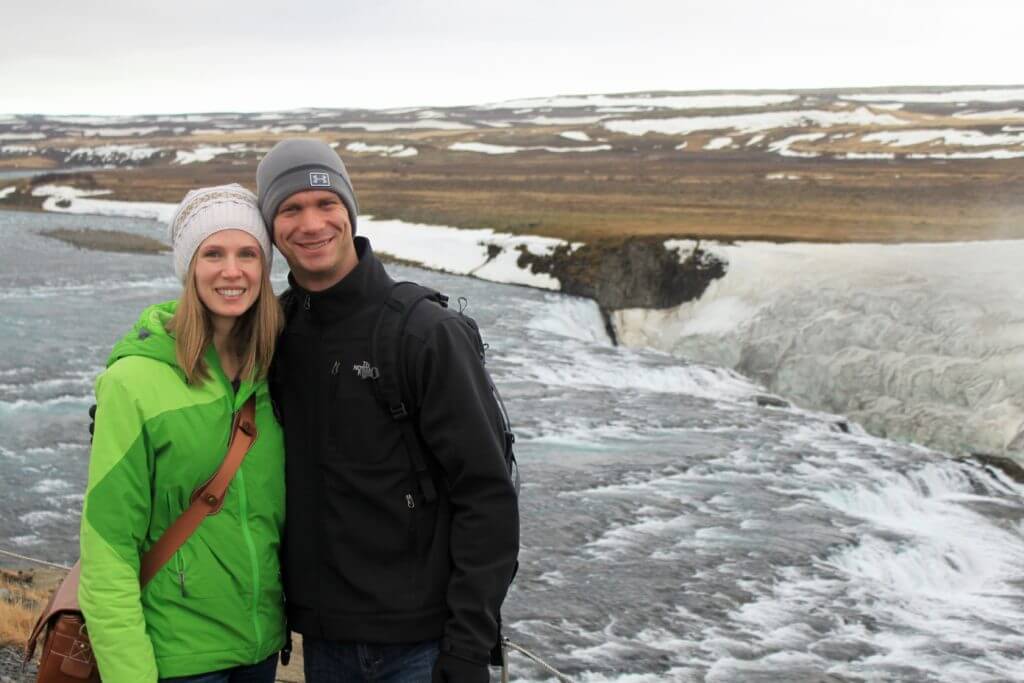 It was a short drive from Gullfoss to our next stop, Geysir, where we were able to marvel at this geothermal hot spot and grab some lunch at the sizable gift shop and restaurant complex across the street. Although the famous Great Geysir, after which all geysers on Earth are named, is presently going through a period of inactivity, its younger brother Strokkur was happily bubbling away and erupted multiple times as we explored the grounds.
By that point, it was time for some mid-tour relaxation. Not far from Geysir are the Laugarvatn Fontana Geothermal Baths. Smaller and less famous than the Blue Lagoon, these baths have a lot going for them. First, the hot springs at Laugarvatn are naturally occurring, rather than pumped in from the nearby geothermal power plant like at her more famous cousin. The saunas sit right over naturally occurring steam vents, so if you're looking to get close to the source, you've found it!
Second, the setting is gorgeous, with the facilities located alongside a pristine lake ringed by mountains. If you'd like to be truly Nordic, you can hop out of the pools or saunas and plunge into the lake water, which is warm toward the shore but quickly turns chilly as you paddle away. M was brave enough; I stayed comfortably settled in the baths. We were also fortunate that it was not crowded – there were few other bathers aside from those in our own group.
Before we showered (required to prevent bacterial growth in the springs) and sank into hot tub bliss, our group was treated to a demonstration of how Icelanders baked bread before the advent of electricity. We were ushered from our bus to the lakeside, where you could see hot water bubbling up through the sand. Our host, Snorri, used a shovel to unearth a ceramic pot that had been filled with bread dough and buried over a hot spring the day before. Now, twenty-four hours of bubbling later, the dough had cooked into a delicious rye bread that we enjoyed with fresh butter.
If you're not with a tour, entrance to the baths will cost you about $27 US (3,800 kr), with an additional $6.50 each if you need to rent a towel or bathing suit. Make sure to book online ahead of time, as tickets at the door cost about $1 (150 kr) more. There's a restaurant on site with a lovely view of the lake, as well as shower and locker facilities. The geothermal bakery experience above costs $10.50 (1,500 kr).
It was hard to tear ourselves away from the thermal spa, but we eventually had to move on to our last stop of the day, Þingvellir (pronounced "THING-vell-eer) National Park.
We could have spent more time at most of the stops on the tour, but Þingvellir was the only place we felt rushed. Located on the boundary of two separating tectonic plates and the site of the first democratic parliament in world history, the whole place is of tremendous historical and geological importance. There's excellent hiking and even scuba diving in the rift valley, but unfortunately we didn't get much more than some drive-by narration and a quick photo stop. Þingvellir is so big, though, and has so much to do that anything short of a full day would have felt insufficient.
Photos snapped, we hopped back on the coach and returned to Reykjavik, where M and I found some dinner and called it an early night. We had planned to seek out the northern lights after our tour, but the forecast was low and the cloud cover had been pretty thick all day. Speaking from experience, though, I recommend taking any opportunity you can to see the lights if the skies and forecast are promising. They're absolutely breathtaking. Your hotel or guest house should be able to help arrange a tour and give you information about your chances of seeing them on any given night.
You'll also find plenty of things to do in Reykjavik after dark; there's a lively bar and cafe culture of which you can take full advantage if you're so inclined. We were simply tired after two days of exploring and wanted to rest up for our final adventure in Iceland!
---
We were happy to have taken a guided tour of the Golden Circle, but if you prefer to do things independently and control how much time you spend at each location, you could easily replicate our tour itinerary with your own rental car. Be advised that you may be charged an entrance fee for some or all of the attractions listed here, so it may be prudent to estimate what your total cost might be and judge for yourself whether a tour makes more or less financial sense.
---
Top Tips for the Golden Circle and Northern Lights:
There are a few different options when it comes to tour itineraries for the Golden Circle. In our experience, most included the big three: Gullfoss, Geysir, and Þingvellir. We really appreciated having the Laugarvatn Fontana Geothermal Baths included, as we would not have had time for hot springs otherwise, and would recommend that you consider a tour that includes it. At the time of writing, the price for the tour we took was about $97.
If the forecast looks promising, drive your rental car outside the city or book an organized tour to see the northern lights. Remember that the lights are only visible when the sky is dark, so if seeing them is a priority you will want to visit in the fall, winter, or early spring. They can be visible at any point during the night and are notoriously fickle, but the best time was between 11:00 PM and 2:00 AM based on our research.
---
If you have more time…
Spend at least a half-day at Þingvellir, and try the scuba diving for a completely unique and unexpected experience!
Visit Laugarvatn Fontana Geothermal Baths in the evening to bathe under the stars and – if you're lucky – the northern lights.
---
Day 3: Driving the Ring Road to Jökulsárlón
---
The third day of our trip was the most aggressive yet, but probably the most rewarding. We were up early to head south on the Ring Road (Route  1, which circles the island) toward the glacial lagoon of Jökulsárlón. It was pouring rain with high winds, both of which we hoped would ease as we went further south and east. Although the bad weather plagued us intermittently for most of the day, we wouldn't have missed the incredible scenery. We were also fortunate that the rain seemed to ease up just when we needed it to do so, like when we were taking in the majesty of M's first glacier sighting or pulling off the road for a hike.
Route 1 is very well-maintained and easy to navigate, making it a joy to drive. Leaving Reykjavik, you'll spend about an hour or so passing through a number of scattered towns and villages before the country really starts to open up. The farther south you go, and especially after the road curves and heads eastward, the more you'll feel like you've landed on another planet.
One of our favorite parts of driving the Ring Road was how often we would look out the window to find a waterfall plunging over the cliffs. Two of the most Instagrammed Icelandic waterfalls, Seljalandsfoss and Skógafoss, are clearly visible from the highway about an hour and a half and two hours outside of the capital, respectively. They're very easy to access, with signs marking where you should turn off the Ring Road. We admired Skógafoss from the car as the rain came down in sheets and visited Seljalandsfoss after dark on our way back to Reykjavik, but on a better day there are footpaths to follow at both cataracts for additional views.
Between these two waterfalls, you will pass under the shadow of Eyjafjallajökull (don't ask me to pronounce it). This volcano wreaked havoc on European air traffic back in 2010 and drew so much attention in doing so that it is credited as a major contributor to Iceland's massive boom in tourism. If you'd like, there are plenty of opportunities for hiking, snowmobiling, and other forms of exploration, with signs to direct you. Intent on our goal of Jökulsárlón, we didn't stop.
We paused in the rainy, spectacularly situated town of Vík for food and gasoline. On a nicer day with more time to spare we would have loved to take in the cliffs, sea stacks, and black sand beach before continuing eastward.
The stretch of road past Vík was perhaps my favorite of the whole trip. It was lined with waterfalls, mountains, cliffs, lava fields, huge swaths of black glacial silt, colorful farms and settlements, and distant glaciers. There was always something new and jaw-dropping to see. 
It was amazing how the topography could change completely in just a few miles. At one point, the black, ominous expanse of the Skeiðarársandur, below, gave way shockingly quickly to green, moss-covered lava fields that could almost make you believe in elves and fairies.
The highlight of the day for M was when we pulled off of the Ring Road and followed a pothole-ridden dirt road to the foot of Svínafellsjökull. It was his first time seeing a glacier, and we were both dumbfounded and awestruck by its beauty. Thankfully, the rain had paused by the time we arrived, so we were able to hike along the rocky edge of the glacial cliff and spend some quality time with one of nature's greatest wonders.
From Svínafellsjökull, it was a short drive to our destination of Jökulsárlón, a glacial lagoon that boasts floating icebergs. A tiny river allows the ice to migrate to the sea, and along the shoreline the crashing waves drive huge chunks of glacial ice up onto the black sand beach. It's an impressive place, to say the least.
After toasting to our successful drive with a delicious Vatnajökull Frozen in Time beer, we began the long drive back to Reykjavik. As the rain had finally let up, we were able to do some hiking in a beautiful valley carved by the glacier Kvíárjökull (turn at the sign for Kvíármýrarkambur just west of Jökulsárlón) and stop at some other waterfalls and little hamlets on the way back to Vík.
There, we ate our first real meal since breakfast at cozy, tasty Suður-Vík before continuing back to Reykjavik. It was a full day on the road with less-than-ideal weather, but our favorite day yet!
For those looking to drive the Ring Road without spending so many hours in the car, my second itinerary for Iceland includes a shorter day of Route 1 highlights. That said, I highly encourage you to consider making it past Vík for the truly spectacular scenery.
---
Top Tips for Driving to Jökulsárlón:
Again, an early departure is essential for getting the most out of this day. While you don't have the make it the whole way to Jökulsárlón if you don't want to commit to that much driving time, you'll still want to maximize how much you can see and do as you drive the Ring Road.
Just like your day on the Snæfellsnes, make sure you've got snacks, water, and gas to get you through the long stretches of open road.
Iceland's landscapes are extremely fragile, so you should never stray from marked paths, trails, and roads. Something as seemingly innocuous as a footprint on some moss can cause damage that takes decades to heal.
---
If you have more time:
It would be well worth it to spend a few hours in Jökulsárlón, especially if you'd like to hike or take a boat trip into the lagoon.
Plan to stay in one of the many small, family-run guesthouses that line the Ring Road for a quiet night outside the city. Make sure to book ahead, especially in summer.
Split the drive into two days to take in more of the incredible sights and experiences along the way. Consider going as far as Höfn (an hour beyond Jökulsárlón) for an especially beautiful stretch of road.
---
After three amazing days in Iceland, we were sad to have to leave the next afternoon, especially when the day dawned bright and sunny. M and I used the morning to walk around Reykjavik, but if you have more time it would absolutely be worth it to spend at least a full day in the capital. We loved the little bit that we saw, and one regret that I have is that we didn't get a chance to climb to the top of the iconic Hallgrímskirkja and marvel at the view.
Three days aren't nearly enough to explore all of the wonders that Iceland has to offer, but it is possible to fit a lot of incredible experiences into a short period of time. We left Iceland feeling like we had made the most of every moment and had seen as much as we possibly could have in the time we had. I hope that you are able to do the same.
Happy exploring!
---
(Like the post? Pin to save or share!)
—
Read More:
Three Days in Iceland (a less aggressive itinerary)
10 Things I Will Do on My Next Trip to Iceland
9 Questions to Ask Before Booking a Travel Deal
—
This Iceland guide was originally posted on February 28, 2018, and last updated on March 6, 2021.
—
Need some help planning your vacation to Iceland? Full Life, Full Passport offers customized itinerary planning for all kinds of trips and budgets.
—
Want to be the first to know when a new post is published, or to receive exclusive content directly to your inbox? Join our email list!