When I embarked on my long weekend trip to Santa Fe and Albuquerque, New Mexico, I couldn't wait to spend some time with one of my best friends as she visited her 50th state. I was also looking forward to experiencing the beauty of the American Southwest, getting in a hike or two, visiting some art galleries, and taking an awesome aerial tram ride.
But I was really, really, really excited for the food.
New Mexico has a proud culinary tradition that blends many different cultures into something really special. Here, you'll find traditional Native American (particularly Pueblo) dishes alongside recipes handed down from Old Western chuckwagons, menus full of Spanish and Mexican staples perfected in the area over centuries next to newer restaurants featuring cuisines from all over the world and all the fusions in between. It's glorious, and no matter how much time you have on your vacation to New Mexico it's not nearly enough time to try it all.
But fear not, because I'm here today to help you find some of the best restaurants in historic Santa Fe, New Mexico! Below are ten of the best places to eat within walking distance of Santa Fe Plaza in the heart of the old town.
Before we dive in, a note on New Mexican food:
While we outsiders may be tempted to think that all American Mexican food is the same – i.e. TexMex – the fact is that New Mexican food is a league all its own. Red and green New Mexican chiles reign here, and if you're not having a sopapilla (a fried bread or pastry) as a part of your meal then you're doing it wrong. There are also heartwarming posoles (pork and hominy stews), breakfast burritos (we have New Mexico to thank for them!), jerky-like carne seca, and delicious, Christmas-y cookies called biscochitos. In addition, you'll find more nationally-familiar favorites like tamales, enchiladas, and chile rellenos, all with their own unique New Mexican twist. (Chiles rellenos, for example, are served inside an actual chile, rather than a poblano pepper as is common elsewhere.)
Whatever you choose to eat, just be prepared to answer the age old question: red (chile sauce) or green?
(Note: some of the links in this article may be affiliate links, which means that I may earn a small commission from your purchase at no additional cost to you. You can find the full disclosure here. Thank you for supporting Full Life, Full Passport!)
Whether you're a coffee aficionado, looking for a cozy spot to read or get some work done, or just need a tasty breakfast on the go, 35N is your best bet in the historic downtown. 35N takes their coffee seriously, roasting their beans in-house with a commitment to excellence and sustainability. An array of pastries, cakes, and other snacks are also on offer, and there's a pretty seating area across the hall.
60 East San Francisco Street, Suite 201 (upstairs). Open every day from 7:30 AM to 4:30 PM.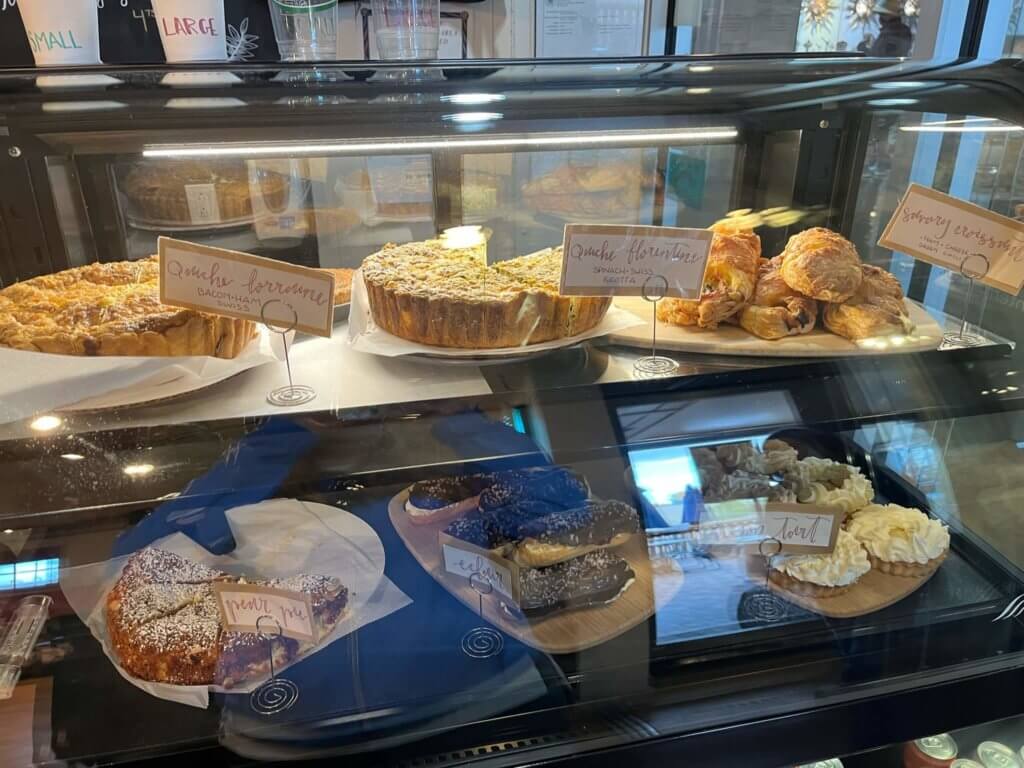 With a list of teas that is pages long, a display case full of tempting pastries and treats, and a full restaurant with both indoor and outdoor seating, there's no better place than The Teahouse to refresh yourself during a walk down Canyon Road. Don't miss the blueberry scone with lemon dipping sauce if they happen to have it.
821 Canyon Road. Open from 9:00 AM – 3:00 PM Monday through Thursday and from 9:00 AM – 8:00 PM Friday through Sunday.
Santa Fe's oldest restaurant, Plaza Cafe serves a delicious mix of American, Greek, and traditional New Mexican food right on the Plaza. Their spicy posole and honey-drizzled sopapillas will warm you right up on a cold day, and there's outdoor seating with a view of the historic district when the weather is fine.
54 Lincoln Avenue (on the Plaza). Open every day from 7:00 AM to 9:00 PM.
Part restaurant, part gallery, Cafe Pasqual's embodies two of the best things about Santa Fe: the food and the art. The menu is colorful and eclectic, with a mix of New Mexican standards and other made-from-scratch options. The restaurant is also very vegetarian- and vegan-friendly. And when you're done, walk right next door to take in some of the fantastic finds in the gallery and shop.
121 Don Gaspar Avenue. Open from 8:00 AM – 3:00 PM daily for breakfast and lunch; dinner hours 5:00 – 10:00 PM Sunday through Thursday and 5:00 – 10:30 PM on Friday and Saturday.
Another excellent spot for New Mexican fare, Palacio Cafe is open for breakfast and lunch and just across the street from the Cathedral Basilica of St. Francis of Assisi. I particularly recommend breakfast, but the tamales are a great reason to stop by for lunch.
209 East Palace Avenue. Open from 7:30 AM – 4:00 PM. Closed on Tuesdays. 
Helmed by a James Beard Award-winning chef, Sazón takes traditional and contemporary Mexican food and flavors to the next level. In addition to the a la carte menu, Sazón also offers two seatings per evening for an extraordinary nine-course tasting menu. Reservations are highly recommended for regular dining and essential for the tasting menu.
221 Shelby Street. Open from 5:00 – 8:00 PM Monday through Saturday. Closed Sundays. 
Romantic and delicious, Hervé Wine Bar is the perfect spot to relax after a long day spent enjoying Santa Fe. The family of owners are part of a legacy of winemaking that goes back six generations, and their New Mexico-grown wines are the real star here. The chef-crafted menu is also great; don't miss the Hervé Board (a charcuterie platter) or the mix-and-match bruschetta. The roasted grape and goat cheese bruschetta, in particular, is out of this world.
139 West San Francisco Street. Open from 12:00 PM to 8:00 PM, closed Monday and Tuesday.
For fine dining near the historic area, it doesn't get much better than Geronimo. Proteins such as elk, steak, lamb, and seafood share a menu with decadent salads, and a prix fixe, vegetarian tasting menu. All children must be over ten years old, and there is a business casual dress code. Reservations encouraged.
724 Canyon Road. Open nightly from 5:00 PM to close.
Whether you need a mid-afternoon pick-me-up or are looking for some sweet treats to take home, Kakawa Chocolate House is definitely worth a stop. Kakawa has a real passion for the history and art of chocolate-making, and they offer everything from drinking "elixirs" based on ancient Mesoamerican recipes to mouthwatering brownie sundaes. It's the perfect treat to reward yourself for all those steps around the old town and Canyon Road.
1050 Paseo De Peralta, with two other locations around town. Open from 11:00 AM – 6:00 PM Monday through Saturday and 12:00 – 6:00 PM on Sundays.
For cocktails and light bites with excellent views – particularly at sunset – look no further than the Bell Tower Rooftop Bar. Perched on the fifth floor of La Fonda on the Plaza Hotel, Bell Tower allows patrons to look out over the historic downtown and Sandia Mountains beyond. La Fonda also has a full-service restaurant, La Plazuela, downstairs if you'd like a larger meal beforehand.
Open seasonally from 3:00 PM – sunset on Fridays and 12:00 PM – sunset on Saturdays and Sundays
Find the Perfect Place to Stay in Santa Fe!
We had a great experience at Hotel Chimayo, but there are plenty of other excellent accommodations in and around Santa Fe's historic downtown.
Like the post? Pin to save or share!
Need some help planning your trip to Santa Fe? Full Life, Full Passport offers customized planning services for all kinds of vacations and budgets! 
Want to be the first to know when a new post is published, or to receive exclusive content directly to your inbox? Join our email list!