When my friend Molly and I decided to take a whirlwind trip to New Mexico for her to visit her 50th state, we discovered that the short time frame would only allow us to spend one day in Santa Fe. While we were excited to be able to see it at all, it was also disappointing to know that we would only be scratching the surface of this historic gem of a city, which is full of art, culture, music, and amazing food. 
Thankfully, the historic area of Santa Fe is compact and manageable enough to be able to do a lot even if you only have one day to spend there. After our own full day of exploring, we left for Albuquerque feeling like we had actually covered a lot of ground despite our time constraints.
Today I'm sharing my suggestions for how to structure your time if, like us, you find yourself with only a day to spend in Santa Fe. I hope the itinerary below, as well as the alternative activities and accommodation suggestions at the bottom, helps you to enjoy your time in one of New Mexico's most charming cities!
(Note: some of the links in this article may be affiliate links, which means that I may earn a small commission from your purchase at no additional cost to you. You can find the full disclosure here. Thank you for supporting Full Life, Full Passport!)
How to Spend One Day in Santa Fe
8:00 AM: Coffee and Breakfast at 35° North Coffee
Fuel up for your day of exploration at this little gem of a coffee shop tucked away on the second floor of a shopping center. 35° North Coffee roast their beans in-house and are committed to responsibly sourcing excellent brews. They also have pastries and baked goods on hand, as well as tea and other hot beverages for those of us who prefer alternative morning pick-me-ups.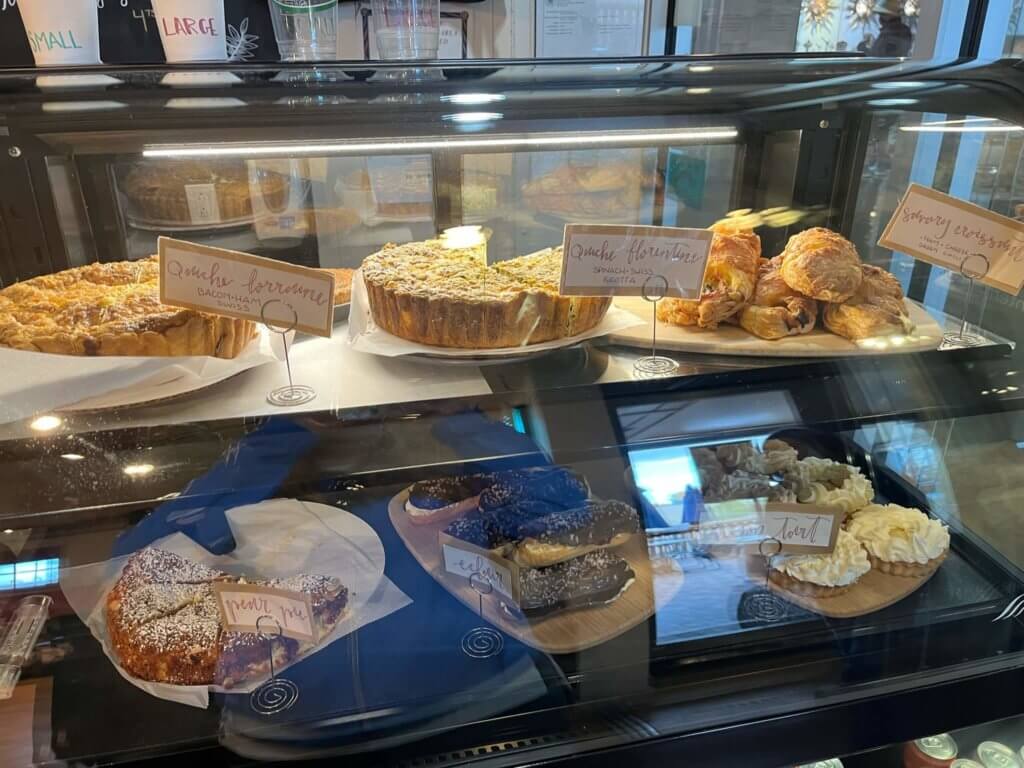 8:45 AM: Stroll Canyon Road
Santa Fe is world-renowned for its arts community, and nowhere is the wide range of talent and mediums more on display than the famous arts district along Canyon Road. Lining the half-mile street you find over a hundred galleries, boutiques, sculpture gardens, pottery studios, and other artisan shops. There is plenty of Native American pottery, textiles, and artifacts for admiration and purchase, as well as fine and contemporary art, tapestries, jewelry, leatherwork, and more. Even if you're a novice art appreciator like me, it still makes for a beautiful and fascinating walk and is one of the best things to do in all of Santa Fe. Art-lovers could easily spend the entire day on Canyon Road, but a morning will give you a good idea of its charms if you only have one day to spend in Santa Fe!
12:00 PM: Traditional New Mexican Lunch
What better way to refuel during your day in Santa Fe than by indulging in a hearty, soul-filling traditional lunch? While you may notice some similarities to the ubiquitous TexMex (Texas-style Mexican food) that you'll find across the USA, New Mexican cuisine is a world all its own. Be prepared to answer the question "Red or green?" with your preferred kind of chile sauce!
Some of our favorite New Mexican spots were Palacio Cafe, Plaza Cafe, and Cafe Pasqual's, all of which are conveniently walkable from the Plaza.
1:00 PM: Tour the Cathedral Basilica of St. Francis of Assisi
Anchoring East San Francisco Street, which runs right through the heart of downtown Santa Fe, the imposing Cathedral Basilica of St. Francis of Assisi is impossible to miss. Its dual bell towers and grand limestone facade offer a hint of the beauty to be found inside, where graceful arches and colorful artwork are waiting to draw you in.
The Basilica is free to enter, though please consider making a small donation on your way in or out to help preserve the church.  And if you have time later in the day, make sure to catch sight of the cathedral at the "golden hour," when the setting sun lights the facade in glorious color.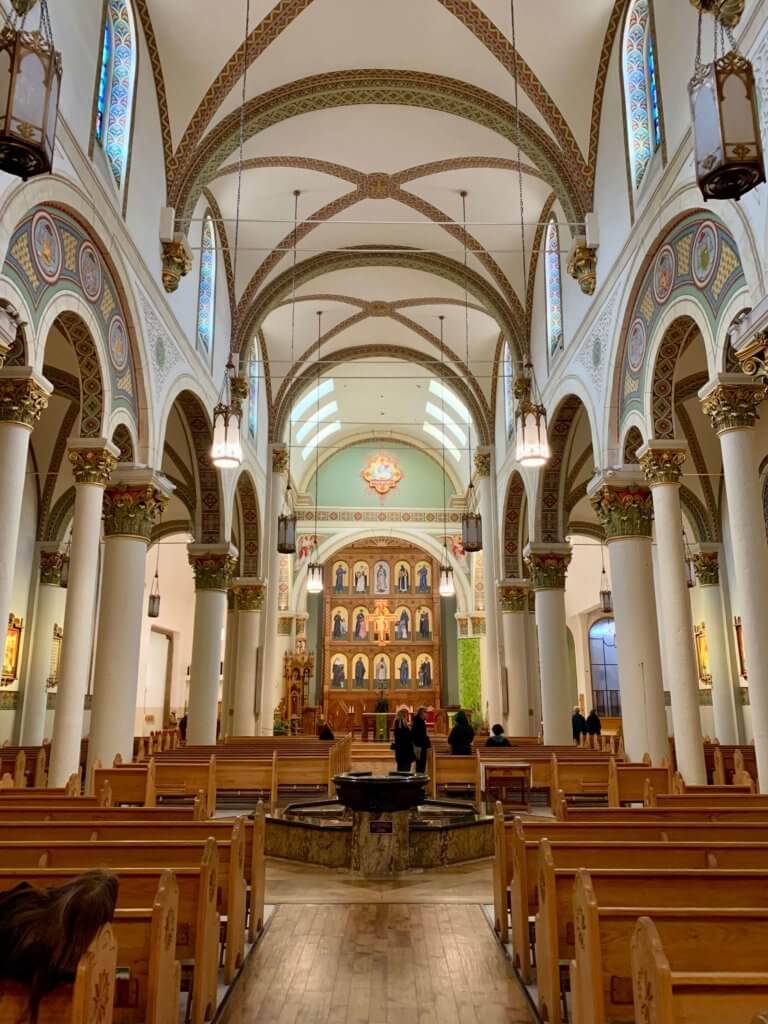 1:45 PM: See the Miraculous Stair at Loretto Chapel
For a one-two punch of historic churches, make Loretto Chapel the next stop on your one day Santa Fe itinerary. (Can one say one-two punch in reference to churches? I might need to look into that one.)
Loretto Chapel is much smaller and more intimate than the Basilica, as it began its service as the chapel for a Catholic school. While the interior is pretty, the real draw is the circular staircase at the back of the sanctuary. Rising two stories without the support of a center pole or any hardware other than wooden pegs, the "Miraculous Stair" is a feat of engineering. Adding to the mystery, no one is certain who exactly constructed it in the first place.
Admission to the chapel is $5, and there's an extensive gift shop next door.
2:30 PM: Treat yourself at Kakawa Chocolate House
Time for a mid-afternoon pick-me-up! Kakawa Chocolate House is located a short walk from Loretto Chapel and boasts a wide range of chocolate products for chocoholics of all persuasions. Display cases are filled with truffles, bars, solid chocolate pieces, and caramels that incorporate a variety of familiar and unusual flavors. For the truly adventurous, hot chocolate "elixirs" are made using traditional (read: ancient Mesoamerican) recipes that will knock your socks off. Or, you can stick to time-honored favorites like brownie sundaes and salted caramel squares.
3:15 PM: Explore the historic downtown
Before you lose the sunlight, don't miss the opportunity to just wander the adobe-lined streets of Santa Fe's historic downtown. Gift shops and artisan galleries are packed side-by-side along many of the streets, creating a shopping utopia (or a tourist trap nightmare, depending on your perspective), but even if you're not the gift shop type the streets still hold a lot of charm.
Make sure to spend some time in the Plaza, which dates to 1821 and was the end point for the famous Santa Fe trail between Missouri and New Mexico. Especially if the weather is fine, it's a lovely place to sit and watch the world go by, all the while dreaming about the centuries of people, history, and events the Plaza has seen.
Evening: Dinner and sunset drinks
If you're not yet worn out from your day in Santa Fe, why not keep the night going with some live music in one of the city's many venues? It makes sense that a community as artistically-focused as Santa Fe would also have a great music scene. Offerings range from outdoor concert venues to intimate bars and clubs to otherworldly, experimental spaces.
The Bridge is one of the best spots for live music thanks to the stunning scenery all around. (The freshly-brewed beer from the brewery across the street doesn't hurt, either.) La Reina is tops for its wide variety of live music on Wednesdays and Sundays, and Meow Wolf (below) has a unique music venue that has to be seen to be believed. More classical types will enjoy the Santa Fe Opera, as well.
Other Things to Do in Santa Fe
It would be impossible to fit all the great things to see and do in the area into only one day in Santa Fe! If you have more time to spend or want some alternative ideas, try these:
Meow Wolf. With interactive exhibits and immersive experiences, this off-beat arts collective is another of Santa Fe's top attractions.
Palace of the Governors. The oldest building in the United States that was built by European settlers and is still standing, the adobe Palace of the Governors is adjacent to the New Mexico History Museum. Native American artisans sell their wares under the long portico during the day.
Visit a Museum. In addition to the New Mexico History Museum, other worthy stops include the Georgia O'Keefe Museum, Museum of Indian Arts and Culture, the Wheelwright Museum of the American Indian, the Museum of International Folk Art, and more.
Step into history at San Miguel Mission Chapel, the oldest church in the United States, and/or El Rancho de Las Golondrinas, a historic ranch-turned-living history museum.
Skiing. If you're visiting Santa Fe in winter, there are great ski slopes less than twenty miles away.
Take a day trip to the Santa Fe National Forest or the fascinating Puye Cliff Dwellings.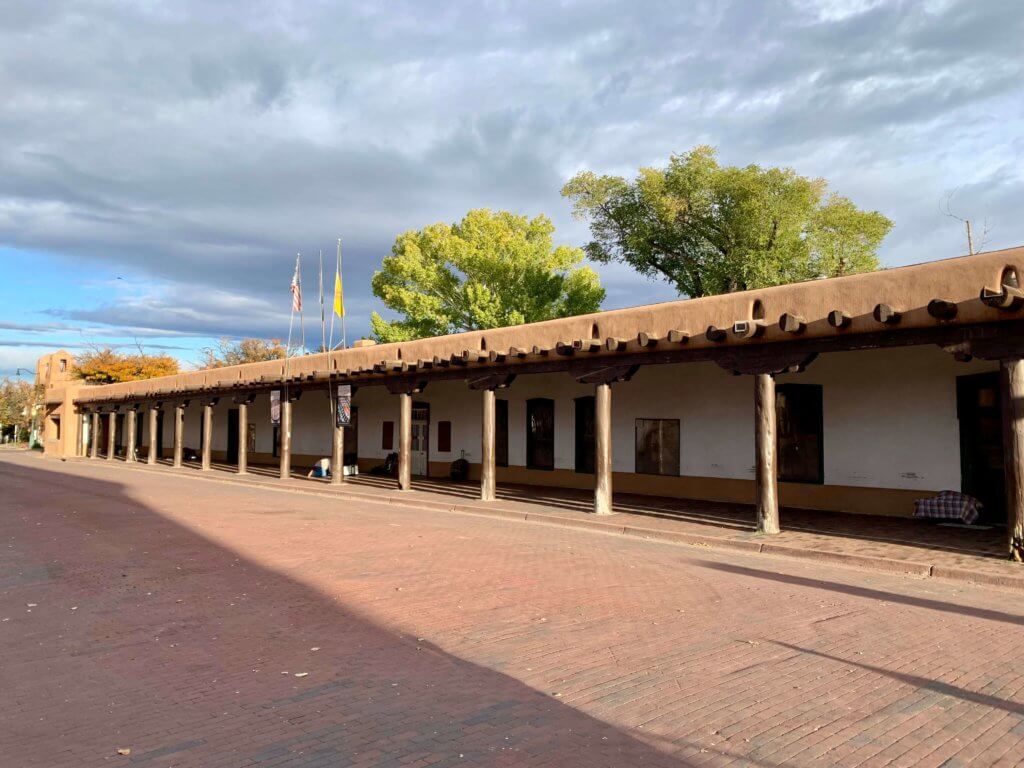 Where to Stay in Santa Fe
There are tons of great accommodations in Santa Fe. For maximum walkability, try to base yourself in the historic downtown near the Plaza. We had a great experience at Hotel Chimayo, but the following hotels are also highly recommended:
Find the perfect place to stay in Santa Fe!
Regardless of how much time you have to spend in Santa Fe, I hope that this one-day itinerary has been helpful for you. Enjoy your time in one of New Mexico's most intriguing cities!
Like the post? Pin to save or share!
Need some help planning your trip to Santa Fe? Full Life, Full Passport offers customized planning services for all kinds of vacations and budgets! 
Want to be the first to know when a new post is published, or to receive exclusive content directly to your inbox? Join our email list!