This post about Southern Juniata County, Pennsylvania, was created in partnership with the Juniata River Valley Visitors Bureau. As always, however, all thoughts, opinions, and experiences are my own.
Additionally, some of the links in this article may be affiliate links, which means that I may earn a small commission from your purchase at no additional cost to you. You can find the full disclosure here. Thank you for supporting Full Life, Full Passport!
I didn't truly appreciate the place where I grew up until a couple of years after I left.
I never hated it, per se; I wasn't one of those small-town kids in the movies who feels like she's suffocating and can't wait to leave. I knew that Juniata County, Pennsylvania, was a nice place to grow up and that I had had a good childhood. But it was home: old, familiar, normal. I didn't think it was anything particularly special, and it certainly wasn't all that exciting.
That all started to change in the summer of 2007, when my high school friends Heidi and George got married and I brought my college friend Steve as my plus-one to their wedding. Steve and I were making the familiar drive back to my parents' farm, motoring along up Route 322 as it followed the Juniata River west from Harrisburg. Born and raised just outside of New York City, Steve was practically hanging out the window, gawking at the tree-covered ridges of the Appalachian Mountains and the sun glittering off the steady Juniata. And then he said something I've never forgotten.
"This is incredible. I can't believe you live here."
I think I laughed then, but the words crawled into my brain and opened my eyes. Suddenly, it was like I was seeing my home region for the first time. And it was incredible. How had I not realized how beautiful it was?
My appreciation for Juniata County deepened as I graduated college and started finding my way in the world outside of my rural home community. Although there are a lot of benefits to the Philadelphia suburb where I now live, I'm still keenly aware of things I miss from home: natural beauty, open spaces, farm-fresh produce, empty roads, and, perhaps most importantly, a deep sense of community.
When I got the opportunity to partner with the Juniata River Valley Visitors Bureau to showcase this beautiful and often-overlooked part of Pennsylvania, I jumped at the chance. I couldn't wait to share a place I love so ardently with the Full Life, Full Passport community. While we decided to focus on Southern Juniata County (the area south of US Route 322, which cuts directly across the county and is the only four-lane highway in the area), many of the charms listed below apply to the northern part of the county, as well.
This is a place where the pace of life slows, where you're more likely to be renowned for your own integrity and decades of hard work than for the car you drive or the size of your house. Where community and tradition are woven into the fabric of life, where churches still hold bake sales and chicken barbecues and where on any given Saturday you'll find a group of old-timers enjoying a fundraising breakfast at the local grange hall, fire house, or community building.
I hope that this post inspires you to experience Juniata County for yourself, and I hope you come away just as in love with it as I am.
15 Reasons Why You Should Make Southern Juniata County, PA, Your Next Long Weekend Destination
1.) Southern Juniata County is an easy drive from multiple northeastern US cities (and their airports).
With its location smack-dab in the middle of Pennsylvania, Southern Juniata County is perfectly positioned as a long weekend destination from many major US cities. "SoJCo" is less than three hours from Philadelphia and Baltimore, and less than four from Pittsburgh, Washington D.C., and New York City.
The drives from these cities are fairly easy as well, with major highways connecting you right to SoJCo and getting more and more scenic the closer you get. (Except the drive from Pittsburgh – that one is lovely pretty much the whole time!)
2.) It's the perfect place to slow down and relax.
The pace of life is significantly slower in Southern Juniata County, and central Pennsylvania in general. The natural beauty, wide open spaces, and lack of traffic practically demand that you take a deep breath and just enjoy your time. (When I was a kid, we only had two red lights in the whole county. We've since doubled that, but you're still more likely to get stuck behind a slow-moving tractor than a mile-long traffic backup.)
It's also a place where there is plenty to do, but you don't have to feel the need to do it all. Part of the joy of visiting SoJCo is just sitting back, relaxing, and letting your stress melt away.
3.) Southern Juniata County is very scenic, with plenty of beautiful country drives.
Two ridges of the Appalachian Mountains run along either side of Juniata County, with rolling forested hills, fertile farmland, and small towns and villages in between. Driving the winding country roads – or even a main thoroughfare like state routes 35 and 75 – is a peaceful, scenic experience.
One of the nicest things to do in SoJCo is to just set out on a leisurely drive with no real destination and see where the road takes you.
Alternatively, you can explore the two "major" state roads that run roughly parallel to each other down the length of the county. Start by driving Route 75 south toward East Waterford and Waterloo, then use smaller roads to cut across and take Route 35 back north to Mifflintown.
4.) There's a lot of history here...
Originally the land of Susquehannock native peoples, Juniata County was settled by Europeans as early as the 1750's. Mifflintown, the county seat and largest town, dates to 1790. 
More than two centuries of Juniata County's history is chronicled at the well-curated Tuscarora Academy Museum, which is housed the lone remaining building of the 1800's secondary boarding school of the same name. The building was listed on the National Register of Historic Places in 1972.
Inside, you'll find everything from Civil War battle gear and advertisements for early 1900's businesses to spinning wheels and a piece of rope used in the county's last hanging. Upstairs, the former student residences are arranged by theme, including a recreated schoolroom, doctor's office, and Academy dormitory rooms.
Other historic spots in Southern Juniata County include the site of Fort Bigham, which was captured and burned by native peoples in 1754, and the Book Indian Mound, remnants of a prehistoric burial mound and village.
5.) ... Including two historic covered bridges!
Two of the most charming places to visit in Southern Juniata County are the area's covered bridges. The older of the bridges, Lehman's Bridge in Old Port, was constructed in 1888 and is still used today by residents of the homes on its other side.
Deeper in Southern Juniata County is one of the crown jewels of Pennsylvania covered bridges: Academia Pomeroy Covered Bridge. It was completed in 1902 and, at an impressive 278 feet long, is the longest remaining covered bridge in the state.
The Academia Pomeroy Covered Bridge is a double-span bridge, with a stone pier in the middle for support. You can't drive across the bridge, but you're welcome to walk. It's quite the experience to be all alone in the dim light, with century-old boards under your feet and the peaceful sound of Tuscarora Creek rippling beneath you, 
Make sure to join visitors from all over the world in signing the visitor log tucked in a metal bin on the southern wall!
Note: Lehman's Covered Bridge is located on private property, though the owners generously allow visitors to view the bridge. Please be respectful when visiting. Your best bet is to park on Milford Street near the intersection with Route 333/West Licking Street (facing the bridge) and walk over.
6.) The Juniata River provides ample opportunities for outdoor recreation.
Flowing eastward across the county, the Juniata River is a lovely stretch of water lined with forests, mountains, and the occasional home or small town. It's mostly shallow, only averaging 3-4 feet in depth, making it great for wading, swimming, floating, kayaking, canoeing, and fishing.
There are multiple boat access points along Southern Juniata County's stretch of the river, so it's easy to start and end your journey. 
In addition to the Juniata, SoJCo has many smaller creeks and streams that are perfect for fishing and exploring. There's no better place to be on a warm day!
7.) There are plenty of tasty restaurants, including Amish and Mennonite goodies.
While there might not be an overabundance of places to eat in Southern Juniata County, you certainly won't go hungry! Family restaurants are the most common eateries here, with homey spots like Spruce Hill Lunch and Walnut Cheese Nook serving up sandwiches, salads, soups, and hearty Pennsylvania Dutch and country favorites. 
You'll also find pizza shops, hoagie joints, and a delicious Latin American restaurant and coffee shop called Guante Family Restaurant that has taken the county by storm. 
You can't leave SoJCo without sampling some of the baked goods the Amish and Mennonites are famous for, including my personal favorite: whoopie pies. (M and I actually had homemade whoopie pies instead of cake at our wedding, along with cannolis to represent his Italian heritage.)  The Cheese Nook is perfect for creating your own PA Dutch smorgasbord, as they have plenty of goodies for sale in their shop.
8.) And don't forget the custard stands!
One of the best things about summer in Southern Juniata County is that the custard stands are open! Scattered across the area are small seasonal restaurants specializing in soft-serve ice cream and frozen custard in addition to food (mostly of the fried and grilled variety). On any given night you'll find lots of folks out enjoying a cone, milkshake, or banana split, and on hot summer Saturdays don't be surprised if the lines are out the door.
I grew up going to SoJCo institutions like like MacBarney's (where I later got my first job), the Walnut Creme Stop (where my mom worked during her teenage years… ice cream is a family affair), and Jack's Drive In. Now that I live outside of Philadelphia, where there are plenty of homemade ice cream places but it's all hand-dipped, the custard stands are one of the things I miss most about home.
9.) Southern Juniata County is part of a great wine trail.
Surrounded by farmland a short distance from the town of Mifflin, Juniata Valley Winery is one of the county's most popular destinations and one of the best stops on the Juniata River Valley Wine Trail. Their tasting room is located in the converted sunroom of a 19th century manor house, and it's an absolutely lovely place to sample their award-winning wines.
Perhaps the best way to experience Juniata Valley Winery is to visit for Friday Night Music during the warmer months. The winery kicks off each weekend with live music on the lawn behind the manor house, with food trucks, craft beers, and their own wine and wine slushies to enjoy.
Note: You can taste up to five wines at Juniata Valley Winery for free, after which there is a $5 fee to sample as many more as you'd like. Friday Night Music has a $5 cover charge (kids 11 and under are free), and all wines and food are for purchase. 
And PS: To experience the whole Juniata River Valley Wine Trail for yourself, don't miss my itinerary for a one-day wine tour!
10.) It's also home to one of the country's premier dirt racetracks.
If you're looking to add a little excitement to your Saturday night in Juniata County, you won't want to miss a visit to the Port Royal Speedway. Known as "The Speed Palace," this half-mile dirt racetrack has hosted sprint car, late model, and other races since 1938. Admission is inexpensive (usually around $15 per adult), and well worth it for the thrills!
If you're anywhere near Port Royal on a Saturday, you'll undoubtedly hear the buzz of the engines and the roar of the crowds as the races go off throughout the evening. As the "sprint car" name might suggest, the races are short, often only a couple dozen laps. This keeps the energy and excitement high.
"The Races" are a big deal not only in Southern Juniata County but the surrounding area, and it's certainly one of the more unique things you can do on your visit!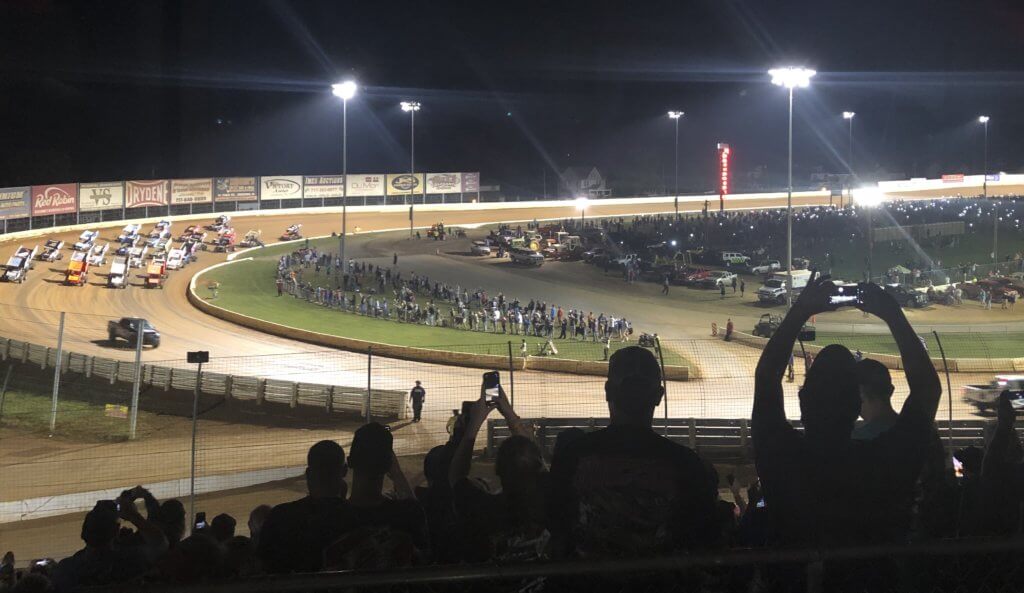 11.) SoJCo is a growing - no pun intended - agritourism destination...
Agriculture is the heartbeat of Southern Juniata County, with dozens of family farms spread throughout the area. You're certain to observe this rural way of life while visiting SoJCo, but one fourth-generation farmer is helping visitors get up close and personal by turning his property into an agritourism destination.
Lovetwo Farm, located at the far end of the county outside the village of East Waterford, is the perfect spot to meet some animals and learn more about what it takes to run a successful farm. (Hint: it's a lot of passion and a lot of hard work.)
Owner Daniel Love is the consummate host, inviting visitors to tour his property and meet his animals. In addition to the usual goats, sheep, and cows you might expect on a Pennsylvania farm, Daniel has also gathered an interesting array of exotic animals ranging from mini zebus and water buffalo to Highland cattle and even a zonkey (a zebra/donkey hybrid).
Visitors are welcome to stop by Lovetwo Farm at any point during opening hours and tour the property for free, though Daniel does ask that large groups and those looking for a guided tour make a reservation in advance. Although he is not currently charging for visits, a donation toward the care and upkeep of the animals would be greatly appreciated if you enjoy your time and want to support the mission.
Although farming is nothing new to me, I had a great time meeting Daniel and exploring Lovetwo Farm. (It was also my first time meeting zebus and zonkeys, so that definitely made an impression!) He was so welcoming, and absolutely brimming with passion for sharing the farming way of life with visitors to Southern Juniata County.
Even if you don't have time for a full visit, Lovetwo Farm also has a great farm store featuring products from almost twenty different local farmers. Stop in for local meats, cheeses, milk, baked goods, snacks, and skincare products before continuing on your way!
Note: Lovetwo Farm can be a little tricky to find, especially since cell service tends to drop as you travel along Route 75. Once you reach the village of East Waterford, turn right onto Middle Street after the Waterford Diner. The farm will be about 3/4 mile back on your left.
12.) ... And a wonderful place to buy locally-grown flowers and produce.
It stands to reason that an area with such abundant agriculture would have a wealth of produce and greenery to take home. There are a number of family farms, produce stands, and greenhouses in SoJCo and you're missing something special if you don't pay at least one or two a visit. 
Two of my favorites are Brummer's Happy Breeze Farm and Sarah's Bloomers, both located just outside of Port Royal. Brummer's is a go-to spot for farm-fresh produce, and Sarah's Bloomers has tons of gorgeous flowers and plants for sale.
Sarah's Bloomers also recently added a yurt (yes, a yurt) filled with the handiwork of local artisans and crafters. I was particularly taken by the bird feeders from Crafty Clousers, which are made from repurposed glassware. So pretty and practical!
13.) You can visit one of the last drive-in theaters in the United States.
There are fewer than 350 drive-in movie theaters left in the USA, and one of them is located right in Southern Juniata County! A staple of my high school years, Midway Drive-In Theatre is a local treasure that shows two movies per night on the weekends. Adult admission is only $8 and kids age 3-11 are $5 – significantly less than the price of a ticket to a single movie at a regular theater!
If you've never visited a drive-in theater before, you're in for a treat! All you have to do is show up, find a parking space, tune your radio to the theater's FM station, and enjoy the show! There's a concession stand in the center of the field for snacks, as well as on-site restroom facilities.
Please note that the drive-in is cash only. It also is best to bring your own separate radio versus using your car's sound system – take it from someone who has had to jump one too many dead batteries after the second feature 🙂
14.) You can stroll scenic downtown Mifflintown.
With its grand courthouse and pretty central square, Mifflintown is a quintessential small American town. Two banks have faced each other across the main intersection for decades, and further along is a post office, dance studio, a Latin restaurant, and a funeral home. The rest of the downtown area is dotted with historic churches and homes and the occasional small business. Despite being the most populated town in the county, Miffintown is peaceful and quiet, and a stroll through town can be done in as little as fifteen minutes.
Further down the appropriately-named Bridge Street, the old bridge spanning the Juniata River between Mifflintown and its neighboring borough of Mifflin has been torn down and replaced with a pedestrian bridge. With the traffic lanes and heavy support beams gone, the new bridge is a beautiful place for a walk, especially in the early evening.
Plus, the views of the Blue Juniata in either direction are simply divine.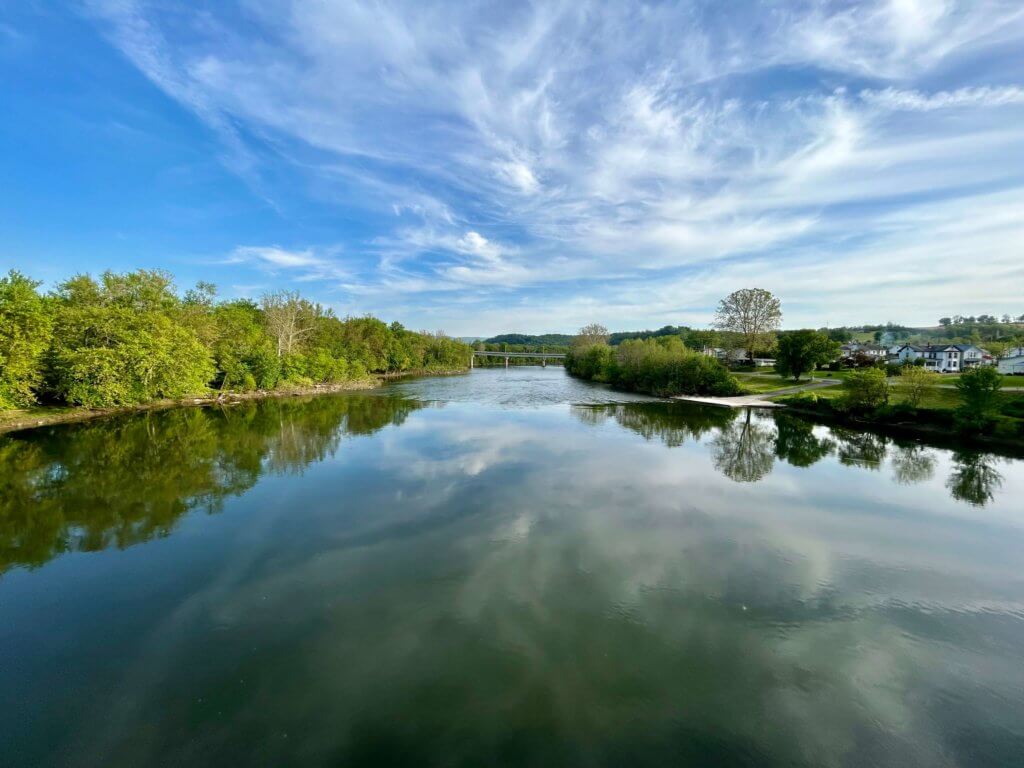 15.) And you can stay at one of the best campgrounds in Pennsylvania!
One of the most popular destinations in Southern Juniata County isn't a historic site, a mountain overlook, a famous restaurant, or a cultural hotspot: it's a campground! Nestled along the Juniata River near the small village of Mexico (yes, Mexico, Pennsylvania), Buttonwood Campground is consistently ranked among the best campgrounds in Pennsylvania.
Buttonwood currently welcomes RV's (including seasonal sites), tent campers, and visitors to their rental cabins scattered across the property. The grounds are beautifully maintained, and there are so many great amenities and activities to enhance your stay!
Campers at Buttonwood can enjoy a pool, miniature golf, a jumping pillow, outdoor games like horseshoes and basketball, laser tag, pedal carts, and playgrounds, as well as themed weekends, kids' crafts, bingo, and more. 
Plus, because Buttonwood is located right along the river, visitors have the opportunity to fish, tube, wade, or swim, all without leaving the property!
Please note that due to Buttonwood Campground's popularity, reservations are absolutely essential and should be booked well in advance. 
Tips for Visiting Southern Juniata County, Pennsylvania
Try to plan your visit around a weekend, as many of the attractions and businesses above have limited weekday hours.
The closest airport of size is Harrisburg International Airport (MDT – 1.25 hours away), though you'll likely find more flights and lower costs to Baltimore (BWI – 2.25 hours) or Philadelphia (PHL – 2.5 hours).
Depending on where you are in Southern Juniata County, you could be as close as 45-50 minutes from State College, home of Penn State University. SoJCo is a great place to base yourself for visiting the university, taking in one of their world-famous football games or wrestling matches, or enjoying other fun activities Happy Valley has to offer. 
There is no public transportation in Juniata County, nor are there taxi companies or many rideshare options in the area. The best way to visit is by driving yourself or renting a car.
Most, if not all, of the roads you'll be driving in Southern Juniata County are rural, two-lane roads (one in each direction). Many of them are winding and beautiful, so slow down and enjoy the drive!
Please also be on the lookout for slow-moving Amish buggies. Slow down behind the buggy until it's safe to pass, and please pass slowly so as to not startle the horse.
(On that note, please do not photograph any Amish people, as some may consider it offensive.)
Cell service can be spotty – or nonexistent – in the southernmost parts of Juniata County. Make sure to write down the addresses of the places you're visiting in addition to downloading offline maps and/or bringing your own paper map or road atlas.
As mentioned above, many of the dining options in Southern Juniata County are family restaurants and custard stands. Reservations are not required, and dress is casual. 
Like the post? Pin to save or share!
Need some help planning your trip to Southern Juniata County, Pennsylvania? Full Life, Full Passport offers customized planning services for all kinds of vacations and budgets! 
Want to be the first to know when a new post is published, or to receive exclusive content directly to your inbox? Join our email list!