Did 2018 fly by for anyone else?
It's hard to believe that we are coming up on the one-year anniversary of the launch of Full Life, Full Passport. It seems like only last week that I was headed to a personal writing retreat in Lewes, Delaware, to put the finishing touches on my first posts and prepare to go live. On the other hand, though, this professional transition has seemed so natural that it feels like I've been planning vacations and writing about travel forever.
I guess in some ways I have, and this is just the first time I've been public about it.
As 2018 drew to a close, I found myself becoming increasingly introspective about the first eleven months of the life of Full Life, Full Passport. It was a year of tremendous growth, of pushing me out of my comfort zone, of joys and challenges and so much learning, and I wanted to share some of that with you. While most blogs and other media channels do their reminiscing as the new year approaches, I decided to hold mine off for another month to coincide with my own blogging anniversary. Join me today as I celebrate the first birthday of Full Life, Full Passport and reflect back on a great 2018.
---
2018 Highlights
Launching the Blog
One year ago today, after almost three months of planning, research, and preparation, I officially launched Full Life, Full Passport with a post titled "The Road that Led Me Here." In it, I shared the story behind my decision to enter the world of travel blogging, as well as my vision for this website and the services I hoped to provide. It was a big step personally and professionally, not to mention a huge leap out of my comfort zone as I bared my soul on the internet and shared with my social networks this new and unusual endeavor I was undertaking.
I was overwhelmed by the response. Friends, family, and others were incredibly supportive and encouraging, and I couldn't believe how my web traffic and email subscriptions grew. Thank you to everyone who believed in and encouraged me that first week. Your messages, comments, and overall kindness helped convince me that I was making the right decision and made it easy to put in the hours needed to generate tons of new content. I couldn't have done it without you!
---
A Girls' Trip to Belize
By the time 2018 rolled around, my mom had been wanting to go to Belize for years. I'm not sure where it came from, this overwhelming desire to see one of the smallest countries in the Americas, but somehow the tiny nation had made its way onto her bucket list. Unfortunately, my dad, who is already not much of a traveler and even less of a sun-and-surf kind of guy, wasn't interested. That meant that my mom needed to find other traveling companions to cross this particular item off her list.
My sister and I were quick to volunteer, and just like that our inaugural mother-daughter trip was underway!
The result was a fantastic weeklong vacation. Belize is an incredible place full of gorgeous landscapes, stunning coral reefs, delicious food, and friendly people, and we couldn't get enough. In addition to the delight of exploring this new country, it was also so special for the three of us to be able to spend this time together. Getting to help my mom cross something off her bucket list, and experiencing her joy in getting to do so with her two daughters, was undoubtedly one of the best parts of 2018.
---
Attending TravelCon
In late September, I attended the inaugural TravelCon travel blogging conference in Austin, TX. Not only did I get to explore Austin for the first time, but the conference itself was very valuable and a lot of fun. I met so many great people who are passionate about travel and helping other people see the world, and I also got to learn from industry leaders about how to make Full Life, Full Passport the best it can possibly be.
I was grateful for the opportunity to invest in the health and growth of my business and look forward to seeking out more professional development and networking opportunities in 2019!

---
"Babymooning" in Paris
After finding a great deal on a packaged, weeklong vacation to Paris and Amsterdam, M and I jumped on the opportunity to take a final trip together before our baby arrived. We spent three nights in each city, which wasn't nearly enough to take in all of their charms but was the perfect amount for a quick and wonderful getaway.
While I feel a little silly saying it given Paris's place on many buckets lists and reputation as a world-class destination, M and I were surprised by how much we enjoyed the city. It didn't take long to fall in love with the architecture, food, history, food, iconic landmarks, food, museums… and did I mention the food? There's no doubt that Paris's status as a capital of romance, art, and culture is well-deserved.
It was hard to tear ourselves away from the City of Lights, and we hopped on the train to Amsterdam already dreaming up plans for our next trip. I have no doubt we'll return someday, and I can't wait to explore the rest of France as well!
Look out for Paris content coming your way in 2019!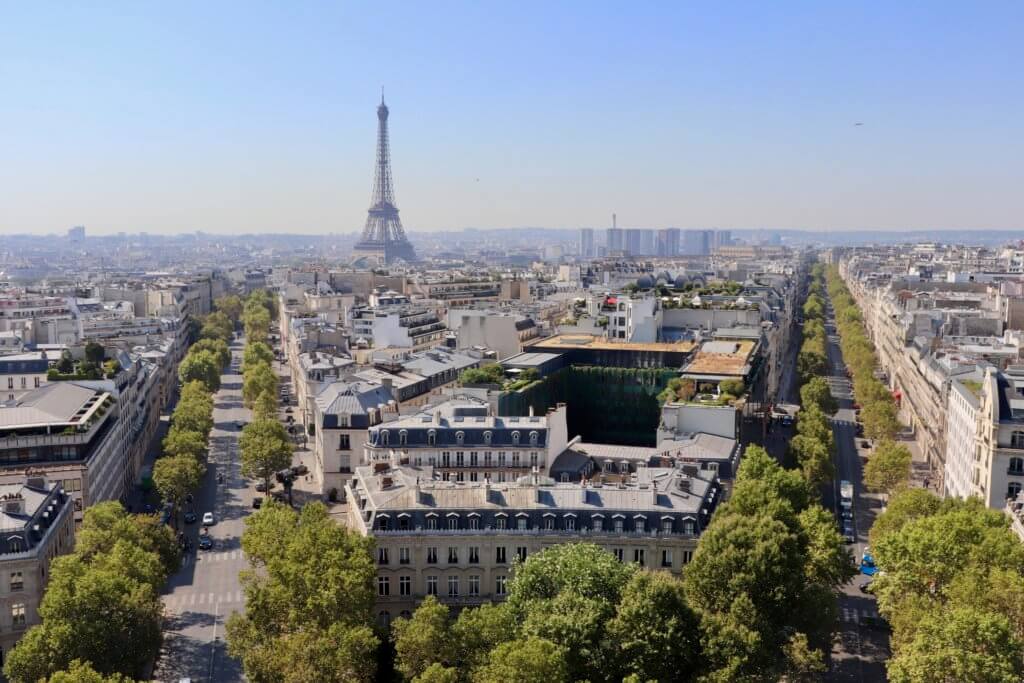 ---
Relationships and Features
One of the best parts of joining the travel blogging community has been the people that I've met through it. Whether we met at a conference or because one of us discovered the other's blog and struck up a friendship, I'm grateful for the camaraderie and support of people with whom my path otherwise might never had crossed.
Also, in August, I was honored to be included on a list of 12 Travel Bloggers Who Will Inspire You to See the World over on Teaspoon of Adventure. Additionally, my photo of the Royal Mile was used to highlight one of the 13 Cool Facts You Probably Didn't Know About Edinburgh in a listicle by St. Christopher's Inns. It may not have happened often, but being featured on other websites was a great validation and confidence boost as I was starting out this year. I can't wait to collaborate with more talented and interesting people and websites in the year to come!
---
Most Popular Posts of 2018
---
2018 Lowlights
My Internal Struggle with Social Media
I could write about this topic ad nauseam, but that wouldn't make for a very fun post. Suffice it to say that one of my biggest challenges this year was learning how to leverage social media to grow my audience. Prior to launching, I very rarely used any of the apps; I checked my Facebook News Feed once or twice a day, used Twitter only to search out funny and snarky comments after The Bachelor certain shows or events, and had only just signed up for Instagram a couple of months before. I didn't think about taking and posting photos when I went somewhere, hung out with friends, or ate something particularly tasty, and I didn't care much about the photos that others took and shared either.
Now, however, social media is an unavoidable business tool, and that's been a difficult adjustment. Self-promotion, marketing, and frequent sharing don't come naturally for me, and I also get discouraged by how vapid, negative, and inauthentic different channels (and some people on them) can seem. (M will warn you not to ask me about the shady practices some Instagrammers employ to gain a following, as he has already wearied of listening to my raging on the topic.)
While I will continue to post and promote Full Life, Full Passport on different social media channels, I'm shifting my focus a bit and resolving not to take things too personally. I'm sure my relationship with social media will continue to be a complicated one, but I'm committed to focusing on the positives: the cool people I've met, the support of my followers, and the ability to directly interact with people in a very personal way who are interested in my content.
---
Falling Short on Goals
Before launching the site, I set a number of goals that I wanted to accomplish by the end of 2018. Some had to do with content, such as posting at least once a week (a goal that I usually exceeded, with the exception of the final months of the year), while others were analytics related: number of visitors to the site, Instagram followers, email subscribers, etc.
I will admit that I set these goals with very little idea of what kind of growth was realistic to expect within the first year of launching a blog, but it was still disappointing when I fell short (significantly, in a couple of cases) of the numbers I'd set out to hit. That said, I learned so much over the course of the past year and have a much better understanding of what it takes to meet the lofty goals I set in 2018. This year had better watch out, because my goals for 2019 are much more well-informed, strategic, and in danger of being crushed!
---
Ending the Year with Radio Silence
It was not my intention to go largely silent this past fall, especially coming off of the high of TravelCon, which I left with a long list of action items and ideas that I couldn't wait to execute. Life, however, got in the way, as I detailed in this post back in December. While I recognize that scaling back my work on blog posts and social media was unavoidable in that season, I'm still disappointed at the setback and struggling to get back into a groove of consistent content creation.
---
Most Popular Instagram Post of 2018
[instagram url=https://www.instagram.com/p/BqsHyqdF25B/]
---
In Closing: Looking Ahead at 2019
Overall, I'd have to say that the first year of Full Life, Full Passport was a success. I learned so much: about myself, about blogging, about travel, about web design and marketing and content creation and HTML and email list moderation… the list goes on. It was a year of growth, of stepping out of my comfort zone, and – thankfully – of joy.
I'm pretty satisfied with the work that was done, but I know that I can do better. I know I can write better content, build a more attractive website, compose more engaging emails, be more helpful to people who reach out to me for advice or vacation planning, share more relevant tips and articles, and overall do a better job of helping you achieve your travel goals or just fantasize about other parts of the world from the comfort of your home. I'm excited to see what the second year of FLFP has in store (be on the lookout for an announcement next week to kick things off!) and hope that you'll join me for it.
Thank you for coming along with me on this adventure thus far, and here's to a wonderful 2019!
XO,
Gwen
—
What are some of your 2018 highlights?
What goals did you accomplish?
—
Join our email list to get all the goods in 2019! Be the first to know when new articles are posted, receive exclusive content, and become a member of the growing FLFP community!