Thanks for joining us for the second half of our one-week itinerary for Puerto Rico! If you haven't already, make sure to check out the beginning of our week before diving in here. Otherwise, you'll miss the incredible island of Vieques, tips for the ferry back and forth, and more information about the delectable food kiosks in Luquillo.
Once you're done, let's pick up with the return ferry to "mainland" Puerto Rico!
---
(Note: some of the links in this article may be affiliate links, which means that I may earn a small commission from your purchase at no additional cost to you. Thank you for supporting Full Life, Full Passport! You can find the full disclosure here.)
---
Day 5: Return Ferry, El Yunque, and More Food Kiosks
As I mentioned before, leaving Vieques was bittersweet for us. We had had an incredible time on this unique, off-the-beaten-path island and were sad to leave its bio bay and gorgeous beaches behind. Thankfully, though, there were plenty more adventures in store and lots more to see before we headed home!
Unlike our trip to Vieques, our ferry back to mainland Puerto Rico went off without a hitch. It was a beautiful day, and we got to ride on the upper deck and enjoy the view. (I guess that's the benefit of taking the actual ferry instead of a random ship they happened to requisition for the crossing.)
By the time we arrived back in Ceiba, navigated the chaotic mess that was the parking shuttle, and drove the half hour to Luquillo, we were famished. It was the perfect excuse to make another stop at the Luquillo food kiosks. This time, Mom was craving pizza, so we chose Revolution Pizza Shop (Kiosk #34) for a few slices. They were delicious and huge; I ordered two slices and was full long before they were gone.
With it being a gorgeous weekend day, the kiosks and adjacent beach were packed with people. After lunch, Brooke and I walked the short distance to explore the beach. There was a pier of sorts right behind the pizza shop, so we walked out for a spectacular view of the teal-colored water, colorful umbrellas, and swaying palm trees. People of all ages were having a blast, many of them in big family groups. It seemed like the perfect way to spend the day.
We didn't linger long, however, as we wanted to hit El Yunque before calling it a day. El Yunque National Forest is the only tropical rainforest in the United States National Forest System and is chock full of waterfalls, hiking trails, scenic vistas, and lush green vegetation. The northern entrance, where we visited, features a paved road that winds it way up into the mountains in a series of blind corners and stunning overlooks.
With it being so late in the day, we didn't have time for a hike or to really give the place its due, but we did drive the entire length of the road before coming back down the mountain. As we descended, we took in a few of the points of interest. One of the first was Baño Grande, a manmade pool and dam with lovely stonework.
Although it was closed to swimmers in the late 1960's, it's still a pretty, peaceful spot that practically begs you to ignore the signs and take a dip. (Don't.)
Next up was the short trail to Juan Diego Falls, where a small waterfall plunges over rocks to form a natural swimming hole.
We arrived to find a dozen or so people playing and bathing in the water, which looked delightfully refreshing. Since we weren't properly attired for swimming, we chose instead to sit on a fallen log, admire the scenery, and relax for a while.
It was getting late in the afternoon, however, so eventually we had to pull ourselves away and continue down the mountain. We stopped at a couple more pull-offs, including one for the Yokahú observation tower. Although the tower was closing and we couldn't climb up for the view, it was still a beautiful spot.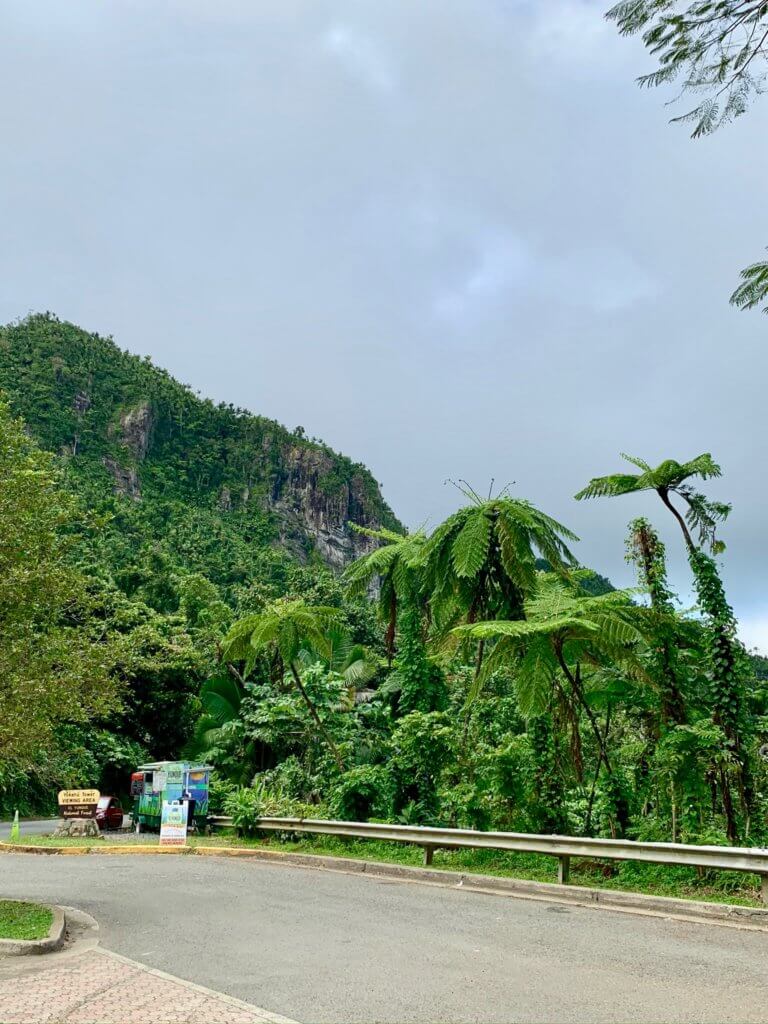 At last, we returned to downtown Luquillo and our trusty Luquillo Sunrise Beach Inn where we had stayed the first night of our trip. Thanks to our late lunch, we decided to forego dinner and instead spent the evening enjoying a couple of drinks on our balcony facing the ocean. It was time to rest up for two days in San Juan!
Tips for the Return Ferry, the Kiosks, and El Yunque
Be prepared for crowds at the kiosks on a sunny weekend day. We couldn't believe how much busier it was than when we visited earlier in the week. Have patience finding parking, and build in extra time because traffic along the kiosks is one-way and moves at a snail's pace.
The El Portal Visitor Center in El Yunque is currently closed for repairs due to damage from hurricanes Irma and Maria. In its place, a smaller visitor center is available on Calle Principal in Palmer, right on your way into the park. Be sure to stop for trail maps and helpful tips for exploring. A video about the park plays on a loop and there are plenty of informative placards and souvenir options as well.
Calle Principal is also home to a couple of nice souvenir shops, a tasty bakery, and a trendy juice bar that are all worth a visit.
Use caution when driving in El Yunque. The roads are narrow and windy, and rain can make for slippery conditions. Roadside pulloffs are not large, so watch out for vehicles parked outside of allotted spaces and pedestrians walking on the road to reach their destinations.
Crowds swell in El Yunque on weekends and holidays, so try to visit mid-week if possible. It's also wise to plan to arrive early, as some attractions, such as the Yokahú observation tower, close in late afternoon.
It's possible – and fairly easy – to visit El Yunque on a day trip from San Juan, but staying overnight in the Luquillo area gives you a much greater opportunity to explore and enjoy the forest without feeling rushed.
As of late 2020, some of the trails and facilities remain closed due to hurricane damage. Check the El Yunque website or the visitor's center for up-to-date information upon arrival.
---
Day 6: The Tastes of San Juan
After a few days full of activity, we were in no rush to leave the Luquillo Sunrise Beach Inn the next morning. We enjoyed the little continental breakfast, packed our things, and eventually hit the road for San Juan.
Our first stop was Luis Muñoz Marín International, San Juan's main airport, to return our rental car. Since we were staying in Old San Juan, a part of the city known for its walkability, narrow streets, and lack of easy parking, we had decided to save on rental fees and use cabs or Uber when needed instead.
Next, we took an Uber to our hotel. Our home for the next two nights was La Terraza de San Juan, a gorgeous old place with plenty of character in the heart of Old San Juan. As usual, options for three adults traveling together had been comparatively limited regardless of which hotel we considered. But once again, our unique needs ended up working in our favor. Instead of a standard room with one bed and a bathroom, we ended up in a suite on the top floor of the hotel.
And it was massive.
In addition to a good-sized living area and kitchen, our suite had two bedrooms and two full bathrooms. Mom had an en suite all to herself, while Brooke and I shared the bathroom that adjoined our room. The ceilings were high and the whole place felt airy and very comfortable. It was just so charming.
Although we probably could have stayed in our room and spent the afternoon lounging and enjoying it, there was too much to see and do in San Juan not to take advantage of the day. The first priority was finding some lunch.
Since we had booked a food tour for the evening, we wanted to keep things simple and light for the midday meal. Enter Stuffed Avocado Shop. Even writing this now, ten months later, I still dream about that lunch. The three of us split two bowls loaded with fresh, healthy ingredients, and I ordered in a delicious guanabana (soursop) juice, one of my favorite tropical drinks.
We probably overindulged in lunch considering how much we'd be eating that evening, but it was too good not to do so. Thankfully, one of the best things about Old San Juan is that it is such a pleasant city for walking off a big lunch. Not only are the buildings colorful and historic, but the city was planned so that one side of the street would always be shaded. Thus, no matter where you're going, you'll always have a bit of a respite from the hot Caribbean sun.
The rest of our afternoon was spent doing just that: wandering the lovely streets of Old San Juan. We stopped into various shops to pick up a couple of souvenirs, but generally, we just enjoyed the day and beautiful architecture. It's the perfect place to let your camera run wild!
Finally, it was time to return to the hotel to get ready for that part of the day we were most excited about: our walking food tour of Old San Juan! With how famously delicious Puerto Rican food is – and given our collective love of Caribbean cuisines – taking a food tour on our first night in San Juan was a no-brainer. We looked into group options, such as the well-reviewed Flavors of San Juan, but then discovered that we could book a private tour for the three of us through Tours By Locals for almost exactly the same price!
Our guide, Jorge, picked us up from the lobby of our hotel and soon we were headed out for a night of food and fun. We spent the next few hours walking the atmospheric streets of San Juan, stopping into different local eateries and learning plenty about the city's history, culture, and food along the way. Jorge was great at interspersing elements of a city tour in between our food stops, giving us time to digest both the delicacies we had enjoyed as well as the incredible city we were visiting.
Our first stop was Café Cuatro Sombras to sample some authentic Puerto Rican coffee. I was worried that we would disappoint Jorge right off the bat when he learned that Mom and I are not coffee drinkers, but he was very gracious regarding our shortcomings in that area. Coffee-fiend Brooke, however, redeemed us by enjoying the first stop very much.
Next came Deaverdura, a homey place with a local feel. After Jorge shared with us how the owner had gone above and beyond to feed her neighbors following 2017's devastating hurricanes, we were even more excited to support the business. Jorge ordered us a sampler platter filled with Puerto Rican staples: roasted pork, fried sweet plantains, tostones (fried savory plantains), bacalaítos (cod fritters), alcapurrias (a fried yucca or plantain fritters with pork), beans and rice, and more. We washed it all down with fresh fruit juices – acerola for me, which is similar to a cherry – and plenty of good conversation.
Everything was so good that it was hard to pace ourselves in anticipation of our next two stops. But there was so much more to come!
For our next round of deliciousness, Jorge took us to Punto de Vista, a rooftop bar and restaurant perched on top of the Hotel Milano*. This particular place, he told us, was chosen not only for its ambiance but also because they put a unique and tasty spin on the classic Puerto Rican dish, mofongo. While a light rain kept us from enjoying the outdoor rooftop deck, it did nothing to prevent us from tucking into the delicious mofongo.
Mofongo is a hearty dish made of green plantains that have been fried and mashed with other ingredients like garlic, salt, oil, and broth. In our experience, it was often served with meat or seafood and vegetables in a broth or sauce. We had tried a more traditional mofongo for the first time back on Vieques, and there was a definite difference to Punto de Vista's version. It was sweeter, with hints of mango, which made for a pleasant change after all the salty, fried yummies at Deaverdura. Since we were starting to get full – and since my mom is not a big fan of plantains – we split a plate between us and enjoyed a few drinks on the side.
Finally, it was time to top off our night with something sweet, and Jorge had the perfect place. Chocobar Cortés is the storefront and restaurant of a fourth-generation "farm to bar" chocolate company, and it did not disappoint. We had samples of their amazing hot chocolate (with a complementary dipping cheese!) and indulged in a couple of sweet treats. Mom got a choco frío, a sort of blended cold chocolate drink, and Brooke and I split an order of churros with a chocolate dipping sauce.
I will be honest that I didn't finish the churros. It wasn't because they weren't delicious – they were, and I could have drunk the chocolate dipping sauce all by itself – but rather because by that time in the evening I was a little overdone on fried foods. That hot chocolate would stay with me, though, so much so that I ended up going back for a second round two days later despite the tropical heat.
All in all, taking a private food tour of Old San Juan was a great decision. We finally got to try some of the local flavors we had read about but hadn't encountered yet, and Jorge introduced us to some excellent places and dishes we otherwise might not have found. Plus, all that eating was coupled with an excellent walking tour that helped us get our bearings and better understand the history and culture of this unique and beautiful city. We returned to La Terraza de San Juan stuffed and satisfied with a day well spent!
*Unfortunately, it appears that Punto de Vista has permanently closed its doors, possibly as a result of the coronavirus pandemic.
Tips for San Juan
I strongly recommend forgoing a rental car in San Juan, especially if you're planning to stay or spend a lot of time in Old San Juan. Not only are the streets narrow and often one-way, but parking is at a premium and consists of tiny parallel parking spots. (I seriously don't know how people get in and out of those spaces.) Grab a rental car if you're heading outside of the city, but stick to cabs or Uber while you're in the capital.
Anytime you're renting and returning a car, it's a good idea to take photos of the odometer and exterior, just in case there is a discrepancy about mileage or damage to the car. We rented from Avis and had a smooth, hassle-free experience.
Unless your priority is beach time, I highly recommend staying in Old San Juan when visiting the city. It's such a charming place to be, and you'll appreciate being within easy walking distance of a lot of the local attractions. If hitting the beach is the goal, try Condado, Ocean Park, or Isla Verde.
The specific food tour we took seems to no longer be available on Tours By Locals, but there are other well-reviewed options to try! Taking a private tour can sometimes be more economical (especially if you have three or more people in your party) and more enjoyable than traveling in a big group.
When taking any food tour, do your best to pace yourself! There is often a lot of food involved, and you'll want to be able to try at least a little bit of everything. Split dishes when possible and stick to small portions so you can finish strong 🙂
---
Day 7: Exploring Old San Juan
For our final day in Puerto Rico, we wanted to explore at least one of the two forts that stand sentinel over the northern coastline of Old San Juan. We decided to start with Castillo San Felipe del Morro, or "El Morro," which is the larger of the two. El Morro is also the more impressive fort and boasts the most commanding views.
Because it was a beautiful morning, we walked the half-mile or so from our hotel on Calle Sol to the fort. Our route took us past more colorfully painted buildings to Calle Norzagaray, which sits above the sea with views out over a neighborhood called La Perla and a centuries-old cemetery. It didn't take long for us to be able to glimpse the imposing facade of the fort in the distance.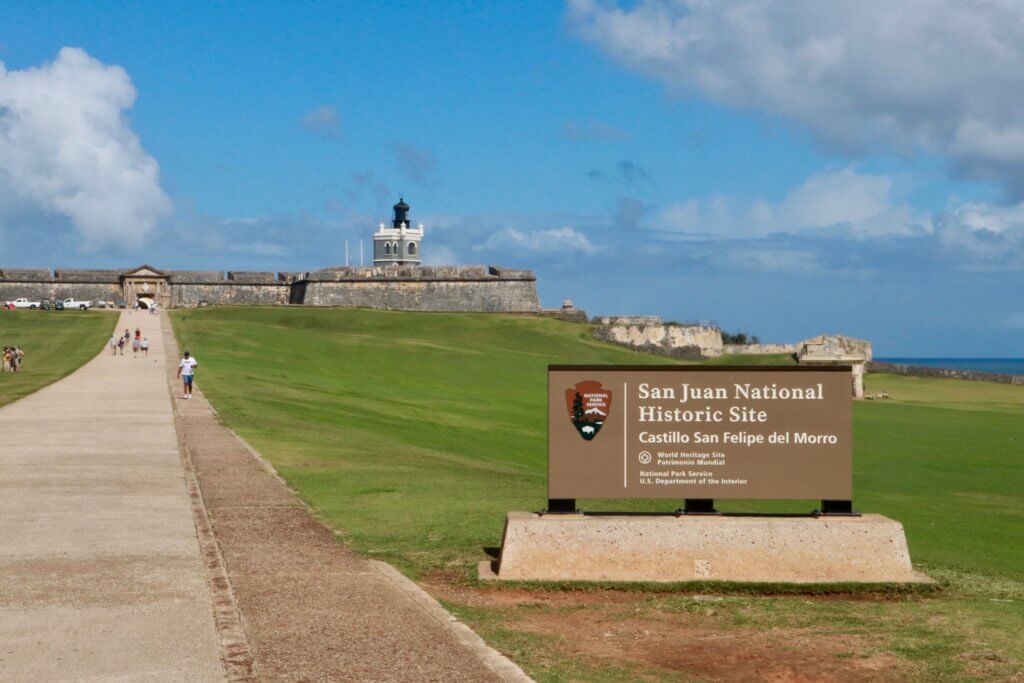 When M and I visited San Juan in 2014, the expansive lawn between the fort and the city was filled with families flying kites and enjoying a sunny weekend afternoon, but on this day my mom, sister, and I made the long, dramatic walk to the gates largely by ourselves. It's definitely humbling to feel the stone walls growing taller and taller as you approach. By the time you reach the gate, you're quite overcome by the formidable size of the fortress.
After paying our entrance fee (San Juan's forts are a National Historic Site managed by the National Park Service), we entered a main plaza called the Plaza de Armas. Tucked into the bright yellow walls were a number of rooms housing exhibits and multimedia presentations about the history of the fort and daily life for its occupants.
We took a few minutes to watch a short video about the fort's history before exploring the battlements. Thick stone walls faced out to sea, ready to repel any threat to Spanish authority, and garitas (round guardhouses) added a little charm. Towering above the battlements was a lighthouse dating to the early 1900's.
With sweeping panoramas out over the Caribbean Sea and the colorful city of San Juan, the views were gorgeous. The unique perspective of the city alone was worth the price of admission.
We continued along the upper battlements…
… and even made a scaly friend along the way…
… before heading down to the lower levels. We took the stairs next to the long, steep artillery ramp to reach the main battery. From this angle, the sheer size of the place was staggering.
I'm pretty sure that had I been on a foreign warship that was bent on attacking El Morro, I would have turned around at first sight of it. But I guess that's why no one has every tried to get me to join the Navy.
After spending a couple of hours exploring El Morro, we left the fort and headed back into the city for lunch and some more exploring. We stopped first at a tiny park/square to grab piraguas (shaved ice or snow cones) from a friendly man selling them from a pushcart. (Brooke and I may or may not have been humming "Piragua" from In the Heights around sips of yummy passionfruit syrup.)
It took a while to find a good lunch spot, as the first couple of places we tried were inexplicably closed. In the end, we found ourselves back at Deaverdura, the second stop on the previous night's food tour. While I had definitely wanted to try someplace new, I couldn't be upset about a second round of Deaverdura deliciousness or supporting their business again.
After lunch we did a little more sightseeing, retracing some of the steps we'd taken with Jorge the night before. This included a stop at Catedral Basílica Metropolitana de San Juan Bautista, or the Metropolitan Cathedral of St. John the Baptist, which is the second-oldest cathedral in the Americas. That alone made it worth the stop, even if parts of the inside are looking a little worse for the wear.
Later, we grabbed mojitos from Marilyn's Place, which Jorge had told us had the best in town. I'm by no means an authority on the subject – our trip was regretfully too short for me to try every contender – but my passionfruit mojito was delicious.
Afterward, Mom headed back to the hotel to rest while Brooke and I decided to walk the Paseo de la Princesa, a scenic promenade along the water on the western edge of Old San Juan. We reached the paseo via the historic Puerta de San Juan, the colonial gate through the thick wall that once protected the city.
Once through the gate, we were treated to lovely views of San Juan Bay and the old city wall. The wall was studded with more of the round garitas for which San Juan is famous.
The walk was very pretty, and blissfully shaded from the afternoon sun. With our flight home looming in the morning, it was a really wonderful way to say a final goodbye to the city.
Eventually, the paseo opened up into a wide pedestrian street punctuated by the large Raíces Fountain along the water.
We continued walking, eventually coming upon the cruise ship port and the souvenir stall/gift shop/jewelry store businesses open to receive their passengers. Prior to our visit, I had no idea that San Juan was such a popular stop on cruise itineraries, but the place was filled to bursting with at least four ships. Brooke and I made our way through the crowds and returned to our hotel. Aside from a quick trip out for dinner at speakeasy-style The Mezzanine, the rest of the evening was spent in the hotel. We relaxed, repacked our suitcases, watched a little local TV, and fondly looked back on our adventures over the last week.
Other Things to Do in Old San Juan
San Juan, and particularly Old San Juan, has lots of fun and interesting things to do in addition to strolling the streets, food tours, and El Morro. You can take any number of classes ranging from cooking to cocktail making to salsa dancing, visit a great museum like Museo de las Americas, or go on a photography tour. We barely got to scratch the surface on our mother-daughter trip, but below are some more recommendations for ways to spend your time:
While I personally prefer El Morro, especially for the views, this fort is the largest in the Americas and definitely worth a visit. I recommend doing it first and then walking over to El Morro, which is what M and I did on our honeymoon. Both forts are covered under the same entrance fee, so you might as well make a morning of it!
Across the bay from Old San Juan is Casa BACARDÍ, the rum maker's distillery in Puerto Rico. There, you can indulge in tastings, take a historical tour, participate in a mixology class, or just sample the goods. I didn't really know much about Bacardi before visiting – only that it was a brand of rum, really – but the company's history is actually pretty fascinating. Not only do they claim to have invented the "Cuba Libre" and daiquiri, but their story involves an exile from communist Cuba and even a connection to Ernest Hemmingway.
While you can certainly book a tour that will take you out to the factory, the least expensive way to visit is to take the ferry. It leaves at regular intervals from Pier 2 and costs only fifty cents each way to and from Cataño. Once across the bay, buses and/or taxis are available to take you the two miles to the factory.
Hit the beach
Neighborhoods like Condado and Isla Verde have nice beaches and resorts if you're looking for some fun in the sun. There are also plenty of trendy restaurants in that area to satiate you after a long day of swimming and sunbathing.
Day trip to El Yunque
If you're not able to put a longer visit to El Yunque and the surrounding area on your itinerary, it makes a great day trip from San Juan. You can rent a car and drive there, or simplify things by taking an organized tour.
---
Day 8: Heading Home… Eventually
The day of our trip home started out in a very promising way with a truly incredible breakfast at Mercado La Carreta. This little gem was located right around the corner from our hotel. After trying their delicious food – especially the croque madame – we lamented not finding it earlier.
Our flight wasn't scheduled to leave until about 1:00 PM, so we had plenty of time to enjoy a leisurely morning in our fabulous hotel room. I even had time to walk back to Chocobar Cortés for a final round of that amazing hot chocolate. Unfortunately, the easy, stress-free nature of our morning soon began to dissipate; we got an alert that our flight home was delayed by two hours.
Flight delays are annoying, especially those lasting multiple hours, but at that point, it wasn't really a big deal. We figured we would just hang out in our room until checkout time and then maybe head to the airport early to grab some lunch.
Then, we got the notification that the plane was delayed another two hours. Two hours was mildly annoying, but a four-hour delay was beginning to border on frustrating and inconvenient. Not only would we need to find a way to fill the time before takeoff, but Brooke and Mom also had multiple hours to drive to get home after we landed in Philadelphia.
Thankfully, we got the first alerts with enough notice to be able to avoid going to the airport and being stuck there. Instead, we stayed in our hotel room as long as possible before catching an Uber to Isla Verde, a seaside neighborhood just north of the airport. We had heard that Ocean Lab, a Puerto Rican brewing company whose beers we had enjoyed throughout the trip, had a taproom right on the ocean. It came highly recommended, so we decided to grab lunch and maybe a brew or two there before heading to the airport.
This ended up being the best decision we made all day.
The Ocean Lab taproom is located on the grounds of the Vivo Beach Club, which boasts not only a beach and pool complex but multiple restaurants, live music venues, night clubs, shops, and even a convention center. While that might seem a little busy and overwhelming, the vibe when we arrived was nothing but chill and beachy.
While the club does charge a fee to use its amenities, there's no cost to visit the taproom. (I was told we could buy day passes to the beach club, but the website only mentions memberships. It would be wise to call before you go to make sure.) We headed upstairs, ordered our drinks and lunch, and were treated to a delightful view.
Because our flight wasn't expected to leave until around 5:00 PM, we ended up staying at Ocean Lab for multiple hours. Stopping there worked perfectly for us because we were able to enjoy some good food, good drinks, and a final experience of beautiful, sunny Puerto Rico rather than being stuck in an airport terminal with nothing to do. I highly recommend hitting the taproom on your way to an afternoon or evening flight as a great way to pass the time and bid adieu to the island.
I mean, it was hard to get tired of this view.
Feeling quite satisfied with ourselves, we took an Uber to the airport and checked our bags… only to discover moments later that our flight had been delayed again. Now it wasn't leaving until 8:30 PM. By the time we reached our gate, that time had been pushed back until after 11:30. I won't bore you with all the details and drama of the afternoon, but suffice it to say that it ended up being a very long day of waiting and uncertainty, followed by a red-eye flight that landed us in Philadelphia just before dawn. All told, we were delayed over ten hours.
While it was definitely one of the rougher travel days I've had recently, it wasn't without its silver linings. Stopping at Ocean Lab gave us a fun way to pass a few hours. We ended up meeting and befriending Ernie, the guide dog who had sat near us on our flight down, as well as his very kind human, both of whom were on our flight home. Perhaps best of all, by the time our plane took off, so many passengers had switched flights that all three of us each got an entire middle row of four seats to ourselves, enabling us to lie down and actually sleep. Most importantly, we made it back to Philadelphia safe and sound.
---
So there you have it! Our incredible week in Puerto Rico was filled with paradisiacal beaches, delicious food, fascinating history, and a mishap or two that will make good stories later. Most of all, it was an amazing opportunity to spend precious time with my mom and sister. I hope that you're able to put Puerto Rico, and particularly Vieques, on your travel list soon if you haven't visited already. I also hope you're able to visit with people as wonderful and special to you as my mom and sister are to me.
Like the post? Pin to save or share!
—
Read More:
25 Perfect Destinations for a Mother-Daughter Trip
Flashback Friday: Taking a Cooking Class in Dominica
The Pros and Cons of Cruising
—
Need some help planning your trip to Puerto Rico? Full Life, Full Passport offers customized planning services for all kinds of vacations and budgets!
—
Want to be the first to know when a new post is published, or to receive exclusive content directly to your inbox? Join our email list!