Ahh, Paris. Her cuisine is legendary, and her streets are lined with the graceful architecture of centuries past. Her museums are filled to bursting with an unparalleled collection of priceless paintings, sculptures, and artifacts. The collective weight of history, art, and culture settles comfortably on your shoulders as you meander her winding streets in search of the perfect cafe or pâtisserie. Awe overcomes you as you catch your first glimpse of the Eiffel Tower, perhaps the most iconic manmade structure on Earth. Even on a short trip to Paris, it's hard not to become enraptured by what is arguably the most romantic city in the world.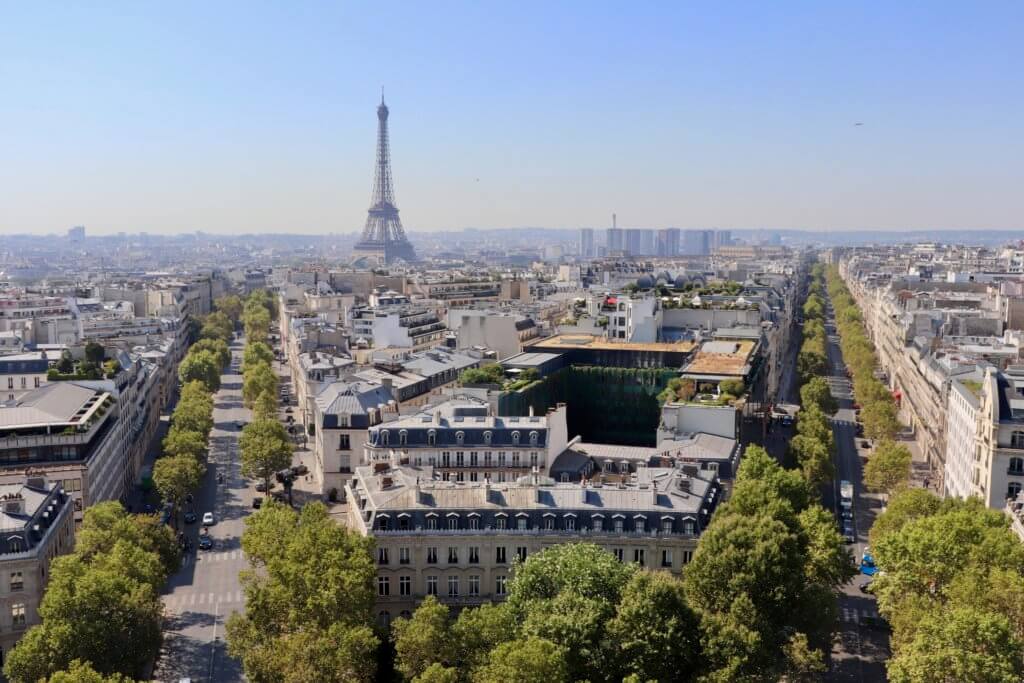 (Note: some of the links in this article may be affiliate links, which means that I may earn a small commission from your purchase at no additional cost to you. Thank you for supporting Full Life, Full Passport! You can find the full disclosure here.)
---
M and I visited Paris for the first time in August of 2018, and I will admit that I wasn't prepared for how much I would love the city. Don't get me wrong, I was excited to visit. I knew I would enjoy the food and was looking forward to exploring the sights. But I wasn't expecting the city to wow me. Maybe it was cynicism – I had heard that it could be an overrated destination – or perhaps the stereotype of French snobbery kept my emotions in check. Whatever the reason, I arrived expecting little more than an enjoyable pre-baby vacation.
Within a few hours, though, all of my skepticism had evaporated. From the first jet-lagged bite of nutella and banana crêpe at the Marché Bastille street market that first morning, I began to fall in love. The historic streets enchanted me. The Eiffel Tower was bigger and more emotionally impactful than I had anticipated. Notre Dame awed me with her grandeur. The locals we met were warm, welcoming, and engaging. I ate more bread and crêpes than was remotely healthy and enjoyed every single bite. And, in the end, I lamented that we only had two and a half days to take in everything that the city has to offer.
That's the thing about Paris: You could spend a month there and still not uncover all of her secrets and delights. The Louvre alone could take up multiple days of your itinerary, and that's not even considering the dozens of other worthwhile museums scattered across the city.
Whether it's just one stop on a larger itinerary or a short stay thanks to limited time off, many of us have to content ourselves with only a couple of days in the City of Lights. Since there is so much to see and do, it therefore helps to be thoughtful and strategic about how you spend the time.
Here are five tips for how to make the most of a short trip to Paris, and don't miss our two-day Paris itinerary for more tips on how to structure your time!
1. Acknowledge and Accept that You Won't Be Able to Do Everything
Your first step to a successful short trip to Paris is to set appropriate expectations for how the vacation is going to go. No doubt you've seen dozens (hundreds?) of photos and blog posts about all the amazing sights and activities in Paris, and social media has probably inundated you with all the things you absolutely cannot miss. You can reduce your stress level considerably, however, by acknowledging and accepting that it is unlikely that you will be able to see and do absolutely everything.
Accepting your limits means that you can relax and enjoy the things you most want to experience rather than exhausting yourself trying to check everything off your list. It will also allow you to look back at your time in Paris and revel in all that you were able to accomplish, rather than being disappointed about everything you missed.
---
2. Make a Plan
While it's usually helpful to have some sort of itinerary when visiting a city, it's more essential in Paris than most. If you don't start your day with at least a rough idea of what it will entail, you could end up wasting a lot of time in decision-making or unnecessary transit. This is true even for longer stays!
Start by choosing your sights and activities for the day, then plot out the most efficient route to hit each one. Many places are less crowded in the morning or just after opening, so consider making your highest priority destinations the first ones you visit. Spots like the Louvre and the Eiffel Tower are much more enjoyable if you're not sharing them with thousands of fellow tourists.
You don't have to account for every moment of your day, and you should leave some room in your itinerary for relaxation or unexpected finds. (No one should leave Paris without lounging for a couple of hours at a sidewalk cafe watching the world go by!) However, you'll definitely be able to see and do more if you have a plan than you would if you make all your decisions on the fly.
---
3. Narrow Your Focus
But with so much on offer, where do you even begin? It's easy to be overwhelmed by the sheer volume of choices as you're hashing out your plan for a short trip to Paris. Not only does each arrondissement (administrative district or neighborhood) have its own unique flavor and attractions, but there are plenty of intriguing destinations like the Normandy beaches and the Palace of Versailles located a short distance outside of the city.
To avoid paralyzing yourself, it helps to narrow your focus. For M and me, that took the form of immediately ruling out any day trips beyond the city limits. We were sorely tempted to travel to Normandy, but we agreed to focus exclusively on Paris itself and save the outlying regions for another time. For you, it could look like choosing a couple of arrondissements and exploring them in-depth, or perhaps even centering your planning around a particular theme like historical sites, museums, music, etc.
---
4. Make Reservations
It's no secret that Paris is one of the world's greatest culinary destinations. No doubt you've been dreaming about baguettes, cheese, wine, and other delights of French cuisine since you started planning your trip – I know I was! (My goals may or may not have included finding every French dessert ever produced on The Great British Baking Show to see what they actually taste like. Spoiler alert: îles flotantes are amazing!)
There are a ton of great restaurants in Paris, but with limited time available you might not want to leave your dinners up to chance. The French tend to linger over their food; there's no urgency to give up a table and thus it's possible to arrive at a restaurant only to be told that they are full for the evening. As a result, it's generally a good idea to make your dinner reservations in advance, especially for places that are popular, high-end, or that you just really want to visit. (Honestly, this is a good idea no matter how long you have to spend in Paris!)
M and I only made one dinner reservation for our trip (at the delicious and highly-recommended Le Colimaçon in Marais), but we probably should have made more. Had the hostess not made room for us at a popular bistro near our hotel, we would have been turned away like the dozen hopeful but un-reserved couples we saw come in after us. Next time, I'll do my research in advance and have a better plan for when and where we'll be eating.
---
And finally…
5. Use Your Time Restraints to Your Advantage
The Louvre is one of the most popular destinations in Paris, but you need much more than an hour or two to fully appreciate this incredible museum. Because there was so much else we wanted to accomplish, M and I knew that devoting an entire day to the Louvre probably wasn't the most efficient use of our time. We also didn't want to cheat ourselves with a short or rushed visit. Instead, we elected to visit the Musée d'Orsay.
Located inside a former railway station dating from the turn of the last century, the Musée d'Orsay is home to an unparalleled collection of impressionist and post-impressionist masterpieces. Names like Degas, Renoir, and Monet are only the beginning of the list of famous painters whose works you can view inside of this gorgeous building.
Smaller and significantly less trafficked than the Louvre, the Musée d'Orsay is much more manageable and makes for a wonderful half-day activity. We enjoyed the entirety of our experience, from our first wander through the statue garden in the main hall to our final delicious chocolat chaud (hot chocolate – the best of our trip!) in the cute cafe on the top floor.
My point is that we probably wouldn't have prioritized the Musée d'Orsay if we hadn't been on such a short trip to Paris. Happily, being on a time crunch led us to an unexpectedly delightful find. Don't be afraid to allow your time constraints to lead you to smaller, more intimate destinations and experiences.
No time for a long boat trip on the Seine? Grab a bottle of wine and spend a relaxing hour enjoying it along the banks. Can't afford to wait in line to climb to the top of the Eiffel Tower? Visit the esplanade of Le Trocadéro at night for a spectacular and romantic view of the tower sparkling across the river. Prefer not to devote time to a long lunch? Sample the wares at a street market and enjoy a crêpe while wandering through the vendor stalls. You'll undoubtedly have some great – and perhaps even more authentic – experiences.
---
Other Tips for a Short Trip to Paris
Skip the lines by purchasing as many tickets in advance as possible, especially for museums.
The falafel shops along the Rue des Rosiers in Marais are outstanding and make for a delicious, quick, and cheap lunch. The neighborhood is scenic and it's only a fifteen-minute walk from Notre Dame!
Embrace the Métro! Paris's subway system is fast, punctual, and inexpensive, and using it will open the entirety of the city up to you.
Cut down on travel times to key attractions by staying as centrally in Paris as you can or want to afford. I found this guide to be very helpful in differentiating between the city's varied neighborhoods. For the record, M and I stayed in Bastille at the Grand Hotel Francais and loved it.
Visit Paris outside of the high tourist season (summer) to avoid having to compete with crowds that might slow you down.
—
What are your best tips for short vacations?
If you only had two days in Paris, what would you be sure to see and do?
—
Like this post? Pin to save or share!
—
Read More:
How to Spend Two Days in Paris
10 Things I Will Do on My Next Trip to Paris
Don't Let Yourself Be Travel-Shamed
—
Need some help planning your short trip to Paris? Full Life, Full Passport offers customized itinerary planning for all kinds of trips and budgets!
—
These tips for planning a short trip to Paris were originally published on April 9, 2019 and last updated on April 11, 2021.
—
Want to be the first to know when a new post is published, or to receive exclusive content directly to your inbox? Join our email list!