Today, I want to tell you about one of the best, most time-saving investments I made in my travels: applying for Global Entry.
---
Picture this: you've just had a great vacation. The weather was perfect, crowds were minimal, the food was delicious, and you came in under budget! You just landed back in the United States after a long day of travel and are anxious to get home. Maybe your kids are restless and hungry; maybe you're the grumpy one. Either way, you're looking forward to exiting the plane, grabbing your bag, and getting on your way.
First, however, you have to pass through immigration and customs.
On more than one occasion, my heart has sunk as I disembarked an airplane only to find a horde of grumpy, travel-weary people inching through the switchbacks of the passport control line. I also know the stress of having hundreds of people ahead of me when the connection to my final destination is tight. No one likes the thought of having to sprint across a terminal to make it to your next flight.
Happily, the Department of Homeland Security offers a program that can significantly reduce the amount of time and stress expended when passing through customs and immigration. I'm talking, of course, about a little lifesaver called Global Entry.
---
Global Entry FAQ's
What is Global Entry?
Global Entry is a program offered by the Department of Homeland Security that allows pre-approved travelers to expedite their customs process and enter more quickly back into the United States. Because they have been thoroughly vetted beforehand, Global Entry travelers are able to forego filling out paperwork and standing in those endless customs lines. Instead, they make a quick stop at a kiosk for a passport or permanent resident card scan, fingerprint check, and brief customs questionnaire.
US citizens and permanent residents are eligible to participate in the program. In addition, the US has agreements with a number of other countries that allow their citizens to expedite their customs processes as well.
As an added bonus, Global Entry also includes TSA Pre✓®, which allows airline passengers to accelerate the security screening process when arriving for a flight. Pre-checked passengers enjoy quicker security lines; the website recently boasted that 98% waited five minutes or less to go through security in March 2021. They also do not have to remove their shoes, belts, or light jackets from their person or small liquid containers and laptops from their carry-on baggage.
---
How Much Does Global Entry Cost?
You will have to pay a $100 non-refundable fee to apply for Global Entry. Considering it costs $85 to apply for TSA Pre✓® alone, it's worth paying the extra $15 to add the customs benefits if you're planning to leave the country even once during that five-year period. Some credit cards and loyalty programs offer discounts or full reimbursement for the application fee, and you also may be able to write off or expense the cost if you travel for work.
---
How Long Is Global Entry Valid?
Global Entry is valid for five years, at which point you can apply to renew it for another term.
---
How Do I Apply for Global Entry?
Provided you don't have any skeletons in your Homeland Security closet, the application process for Global Entry should be fairly simple and straightforward. The process consists of two steps: an online application and an in-person interview.
Please note that as of the April 2020 update to this article, New York residents are longer be eligible to apply for or renew Global Entry status. More information can be found here.
---
The Global Entry Application
To apply, you will first need to set up an account on the US Customs and Border Protection Trusted Traveler Programs website. As an added security measure, you will have to enter a one-time numeric code each time you access the site; the code will be sent to you via SMS (or text message). The multi-step nature of the login process can get a little tiring if you are logging on frequently, but the passcodes have always arrived instantaneously in my experience. You also shouldn't need to log on often unless you're attempting to reschedule an interview. (More on that later).
Before starting the application, be sure to have the following handy:
passport or permanent resident card
driver's license or other state-issued ID
credit card
a list of all of the addresses where you have lived in the past five years
a list of addresses and phone numbers from your place(s) of employment in the last five years
a list of the countries you have visited in the last five years
The online application consists of a series of questions that ask everything from basic biographical details to your residence, employment, and travel history. You should also be prepared to answer questions about any arrests or customs issues you might have had in the past. For me, the employment and residential history was the most time-intensive part. Since I had three home addresses and three employers between 2013 and 2018, digging up the required information took some time. If your history is simpler than mine, you'll finish much more quickly.
After you've answered all the questions, you will pay the $100 nonrefundable fee and submit the application. Your information will then be passed to the Department of Homeland Security, who will review it and perform the background checks necessary to confirm you as a low-risk traveler. If there are no concerns, your application will be conditionally approved and you will be eligible to schedule an interview.
I applied on January 15, 2018, and by January 19 I had received an email informing me that my status had been updated. While my turnaround time was short, please be aware that your wait can vary based on the number of applications in process, the result of your background checks and clearances, and any number of other factors.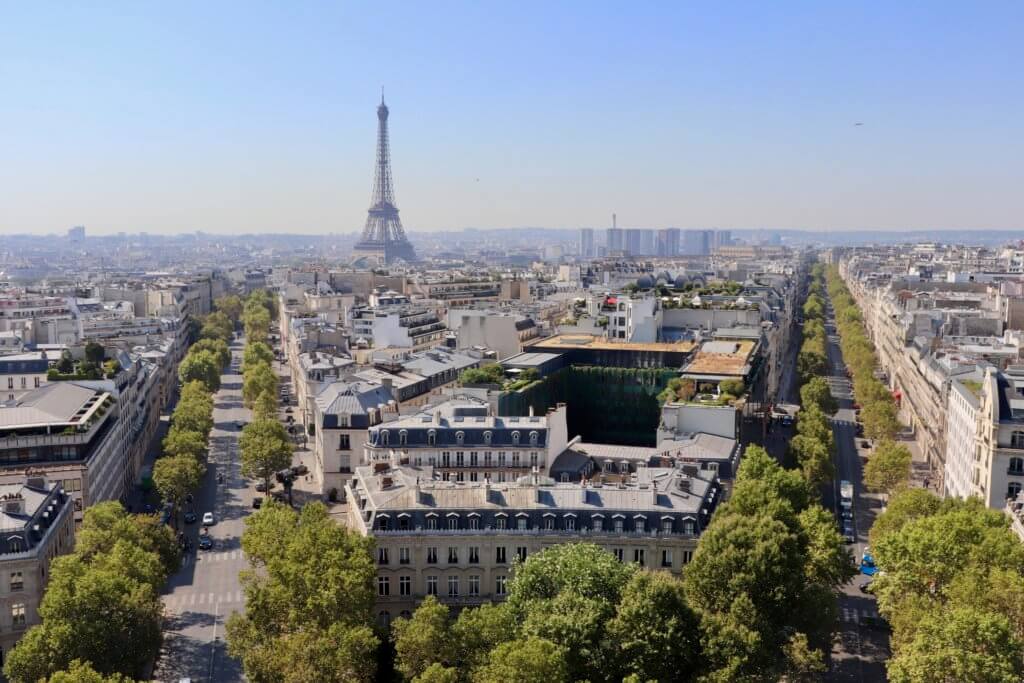 ---
The Global Entry Interview
After being conditionally approved, it's time to set up an in-person interview with US Customs and Border Protection (CBP). These interviews take place at various Enrollment Centers across the country, many of which are located in airports. Recently, CBP has begun allowing conditionally-approved candidates to enroll on arrival back into the United States rather than scheduling a separate interview. If you are already planning an international trip, you can simply head to the CBP offices after arriving on US soil and conduct your interview there in lieu of the regular customs process. Two birds, one time-saving stone!
It varies from airport to airport, but I would expect to wait at least a month or two for your interview. After reading about the long wait time to get an interview, I was excited to score an appointment for January 22, 2018, just three days after I received my conditional acceptance. The next available appointment after that wasn't until February 21, so I considered myself lucky to have found what must have been a recent cancellation. Unfortunately, the US government shut down on January 20 and was still closed on January 22, so I had to reschedule the appointment for February 26 anyway.
Whomp whomp.
---
A Note on Rescheduling Appointments: I had read on various websites that your best chance of rescheduling your interview for an earlier time slot is to check the Trusted Traveler Program website daily for any new cancellations. This tactic didn't work for me (I checked once or twice a day for about a week and a half), but it's worth a shot if you have an impending trip and want to be approved beforehand.
---
For the interview itself, I followed standard professional interview protocols such as wearing business casual attire and arriving fifteen minutes early. You will receive specific instructions on what time to arrive and what to bring with you on your interview confirmation, but make sure you have your passport and driver's license/state-issued ID, as both will be inspected. Also, be aware of and abide by posted signs in the CBP and Homeland Security offices; they are secured spaces and you will need an escort to go anywhere. You don't want to blow your chances at Global Entry by wandering around or snapping a photo!
After checking in and being escorted to a waiting room, within moments I was fetched by an officer and brought to a back office. I was expecting a more in-depth questioning process – and your interview time might vary based on your personal or travel history – but mine was short and sweet. It actually took me much longer to find parking and locate the CBP offices than the amount of time I spent with my interviewing officer.
The officer took my driver's license and passport to scan and asked me a couple of questions such as, "All of these countries you've visited, were they for vacation or business?" and "Have you ever been arrested for a crime or customs violation?" I then was asked to place the four fingers of my right hand on a lighted machine that would take my prints. The left hand came next, followed by both thumbs. I was then informed that I would receive an email informing me of my confirmed status shortly, with a Global Entry ID card following by mail within a couple of weeks. Just like that, I was approved!
Before I left, the officer briefly listed a few of the basic rules of TSA Pre✓® and Global Entry, such as the prohibition of "piggybacking" (bringing a traveling companion with you through either process) and the caveat that I could still be selected for random searches or additional security measures. She confirmed that I didn't have any further questions before shaking my hand and escorting me back to the front office, where I was free to go.
---
My Experience Using Global Entry
for the First Time
Even though my interview was rescheduled for the day before I left for Belize, I was still able to enjoy the benefits of Global Entry and TSA Pre✓®on my journey back to the United States. The Global Entry ID card is only necessary when arriving into the US by land or sea, so all I had to do was enter my Known Traveler Number (also called a PASSID or Trusted Traveler membership number) into my American Airlines app so that it showed up in the system when I arrived at the airport.
(If you have airline loyalty apps or memberships, make sure you update them with your new ID number so that any future reservations will have your status included. If you don't have these accounts, just make sure you enter the Known Traveler Number when you book your flights for the same result. Also, even though it is not necessary for airport arrivals, I still tucked my Global Entry ID card into my passport holder so that I will never have to worry about being without it when needed.)
My mother and sister, who had come with me to Belize, were kind enough to let me leave them to the mercies of the passport control line while I tried out Global Entry for the first time. (You know, for completely unselfish research purposes). It really was a breeze; I walked right up to a Global Entry kiosk, scanned my passport and fingerprints, made a quick customs declaration, and took my printed receipt to an officer checking people through a short line. He looked at the slip of paper, glanced at my face, and waved me through. It was so easy!
I also timed the delay between my arrival at baggage claim and my mother and sister's (again, research) and clocked my savings at a full ten minutes. I can only imagine how much more time I will get back during busier hours at different airports.
My extra ten minutes allowed me to secure all of our bags by the time the ladies arrived, so we were quickly on our way to recheck our luggage and pass back through security for our final flight home. This time I entered the TSA Pre✓® line (research) and, while it was surprisingly long at that moment, I still saved time compared to the standard security line. It was also blissful not to have to practically disrobe to pass through the scanners, as well as to be able to keep my liquids and laptop in my backpack.
My final assessment? Global Entry is worth every penny, especially for those of us who travel frequently. TSA Pre✓® alone is a time- and sanity-saver, but the addition of a far less painful customs procedure is such a godsend. The whole application process was also far less arduous and intimidating than I was originally expecting. I encourage you to check it out and de-stress your own airport experience!
Happy (and efficient!) travels!
Like the post? Pin to save or share!
—
What are your favorite time-saving tips at the airport?
Do you have Global Entry or TSA Pre✓®? What has been your experience?
—
Read More:
9 Questions to Ask Before Booking a Travel Deal
The Best Time to Visit Alaska
10 Things I Will Do on My Next Trip to Iceland
—
This guide to Global Entry and TSA Pre✓® was first posted on March 21, 2018 and last updated on April 4, 2021.
—
Want to be the first to know when a new post is published, or to receive exclusive content directly to your inbox? Join our email list!