Oh, Budapest, you unexpected gem. We didn't anticipate loving you as much as we did, and we certainly didn't expect to be able to experience the best of Budapest in just two days!
M and I visited the Hungarian capital in the fall of 2017 after finding a fantastic travel deal through TripMasters on TravelZoo. We were able to book a week-long vacation to Prague and Budapest that included flights, three nights of hotel accommodations in each city, and train transportation between the two for less than $1,000 per person. Considering how much flights alone would have cost us, how could we say no?
I'll be honest with you: Prague was the real draw for us when booking this trip. M, in particular, had been really curious about the Czech city for a while, and we were both looking to spend more time in central Europe. Budapest was a bit of a spontaneous addition; the original deal had included Paris, but we explored other options and chose to go with Budapest instead. (I think I just heard a collective gasp of dismay from all my francophile readers – don't worry, we made it to Paris the following summer.)
Funnily enough, despite its status as a last minute add-on, we ended up loving Budapest, perhaps even more than Prague. The combination of incredible architecture, fascinating history, delicious and sophisticated cuisine, and all-around beauty made it a quick addition to my list of favorite cities I've ever visited. We hated to leave after only three nights, but we were able to pack a lot of exciting activities into our short two days without feeling rushed! It's definitely a city that deserves more time and a slower pace, but here are my recommendations for how to see the best of Budapest in just two days!
---
---
The Itinerary at a Glance
---
For those of you who were unaware, like I was before I started researching for this trip, the city of Budapest is actually the result of a late 1800's merger between three cities called Buda, Pest, and Óbuda. Nowadays in Budapest, the eastern side of the Danube is referred to as Pest and the western side as Buda. (Óbuda sort of got the shaft, as it is now just a part of one of Budapest's many districts.) Both Pest and Buda have their own distinctive flavors, and this itinerary devotes a day apiece to exploring each side.
Day 1: Pest (Shoes on the Danube Bank, Parliament Building, Great Synagogue, the Jewish Quarter, St. Stephen's Basilica, ruin bar)
Day 2: Buda (Buda Castle, Matthias Church, Fisherman's Bastion, Gellért thermal baths, Gellért Hill and Citadel, dinner cruise on the Danube)
(Note: some of the links in this article may be affiliate links, which means that I may earn a small commission from your purchase at no additional cost to you. You can find the full disclosure here.)
---
Day 1: Pest
---
We arrived in Budapest at about 4:00 PM after a six-hour train ride from Prague, so our exploration of the city really didn't start in earnest until the following day. Our hotel, the Hotel Orion Várkert, was located on the Buda side of the river. After a quick breakfast there, we crossed the Danube to Pest. Our first stop was the Shoes on the Danube Bank.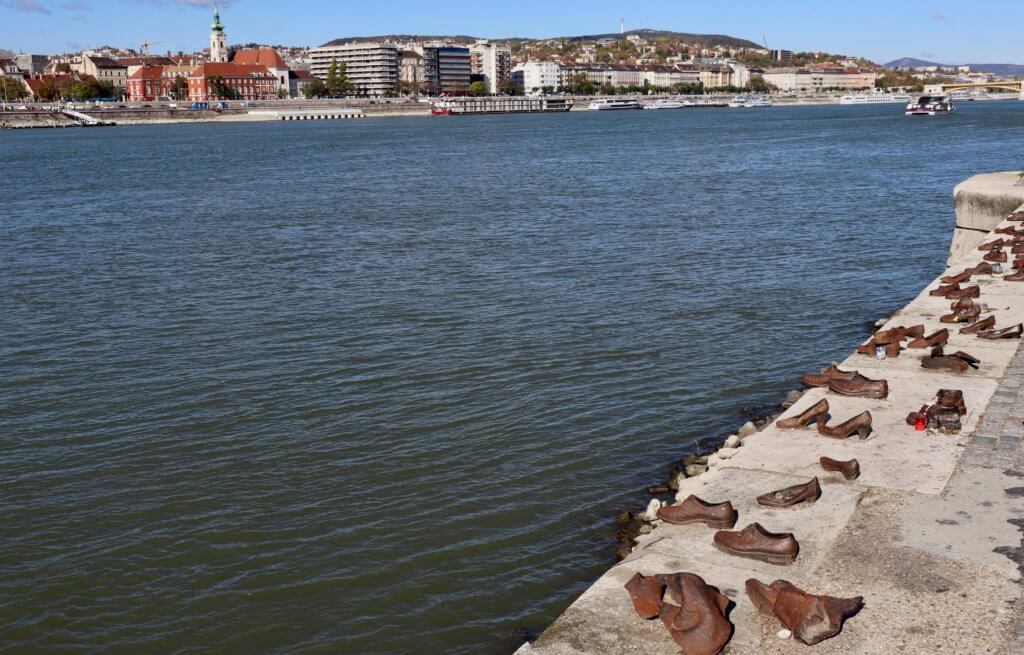 This solemn and quietly heartbreaking memorial is comprised of dozens of iron shoes that represent the people who fell victim to the fascist Arrow Cross militia toward the end of World War II. Arrow Cross would escort their victims to the banks of the Danube, order them to remove their shoes, and shoot them so that their bodies fell into and were carried away by the river.
Now, these murdered thousands are memorialized by shoes of all sizes and shapes. Women's heels, men's boots, and even a few children's shoes all look as if their owners had just stepped out of them. Scattered among the shoes are flowers, candles, and other tokens, in addition to many small rocks left behind by Jewish mourners. It's a haunting tribute, and one that will leave you with a heavy heart. Nonetheless, it is an important and meaningful place to stop and pay your respects.
Moving on from the memorial, we came into full view of the famous Parliament Building, the most iconic structure in Budapest. My friend Emily has called it "the most beautiful building I've seen in my life," and I have to say that I'm tempted to agree with her. The Parliament Building is ornately constructed and absolutely massive, which means that turning each corner gives you a new and jaw-dropping view.
It also sits right along the Danube, which makes for an excellent photo opportunity from across the river in Buda (more on that later). Pretty Kossuth Square on its other side is surrounded by other lovely monuments, government offices, and museums. We spent a lot of time just exploring the different angles of the building and admiring the awe-inspiring architectural details.
As impressive as the Parliament Building is from the outside, it is also worthwhile to take a tour of the interior. On the tour, you'll see such wonders as a winding, gold-plated staircase…
… the main entrance's spectacular Grand Stairway…
… and the opulent parliamentary halls.
In addition to other lovely chambers and lobbies, you will also see Hungary's Holy Crown and other coronation regalia. These treasures sit in honor in the magnificent Dome Hall under the watchful eye of the Crown Guard and sixteen statues of past Hungarian rulers.
We were fortunate that it was a gorgeous day, perfect for a long stroll through the streets. Next on our list was another Budapest landmark steeped in history, the Dohány Street Synagogue. Also known as the Great Synagogue, it's the largest in Europe and second-largest in the world.
Part house of worship, part Holocaust memorial, and part Jewish history museum, the synagogue is a must-see for any visitor to Budapest. We took a tour (a little more than $17.50 US per person) and were very glad we did, as it included a lot of history that helped us not only appreciate the building itself but also the Jewish experience in Budapest and Hungary throughout the past two centuries.
After purchasing our tickets, we were ushered into the main sanctuary, where we clustered in pews near a sign indicating our preferred tour language. There, we listened as our guide explained the history of the building, pointed out different features of the sanctuary, and took us through the harrowing experience of Jews in Hungary during World War II.
Following this extensive commentary, we were ushered through the building, pausing in the courtyard where over two thousand people who died in the ghetto are buried beneath a peaceful memorial garden. Beyond is the Raoul Wallenberg Holocaust Memorial Park, where numerous monuments stand to both the victims of the Holocaust and those who risked and sometimes lost their lives to help them. Most striking is a weeping willow statue that bears the names of victims, with their tattoo numbers, on each metal leaf.
As you can imagine, it was a tremendously moving experience to walk through the historic halls and pause to reflect before these somber memorials. This was the first time in all of my travels that I had stood in a place where the horrors of the Holocaust had actually occurred, and the weight of that history was not lost on me. My heart was heavy, but at the same time the monuments to those heroes who did all they could to defend their Jewish neighbors reminded me that there is always light even in the darkest of hours.
After the tour, we made our way upstairs to the Hungarian Jewish Museum and Archives, which was bright and beautiful and full of artifacts from all aspects of Jewish life. There were lovely menorahs, ceremonial objects, holy texts, art, and garments in addition to relics from the Holocaust era. It was definitely worth the time and brought beauty back to an otherwise heavy-hearted visit.
After our visit to the synagogue, M and I wandered through the Jewish Quarter and grabbed a late lunch at the delicious and atmospheric Mazel Tov. It came highly recommended by numerous friends, and it didn't disappoint.
With our bellies full of delicious pita sandwiches, we made the trek to St. Stephen's Basilica. Again, we were awed by the beauty of Budapest's architecture; St. Stephen's is a wonder.
The basilica is impressive from the outside, but the interior of the church was perhaps the most beautiful I've ever seen. I've visited a lot of churches, cathedrals, and other houses of worship in my travels, but none so far has compared to the interior of St. Stephen's.
It may have something to do with the colors and textures that surround you as soon as you enter. Every surface is intricately carved and adorned, and nowhere is that grandeur more on display than when you look up to behold the dazzling ceiling.
Seriously, it was so hard not to flood this page with the dozens of photos I took. Each archway, window, pillar, and alcove brought new, breathtaking glimpses of graceful artistry. I could have stayed for hours just letting the beauty of it all overwhelm me.
We eventually pulled ourselves away to make the climb to the top of the basilica and admire the panoramic view out over the city. It was a long way up and I definitely was out of breath by the time we reached the top, but the vista was most definitely worth it.
Later, after the sun went down, M and I found ourselves back at the Parliament Building, the entirety of which was brilliantly illuminated to show off the architecture no matter the hour. That was one of my favorite things about Budapest: all of the most beautiful buildings are lit up at night and make for a gorgeous sight, especially along the Danube.
One of the most popular things to do at night in Budapest is visit a ruin bar. Ruin bars are formerly rundown or unused buildings and outdoor spaces that have been converted into trendy drinking hotspots across the city. Each one has its own unique flavor, but the mainstays are artsy (and sometimes downright wacky) decor, live music, and plentiful drinks. Many have an antiquey, industrial vibe, as if someone moved all your grandmother's furniture and weird art into an old warehouse.
Among the most famous and frenetic is Szimpla Kert, which came highly recommended to me and was the very first ruin bar in the city. We were looking for something a little more chill, so we ended up at Csendes, which is cozy, relaxed, dimly lit, and apparently committed to turning garbage into wall art:
We grabbed a table along the back wall, which was perfect for people watching and taking in the full scope of the ruin bar aesthetic. M grabbed a beer and I enjoyed a Hungarian red wine from the extensive menu as we sat back and watched the goings-on. We also found space on the heavily-graffitied wall to leave our mark, scrawling our names between signatures, doodles, silly and sometimes profane messages, and, of course, the miscellaneous rubbish items tacked to the surface.
By the time we finished our drinks, we were ready to grab some dinner. Nearby was Karpatia, a pretty, romantic restaurant with hand-painted walls, white tablecloths, and a four-piece string ensemble that wandered the room playing gypsy music on request.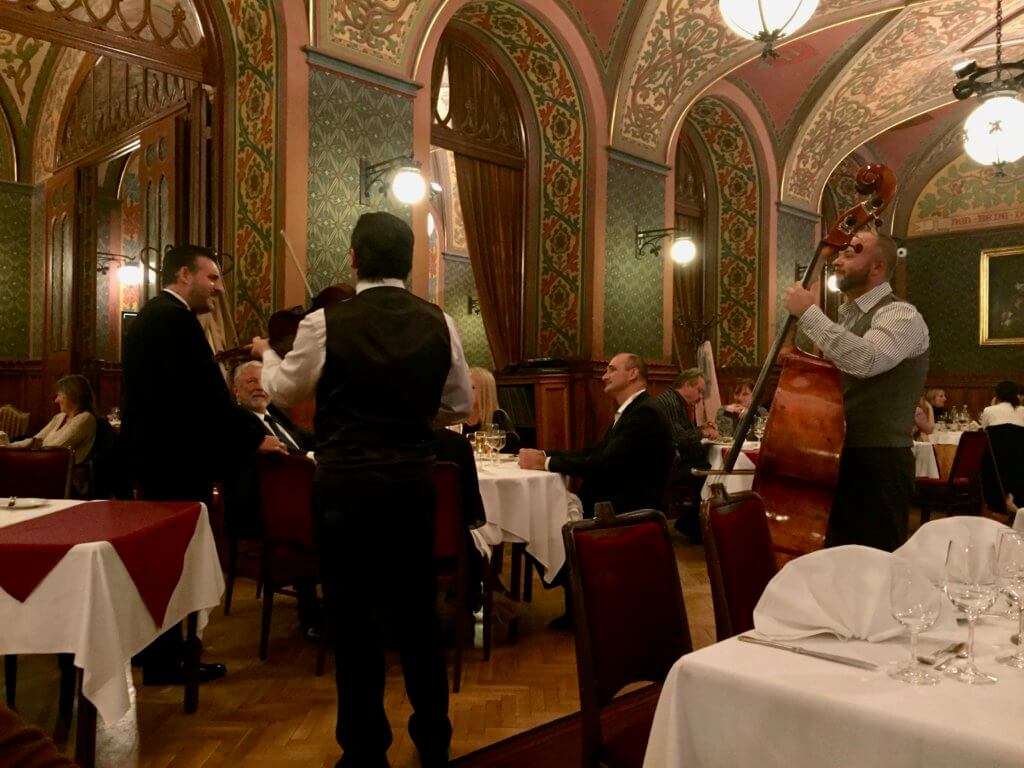 I'm usually not one to make (and therefore tip for) requests in this sort of situation, but they were so talented and added so much to the experience that I couldn't resist. M and I were also tremendously entertained by a group of older patrons, one of whom was requesting song after song and singing along with delighted gusto in Hungarian.
The food was delicious and very reasonably priced; the same quality of cuisine and experience would have easily cost much more in the United States. It was a perfect way to top off our wonderful day exploring Pest.
—
Top Tips for Pest:
If you have limited time to sightsee, it would behoove you to get an early start. The city is very walkable and there is plenty of beautiful architecture to feast your eyes on as you explore.
If you plan to tour the Parliament Building, which I highly suggest, it's best to purchase your tickets ahead of time since they do tend to sell out. Tours are offered in a number of languages throughout the day. More information and ticket sales can be found here.
The fully-narrated tour takes about an hour, and you'll receive a headset that allows you to clearly hear your guide regardless of where in the group you happen to be.
Men will be required to cover their heads when entering the Great Synagogue. If you don't have a hat, paper yarmulkes are provided. Women should dress modestly as well; covering the shoulders and your legs to the knee is usually a safe bet.
The views from the top of St. Stephen's Basilica are spectacular, but be prepared for a long climb. Wear sturdy shoes and take your time.
Many of the best and most famous ruin bars are located in the Jewish Quarter. Check out these articles from Nomadic Matt and Offbeat Budapest for some great recommendations!
Musicians can be found in many restaurants around Budapest, and most play tunes for patrons in exchange for tips. Don't be afraid to politely decline if they ask if you'd like to hear anything, and be firm if they insist. We didn't have any trouble with persistent or demanding musicians, but I've read that some people have. That said, both of the sets of musicians we encountered were very talented and it was a fun treat to request a song!
Hungary is noted for its sophisticated cuisine, so make sure to take advantage of its many exemplary restaurants. Reserve in advance if possible. We also enjoyed a dinner at Százéves, which is located south of Parliament near the Elisabeth Bridge. It was cozy and romantic, with fabulous food and lovely music.
---
Day 2: Buda
---
Our second day in Budapest was spent exploring the western side of the Danube, or Buda. After another nice breakfast in the hotel, we walked ten minutes to the foot of Castle Hill. This ridge is dominated by the massive Royal Palace, also known as Buda Castle. Not only is it interesting and important in its own right – the building has been destroyed and rebuilt numerous times over the past centuries – but the palace is also one of the best places to take panoramic photos of the city.
While you can certainly walk up the hill to reach the palace, the more unique (and less arduous) way to get there is to take the Buda Hill Funicular. This cable car is a UNESCO World Heritage site and lifts you all the rickety way to the castle with an increasingly pretty view of the Danube as you go. It costs around $4 U.S. one way and $6 for a return ticket, with lower prices for kids (who would probably get a kick out of the ride).
The palace is just one part of what is referred to as the Castle District, which also includes numerous visitable buildings, museums, and churches. Much of Buda Castle is occupied by the Hungarian National Gallery art museum, with the national library and Budapest History Museum sharing the space. We didn't take the time to visit the castle interior, preferring to wander the battlements and enjoy the view, but I've read that the National Gallery in particular is worth a stop if you have more time.
As I mentioned, one of the best reasons to visit the palace are the views out over the Danube and across the river to Pest. We were fortunate to have a gorgeous day that allowed us perfect visibility.
After wandering the grounds for a while, M and I walked the pretty streets of the Castle District toward Trinity Square. Colorful, historic buildings lined the way, with numerous cafes and souvenir shops. Although parts of the area felt pretty touristy, it wasn't without its charms. Plus, after fifteen minutes of strolling, Trinity Square opened up before us, flanked Matthias Church and Fisherman's Bastion.
The Holy Trinity Statue will probably be the first thing you see as you near the square, followed by the soaring tower of Matthias Church. I fell in love immediately with the church's exterior, thanks to the sand-colored stone glowing in the sun and contrasting beautifully with the multi-colored tiles of the roof. Just like with St. Stephen's Basilica the day before, though, the interior of the church was dazzling in its own right.
A number of the churches that we visited during our time in the Czech Republic and Hungary had elaborately painted interiors, with every surface covered in color and detail that bring warmth and life to the Gothic structures. Matthias Church may have been my favorite of all of them, and was well worth the $6 US entry fee to have a wander around.
Outside of Matthias Church is Fisherman's Bastion, a sandcastle-like fortification named for the guild that was once charged with its defense. Nowadays it is most valuable as a lookout, affording a sweeping panorama of the banks of the Danube.
As one of the most popular sights in Budapest, Fisherman's Bastion was rather crowded with tour groups and other visitors. Thus, I recommend visiting earlier in the morning or later in the day. The Bastion is free to access, but you can also escape the crowds by paying a small fee (about $3.50) to climb to the top of the tallest tower at the end of the structure. From there, you get an excellent view of the Parliament Building just across the river.
Having seen the Castle District from one end to the other, M and I decided to spend the afternoon partaking in a thoroughly Budapesti activity: relaxing in thermal baths. Before the trip, I had no idea that there are over 100 naturally-occurring hot springs around Budapest and that people have been enjoying them since the Roman era. Having a nice, relaxing soak is one of the most popular things to do in the city for locals and visitors alike!
We chose to visit the bathing complex at the Hotel Gellért. Not only was it within walking distance of our hotel, but the architecture was supposed to be stunning. My Lonely Planet (updated version here) had likened it to "taking a bath in a cathedral," and it wasn't wrong.
The Gellért baths feature multiple indoor and outdoor pools with a variety of water temperatures and aesthetics. You can also swim laps, indulge in a massage or spa treatment, or visit a wave pool, dry and steam saunas, or weight baths. There's plenty to occupy an afternoon (or more), and a visit makes an especially good activity in inclement weather.
The building's large interior is a bit of a maze, with baths and other services sprinkled throughout airy, art nouveau chambers accented with colored tile, statues, columns, and mosaics. It's feels luxurious, like you've stepped back in time to relax in more opulent and refined era. It was a treat to sit in the warm mineral water surrounded by such beauty and feel the stresses and soreness of our week of travel float away.
Of course, in true M-and-Gwen style, we immediately negated all that relaxation by deciding to trek up Gellért Hill to see the citadel and Liberty Statue at the top. While we were no stranger to panoramic views of the city by this point, this was our highest viewpoint. I don't know that I would prioritize the hill if you're short on time, but it was worth the climb for us since it sat on a route between the thermal baths and our hotel.
Since we were celebrating our third anniversary, M and I decided to take a dinner cruise on the Danube. We figured it would be a romantic way to spend our last night in Europe, and we were excited to see the city all lit up on each side as we glided past. After returning to our hotel and getting gussied up, we crossed the iconic Chain Bridge to join our fellow passengers at the meeting point.
From there, we were led to a long, low riverboat, the top floor of which was filled with circular tables. Again, a small group of musicians roamed the room entertaining diners as we feasted on a buffet of traditional Hungarian food. We were seated with two other couples and had some friendly conversation through dinner as Budapest passed by slowly and brilliantly outside our window.
Now, I'll get real with you: I don't know that I would recommend an evening dinner cruise for everyone visiting Budapest. While it was a nice experience overall, the food wasn't quite as good as what we had eaten on our first two nights in the city. Also, although we had good visibility through the windows that lined each side of the boat, it did feel like we missed an opportunity to really appreciate the scenery because so much of our time was spent having dinner inside.
If you have more time to sightsee in Budapest than we did or are looking for a fun and unique dining experience with quality traditional food, though, it could be a great fit.
The cruise we took had a variety of package options for the evening, and I think in future we would choose one that didn't involve dinner so that we could spend more time outside of the dining room enjoying the ride. That said, we didn't regret our decision and even met a super fun Latvian/Scottish couple over dinner with whom we spent time exploring the city afterward.
Following the cruise, the four of us left the boat, re-crossed the Chain Bridge, and went in search of the best nighttime view in the city: the Parliament Building from the western bank of the Danube.
Lit up in golden splendor, it was the best possible final impression of one of Europe's most beautiful and compelling cities.
—
Top Tips for Buda:
Be advised that the Buda Hill Funicular closes every other Monday for maintenance.
The Buda Castle complex also includes Sandor Palota, which is the president's residence and features an elaborate changing of the guard ceremony every hour, on the hour between 8:30 AM and 5:00 PM.
The massive Szechenyi Baths are some of the biggest and most popular in the city. We enjoyed the old-world ambiance and smaller facilities at the Hotel Gellért, but Szechenyi also came highly recommended by friends and our research. They are located in a large park with numerous other attractions, including a fine arts museum, zoo, and botanical gardens.
Visiting the Gellért baths is not inexpensive, but it's a great experience. Prices vary widely based on which services you select, but they start at about $20 USD for an adult weekday ticket with a locker. It costs between $1-2 more to rent a small private "cabin" (changing room), which M and I were able to share.
Regardless of whether or not you do it via a cruise on the Danube, I do highly recommend taking some time to take in the sights along the river at night. Castle Hill, and in particular Fisherman's Bastion, are excellent viewing spots and very enjoyable in the evenings after the crowds have gone.
---
Visiting Budapest
When to Go: High season in Budapest, like the rest of Europe, runs during the summer. M and I visited off-season in October and appreciated the cooler weather, smaller crowds, and lower prices.
Where to Stay: If you're looking for a comfortable, affordable place to stay in Buda, consider the Hotel Orion Várkert. The hotel sits right in the shadow of the Castle District and is convenient to the Elisabeth Bridge, Gellért Baths, Chain Bridge, and citadel. It's located on a quiet street and has friendly service and a good breakfast.
If Pest is more your style, though, it may be a little inconvenient. The Parliament Building is about a thirty-minute walk (1 mile) away, and many other major sights in Pest are farther. It's very popular to stay in Pest, and there are great budget and backpacker accommodations in and around the Jewish Quarter.
How to Pay: Most restaurants and tourist attractions accept credit cards. The Hungarian forint is the official currency, with an exchange rate at the time of writing of around 300 ft to the US dollar (357 ft to the Euro).
Getting Around: Budapest Ferenc Liszt International Airport (BUD) is located just outside of town and is the primary entrance and exit point for international flights. The main international train station is called Keleti (and is worth a visit just to admire the architecture). From there, you can easily reach most anywhere in Europe. Budapest's public transportation system is also clean, efficient, and easy to use. We used the bus and metro systems frequently with very little trouble and expense.
Like the post? Pin to save or share!
—
Have you been to Budapest? What did you love about it?
What tips do you have for first-time visitors looking to experience the best of Budapest?
—
Read More:
Day Tripping from Prague to Český Krumlov
Wanna Know My Secret?
De-Stress Your Airport Experience with Global Entry
—
Need some help planning your vacation to Budapest? Full Life, Full Passport offers customized itinerary planning for all kinds of trips and budgets.
—
This guide to Budapest was originally published on September 11, 2018, and last updated on September 13, 2020.
—
Want to be the first to know when a new post is published, or to receive exclusive content directly to your inbox? Join our email list!