Welcome to February, everyone! It's crazy to think that we already have a month of 2022 behind us. February also means that (Northern Hemisphere) summer vacations are one month closer, but most excitingly for me it means that Full Life, Full Passport is another year older.
As those of you who have been around for a while know, every February, I celebrate the anniversary of the launch of Full Life, Full Passport with my annual Year in Review post. While most blogs do an annual roundup at the end of the calendar year, I like to hold off a month to coincide with the blog's anniversary and give myself some extra time to reflect. 
I can't believe that I'm entering the fifth year of this passion project, nor can I believe how much it has grown over the past year in particular. To that end, I'm excited to share the 2021 Year in Review. I hope it's a fun glimpse into the joys, challenges, and future plans for FLFP, and I thank you for all the support that makes it possible!
So, without further ado, here are the highlights, lowlights, top posts, and other fun stuff from 2021, along with a sneak peek at what's coming in 2022!
(Note: some of the links in this article may be affiliate links, which means that I may earn a small commission from your purchase at no additional cost to you. You can find the full disclosure here. Thank you for supporting Full Life, Full Passport!)
Our First Family Vacation
There were so many reasons why our September road trip to New England was an unforgettable experience and a highlight of the year. I was overwhelmed by the joy I felt at getting to visit gorgeous new places as a family of four, and it was amazing watching E's world expand. Especially after eighteen months of being cooped up due to – well, you know – I'm so grateful to have made these wonderful memories together. 
We started the trip in Bristol and Newport, Rhode Island, before traveling up to the White Mountains of New Hampshire and the Green Mountains of Vermont. Over eight days we took three hikes, visited one beach, summited Mount Washington by train, built one campfire, explored one science center, played two rounds of miniature golf, ate lots of great food, and drove over 1,300 miles.
There are lots of New England posts to come in 2022, but I've already started writing about the lessons we learned and listing the essentials you need when road-tripping with a baby and a toddler.
A Return to Travel Planning
It seemed like as soon as 2021 hit, people were officially done with sitting around at home. Despite the continued presence of COVID, I received a steady stream of travel planning inquiries throughout 2021 and was able to help more people than ever embark on stress-free, pandemic-friendly vacations. 
Some of my favorite trips I planned this year were to the Pacific Northwest, central California, and the Faroe Islands. It was also a year of tropical getaways; many clients came to me for help finding the best all-inclusive resorts in places like Mexico and the Dominican Republic. After the difficulties of 2020, I think a lot of us were just looking for a gorgeous, warm, low-stress vacation. 
While a few trips got canceled, postponed, or modified due to COVID concerns and other challenges, it was still inspiring and gratifying to see us start to take small steps back into traveling. I'm hopeful that the current omicron variant surge will continue to trend downward and that by late spring/summer we'll be back to real travel again… I have a slew of 2022 vacations (including a couple honeymoons!) counting on it!
Some of my clients' 2021 destinations are below; where will FLFP take you in 2022?
Where Did FLFP Clients Travel This Year?
Here are just a few of the vacations I planned in 2021:
Daytona Beach, Florida, USA
Punta Cana, Dominican Republic
Puerto Morelos, Mexico
Cancun, Mexico
the Faroe Islands
Washington and Oregon, USA
Yosemite and Napa Valley, California, USA
Schlitters, Tyrol, Austria
Last year, I decided to take the entire month of June and focus on one of my absolute favorite places on Earth: Alaska. I had written a few posts about the Great Land over the years, but it was a little ridiculous that I had so few articles about one of the places I love most and with which I am most familiar. 
Friends, I had so much fun composing the five posts I published during Alaska Month. I got to explore the 49th State from some interesting new angles (like creating the ultimate Alaska bucket list), relive some great adventures (like my epic road trip down the remote and exciting Dalton Highway), and finally write down all of my best tips for Alaska cruises. I relived some great memories combing through my thousands of Alaska pictures, and I reconnected with old friends and former coworkers for fact checking and advice. The end result, I hope, also added more depth and utility to the Alaska corner of this website so that you can plan the best Alaska vacation ever. Plus, there's still plenty more Alaska content to come.
In the meantime, I enjoyed spending a month focusing on one specific place so much that I'm planning to do another theme month in 2022! Stay tuned for the big location reveal later this year 🙂
In addition to helping more travel planning clients than ever before, Full Life, Full Passport also took big leaps forward in web traffic, social media presence, and the size of our email community. And I do mean big; my audience grew by over 830%! After four years of hard work (and one global pandemic that threatened to completely derail all my previous progress), it's so exciting to see this venture really start to take off. 
The increase in web traffic has gone a long way toward helping make FLFP more sustainable. Not only has higher traffic had a positive effect on my affiliate relationships, but I was also able to add some non-invasive advertising to the site. (I had tried putting ads on the site before, but they were so hideous – think toenail fungus cream – that I took them down almost immediately. Now, with higher traffic numbers, I have more control over who can advertise on my site and where, creating a much more attractive, relevant, and user-friendly experience for you.)
All of these additional revenue streams allow me the ability to create the best, most helpful content possible to better serve you in your travels. If you have ever booked or purchased something through a link or ad on this website, I am truly grateful for your support!
A Fabulous Destination Bachelorette Weekend
Renewing my love for the long weekend vacation, in August I headed to western Virginia's wine country for my best friend Molly's bachelorette party. Basing ourselves at the incredible Farmhouse at Beautiful Run, we spent the weekend hiking, visiting wineries, relaxing by the pool, eating delicious food, and celebrating our bride-to-be. 
Although our original plan had been to check off Molly's 50th state with a trip to New Mexico (thanks again, COVID!), we couldn't have asked for a better or more beautiful weekend in Virginia. It was so refreshing to get some girl time, and this tired mama of two really loved getting to rest, relax, eat, and drink without a diaper in sight. Here's hoping Molly has a bachelorette party every year!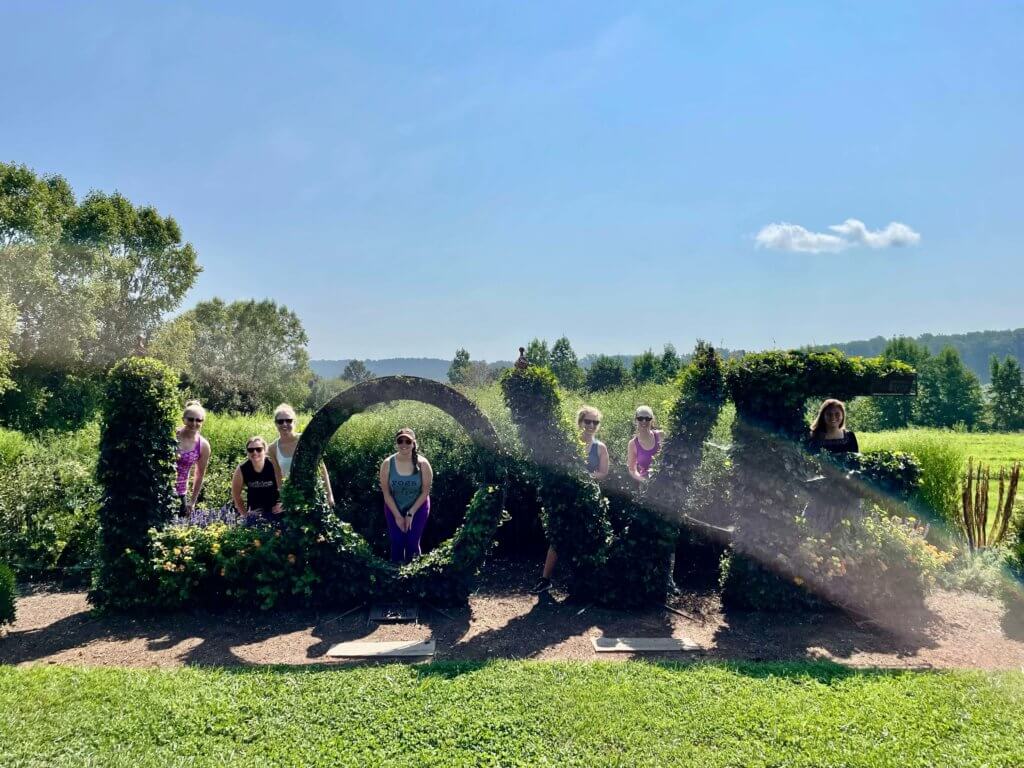 All business aside, perhaps the biggest highlight of our year was a personal one: we welcomed our second child, S, in March. It's hard to believe this sweet, snuggly, loud little lady has been with us for almost a year, but at the same time it's hard to imagine life before she arrived. Big brother E is really growing into his role, and it's a joy to see the two of them developing a relationship and figuring out life together. I've been a lot of places and had a lot of adventures, but parenting by far is the most wonderful, rewarding adventure yet.
Really? COVID is still a thing??
Stating the obvious, beating a dead horse, whatever you want to call it, it's no secret that COVID-19 continued to wreak havoc on 2021. The risks, uncertainties, and complications of the pandemic again made travel difficult to impossible over the last year, and the industry – which employs 10% of the world's population – continues to suffer.
The continued presence of the pandemic was at times a tough mental hurdle to overcome. Although I was encouraged by growing website and planning inquiry traffic, the fact remains that I'm not doing much traveling myself and neither are a lot of people. I had to fight the urge to feel demotivated, apathetic, or hopeless at different points, but all in all I'm glad I pushed through. 
For the third summer in a row, we did not make it to Canada. 
After E was born in December of 2018, M and I decided that we would attempt our first family vacation with a road trip through Ontario and Quebec the following summer. Unfortunately, M's work situation put that plan on hold, and by the time we were ready to re-plan for 2020 COVID was looming right around the corner. We were optimistic that 2021 might be our year, but with the Canadian border closed for most of the year we had to pivot. 
I'm not at all upset that we ended up in New England; as I mentioned, it was a fantastic trip and I'm already dreaming about when I can make it back to New Hampshire in particular. But having only been to the Yukon and the tiny stretch of British Columbia between Yukon and Alaska, I was so looking forward to seeing more of Canada. 
Will 2022 be our year? Only time will tell.
Most Popular Instagram Post of 2021
Once again, I polled the Full Life, Full Passport email and Facebook communities to see what was working well, what wasn't, and what content you'd like to see more of in 2022. And once again, you really came through!
(PS: Not a member of our email community? Make sure to subscribe using the form at the bottom of this review to be alerted when new posts are published and receive fun, exclusive content!)
Based on that feedback, here's what I'll be focusing on in 2022:
For the second year in a row, the United States was overwhelmingly the most requested destination, so I will definitely be continuing to focus on domestic travel. Happily, I still have a lot to write about our trip to New England. I also have long been meaning to play tourist in my own backyard and look forward to writing more about Pennsylvania and the Mid-Atlantic. 
Other destinations that came up often and/or that are already on my posting schedule include Scotland, Peru, the US national parks, Puerto Rico, and Alaska.
I also appreciated how many of you responded that you really enjoy personal stories from my travels! It can be easy for me to assume that everyone just wants the basic how-to's and relevant information for planning their own trips, but I love sharing my experiences as well! It means a lot that so many of you enjoy, them, too. Thus, we'll be continuing the Flashback Friday series through 2022.
Other fun stuff coming in 2022:
The newsletter will now come out quarterly, rather than monthly. Not only do I want to keep my focus on creating great blog posts and extraordinary client vacations, moving to a quarterly schedule will allow me to really ensure that the newsletter content is worth your while.
Another theme month! (Most likely in summer.)
Our next mother-daughter trip! Although COVID has gummed up the works on this one, I'm still looking forward to getting away with my mom, sister, and sister-in-law in early spring.
(PSS: If you didn't get to participate in the survey and want to offer some feedback to help shape 2022, feel free to leave a comment below or contact me! I'd love to hear your thoughts.)
I didn't think I could be more grateful for this community than I was at the end of 2020, but 2021 has absolutely blown me away. I can't say enough about the joy, motivation, and excitement that you all have given me over the past year. Thank you, from the bottom of my heart, for all of your emails, comments, likes, shares, questions, challenges, encouragements, and time spent reading. Your support means more to me than I can express, and I strive every day to be worthy of it.
I can only hope to do even better for you in 2022.
Gwen
Need some help planning your 2022 vacation? Full Life, Full Passport offers customized planning services for all kinds of trips and budgets! 
Want to be the first to know when a new post is published, or to receive exclusive content directly to your inbox? Join our email list!